Roasted Creamy Eggplant Dip is easy to make and full of fresh vegetables and herbs. It is great in a sandwich or just eaten alone or just served with pita bread. I make this quite often. This is such a simple recipe and a fantastic snack.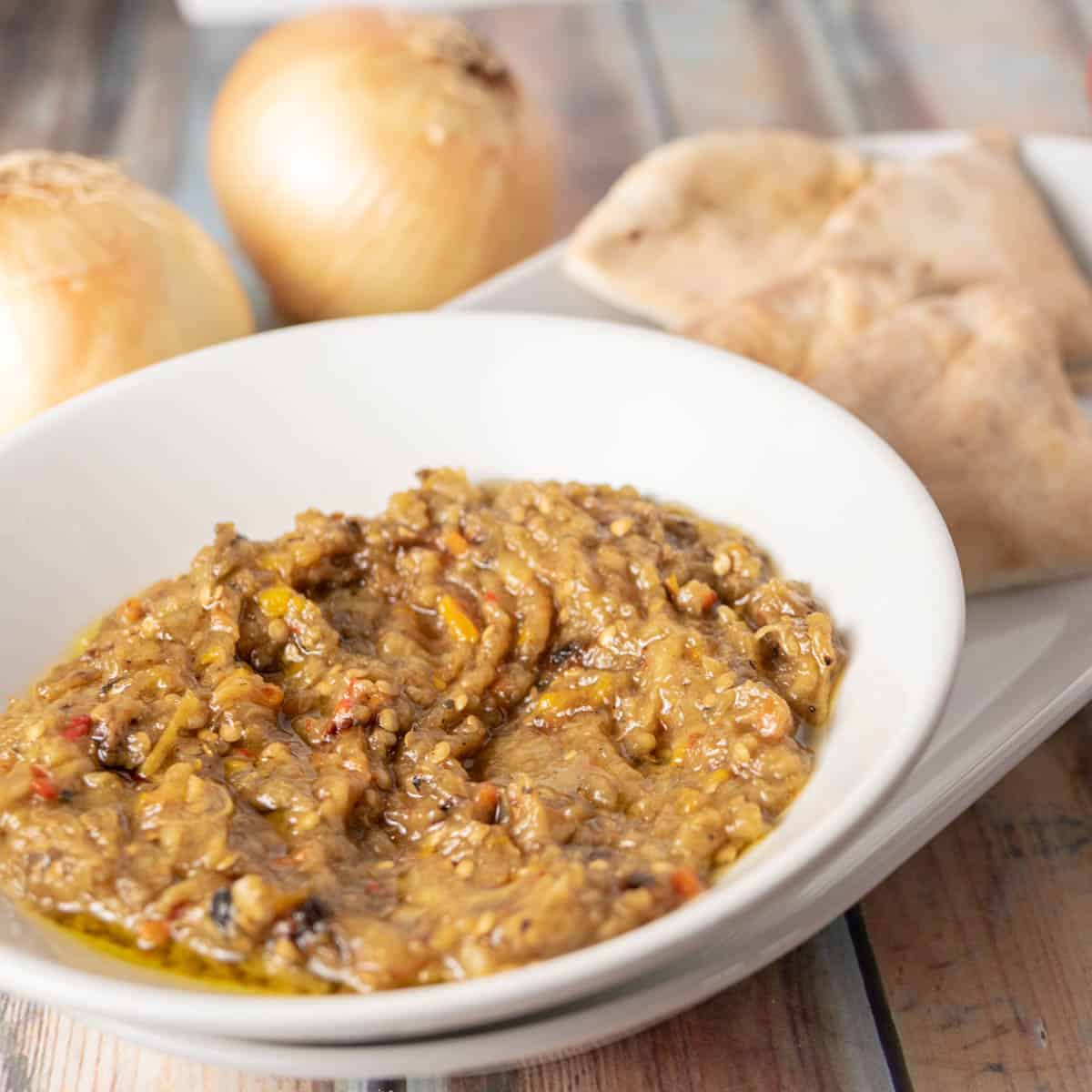 I also want to mention that this creamy eggplant dip is a great appetizer when you have a get together. It is great on crackers and pita chips. If you are having brunch this is a great dish to make.
Jump to:
What is Baba Ganoush?
Baba Ganoush is a Lebanese appetizer made of mashed cooked eggplant and other vegetables like peppers and onions and then mixed with tahini and usually lemon juice. Traditionally eggplant and vegetables are baked or broiled over an open flame then peeled and mashed to get a smoky flavor.
How Many Calories in Baba Ganoush?
Baba Ganoush has about 120 calories per 1/4 cup. The primary ingredient is eggplant and other vegetables making it very waistline friendly and also gluten free. Baba Ganoush eggplant dip actually has 72 calories per cup less than hummus.
Is Baba Ganoush Keto?
Made with roasted eggplant vegetables and spices makes Baba Ganoush is keto friendly. Even though bread is not keto friendly Baba Ganoush can be eaten with a spoon. It can also be served on keto friendly tortillas or any keto friendly chips.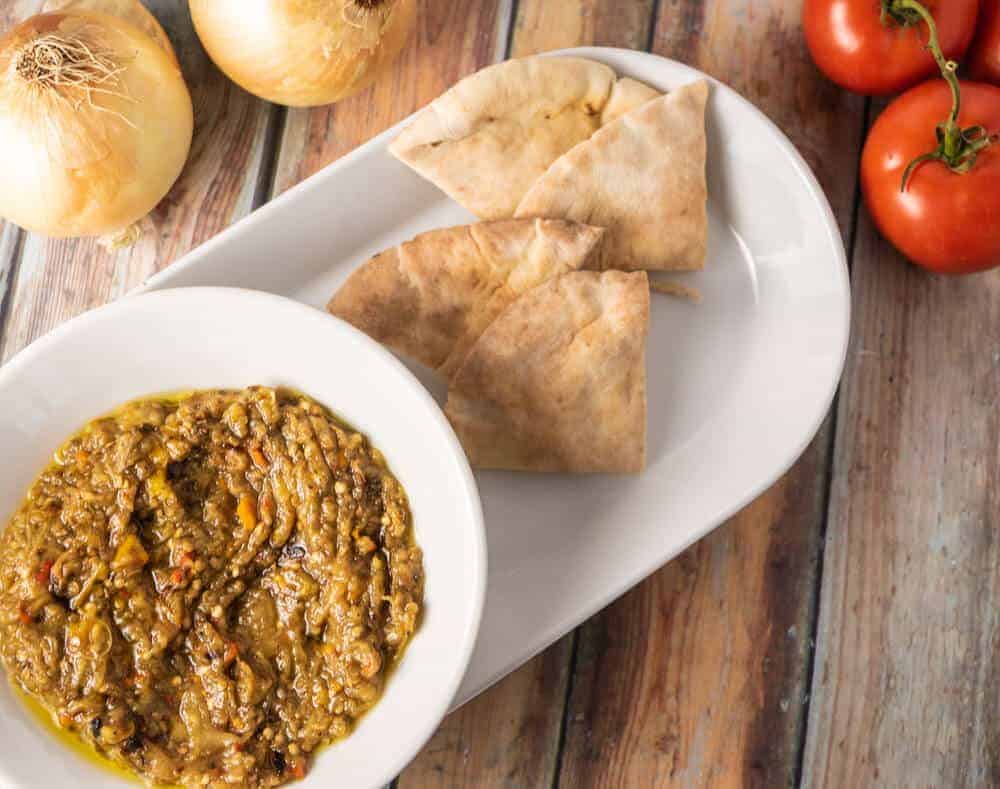 Baba Ganoush Ingredients
Eggplant
Garlic Cloves
Red Pepper
Olive Oil
Salt and Pepper
Garlic Powder
Lemon
Chopped Parsley (Optional)
Tahini (Optional)
Full Ingredient and Measurements in Recipe Card Below
How to Make Baba Ganoush
Step 1 – We start with roasting our vegetables. Usually, this is a mix of roasted eggplant, onions, peppers, garlic.
This is NOT a traditional recipe because it does NOT use tahini. Not to worry this Roasted Eggplant Dip is still delicious. If you would like to include tahini mix in about 1/4 cup.
Step 2 – Cut the stem end off of your eggplant, Poke eggplant a bunch of times with a fork, cut your peppers in half and remove the seeds. Get a few cloves of garlic peeled and put it all on a baking sheet pan. I usually put the vegetables on top of parchment paper.
Step 3 – Place baking pan in preheated oven to 400 degrees Fahrenheit oven. After about 30 minutes to 40 minutes check on the garlic to make sure it doesn't burn. If it's roasted and got some color to remove the garlic. Do the same thing with the peppers if they are finished roasting.
I find that the eggplant takes about 40 minutes or so. It may need more time based on the size of the eggplant.
Step 4 – Once everything is roasted and lightly browned let it all cool down so it is safe to peel. When you peel the vegetables there is really no need to make sure you get every little piece of the skin of the eggplant off.
A spoon can also be used to scoop out the eggplant. This trick is an update to this post as I found this easier than peeling off the skin. Discard the skins after scooping.
Place everything in a bowl and mash it up with a fork or chop it up with a knife. Mix it together with some olive oil, tahini lemon juice, and the spices below and you are ready to enjoy it.
Tip: If you want a more uniform texture and have a food processor place everything in the food processor and PULSE a few times with all of the veggies and seasonings.
What to Serve with Baba Ganoush?
When I make this dish of course the most common thing to serve it with is pita bread or pita chips. I also like to serve it with some hearty crunchy vegetables.
Baba ganoush is also a great condiment. I like to use it when I make a bowl type meal. I scoop it like ice cream and top the dish.
Pita Bread
Pita Chips
Cucumbers
Crackers
Carrot Sticks
Bell Peppers (Red,Green,Yellow or Orange)
Other Recipe to Enjoy
Refrigerator Dill Pickles
Mediterranean Cucumber Salad
Lemon and Garlic Asparagus Salad
Pan Fried Halloumi Cheese
Kitchen Essentials and Items Used
Organic Greek Extra Virgin Olive Oil
7″ Santoku Knife Chef Cutting Knife
Instant Omni Plus 10-in-1 Air Fryer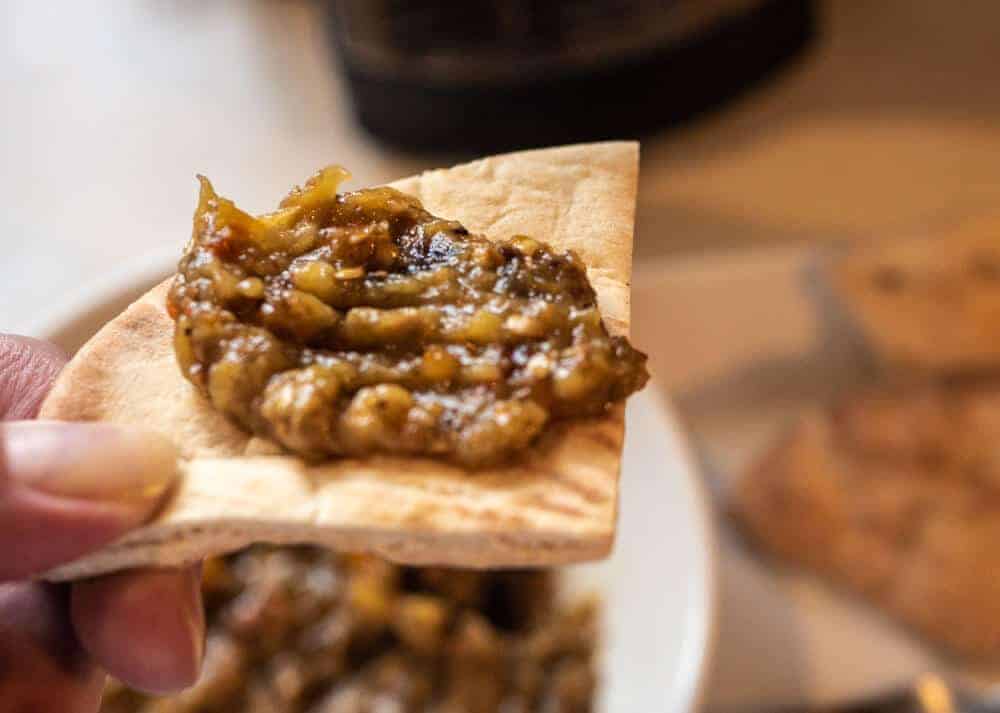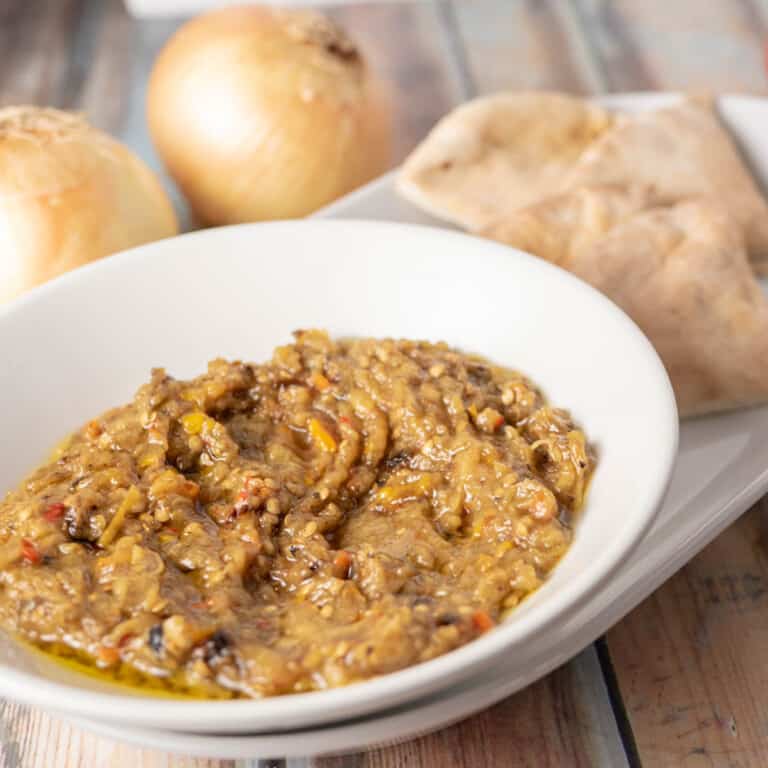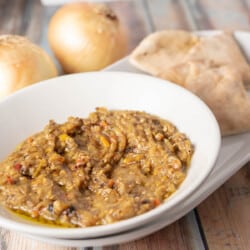 Roasted Creamy Eggplant Dip (Baba Ganoush)
This dish consists of roasted eggplant, onions and garlic mixed with lemon to make a version of a lebanese or greek appetizer called Baba Ganoush
Print
Pin
Rate
Ingredients
1

Eggplant

3 to 4

Cloves

Garlic

1

Red Pepper

1 1/2

Tbsp

Olive Oil

1/2

tsp.

Salt

Or to Taste

6 to 7

Turns of a Pepper Mill

1/2

tsp

Garlic Powder

2

Tbsp

Chopped Parsley

Juice of Half Lemon

Or to Taste
Instructions
Instructions:
Cut off top stem of eggplant. Pierce eggplant with fork several times. Cut peppers in half and remove seeds. Peel garlic. Place eggplant, peppers, garlic on sheet pan and drizzle with about 1/2 of a tablespoon of olive oil. Preheat oven to 400 degrees. Place sheet pan with vegetables in oven for 40 Minutes. After about 25 minutes check to see if peppers are done because they roast faster than eggplant. Remove garlic and peppers and set aside. Continue to roast eggplant for a total of 40 minutes. Eggplant is done when you can stick a fork in it and the eggplant is soft.

Once all cooking is complete Peel skin off eggplant. and peppers the best you can. Leave some of the skin on the vegetables because some of the char is flavor.

In a large bowl mash or chop up roasted peppers, garlic and eggplant. Add about 1/2 a tablespoon of olive oil. Add in salt and pepper and garlic powder and a little lemon juice. Adjust the salt and lemon amount to your taste and stir everything together. Add in chopped parsley and stir. Serve with some Italian Tuscan Style bread or Pita bread. Drizzle top of eggplant dip with leftover 1/2 tablespoon of olive oil.
Nutrition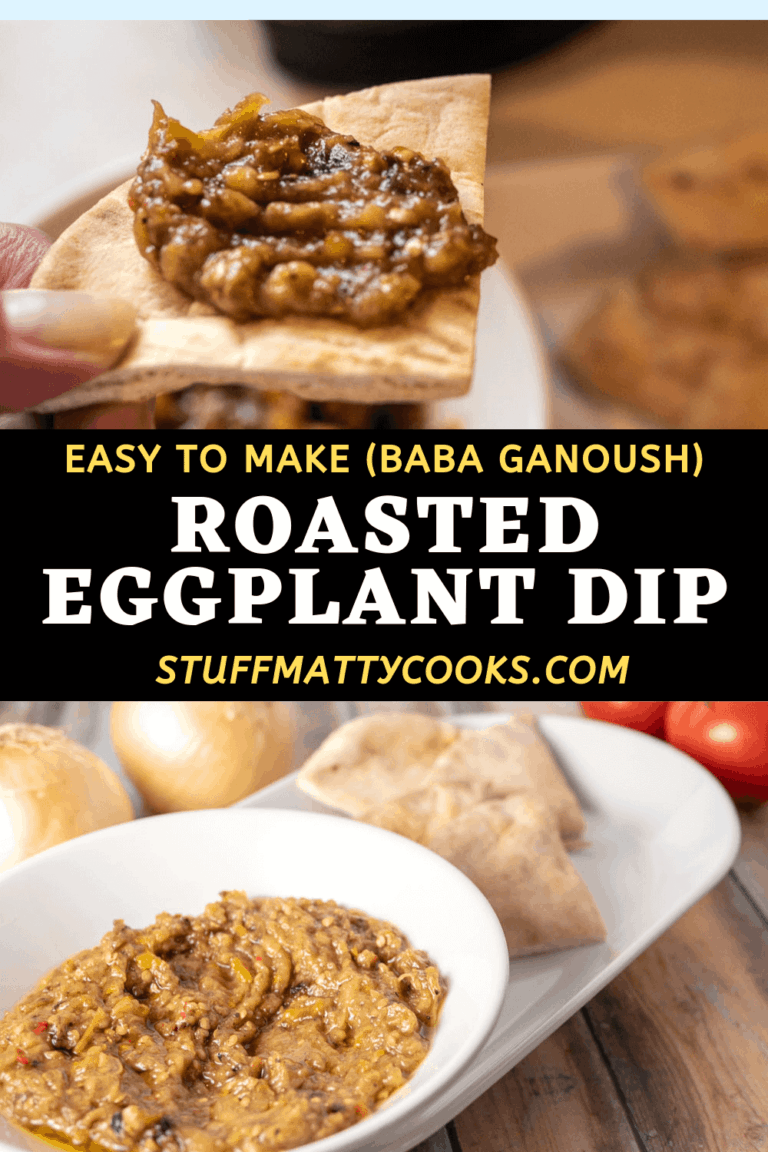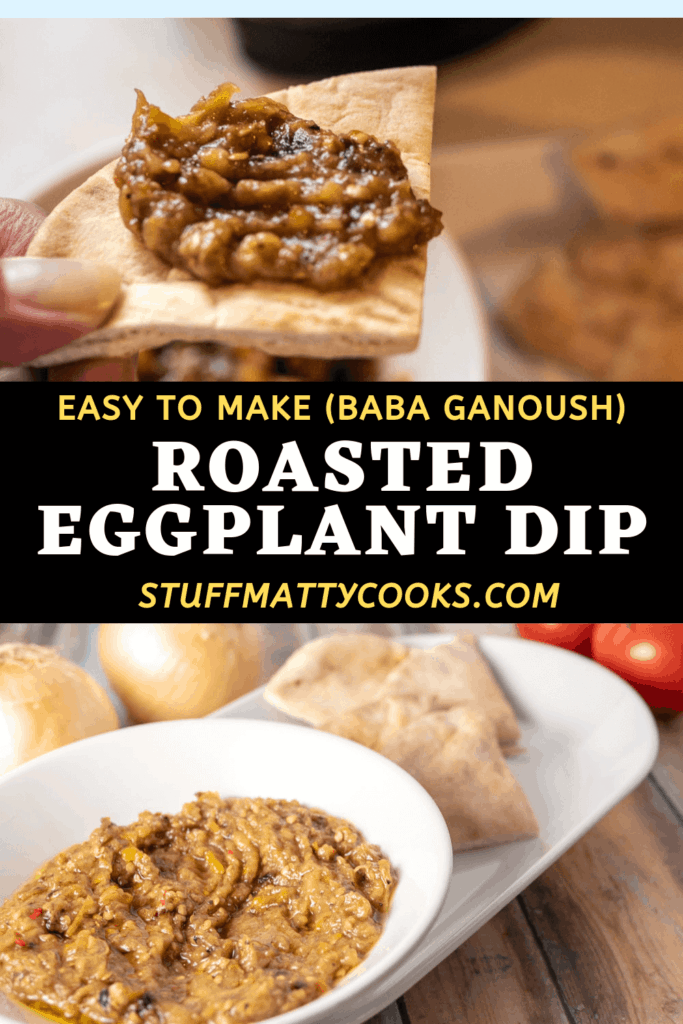 (Visited 1,598 times, 1 visits today)