This Roasted Eggplant Dip Recipe is easy to make and full of fresh vegatables and some herbs. It is great in a sandwich or just eaten alone with just some pita or slices of bread of your choice. This dip has a lot of flavor since the vegatables are roasted. not really sure whether to call this a greek style roasted eggplant dip (baba ganoush) or an Italian style eggplant dip recipe. What I can tell you is that it is a delicious recipe.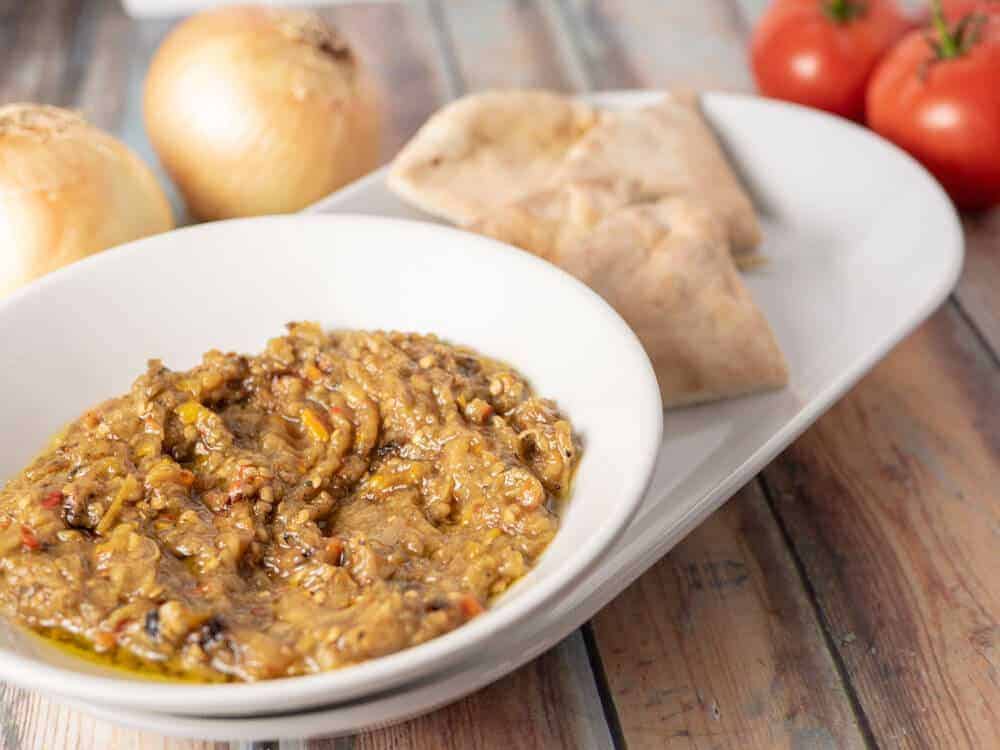 What is Baba Ganoush?
Baba Ganoush is a Lebanese appetizer made of mashed cooked eggplant and other vegetables like peppers and onions and then mixed with tahini and usually lemon juice. Traditionally eggplant and vegetables are baked or broiled over an open flame then peeled and mashed to get a smoky flavor.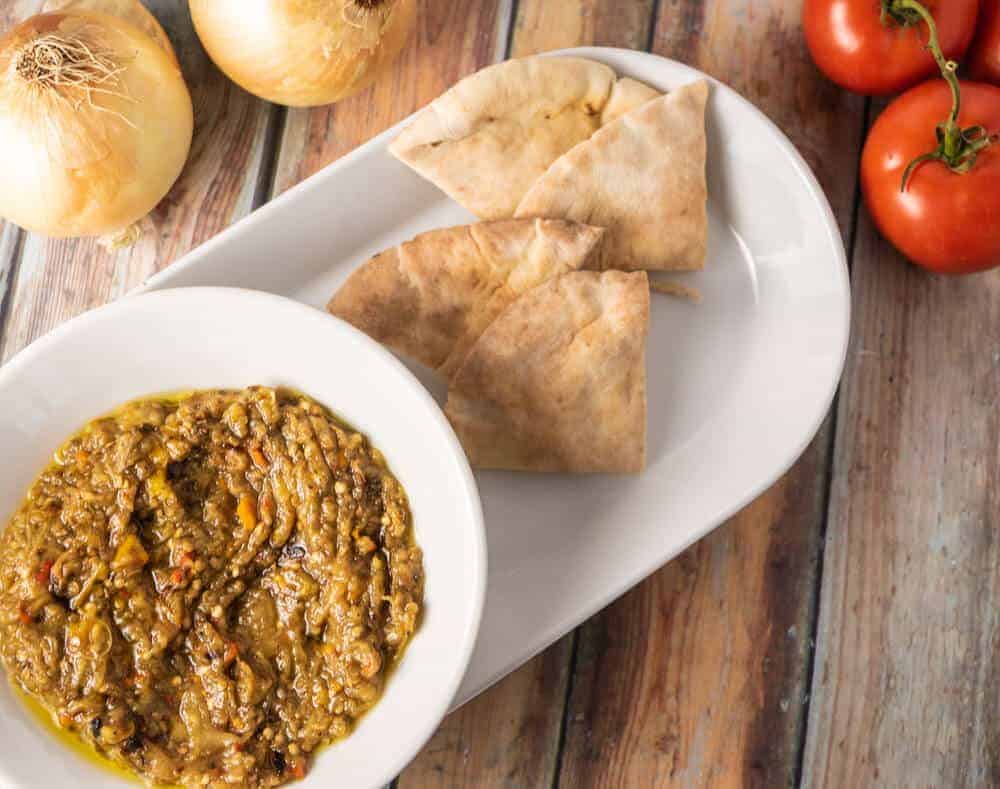 How to Make Roasted Eggplant Dip (Baba Ganoush)
First we start with roasting our vegetables. Usually this is a mix of roasted eggplant, onions, peppers, garlic. This is NOT a traditional recipe because it does NOT use tahini. Not to worry this Roasted Eggplant Dip is still delicious.
Cut the stem end off of your eggplant, Poke eggplant a bunch of times with a fork, cut your peppers in half and remove the seeds. Get a few cloves of garlic peeled and put it all on a sheet pan. I usually put the vegetables on top of parchment paper. Put the pan in a oven thats preheated to 400 degrees. After about 20 to 25 minutes check on the garlic to make sure it doesn't burn. If its roasted and got some color remove the garlic. Do the same thing with the peppers if they are preey much roasted. I find that the eggplant takes about 40 minutes or so based on the size of the eggplant.
After everything is roasted let it all cool down so it is safe to peel. When you peel the vegetables there is really no need to make sure you get every little piece of skin off. After all that char is flavor that you don't want to lose.
Now that everything is peeled put it in a bowl and mash it up with a fork or chop it up with a knife. Mix it together with some olive oil, lemon and the spices below and you are ready to enjoy it.
Come to think of it if you are making this appetizer you might also be interested in my Easy Refrigerator Dill Pickles to go with this recipe.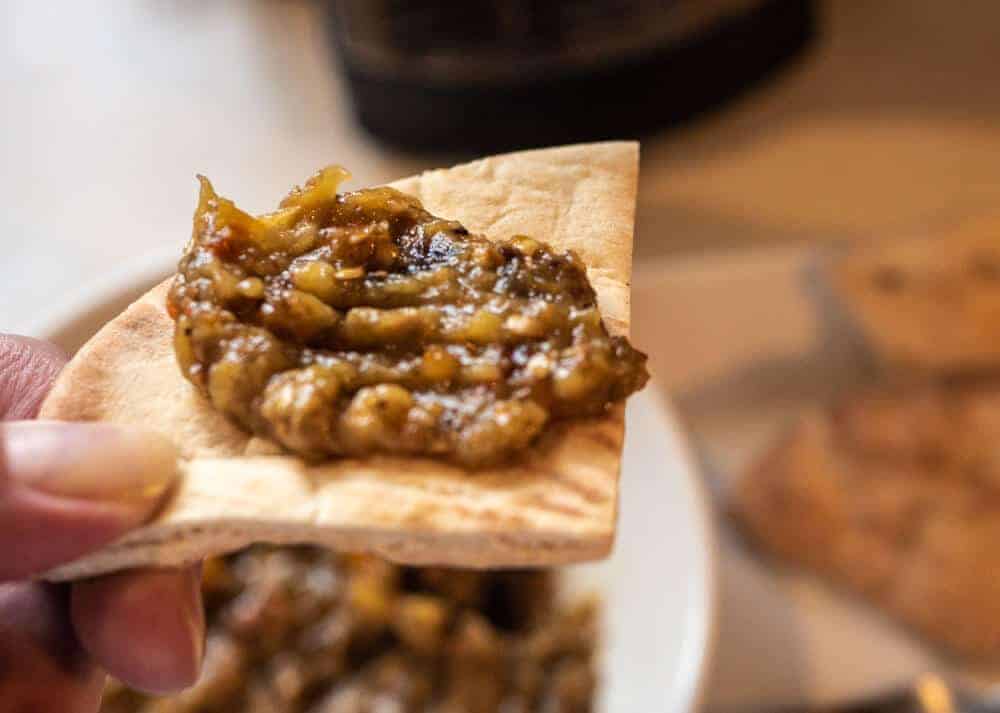 Roasted Eggplant Dip (Baba Ganoush)
This dish consists of roasted eggplant, onions and garlic mixed with lemon to make a version of a lebanese or greek appetizer called Baba Ganoush
Ingredients
1

Eggplant

3 to 4

Cloves

Garlic

1

Red Pepper

1 1/2

Tbsp

Olive Oil

1/2

tsp.

Salt

Or to Taste

6 to 7

Turns of a Pepper Mill

1/2

tsp

Garlic Powder

2

Tbsp

Chopped Parsley

Juice of Half Lemon

Or to Taste
Instructions
Instructions:
Cut off top stem of eggplant. Pierce eggplant with fork several times. Cut peppers in half and remove seeds. Peel garlic. Place eggplant, peppers, garlic on sheet pan and drizzle with about 1/2 of a tablespoon of olive oil. Preheat oven to 400 degrees. Place sheet pan with vegetables in oven for 40 Minutes. After about 25 minutes check to see if peppers are done because they roast faster than eggplant. Remove garlic and peppers and set aside. Continue to roast eggplant for a total of 40 minutes. Eggplant is done when you can stick a fork in it and the eggplant is soft.

Once all cooking is complete Peel skin off eggplant. and peppers the best you can. Leave some of the skin on the vegetables because some of the char is flavor.

In a large bowl mash or chop up roasted peppers, garlic and eggplant. Add about 1/2 a tablespoon of olive oil. Add in salt and pepper and garlic powder and a little lemon juice. Adjust the salt and lemon amount to your taste and stir everything together. Add in chopped parsley and stir. Serve with some Italian Tuscan Style bread or Pita bread. Drizzle top of eggplant dip with leftover 1/2 tablespoon of olive oil.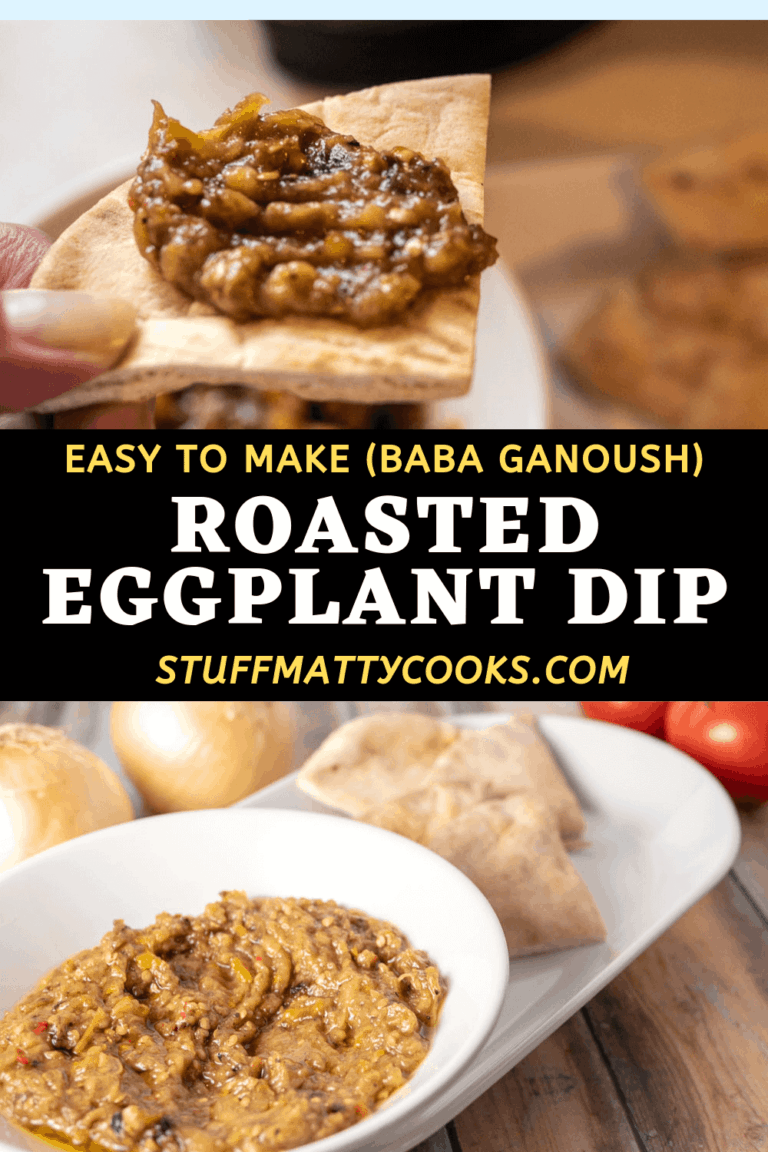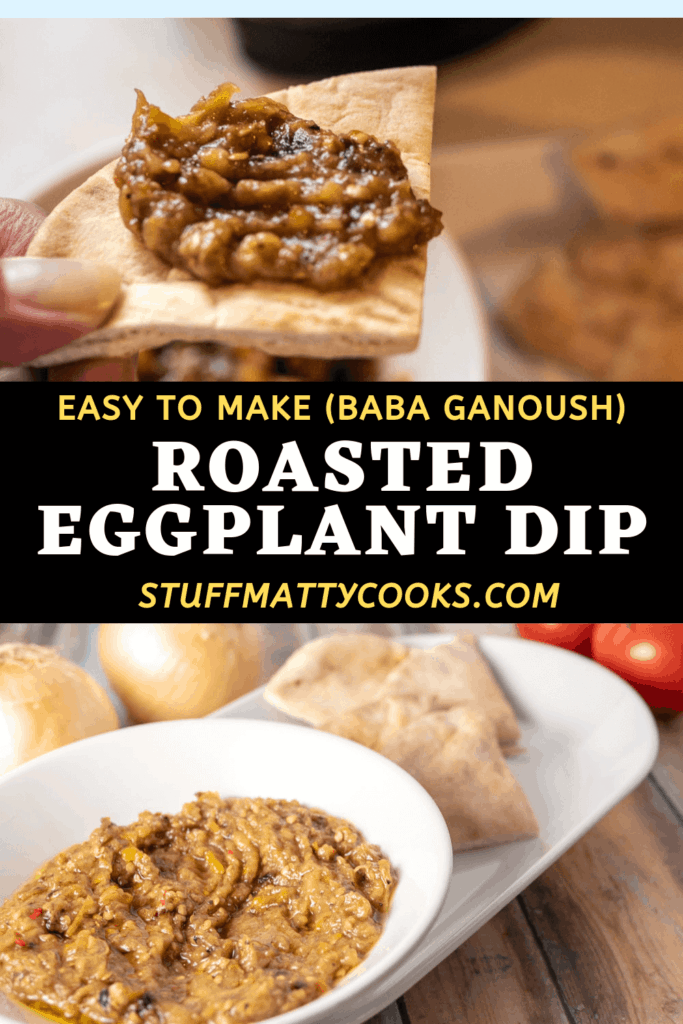 (Visited 691 times, 1 visits today)