Mediterranean cucumber salad is a dish that's perfect for almost any occasion. An easy-to-make salad made with simple ingredients, Mediterranean cucumber salad is a light dish that's heavy on flavor. It's perfect for get-togethers, potlucks, or just an unexpected addition to a weeknight dinner.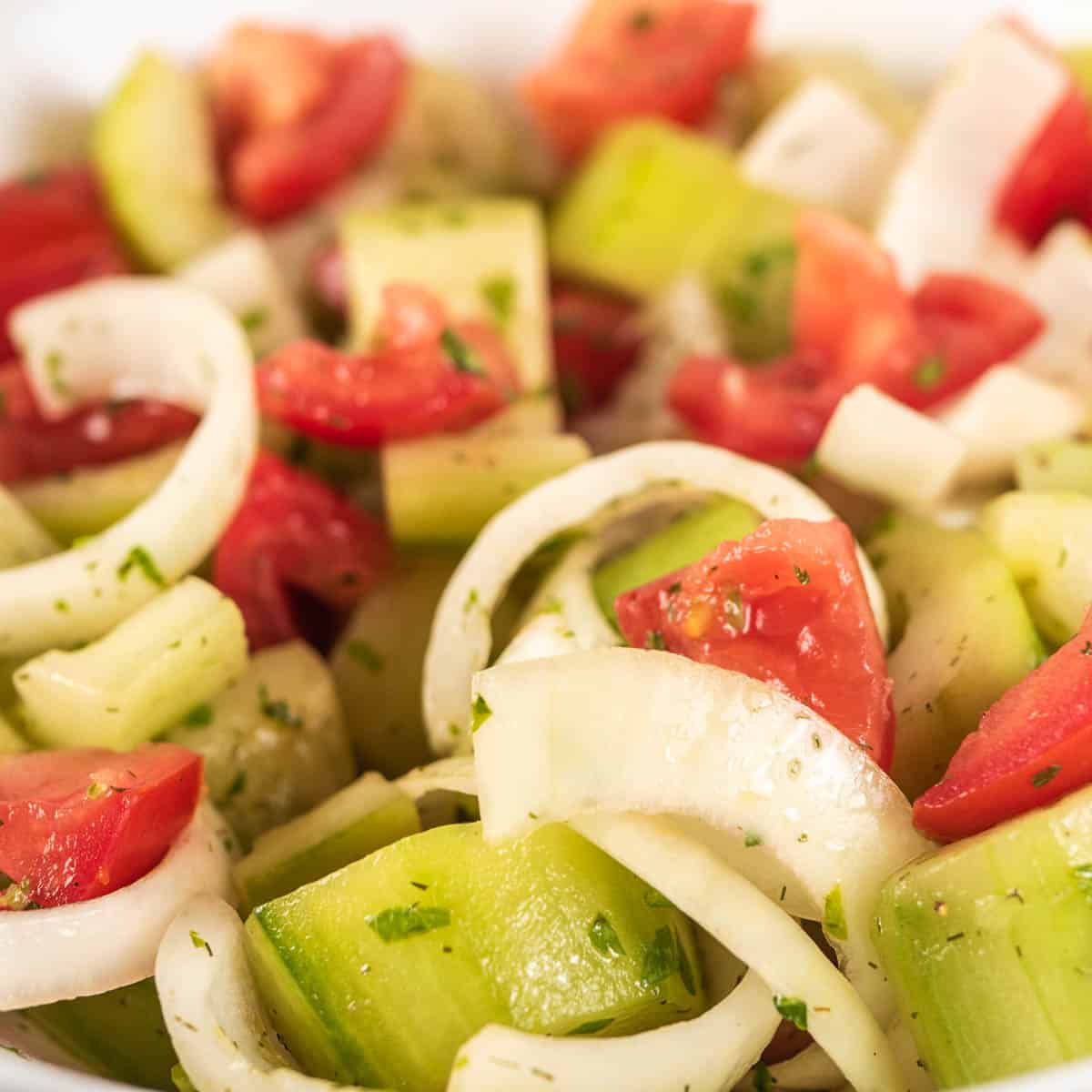 Mediterranean Cucumber Salad
Even those of us who love to cook, like say, someone who loves it so much they might have started a food blog don't necessarily want to be in the kitchen for hours all the time. That's one of the highlights of this dish. It's easy.
This salad only has nine ingredients, and you only have to chop four of them. It's a super easy salad that takes very little time to produce something that your family will deem restaurant-worthy.
Mediterranean cucumber sald is perfect for the summer and pairs well with almost any dish. Whether you're grilling up steaks or baking chicken, this salad is the perfect compliment. The cucumber, onion, and tomato are light and summery, while the vinegar and spices add a nice, poppy tartness that sets off almost any dish with which it's served.
Jump to:
Mediterranean Cucumber Salad Ingredients
The ingredients for this easy Mediterranean cucumber salad couldn't be simpler. Just three vegetables, some spices, olive oil, and vinegar are all you need to whip up this delicious salad whenever you like.
3 Large Cucumbers
2 to 3 Roma Tomatoes
1 Medium Sweet Onion
Fresh Chopped Italian Parsley
Dried Mint
White Vinegar
Extra Virgin Olive Oil
Salt
Pepper
Full Ingredients and Measurements in Recipe Card Below
How to Make Mediterranean Cucumber Salad
Making this Mediterranean cucumber salad is as easy as the ingredients list. It takes minimal effort to create this easy dish. You can add any ingredients that you enjoy.
That's a good thing, because you'll want to make it all the time. This salad is quick and easy, but the flavors produce a complex flavor profile that belies its simple ingredients. It's definitely a dish that is more than the sum of its parts.
Chop
Chop up your cucumber, tomato, and onion, and give your parsley a fine dice. Be sure to chop your cucumber larger than you normally would to keep it from getting soggy when your salad is tossed with the dressing.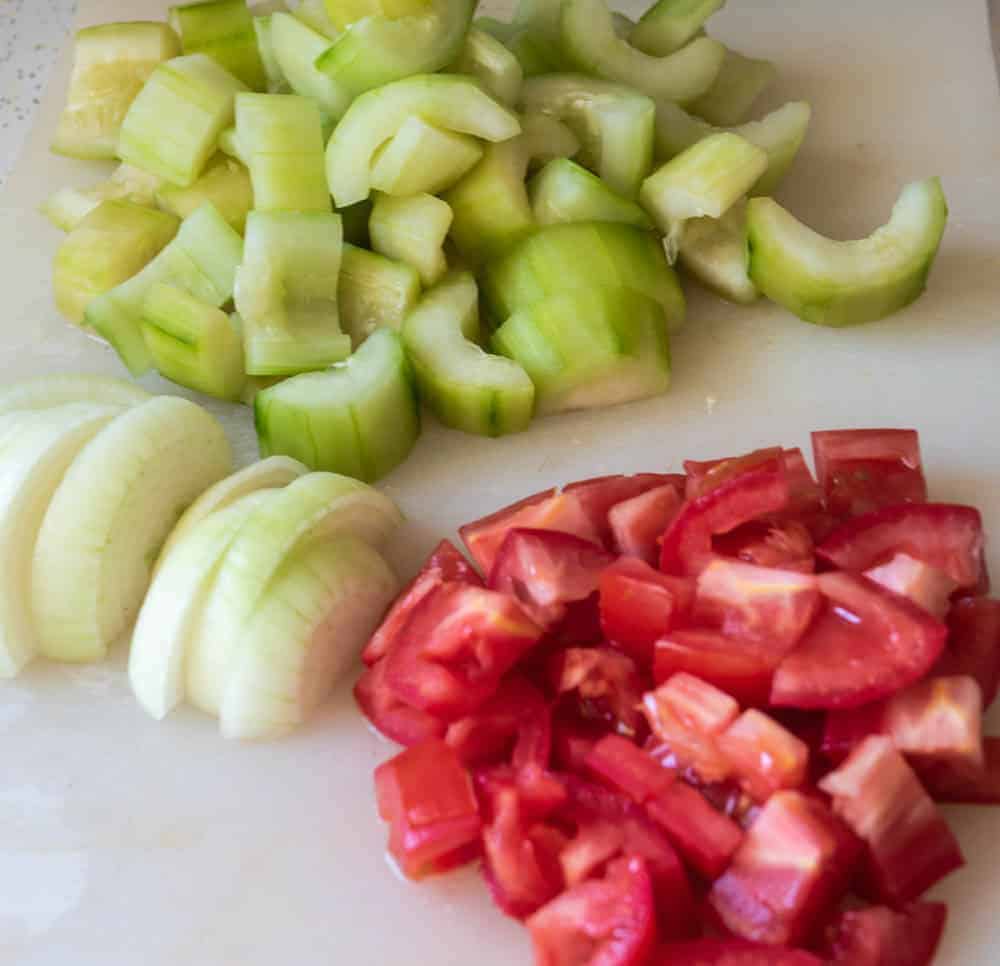 Combine
Combine the parsley, vinegar, olive oil, and black pepper until they are thoroughly incorporate. This is your dressing.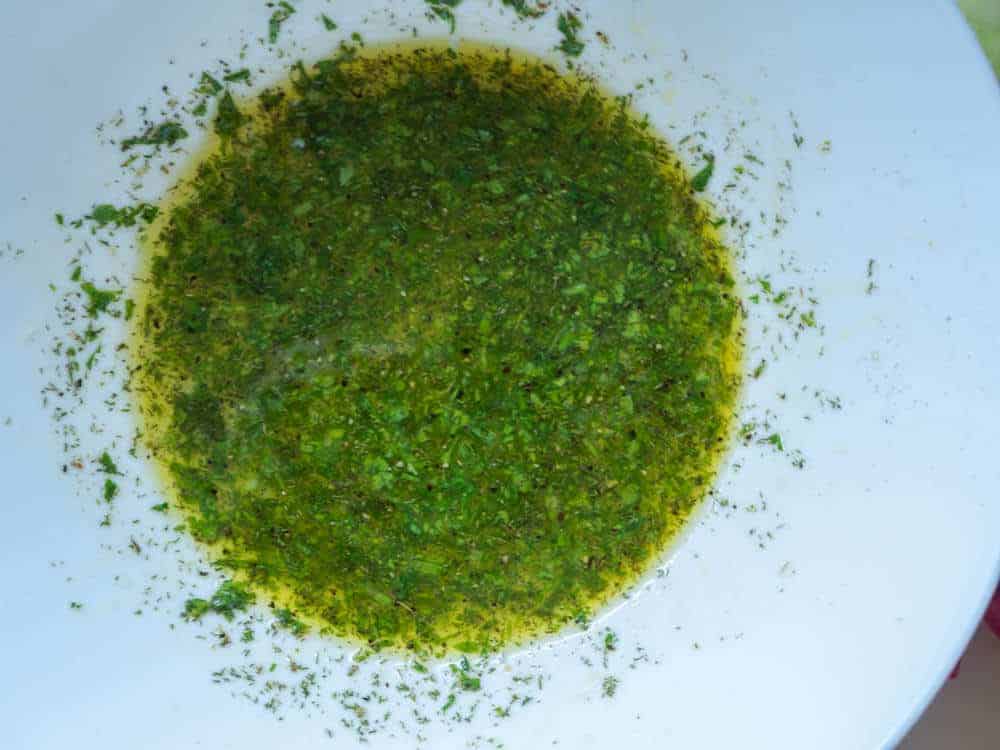 Toss
Toss your salad ingredients in the dressing to coat. That's it. You're done, and it's time to serve up this delicious, light salad.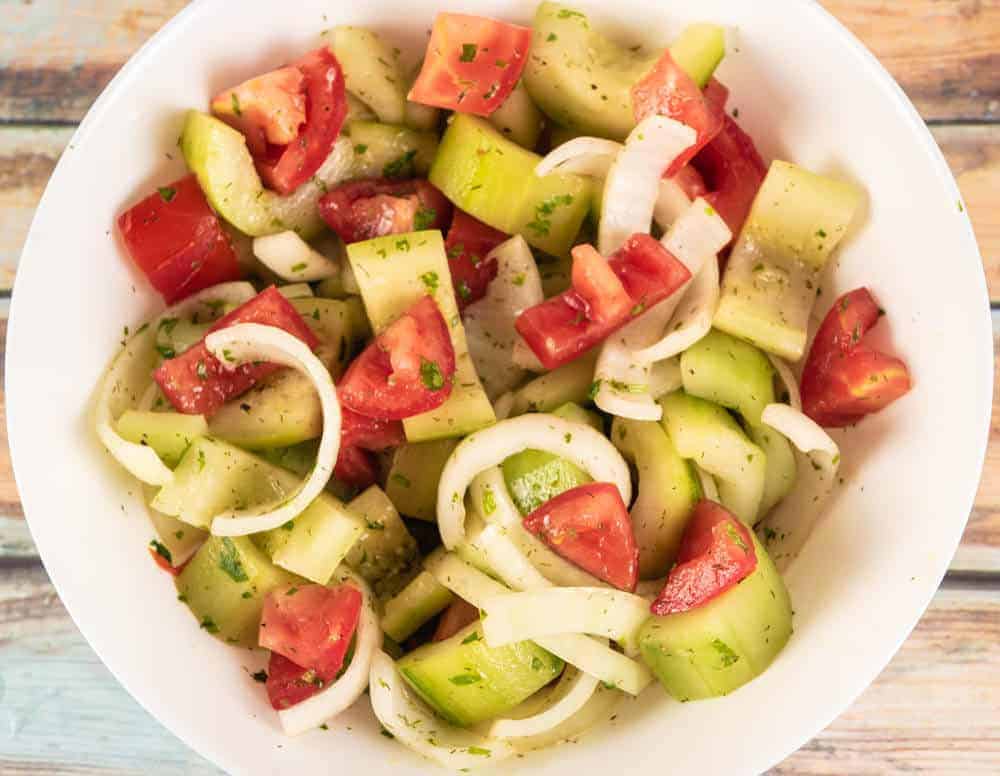 Cucumber Salad Suggestions and Variations
This Mediterranean cucumber salad goes with just about anything. From picnics and barbecues to a crisp addition to dinner or even just a snack, it's always a winner.
What makes this salad so great is that you can also spice it up a bit. If you want to build on the salad, you're free to add just about any veggie you can imagine to your salad. It's an excellent way to use up produce in a pinch.
You can also add this salad to a traditional green leafy salad. Spoon this Mediterranean cucumber salad right over a bed of green, or give your greens a nice chop and toss the entire thing together. However you choose to do it, it's always a winner.
Cucumber Salad Shelf Life
Cucumber salad of any variety will keep at its peak in the refrigerator for about three days. After that, it's still safe to eat, but it won't have that crispness that really makes the salad pop.
Storing Mediterranean Cucumber Salad
Storing this salad couldn't be easier. All you need is an airtight container, and you're good to go. Keeping it tightly closed keeps the salad fresh and your fridge from smelling like the salad.
For super easy storage, use a mason jar. You can pour the dressing directly over the salad and let it all marinade together right in the jar.
Mediterranean Cucumber Salad is an Easy to Make Winner
With so few ingredients and such a small amount of prep, this Mediterranean cucumber salad is a winner for any occasion or any time. It's so full of flavor but so easy to make that it's perfect for special occasions or just a random Tuesday. Give this Mediterranean cucumber salad a try. You'll be glad you did.
Other Recipes to Enjoy
Instant Pot Pasta Salad
Instant Pot Collard Greens
Jamaican Steamed Cabbage
Kitchen Essentials and Items Used
DALSTRONG Chef Knife – 8″
DOWAN Porcelain Serving Bowls, 2.8 Quarts
Made in the USA, Large End Grain Walnut Wood Cutting Board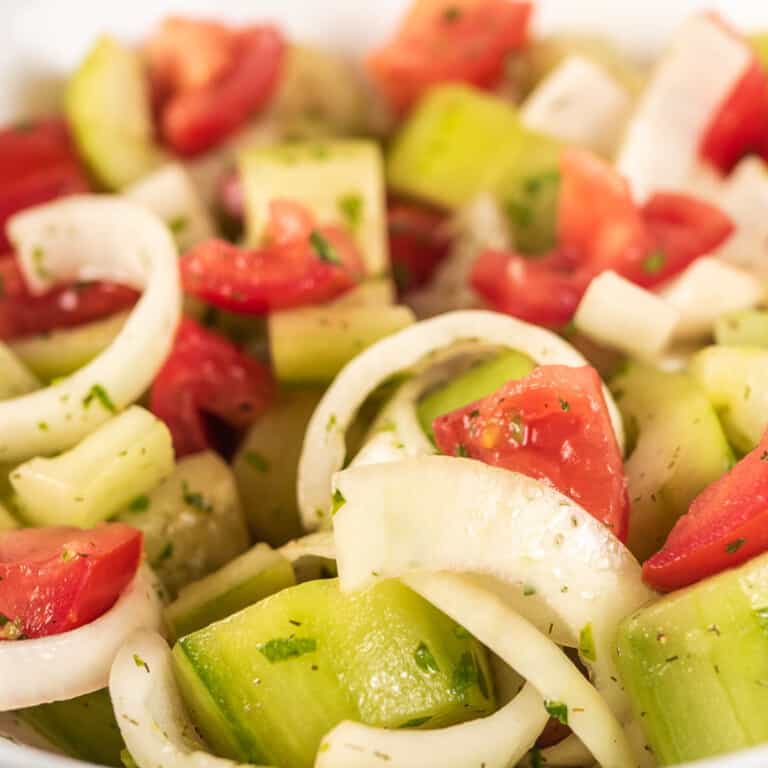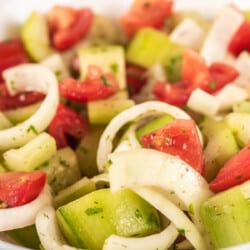 Mediterranean Cucumber Salad
Mediterranean cucumber salad is easy to make and full of flavor. The Mediterranean cucumber salad makes a great addition to any meal and it's so easy.
Print
Pin
Rate
Ingredients
3

larger cucumbers peeled

2 to 3

Roma Tomatoes

1

Medium Sweet Onion

7

Tbsp.

White Vinegar

2

Tbsp.

Extra Virgin Olive Oil

1

tsp.

Salt

10

Turns of a pepper grinder

2

Tbsp.

Fresh Chopped Italian Parsley.

1

tsp.

Dried Mint
Instructions
Peel cucumbers if using standard conventional cucumbers. If using seedless cucumbers peeling is not required.

Cut cucumbers in half lengthwise. If using conventional cucumbers scoop the seeds out with a spoon.

Cut cucumbers and a half inch size half moon shapes. Cut them a little bit thicker than you normally would so they don't get soggy too quick in the vinegar mixture.

Chop tomatoes into quarters or larger chunks whichever you prefer.

Cut onion into quarter inch slices in a half moon shape.

Finely chopped parsley by bunching up leaves and finely chopping.

Add all ingredients to a large bowl and toss. Cover and let sit in the fridge for at least 15 to 20 minutes to let flavors come together.
Nutrition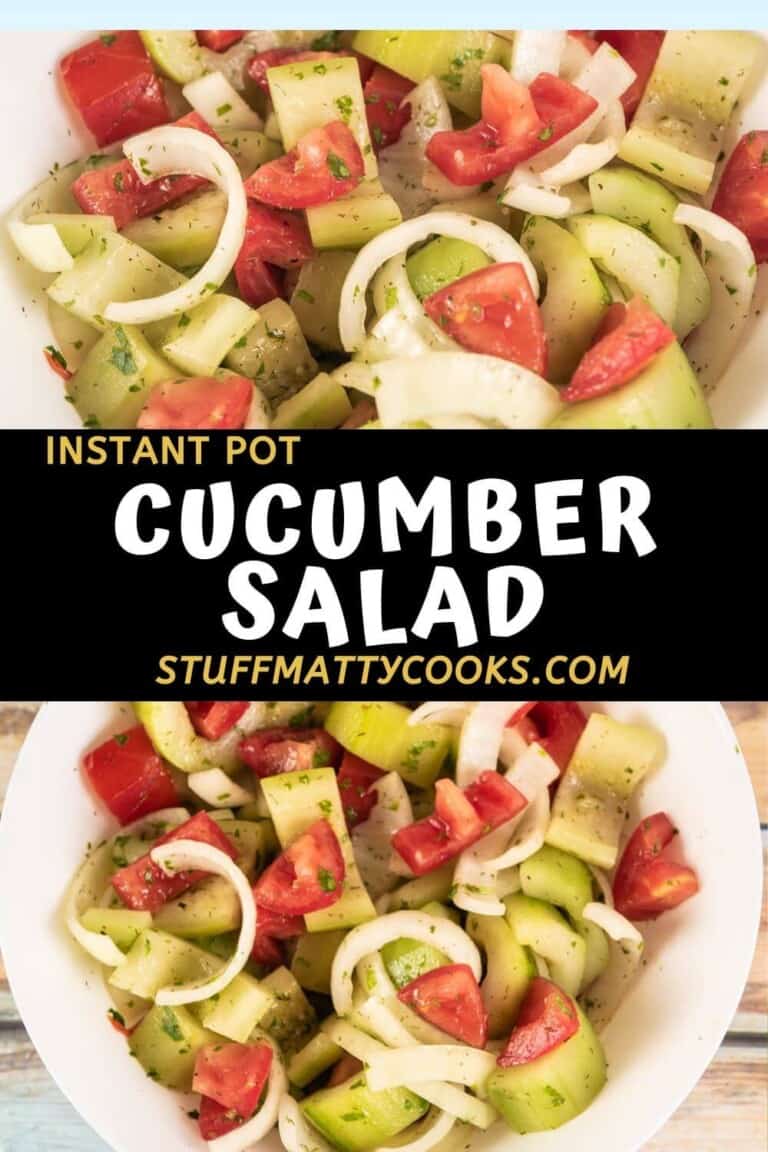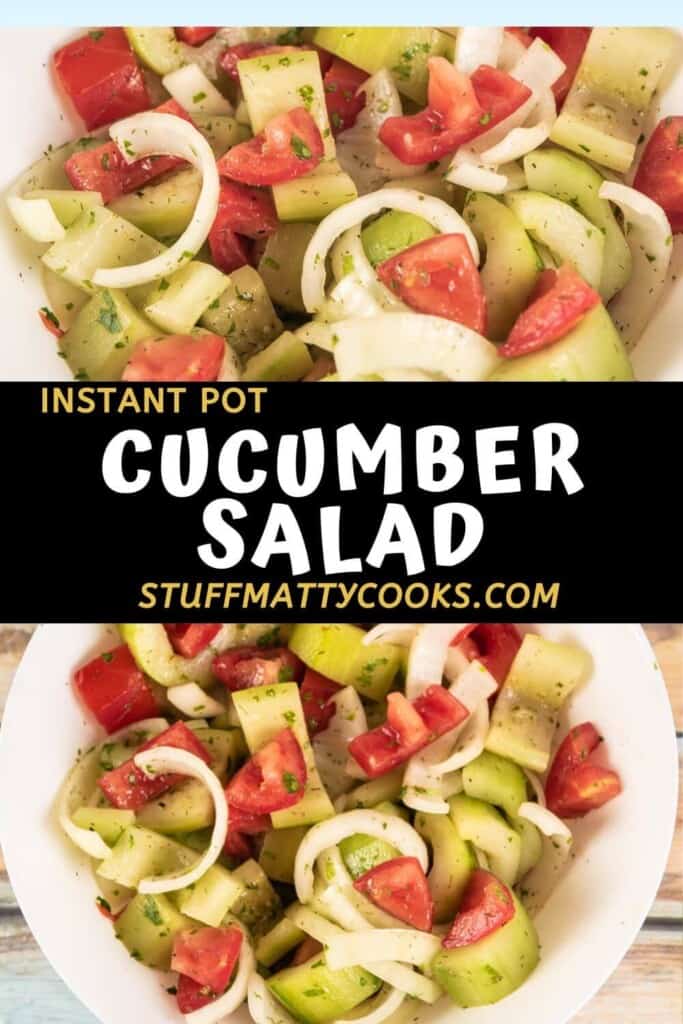 (Visited 2,699 times, 1 visits today)