Frozen chicken nuggets in the air fryer is the best way these days to cook this delicious snack. The nuggets come out juicy inside and crispy on the outside. This is a MUCH BETTER way than using the microwave.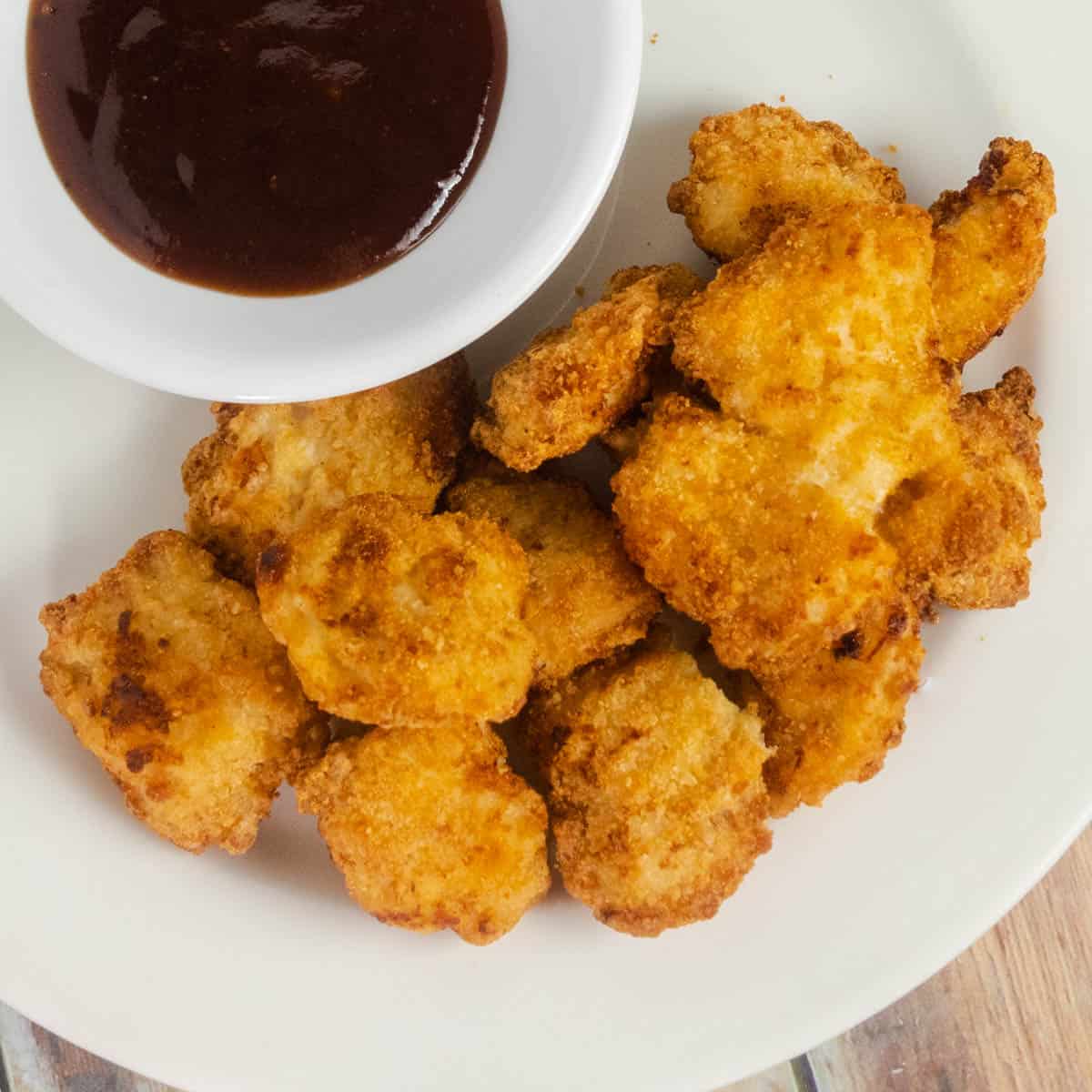 My family is crazy about chicken nuggets. The air fryer is by far the best way to cook up this fantastic snack. A nice dipping sauce and maybe a side of Frozen French Fries and now you have got a complete meal. Chicken nuggets are probably the most kid friendly air fryer recipe.
Jump to:
Ingredients
Bell and Evans chicken nuggets are the best. Made from chicken breast and are much healthier than most brands. They taste much better to me. I have always bought this brand. These are my favorite chicken nuggets.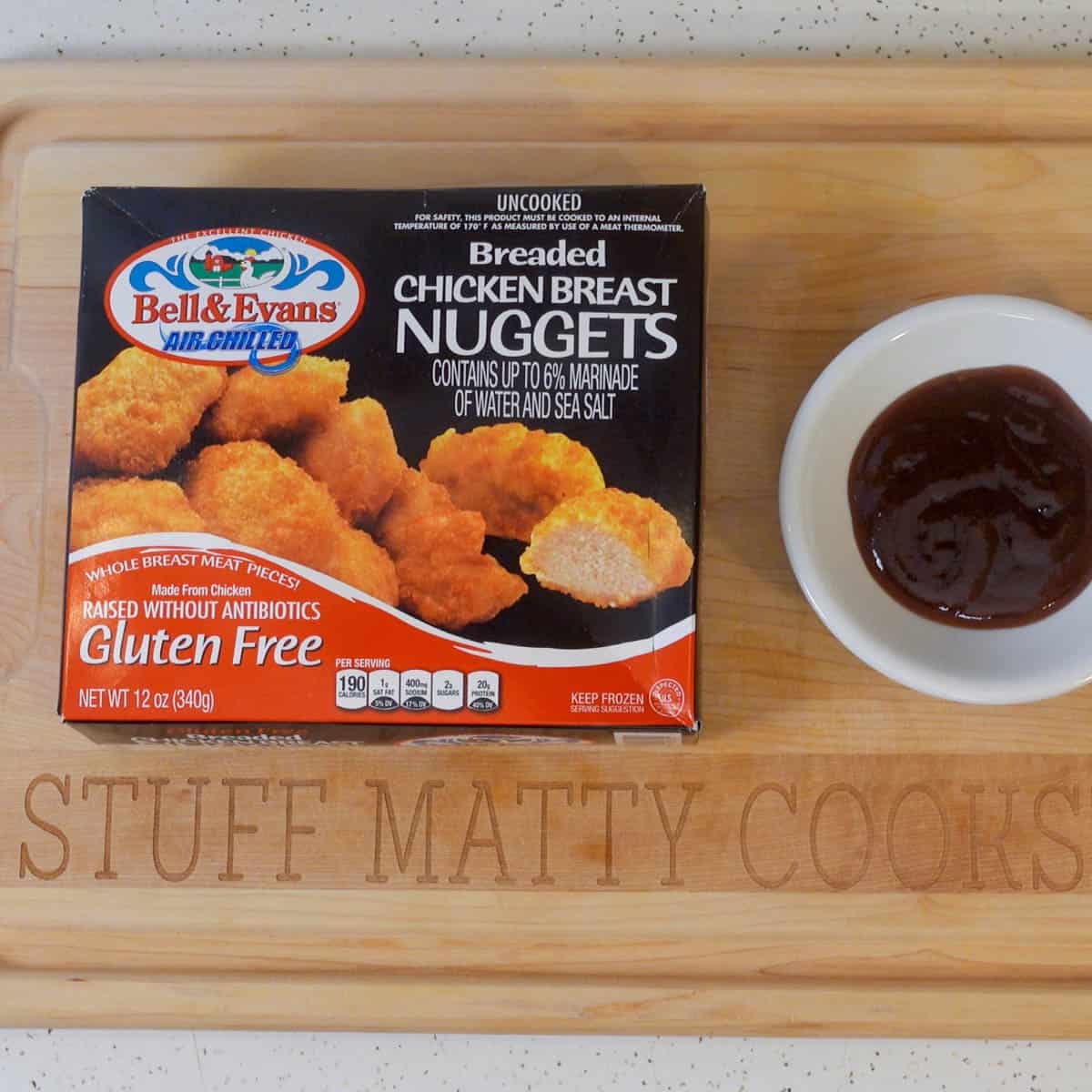 Chicken Nuggets ( I used Bell and Evans Chicken Nuggets)
Barbecue Sauce
French Fries (Optional)
Garlic Powder (I always give them a sprinkle)
Jump to recipe card for quantities.
Let's talk about how to cook frozen chicken nuggets in the air fryer. Chicken nuggets come in a bunch of different shapes and sizes but chicken nuggets also come precooked in most brands.
Chicken nuggets also come in uncooked versions.
I have included cooking times for both pre-cooked and uncooked chicken nuggets in the air fryer. Bell and Evans are not precooking their chicken nuggets. The cooking process steps are the same. The cooking time changes.
How to Cook Chicken Nuggets in Air Fryer
Place your chicken nuggets into the air fryer basket. The key here is to spread chicken pieces out in a single layer. This makes for optimal air circulation and getting the nuggets nice and crispy.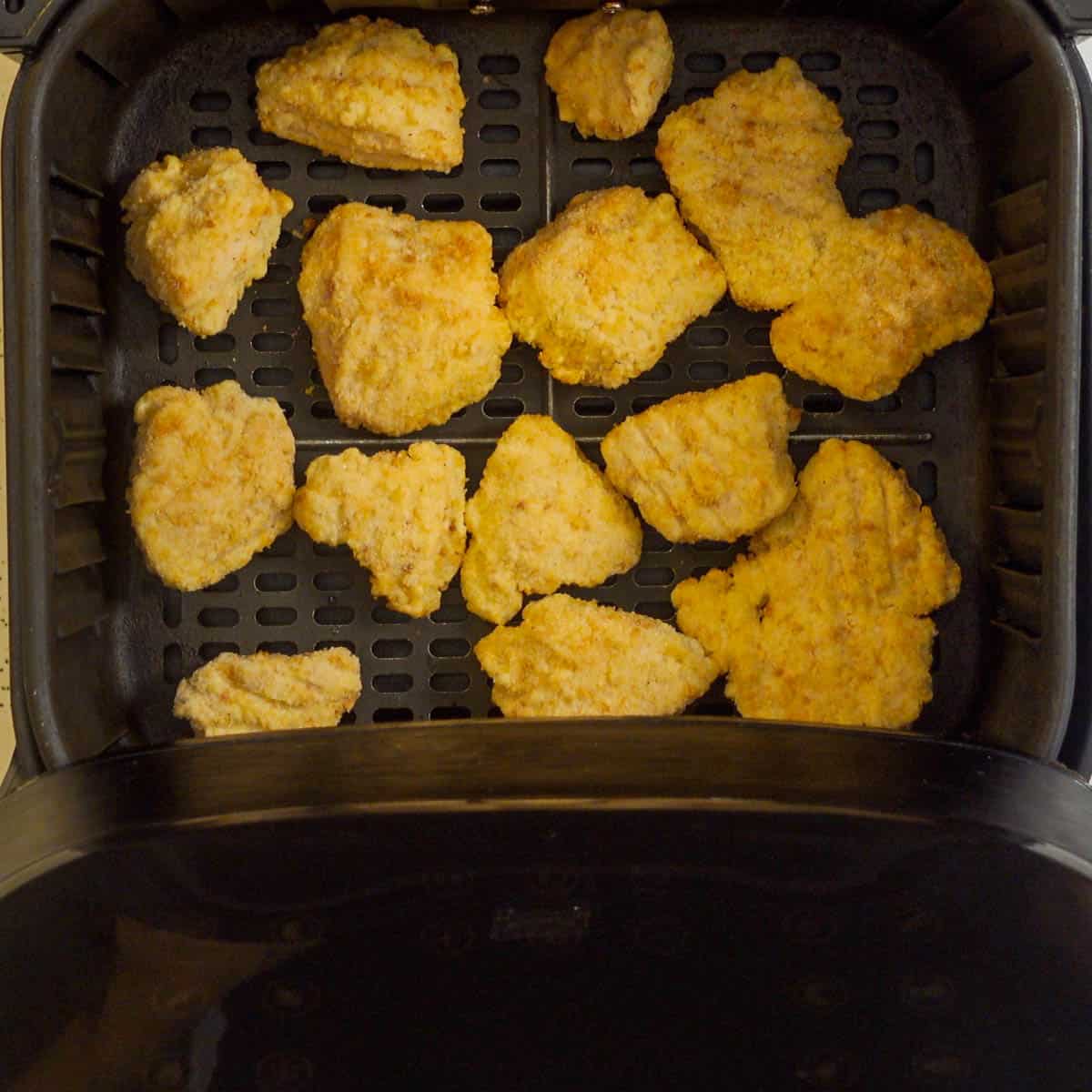 How Long to Cook Chicken Nuggets in Air Fryer
The cooking time of chicken nuggets in the air fryer depends on the size. Increase or decrease cooking time accordingly. Tests are conducted on cooking times. These are a guidline as cooking times may vary.
Uncooked nuggets. 20-22 minutes of cooking time.
Pre-cooked chicken nuggets set the air fryer to 400 degrees Fahrenheit. 10-12 minutes of cooking time.
If you are using the uncooked chicken nuggets I find it is always a good idea to use a meat thermometer. Air fryer chicken nuggets should be cooked to an internal temperature of 170.
Full instructions are in the recipe card at the bottom of the post.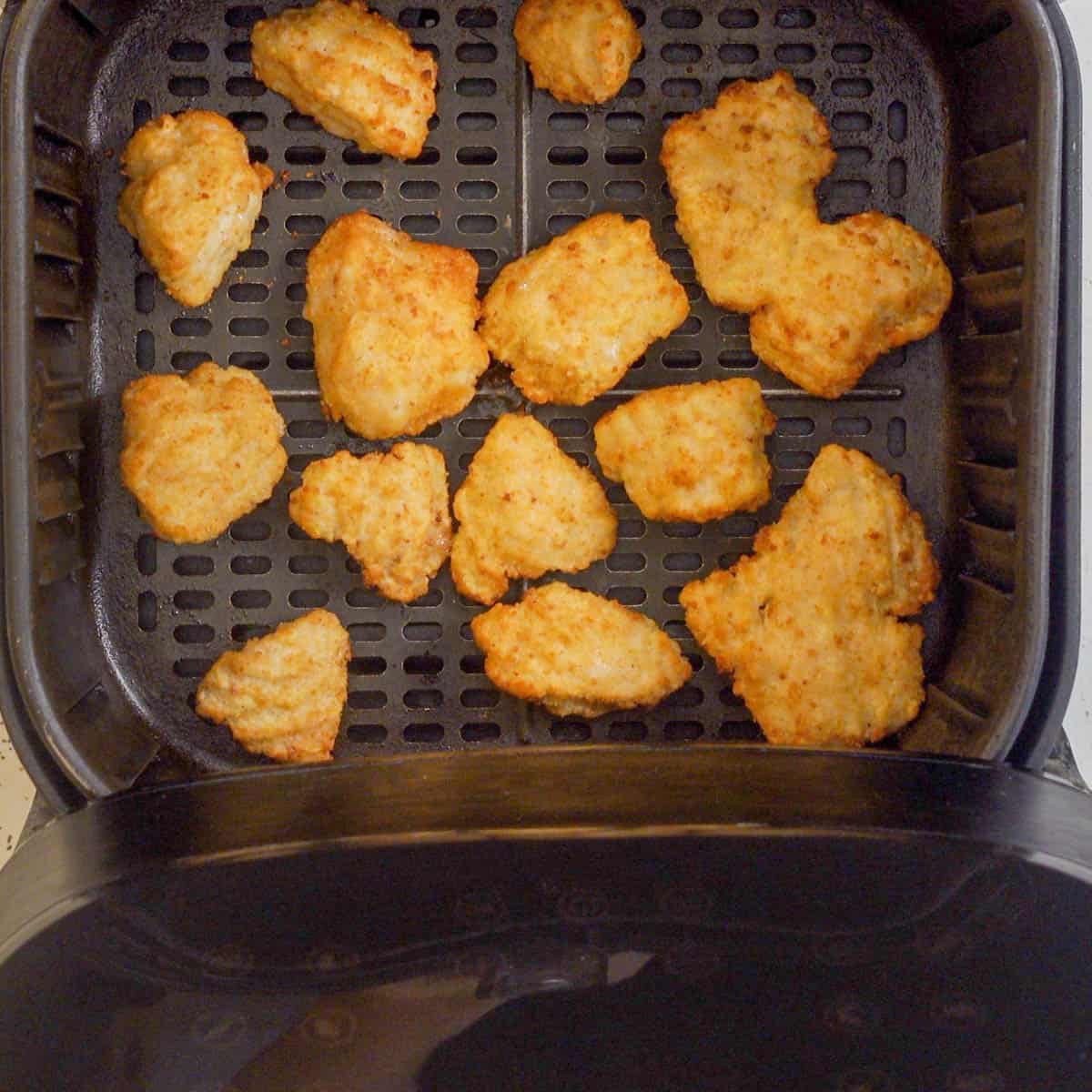 I flip the chicken about halfway through the cooking time. I get the best results with this method.
Tip: Keep in mind that all air fryers are different and depending on their wattage the cooking times can vary by a few minutes.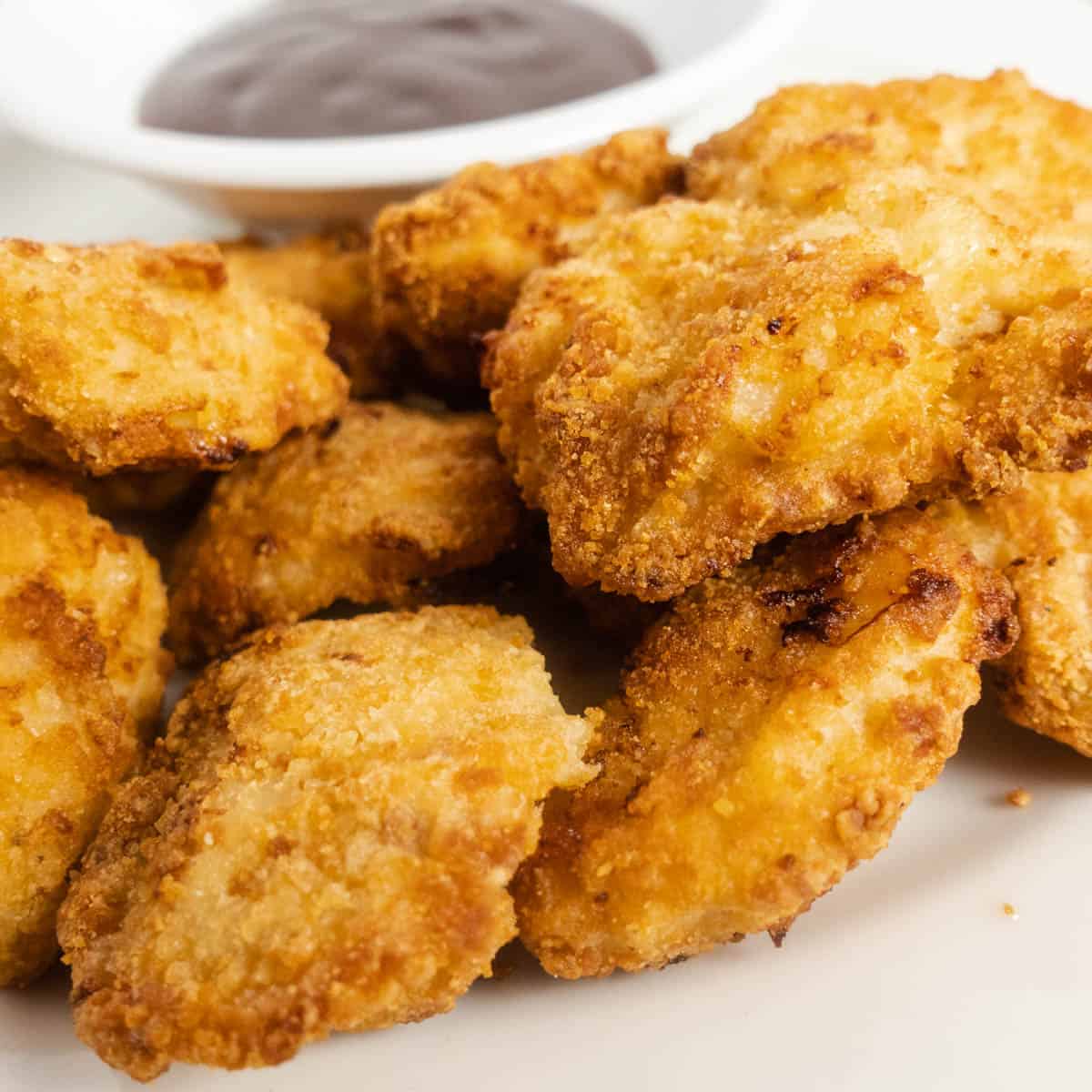 What to Serve with Chicken Nuggets
What dipping sauce to serve with chicken nuggets is a matter of preference but I find these sauces are most common. I have also included some other recipes that go great with chicken nuggets.
BBQ Sauce – Use Your Barbecue sauce of choice.
Ranch Dressing – Ranch is good on everything.
Blue Cheese Dressing – This is one of my favorites
See this spicy version of this recipe on my website! (placeholder for in-content link)
Equipment
Of course, the equipment can have a huge impact on how recipes turn out. Air fryers are no different. I'm listing the air fryer that I use below. I do have more than one.
Included is also a list of what I think are a few kitchen essentials.
Ninja Foodi 6-in-1 8 Quart 2-Basket Air Fryer.
Ninja AF101 Air Fryer, 4 Qt.
Instant Vortex 4-in-1 Basket Air Fryer
Air Fryer Parchment Paper, Air Fryer Liners, 200pcs 8.5 Inch
Air Fryer Liners, 2 Pack Non-Stick 8.5 Inch Silicone Square
Storage
Chicken nuggets can be stored in an airtight container for 3 to 4 days.
Reheat Chicken Nuggets in Air Fryer
How to reheat chicken nuggets in the air fryer is a simple process. The air fryer does a much better job of this than a microwave.
Place chicken nuggets in an air fryer basket in a single layer.
Set air fryer to 350 degrees Fahrenheit
Cook 3-4 minutes until hot.
Sides for Chicken Nuggets
Air Fryer Frozen French Fries
Air Fryer Frozen Onion Rings
Frozen Eggrolls in the Air Fryer
Air Fryer Frozen Dumplings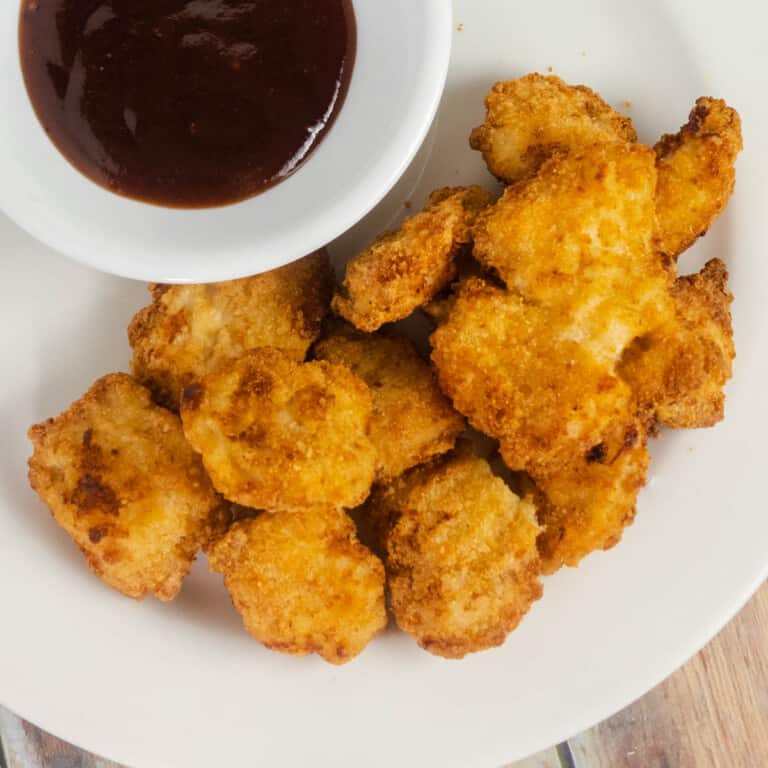 Frozen Chicken Nuggets Air Fryer
Frozen chicken nuggets in the air fryer came out fantastic. Makes a great snack or even dinner. Ready in as little as eight minutes cooking time.
Print
Pin
Rate
Ingredients
1

Box or Pound

Frozen Chicken Nuggets

1/4

Cup

Barbecue Sauce

1/4

Cup

Ranch Dressing (Optional)
Instructions
How to Cook Frozen Nuggets in an Air Fryer (Uncooked Nuggets)
Preheat air fryer to 350 Degrees Fahrenheit

Place Chicken Nuggets in Basket in a Single Layer

Flip Halfway Through Cooking Time
How to Cook Frozen Nuggets in Air Fryer (Precooked Nuggets)
Preheat air fryer to 400 Degress Fahrenheit

Place Nuggets in Basket in a Single Layer

Flip Halfway Through Cooking Time.
Notes
The cooking times are different and the temperatures are different whether you are using uncooked frozen chicken nuggets or pre-cooked chicken nuggets.
Bell and Evans are the only uncooked nuggets I am familiar with. All the other brands like Tyson and banquet are pre-cooked nuggets..
Nutrition
(Visited 3,170 times, 1 visits today)