Trader Joe's Soyaki Sauce Chicken is why I love the Instant Pot. It is a healthy and quick recipe in the pressure cooker. This can be made in any electric pressure cooker no matter which brand you have. This is one of my favorite Trader Joes Instant Pot recipes.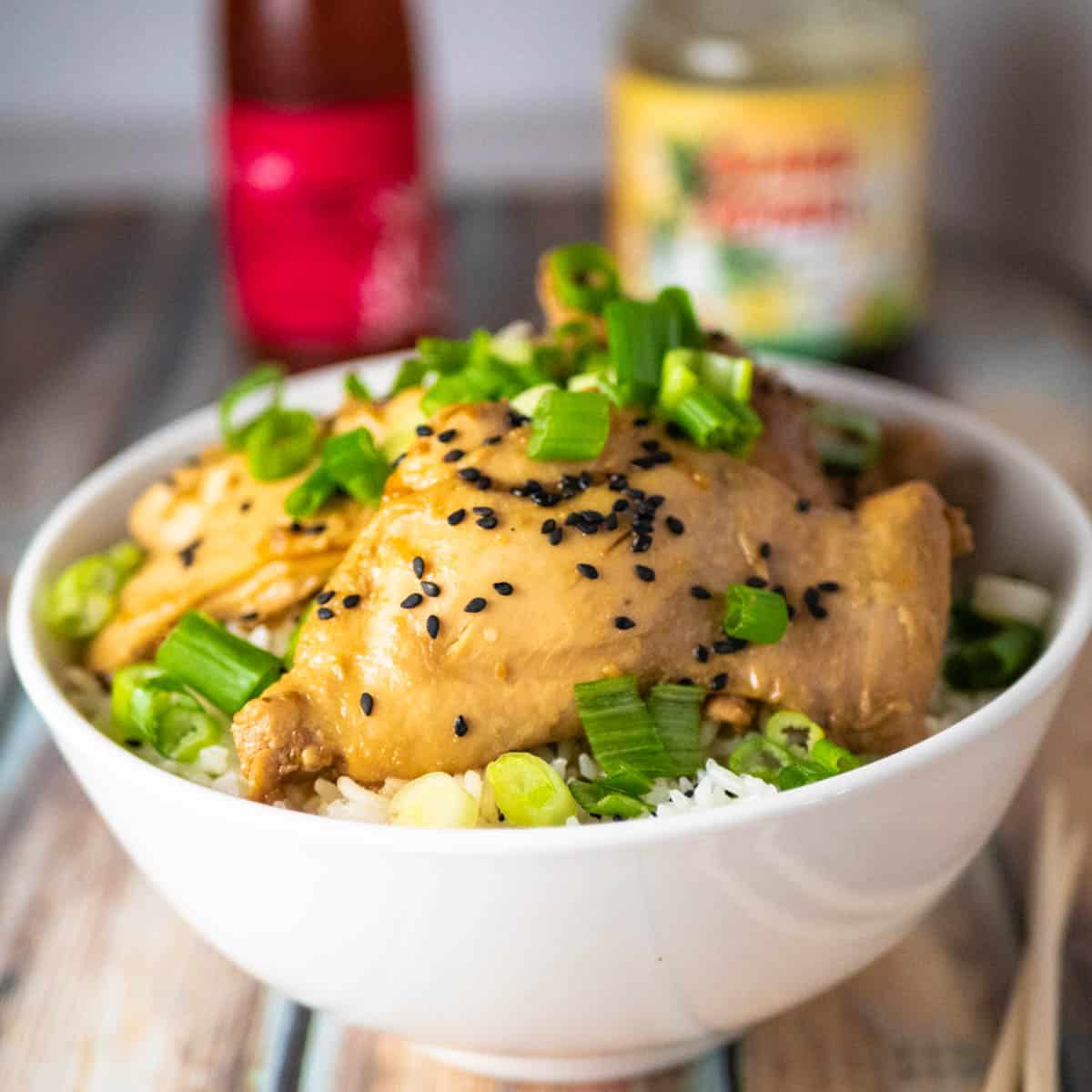 Instant Pot Soyaki Chicken
Trader Joes Soyaki Chicken is an easy pressure cooker recipe. It is also a favorite of my family.
Jump to: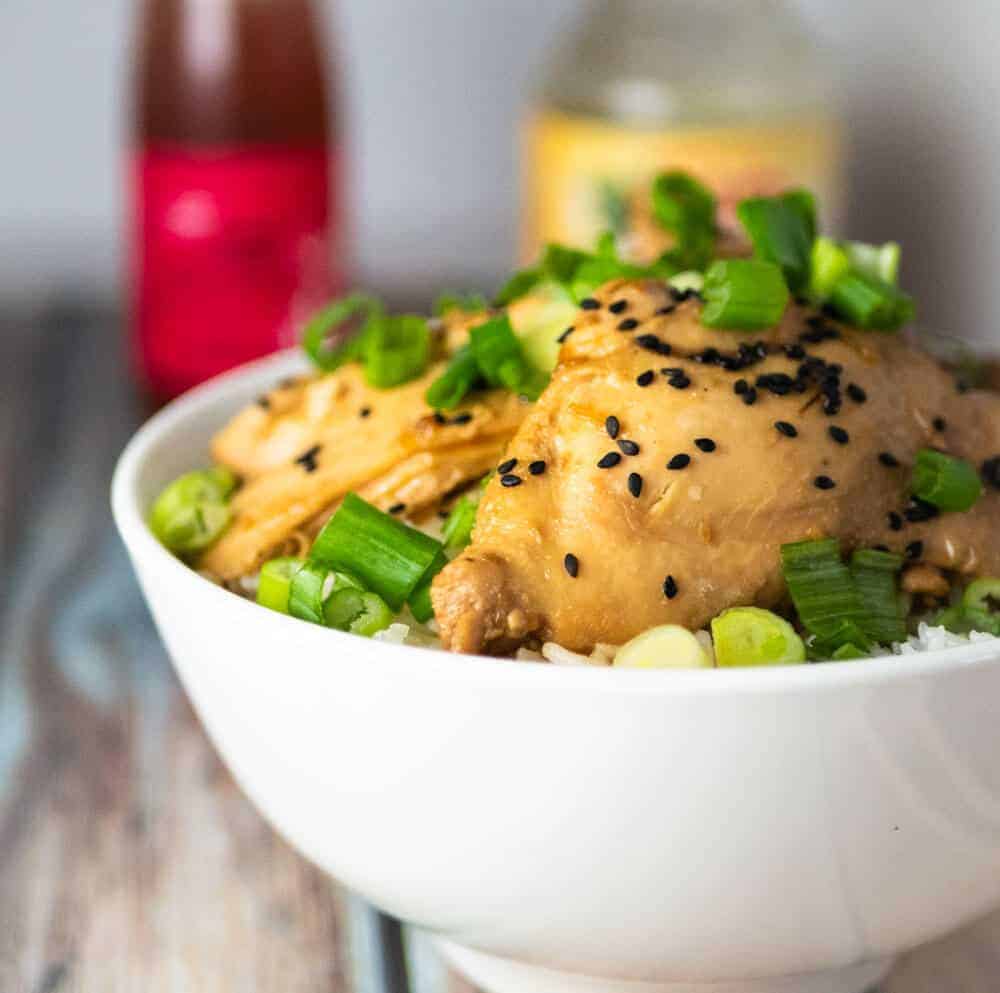 Teriyaki Chicken Rice Bowl
I use a premade sauce for this recipe called "Soyaki Sauce" that I buy at Trader Joe's. It isn't soy sauce and it is not teriyaki but somewhere in between and is similar to Instant Pot teriyaki chicken. Sweet and savory and delicious and comes in two varieties.
The other variety is called Trader Joes Island Soyaki. It is a bit sweeter. I think the difference is they add pineapple to it. Store bought teriyaki or homemade teriyaki sauce is good too.
It can be used in this recipe as a direct replacement. I think the best thing to make with this chicken recipe is a teriyaki chicken bowl.
A little bit of rice and any other topping that you enjoy. Great recipe for Instant Pot chicken meal prep. My family loved this recipe. I think this is way better than most teriyaki chicken recipes.
Ingredients
Frozen or Fresh Boneless Chicken Thighs
(Can use Chicken Breast)
Trader Joes Soyaki Sauce or Island Soyaki Sauce
Cold Water
Sesame Seeds
Green Onions Scallions (for garnish)
Brown Sugar (Optional)
Rice Vinegar (Optional)
Cornstarch (If using slow cooker method)
Olive Oil (Optional if wanting to use saute function (fresh chicken.)
Jump to Recipe Card for ingredient quantities and detailed instructions.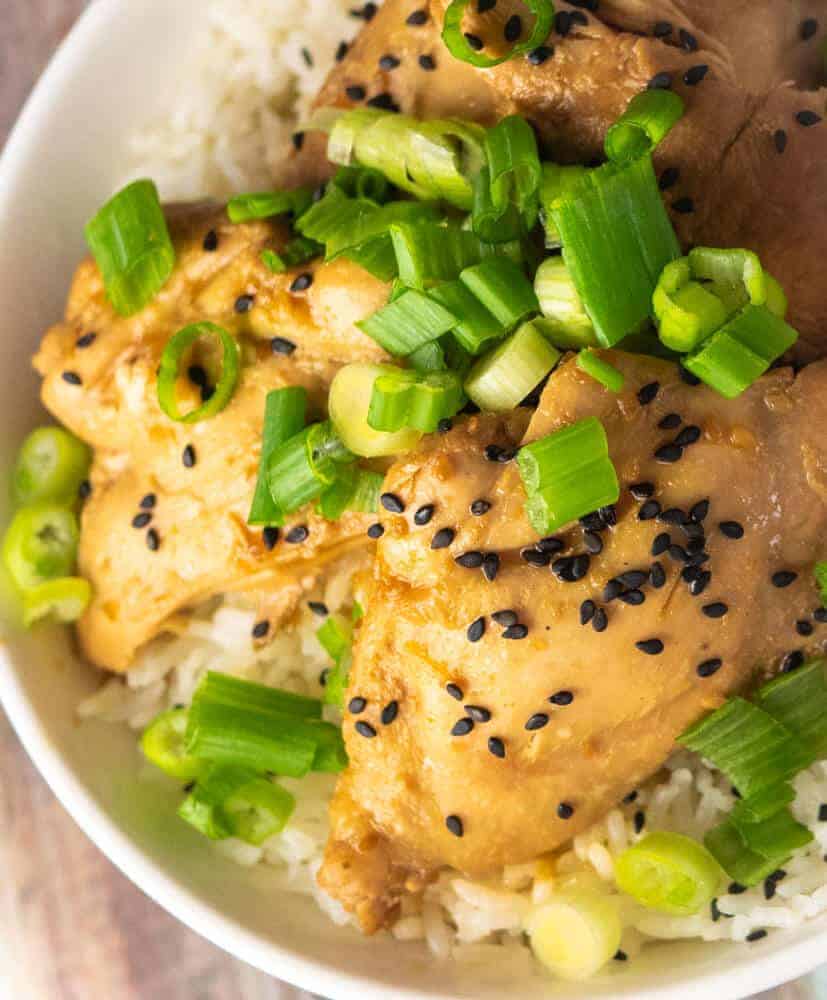 How to Cook Soyaki Chicken
Instant Pot
Step 1 Add the Chicken
Add the frozen chicken to the Instant Pot. You can also use fresh chicken if you prefer. If using fresh chicken decrease cooking time by two minutes.
Step 2 Add Liquid
Add the water and Soyaki sauce to the pressure cooker. If you would like it sweeter or tangier add the brown sugar and the rice vinegar. Both of these should be added to your taste. I did not use them because I don't like it so sweet.
Step 3 Cook the Chicken
Fasten the lid on the Instant Pot and close the pressure valve to the Seal position. Cook on high pressure for 15 minutes.
When cooking time is complete do a quick release. Do NOT release naturally as this will overcook the chicken. Open the lid and remove the chicken.
Slow Cooker Instructions
If you would rather cook this recipe in the slow cooker the cooking times are 8 HOURS on Low or 4 HOURS on High setting.
When cooking time is complete mix together a cornstarch slurry of 1 Tablespoon of Cornstarch and 3 Tablespoons water and stir into crock-pot mixture. Let cook an additional 20 minutes until the sauce has thickened.
Soyaki Sauce Recipe (Homemade)
Making homemade Soyaki Sauce is simple. It is easy to make and can be thrown together in the food processor or blender very quickly and easily. The sesame seeds are optional but have a nice flavor.
Soyaki Sauce Ingredients
1 Cup of Soy Sauce
2/3 cup Sugar. (or to taste)
1 inch piece of ginger minced, smashed, or sliced
2 to 3 cloves of garlic minced, smashed or sliced into bite sized pieces
1 stalk of green onion
1/2 Tablespoon of toasted sesame seeds (Optional)
Keep in mind you can substitute teriyaki sauce if needed but this sauce is so good. It is a good stir fry sauce as well.
How to Toast Sesame Seeds
Sesame seeds can be bought toasted at the supermarket but why not do it yourself. It is easy to do in the oven on a sheet pan or in an oven proof skillet.
Toast Sesame Seeds in the Oven
Preheat Oven to 350 Degrees Fahrenheit
Place 1 cup of sesame seeds on a sheet pan or in a ovenproof skillet
Place skillet or sheet pan in oven and toast for 8 to 10 minutes until golden
Watch sesame seeds closely so they do not burn.
Toast Sesame Seeds in a Skillet
Place sesame seeds in a skillet over medium heat. Toast for about 3 to 5 minutes until golden in color.
How Long to Toast Sesame Seeds
Toast sesame seeds in a 350 Degree Oven for 8 to 10 minutes until golden. If using a skillet on the stovetop it takes 3 to 5 minutes over medium heat til golden brown.
Other Recipes You Will Enjoy
Instant Pot Adobo Chicken.
Instant Pot Sausage and Peppers.
Variations
Bell Peppers (Thin sliced tossed in when cooking time is finished)
Scallions ( Thin sliced as topping)
Shredded Carrot
Teriyaki Sauce (Used in place of Soyaki)
Hoisin Sauce ( Use instead of soyaki to give as sort of barbecue flavor)
Boneless skinless chicken breasts (decrease cooking time)
Equipment
I do in close affiliate links in this blog post for which I do earn a commission at NO COST to you. Using these links is what allows me to give recipes away for free. Thanks for the support.
Trader Joe's Soyaki Sauce – 21 oz.
Premium Lite Soy Sauce Low Sodium
Instant Pot Duo Evo Plus 9-in-1 Electric Pressure Cooker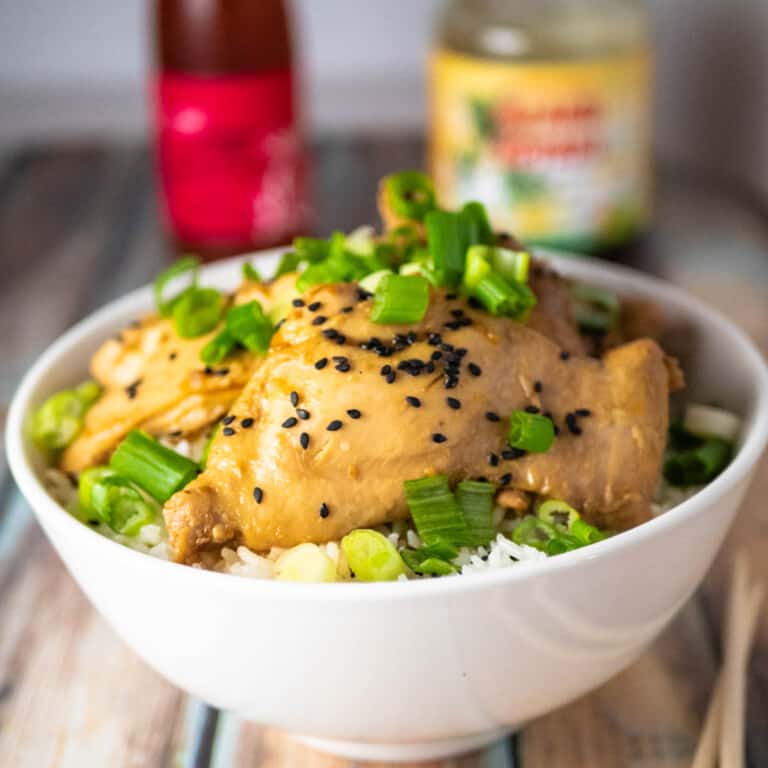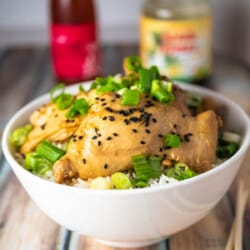 Instant Pot Soyaki Teriyaki Chicken Dump Meal
Instant Pot Soyaki Teriyaki Chicken Dump Meal
Print
Pin
Rate
Ingredients
Soyaki Chicken Ingredients
1

Pound

FROZEN Boneless Skinless Chicken Thighs

4

tbsp

Trader Joes Island Soyaki Sauce or Equivalent

4

tbsp

Water

1/2

tsp

Sesame Seeds

2

tbsp

Chopped Scallions
Soyaki Sauce
1

Cup

Soy Sauce

2/3

Cup

Sugar (or to taste)

1

inch

Piece of ginger minced, smashed, or sliced

2 to 3

cloves

Garlic minced, smashed or sliced

1

stalk

Green Onion

1/2

Tbsp.

Toasted Sesame Seeds (Optional)
Instructions
Soyaki Chicken Instructions
THIS IS MADE FROM FROZEN CHICKEN. If you would like to make this from fresh chicken the cook time is the same but you would add an extra 1/2 cup of water.

Open Instant pot and put in your FROZEN chicken,soyaki or teriyaki sauce and water. Seal lid on to Instant Pot and turn valve to SEAL. Push POULTRY button and set pressure to HIGH and set TIMER to 15 MINUTES.

When cooking is complete do a QUICK PRESSURE RELEASE. Open your Instant Pot and remove chicken. Push CANCEL on your Instant Pot to stop its current process.

Then Press SAUTE till the MORE setting is lit up. Wait for sauce to come to boil and then let REDUCE and thicken for about 5 to 7 minutes. When complete press Cancel on the Instant Pot to stop the sauce process.

Return chicken to Instant Pot to coat with sauce. When you are ready to serve the chicken put sauce over chicken then sprinkle chicken with sesame seeds and chopped scallions…..Enjoy.
Soyaki Sauce Instructions
Add All ingredients to blender or food processer and pulse until combined.
Notes
I included the Soyaki Sauce recipe in case you would rather make it yourself or you do not have a Trader Joe's in your area. You can use Teriyaki if you have that available, but I do like the Soyaki flavor the best.
Nutrition
Join Our Facebook Groups
Side Dishes to Serve with Soyaki Chicken?
Below are a few side dish ideas that I always serve with this recipe.
Brown Rice
White Rice
Cauliflower Rice.
Quinoa
(Visited 15,584 times, 1 visits today)