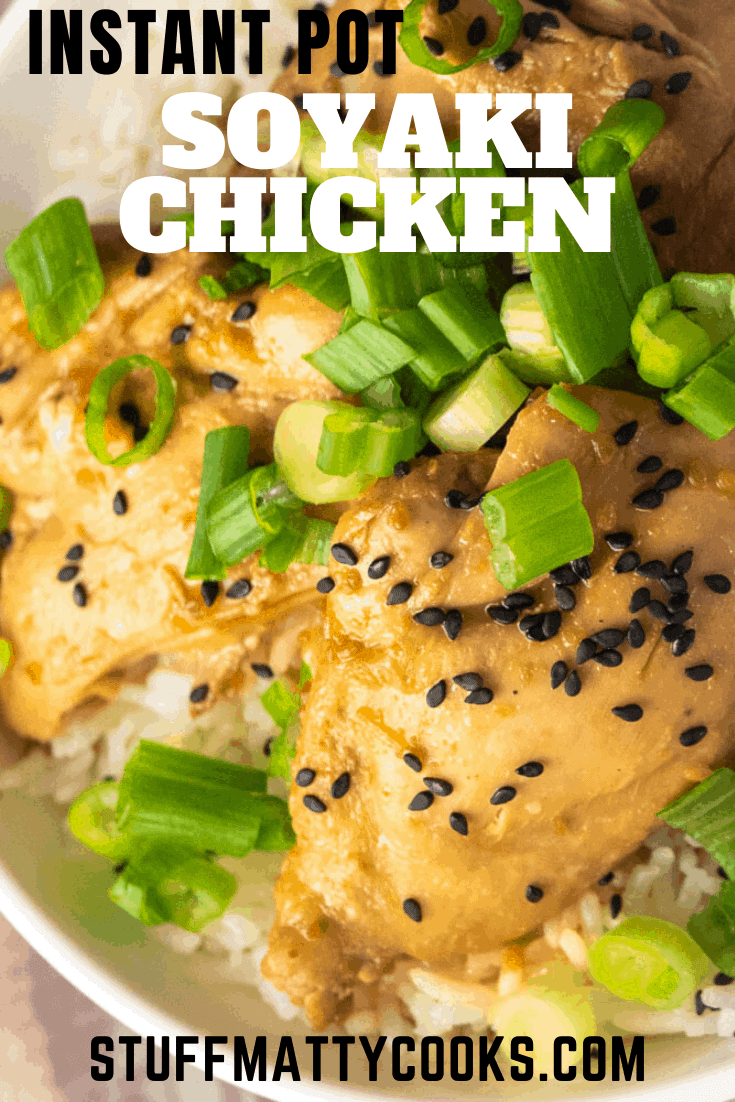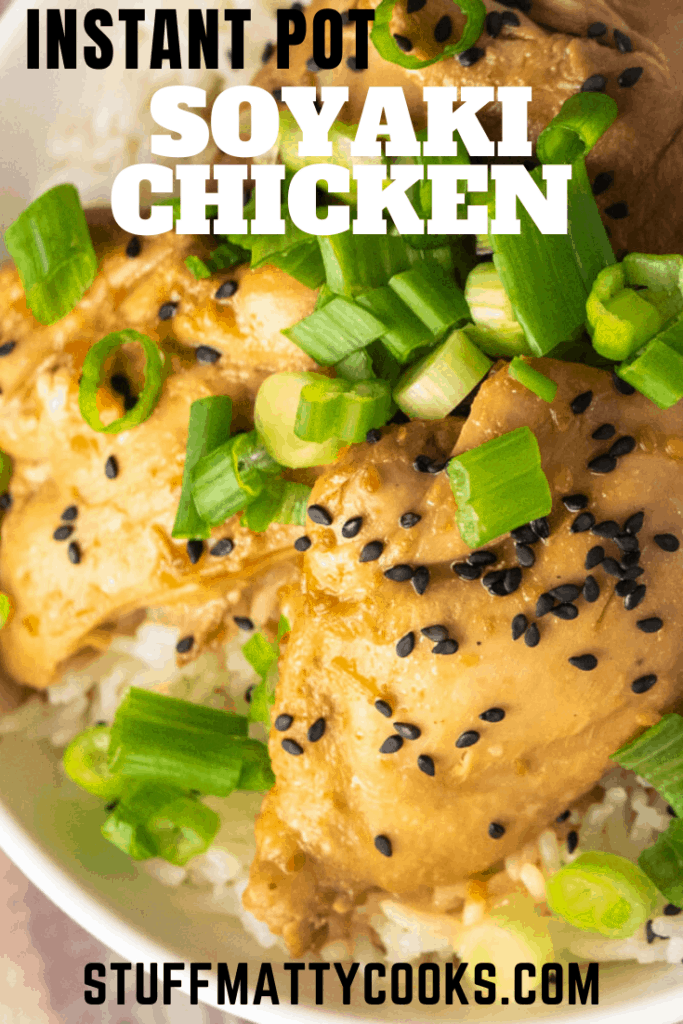 Soyaki Teriyaki Chicken Recipe Dump Meal is why I love the Instant Pot. This Trader Joes Soyaki-Teriyaki Chicken Recipe is healthy and quick recipe in the pressure cooker. Great for a quick lunch or a weeknight meal for the whole family. This Trader Joes Soyaki Recipe can be made with the Trader Joes Island Soyaki sauce as well. They are essentially the same exept one has pineapple and is a little sweeter in my opinion. I used the regular Trader Joes Soyaki in this recipe.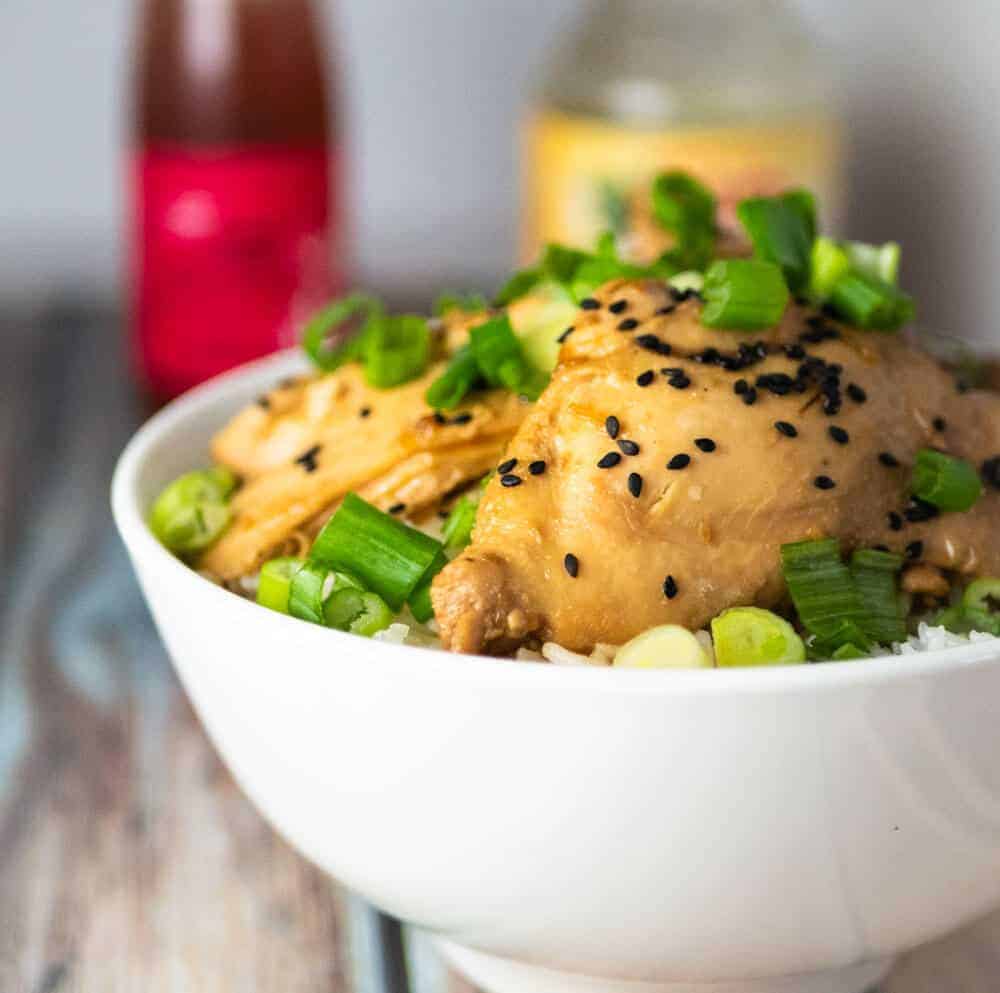 Dump Meals for Crock Pot and Instant Pot.
If you don't know what a dump meal is for the Crock Pot or Instant Pot it is where you put all the ingredients in the Crock-Pot or Instant Pot at one time and set it and forget it. I love this kind of recipes for the Instant Pot because it is a basic set it and forget it recipe.
Simple Instant Pot Teriyaki Chicken
This simple Instant Pot Teriyaki style chicken requires just a few ingredients. I actually even put the chicken in the Instant Pot FROZEN directly from the freezer. I am always buying bags of frozen chicken to keep around and they are great just for this reason. This recipe is also great for people that do meal prep. In this recipe, I use a sauce that I buy at [easyazon_link identifier="B007SSZPSO" locale="US" tag="stuffmattycoo-20″ cart="n"]Trader Joes called Island Soyaki.[/easyazon_link] It is pretty much a blend of soy sauce, teriyaki sauce, and some ginger. You can pretty much use any sauce like that that you prefer. Standard bottle teriyaki sauce would work as well. Really that and a little bit of water and all your ingredients right in the Instant Pot and you are ready to rock. When the chicken is done cooking the only other step is to remove the chicken and reduce the sauce to thicken it and then it's time to eat.
Can this Instant Pot Teriyaki Chicken Recipe be Made in Crock Pot?
Yes, of course, it can. For this recipe to be made in a crock-pot the cooking time would be 8 HOURS on Low or 4 HOURS on High setting. When cooking time is complete mix together a cornstarch slurry of 1 Tablespoon of Cornstarch and 3 Tablespoons water and stir into crock-pot mixture. Let cook an additional 20 minutes until the sauce has thickened.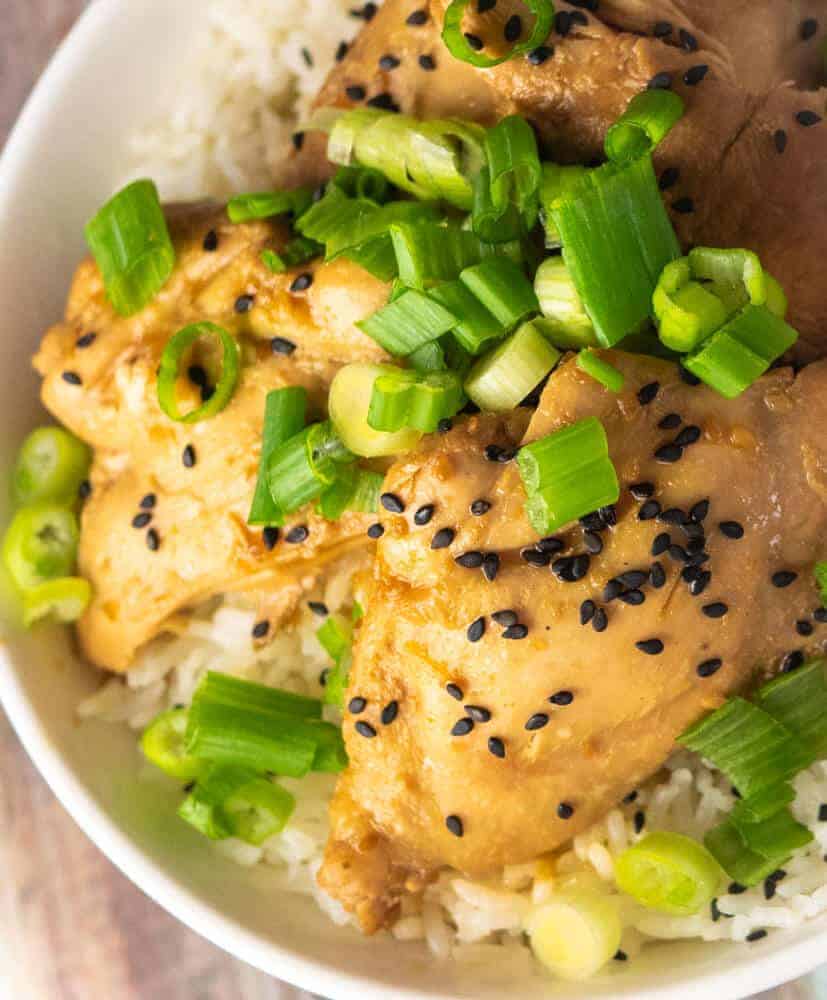 Soyaki Teriyaki Recipe is Easy and Kid Friendly
Keep in mind that you can use standard teriyaki sauce in this recipe if you do not have a Trader Joes in your area. You can also order the Trader Joes Soyaki Sauce online or by clicking on the links below. I want to thank you for stopping by my home on the internet. If you try this recipe or already have please leave a comment and a review as it helps a lot. If you have any questions leave it in the comments below as I do get to them.
If you like this recipe you might also try Instant Pot Adobo Chicken.
If your looking for something Italian you will love Instant Pot Sausage and Peppers.
[eas
Soyaki Chicken Teriyaki Recipe Ingredients
Instant Pot Soyaki Teriyaki Chicken Dump Meal
Instant Pot Soyaki Teriyaki Chicken Dump Meal
Ingredients
1

Pound

FROZEN Boneless Skinless Chicken Thighs

4

tbsp

Trader Joes Island Soyaki Sauce or Equivalent

4

tbsp

Water

1/2

tsp

Sesame Seeds

2

tbsp

Chopped Scallions
Instructions
THIS IS MADE FROM FROZEN CHICKEN. If you would like to make this from fresh chicken the cook time is the same but you would add an extra 1/2 cup of water.

Open Instant pot and put in your FROZEN chicken,soyaki or teriyaki sauce and water. Seal lid on to Instant Pot and turn valve to SEAL. Push POULTRY button and set pressure to HIGH and set TIMER to 15 MINUTES. When cooking is complete do a QUICK PRESSURE RELEASE. Open your Instant Pot and remove chicken. Push CANCEL on your Instant Pot to stop its current process. Then Press SAUTE till the MORE setting is lit up. Wait for sauce to come to boil and then let REDUCE and thicken for about 5 to 7 minutes. When complete press Cancel on the Instant Pot to stop the sauce process. Return chicken t Instant Pot to coat with sauce. When you are ready to serve the chicken put sauce over chicken then sprinkle chicken with sesame seeds and chopped scallions.....Enjoy.
Join Our Facebook Groups
(Visited 19,470 times, 23 visits today)