This Air Fryer Ham and Cheese Omelet is on the menu. If you're in search of a simple and delicious breakfast choice, then try out this air fryer breakfast recipe. It's easy to prepare and incredibly flavorful. Moreover, it's an excellent solution for utilizing any type of ham from your previous evening's meal or cold cuts on hand.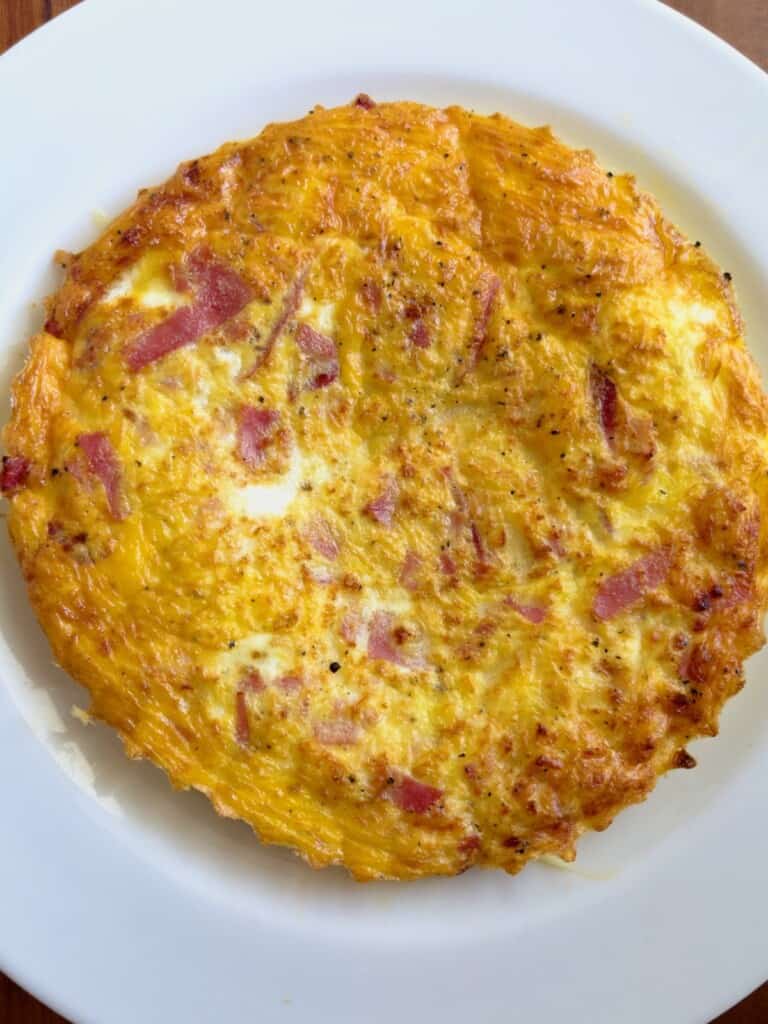 I love an omelet for breakfast because they are versatile and can handle any ingredients you enjoy. I never thought that I could make a Ham and Cheese Omelet in the Air Fryer, but it came out delicious and was a great start to my day.
If you're a fan of scrambled eggs, you'll definitely enjoy this recipe. And if you want to add your own fillings, feel free to do so. Personally, I decided to make a classic ham and cheese omelet in the air fryer, because that is what I had on hand when I came up with the idea. It turns out that this egg omelet air fryer recipe it is delicious.
If you are a fan of egg dishes, particularly omelets, then this recipe is tailor-made for you and your loved ones. It promises to deliver a truly delightful and satisfying breakfast experience in a surprisingly short amount of time – less than 15 minutes. Whether you have a busy morning ahead or simply crave a quick and tasty meal to start your day, this recipe is a perfect fit.
Jump to:
Ingredients Used in Air Fryer Omelet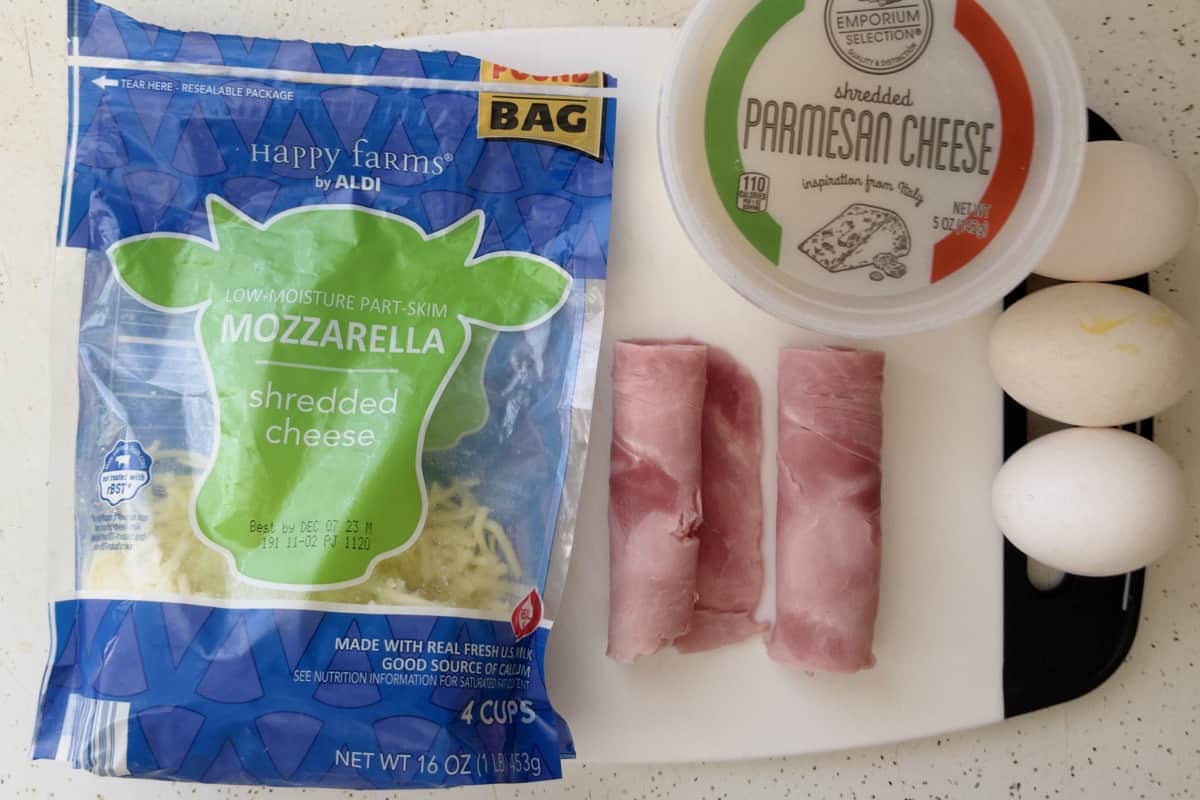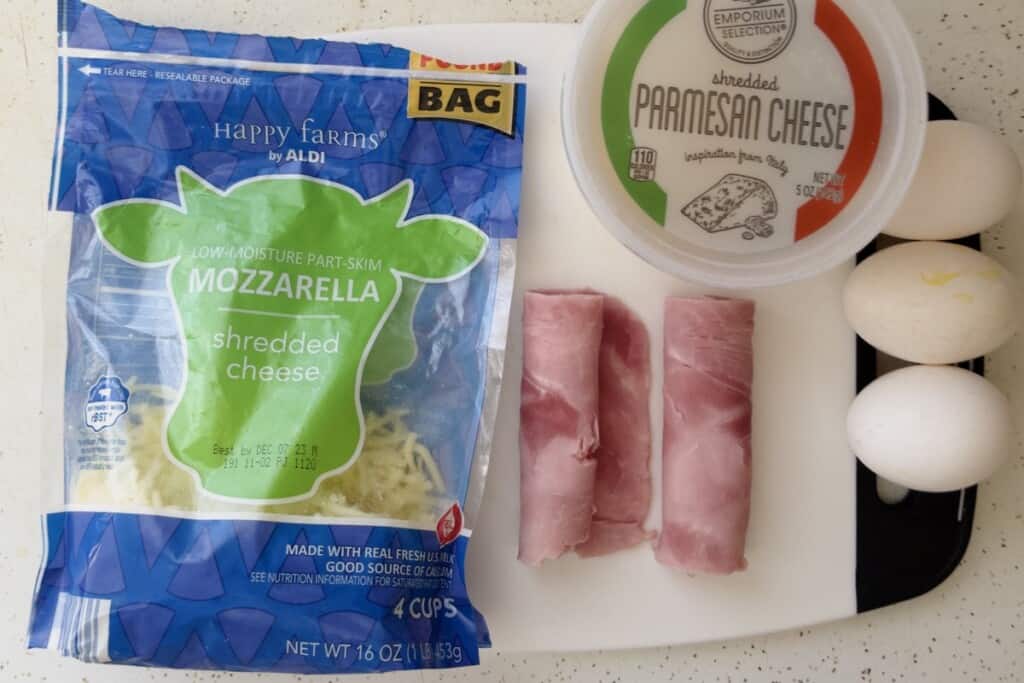 Eggs
Ham
Mozzarella Cheese
Parmesan Cheese
Sea Salt
Black Pepper
See recipe card for quantities.
How to Make an Omelet in Air Fryer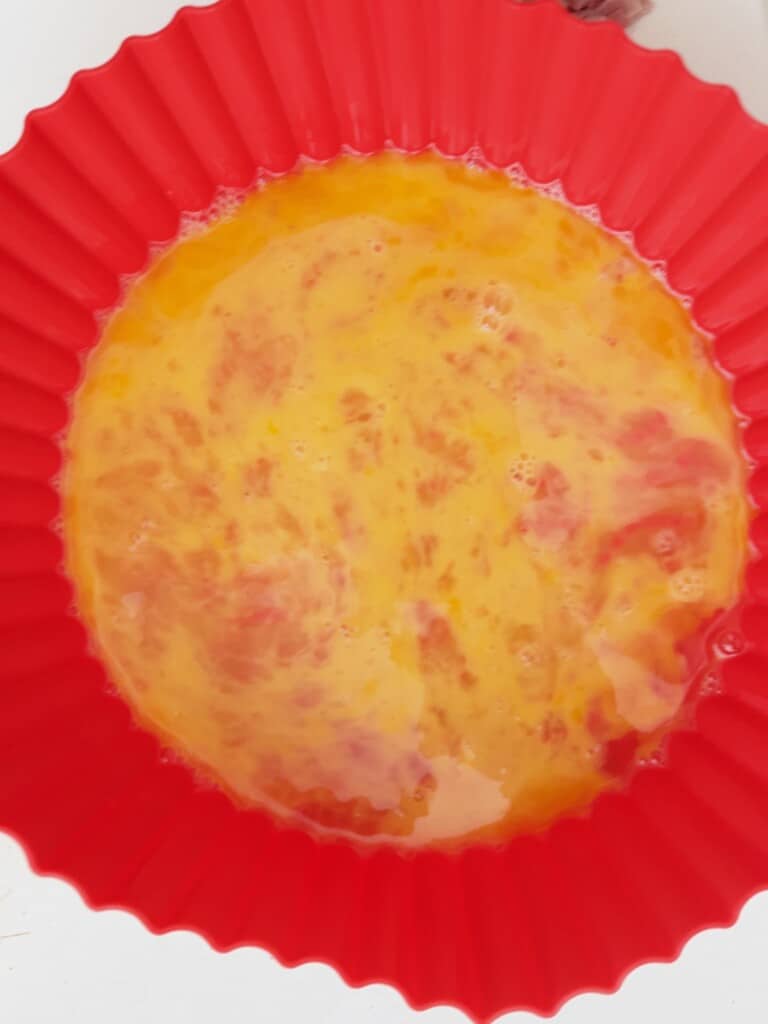 Crack the eggs into the pan of your choice. I like using this silicone baking pan. But you can use anything that is oven-safe that fits in your air fryer. Mix the eggs well.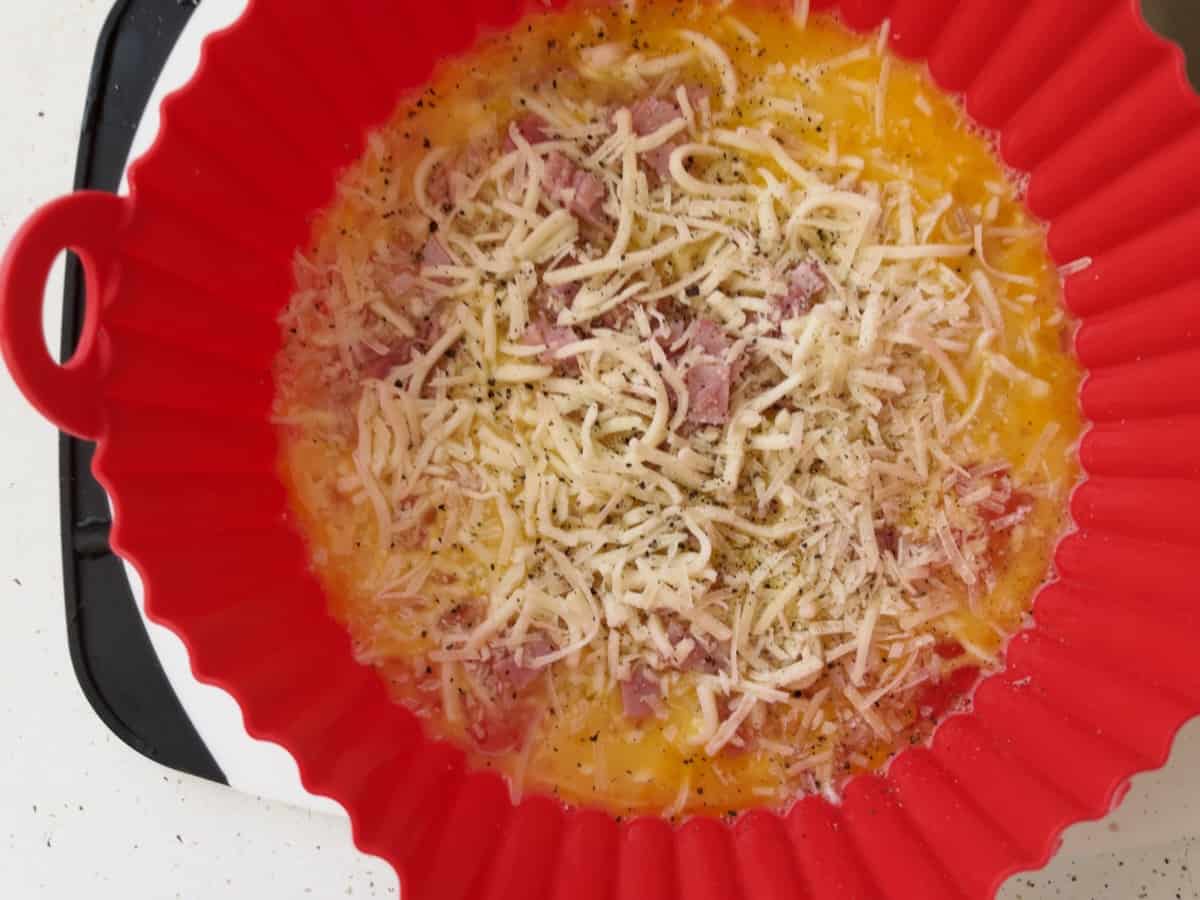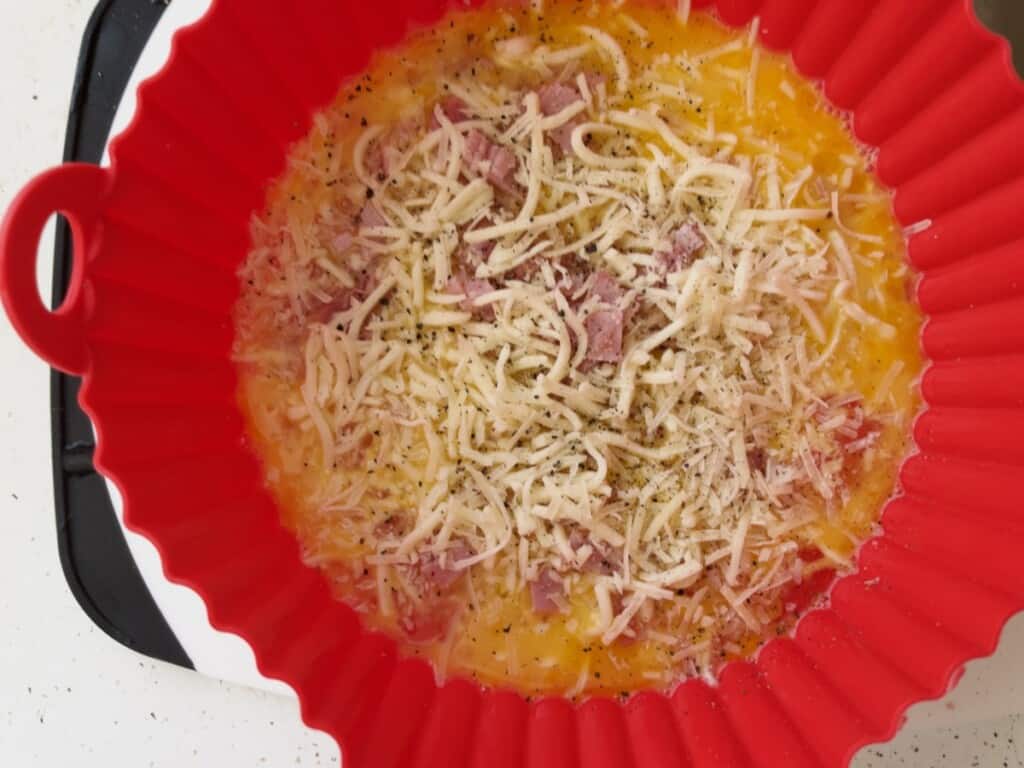 Add the rest of your ingredients to the pan. Above is ham and mozzarella cheese and some salt and black pepper.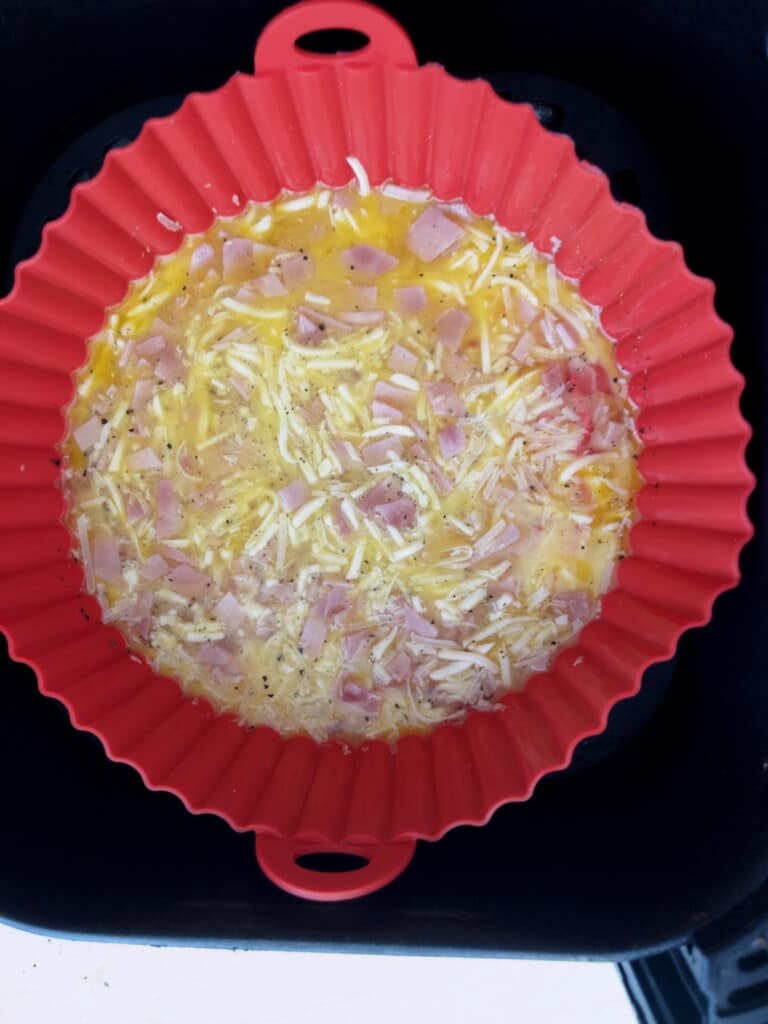 Stir the ingredients to combine well. Preheat the air fryer. Place the omelet in the air fryer basket.
How to Cook an Omelet in the Air Fryer
Note: Keep in mind that air fryers are different than regular ovens and that cooking time can very by a few minutes. Generally, I start checking the omelet after 8-10 minutes. to see if the egg and cheese are done. I use a fork to check for doneness.
Preheat air fryer to 350 Degrees Fahrenheit
Mix the Eggs and ingredients until combined
Place the Pan in the air fryer basket
Air fry the omelet in the air fryer for 12 to 15 minutes ( start checking after 10 minutes)
Tip: Although it is not required you might find that you want to flip the omelet. I like using this Silicone Baking Dish to make omelets in the air fryer.
I just run a silicone spatula around the edge to loosen the omelet and use a plate to flip it. Be careful because even the silicone pan gets hot so use gloves.
Other Filling and Topping Ideas
Onions and Bell Peppers – add some chopped onions and bell peppers.
Tomatoes – add tomatoes to kick it up a bit in flavor and color.
Green Onions – add green onions at the end as a garnish topping for delicious color and texture.
I like to serve my omelets with Air Fryer Breakfast Potatoes. Personally, I like hashbrowns but home fries and roasted potatoes work great too.
Sometimes I make some air fryer sausage and some cinnamon rolls if it's a Sunday.
Equipment Used
I always list the equipment and what I think are kitchen essentials. I receive a small commission for these items at NO COST to you. Thanks for the support.
Silicone Air Fryer Liners Round Reusable Pan
Instant Vortex Plus Air Fryer Oven, 6 Quart
OXO Good Grips 3 Piece Silicone Spatula Set
Air Fryer Disposable Paper Liners

Storage and Reheating
Leftovers can be stored in an airtight container in the refrigerator for up to 3 to 4 days. Reheat in the air fryer at 375°F for 3 to 4 minutes until heated through.
FAQ
What temperature do you cook and egg omelet?
The temperature for cooking an omelet in the air fryer is 350 Degrees Fahrenheit.
Why Put Water in Eggs for an Omelet?
Adding a tablespoon of water to eggs creates steam when the eggs are cooked to make the eggs fluffier.
How Many Eggs Should Be in an Omelet?
2 to 3 eggs is the standard for each when making an omelet. It really depends on how hungry you are.
Can You Make an Omelet the Night Before?
Certainly, it is possible to prepare an omelette in advance and consume it on the following day. Follow the instructions to make your omelette. Once it has cooled down entirely, transfer it onto a plate or keep it in the cake pan. Wrap it with cling film and store it in the fridge until the next day.
Related
Looking for other recipes like this? Try these:
Pairing
These are my favorite dishes to serve with [this recipe]: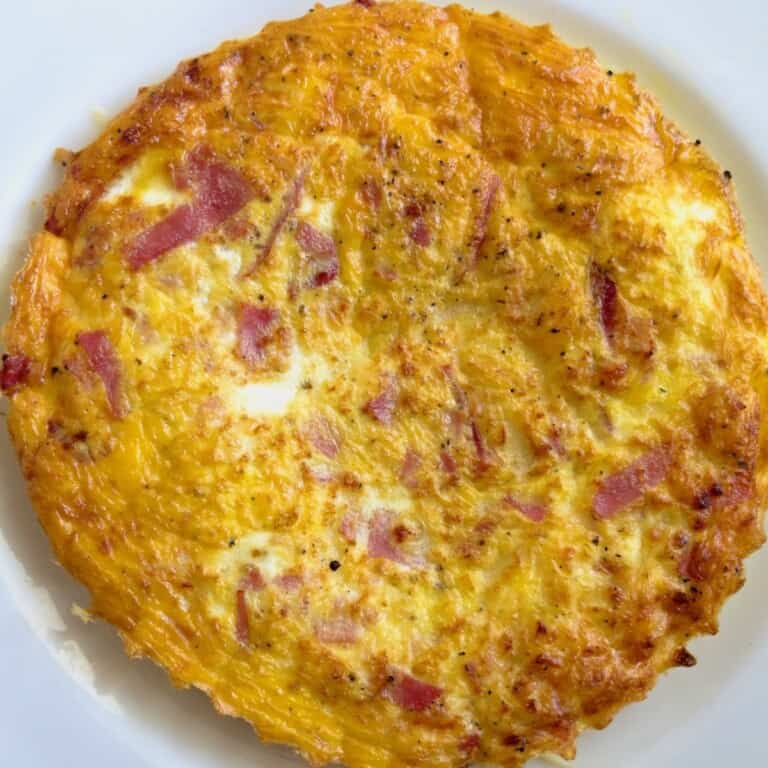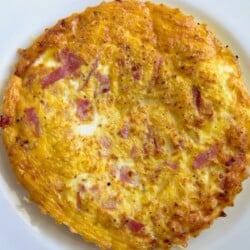 Ingredients
3

Eggs Scrambled

2

Slices

Ham Chopped

1/4

Cup

Shredded Mozzarella Cheese

1/4

tsp.

Sea Salt
1/8 tsp. Black Pepper

or a few turns of a pepper grinder

2

Tbsp.

Shredded Parmesan Cheese
Instructions
Make sure that the pan you are going to use for the omelet fits in your air fryer.

I use a silicone food safe baking pan. There is a link to it in kitchen utensils and equipment area of post.

Crack, three eggs into pan and scramble.

Chop ham into bite-size pieces and add to egg mixture.

Add the Mozzarella and Parmesan Cheese.

Sprinkle with Salt and Black Pepper

Stir to combine everything.

Preheat air fryer to 350 Degrees Fahrenheit

Spray pan with oil or nonstick spray.

Place the pan with egg mixture in air fryer basket

Cook 12 to 15 minutes and check for doneness.
Notes
Keep in mind all air fryers are a bit different and coooking time can vary by a few minutes. Test for doneness with fork.
Nutrition
(Visited 730 times, 1 visits today)