These air fryer hash browns are crispy, delicious, and just what I look forward to when having a hearty breakfast. Crispy hash browns in the air fryer make it easy. It just takes a little seasoning and a few sprays of oil. Cooking hash browns in the air fryer is quick and easy.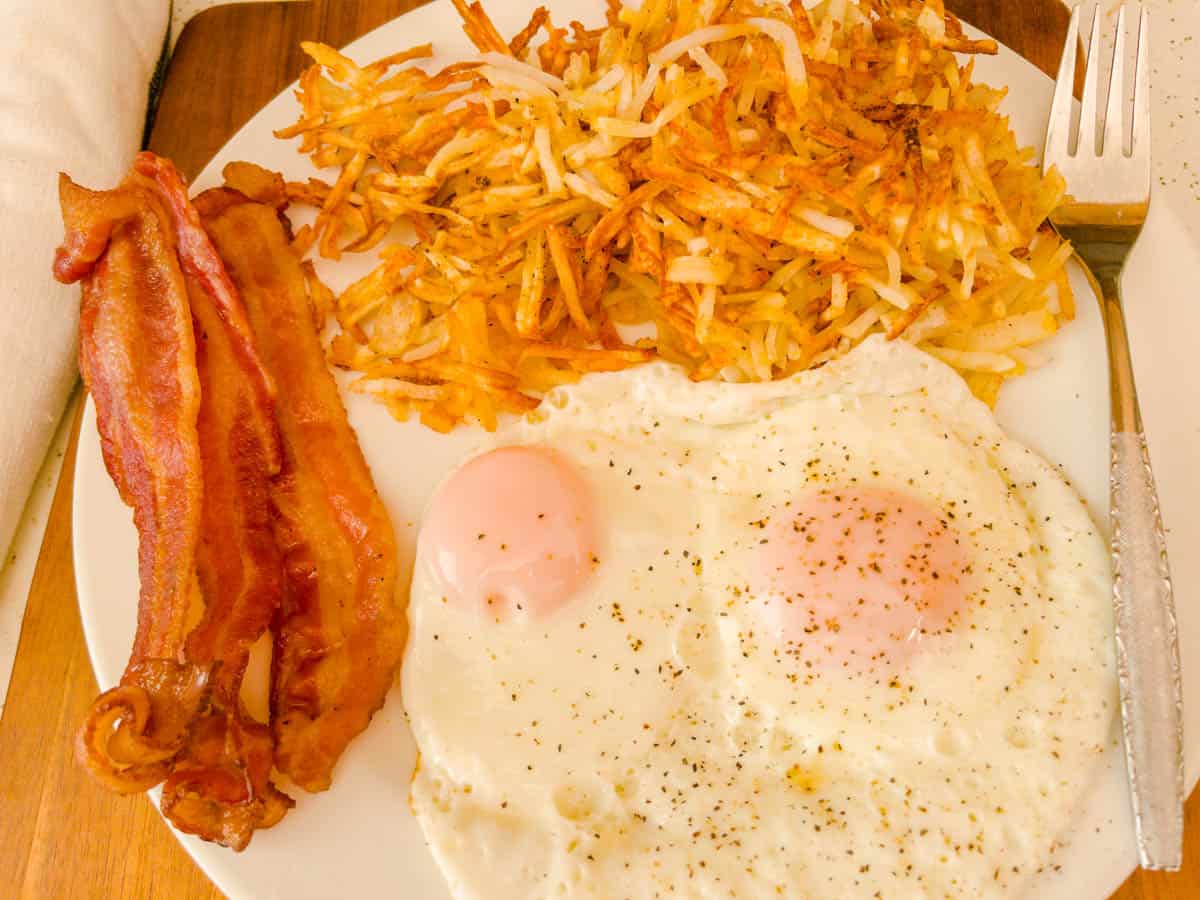 If you are looking for a great side to accompany your hash browns my Candied Bacon is a good thing to try. Great for breakfast, a snack, or is even great for brunch and a Bloody Mary.
Jump to:
Breakfast is a family favorite at my house. sometimes breakfast is just eggs and bacon and other times we make omelets. It doesn't matter what we are making because hashbrowns are usually our favorite of the meal. To save time I used to make air fryer hash brown patties. They were just easy to toss into the air fryer basket and air fry.
I then discovered that I could do the same thing with shredded frozen hashbrowns. They can be air fried frozen. This became a game changer when making breakfast for the family. I like using frozen hashbrowns because most of the moisture has been taken out by freezing. This is necessary to get the beautiful golden brown color.
Ingredients for HashBrowns in the Air Fryer
There are just a few ingredients that I use to make hashbrowns in the air fryer. Salt, Pepper, Garlic Powder and a little bit of smoked paprika make this pop and also give great color to the hash browns.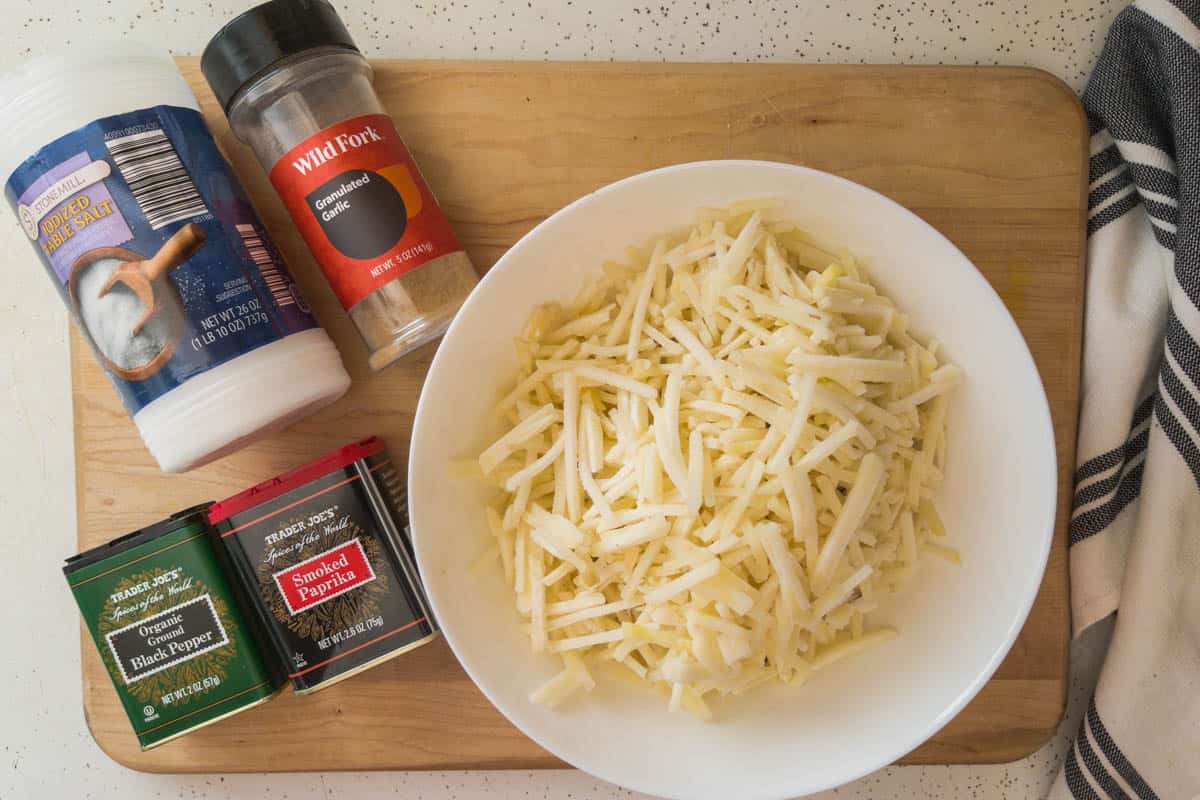 Frozen Shredded Hash Browns
Salt
Black Pepper
Garlic Powder
Smoked Paprika
Avocado Oil (any oil of choice can be used)
See jump to recipe card for quantities.
How to Make Hash Browns in the Air Fryer
I am going to show you how to cook hash browns in the airfryer. I used to make the premade hash brown patties in the air fryer. I then thought of this method and it is easy. There is also minimal cleanup. The potatoes don't even need to be thawed before cooking these air fryer frozen hash browns.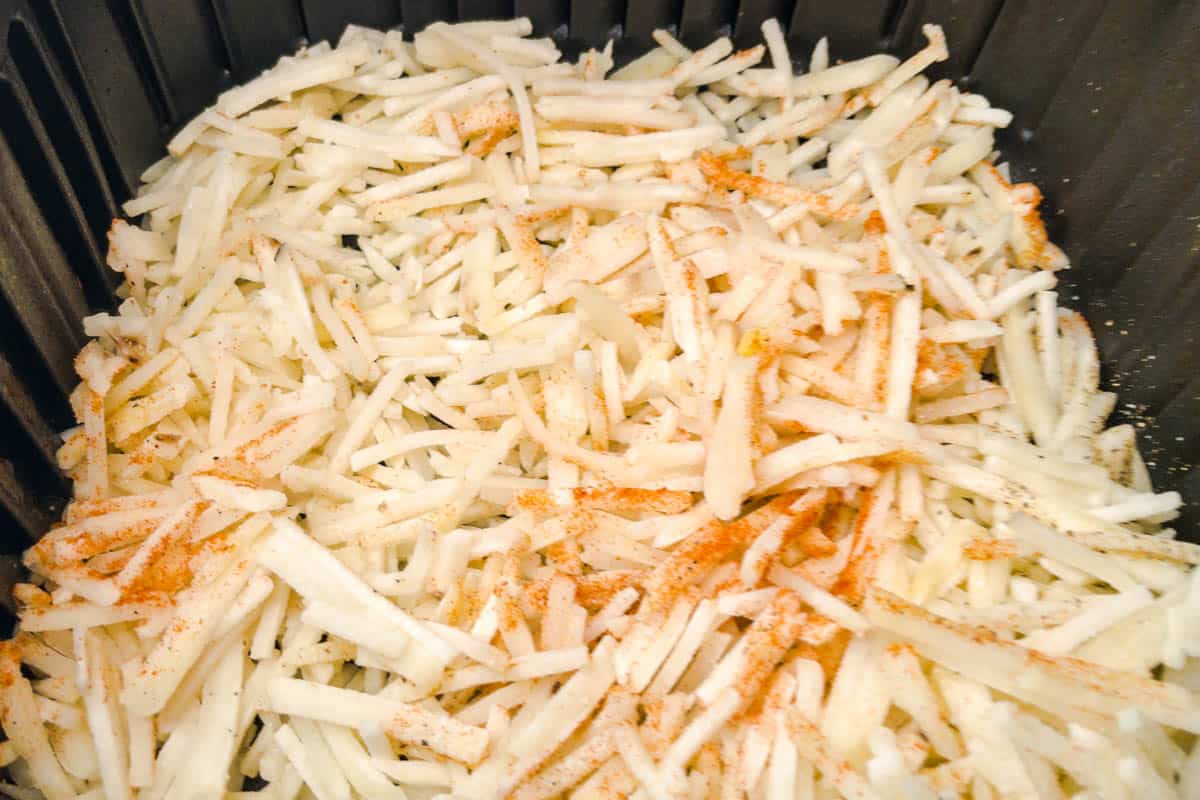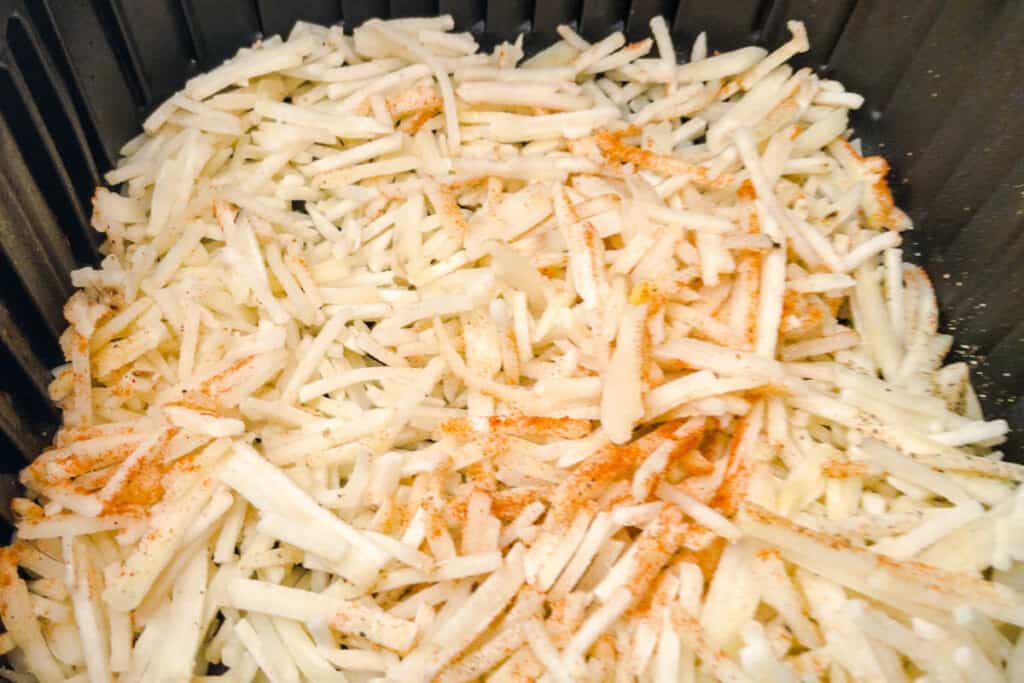 STEP ONE: Place frozen hash browns in air fryer basket in the desired amount. I usually use a couple handfuls.Season the hash browns with salt, black pepper, garlic powder and smoked paprika. Press them down and for a single layer. Preheating is not required.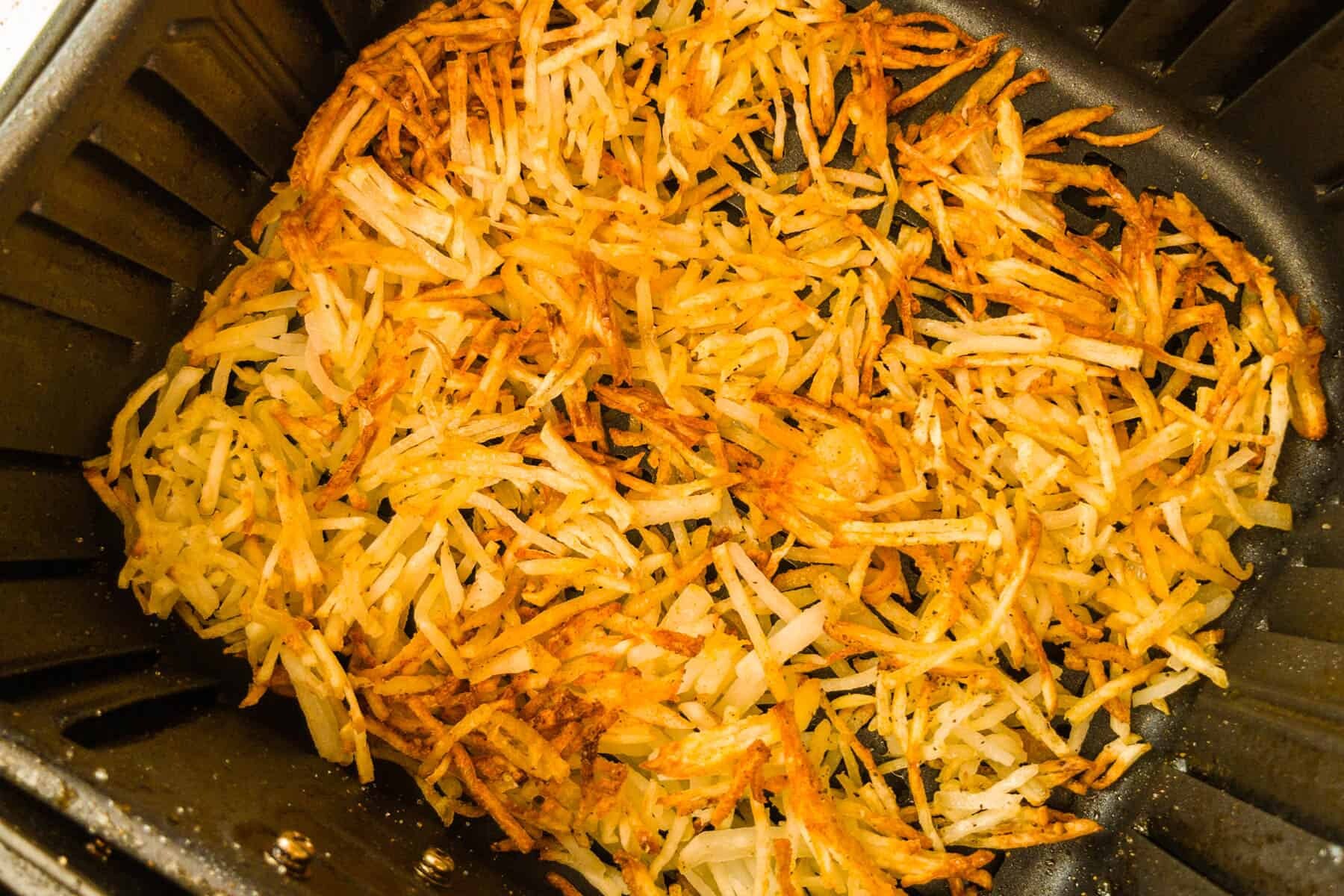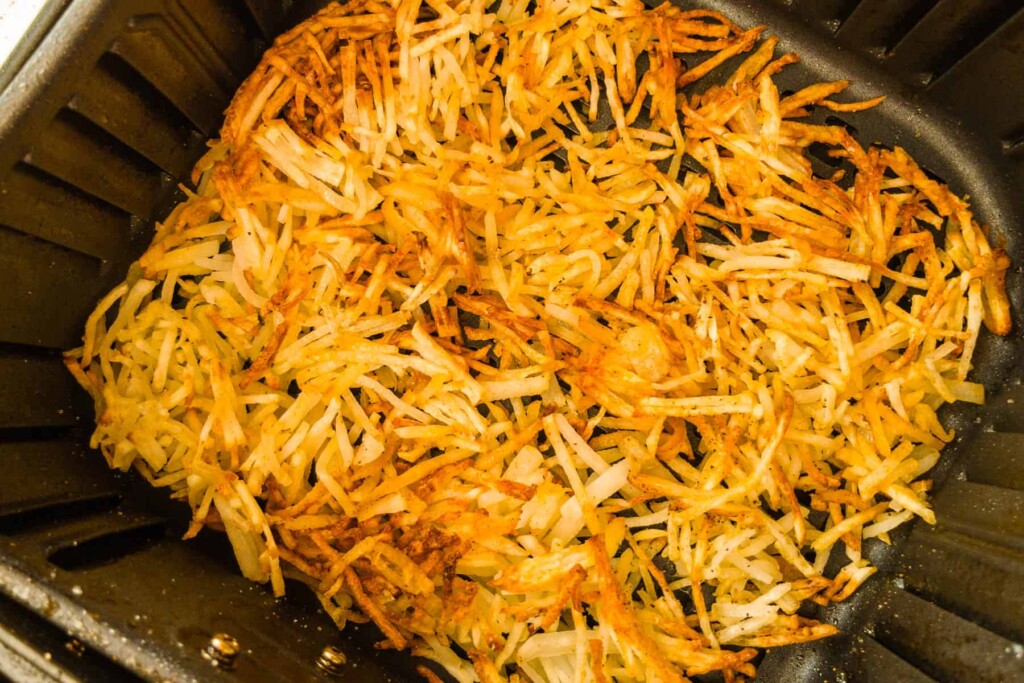 STEP TWO: Air fry hash browns 12 to 15 minutes. Cooking times vary depending on your portion size break apart, the hash browns a bit and give them a flip. Spray with a bit more oil and cook a few minutes more.
STEP 3: Remove the hash browns from the air fryer basket and season with salt and pepper if desired.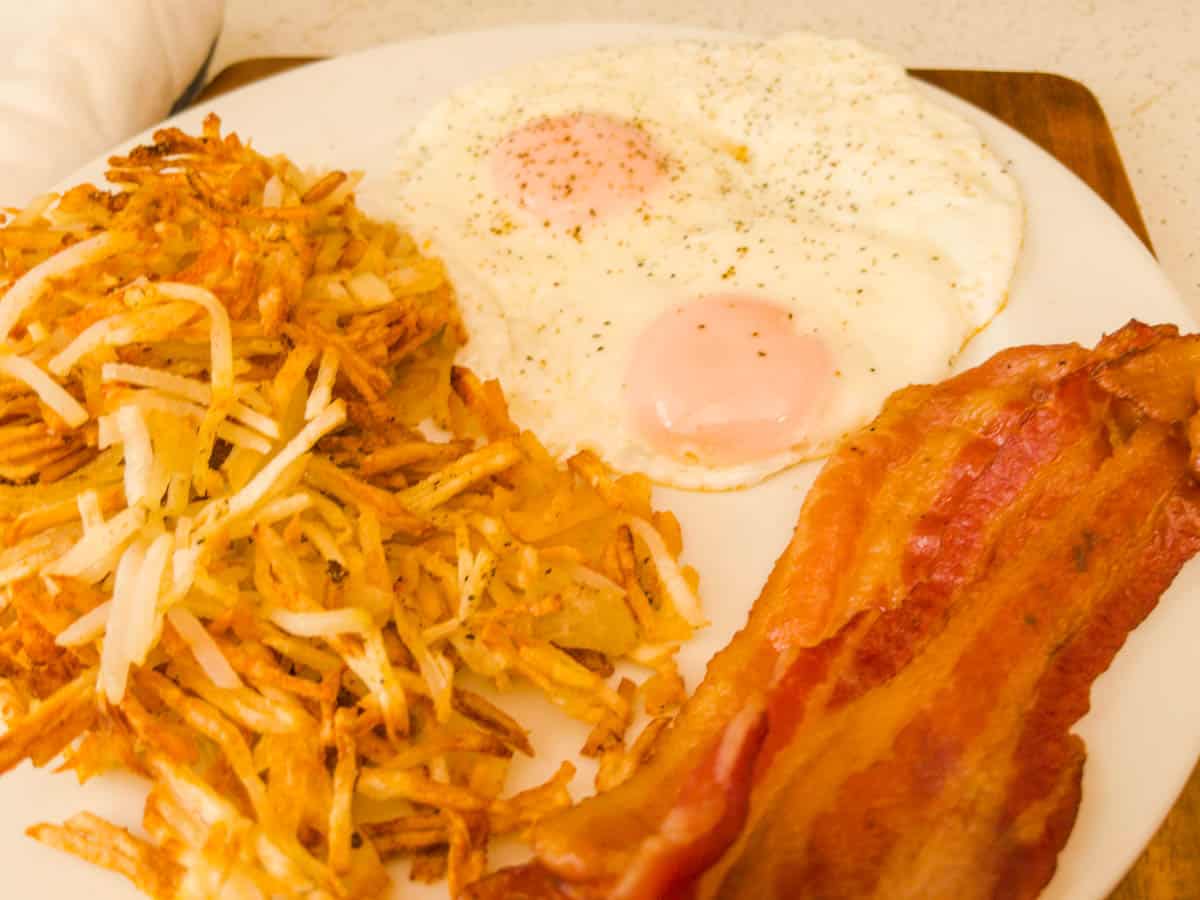 Equipment and Kitchen Essentials
I always list the equipment I use to make a recipe. I also list kitchen essentials that I enjoy. my post may contain affiliate links by using these links. I do receive a small commission at absolutely NO COST TO YOU.
COSORI Pro II Air Fryer Oven Combo, 5.8QT
Instant Vortex Plus 6-in-1, 4QT Air Fryer
Air Fryer Parchment Paper Liners
Reheating Hash Browns in the AirFryer
Set your air fryer to 370 degrees Fahrenheit and reheat hash browns 3 to 5 minutes in the air fryer basket.
Top Tip for Crispy Hash Browns
using frozen hashbrowns when making hashbrowns in the air fryer assure that you will get crispy golden brown delicious hashbrowns. Frozen hashbrowns, work better, because most of the moisture has been removed.
FAQ
How Long Do You Cook Hash Browns in the Air Fryer?
The cooking time for hash browns in the air fryer is 15-18 minutes at 370 Degrees Fahrenheit.
Are Hash Browns Healthy When Cooked in the Air Fryer?
Hash browns cooked in the air fryer are crispy, and golden brown and delicious and healthy. This is because they are cooked with convection and much less oil.
Related
Looking for other recipes like this? Try these: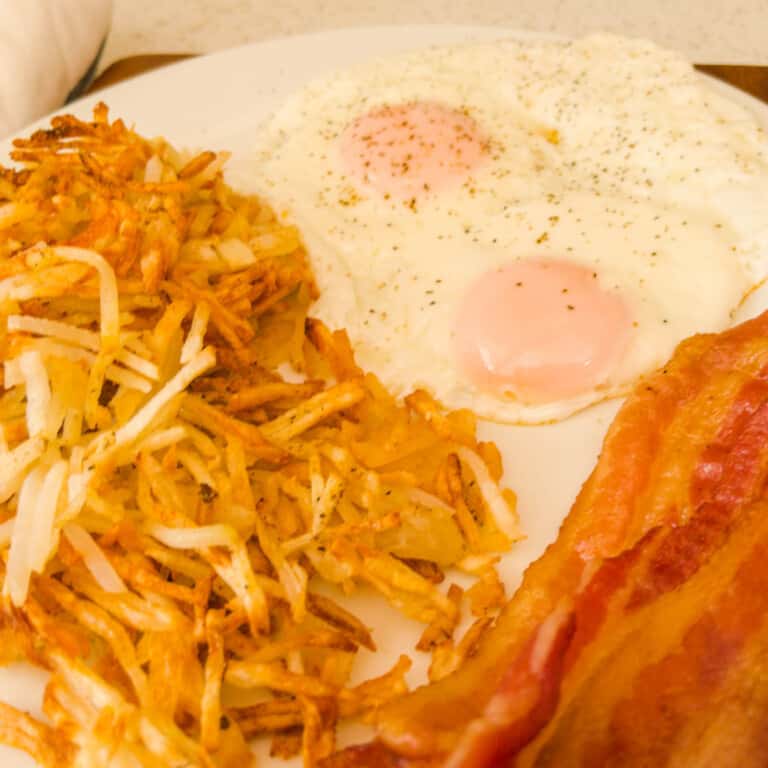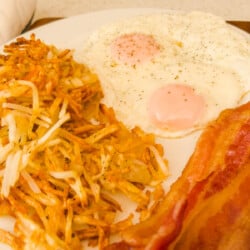 Air Fryer Hash Browns
Hash Browns in the air fryer come out crispy and golden brown. They are quick and easy and take about 15 minutes of cooking time.
Print
Pin
Rate
Ingredients
1

Pound

Frozen Shredded Hash Browns

1/2

Tablespoon

Oil.

I use and oil sprayer and lightly coat

1/4

tsp.

Salt

1/4

tsp

Black Pepper

1/2

tsp.

Garlic Powder

1/4

tsp.

Smoked Paprika
Instructions
I do not preheat the air fryer for this recipe.

Set air fryer temperature to 370° Fahrenheit.

Place Frozen Hash Browns in the air fryer basket and press down on them to make them an even layer.

Season hash browns with Salt,Pepper, Garlic and Smoked Paprika.

Spray with oil to lightly coat.

Set air fryer time to 15 minutes.

I check them at about 12 minutes.

Flip hashbrowns by breaking into squares and gently flipping.

Once flipped spray with some oil to crisp other side.

Air fry hashbrowns 3 minutes more.
Join Our Facebook Groups for More Recipes
Instant Pot Recipe Spot
Air Fryer Recipe Spot
Vegan and Vegetarian Plant Based Recipes
(Visited 10,542 times, 3 visits today)