Tofu Stir Fry is surprisingly delicious. It screams flavor with the ginger and garlic. Take it from me because I am not Vegan. I don't mind Tofu at all if it is made right.
What do I mean by MADE RIGHT? I mean it's got to have texture and flavor and not just be a soggy squishy mess. This Ginger Garlic Tofu has exactly that. It is filled with flavor and texture.
The flavors of this dish are of an Asian influence and it is delicious. A great thing about tofu is that it will easily take on the flavors of what it is seasoned or marinated with.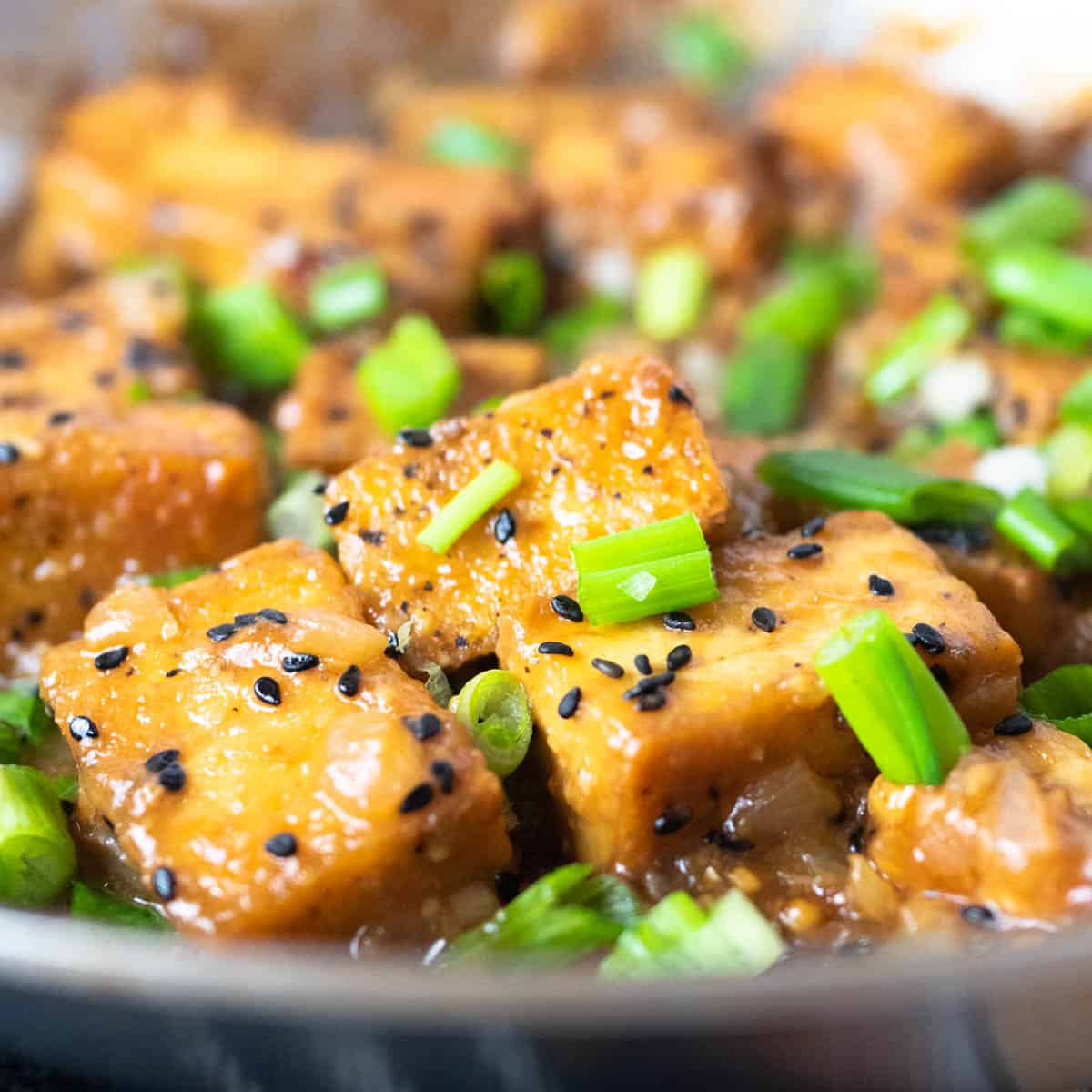 Tofu Stir Fry Recipe
This tofu is loaded with garlic and spices. I know it may seem like a lot of garlic but trust me its good this way. Tofu will basically take on the flavor of whatever you put on it. But before we get to that point we have a couple of steps to make this Tofu Stir Fry.
There is one rule when making stir fried tofu. This rule is that you must use EXTRA FIRM tofu. Trust me on this great tip. The different firmness of tofu is based on the water content.
Less water means firmer tofu. This is an absolute must for me with tofu.
Jump to:
How to Make Tofu Stir Fry
The first step in making this tofu is to Slice it into even slices and Press it. By pressing the tofu first is get a lot of the water out of the tofu so we can create some texture instead of it being soft and squishy.
This is an important step and do not skip this step. It is not complicated at all just lay the tofu on a layer of paper towel then cover with another layer and then put some even weight on top of it. I used a wooden cutting board but you can really use anything that weighs about 1 pound. Let the tofu get pressed for 20-30 minutes.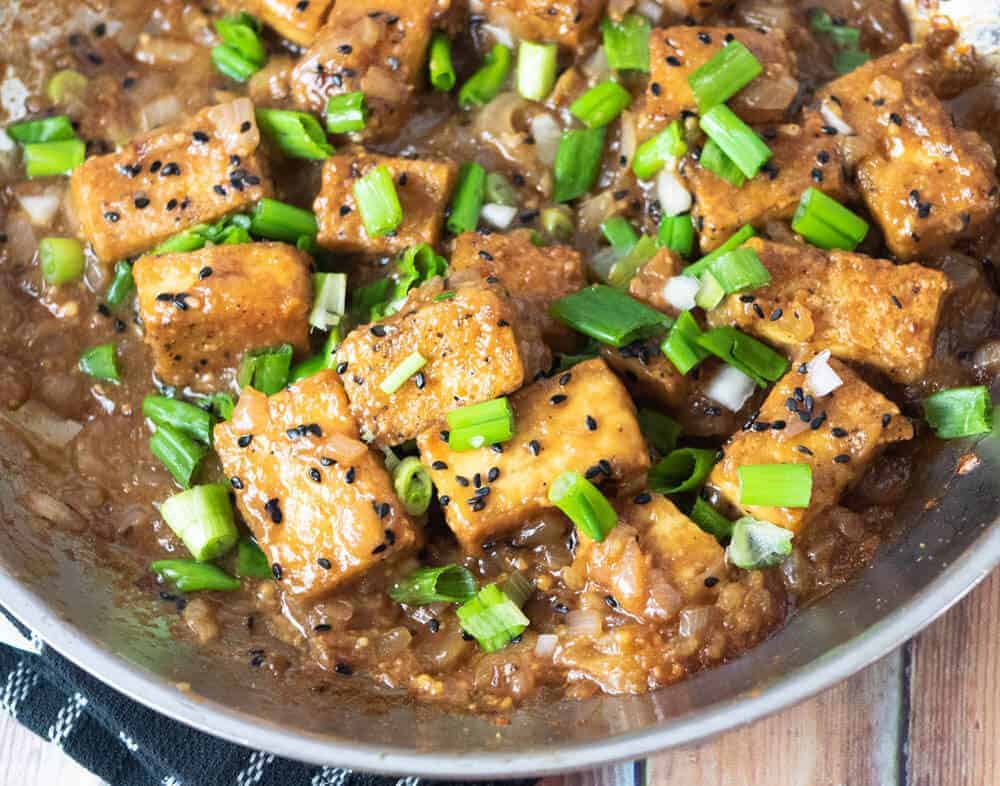 Once the tofu has been pressed cut the tofu into about 1-inch tofu cubes. Add spices to bowl and stir to combine. Add tofu to bowl and coat with the seasoning mix.
Spread the tofu cubes on a sheet pan. Baking the tofu going to give the tofu the great texture we want. It takes about a total cook time of about 40 minutes in a 400-degree oven.
Flip tofu and bake an additional 20 minutes. You can use foil but you want the tofu not to stick so if you do use foil spray it with cooking spray to stop it from sticking. Olive oil spray can also be used.
Ingredients in Tofu Stir Fry
Tofu (Make sure that you use extra firm)
Vegetables ( Use anything you like) Red Peppers, Onions, Brocolli, Green Beans
Soy Sauce
Sesame Oil
Rice Vinegar
Cornstarch
Water
Red Pepper Flakes (Optional)
Garlic
Ginger
Scallions and Green Onion
Full List of Ingredients and Measurements in Recipe Card Below
How Many Calories in Tofu?
tofu is a low-calorie high-protein food. It's just 94 cal for a half cup serving. Tofu may actually help you lose weight because it is lower calorie than meat and will help you feel full longer. Tofu is a heart healthy swap for animal proteins.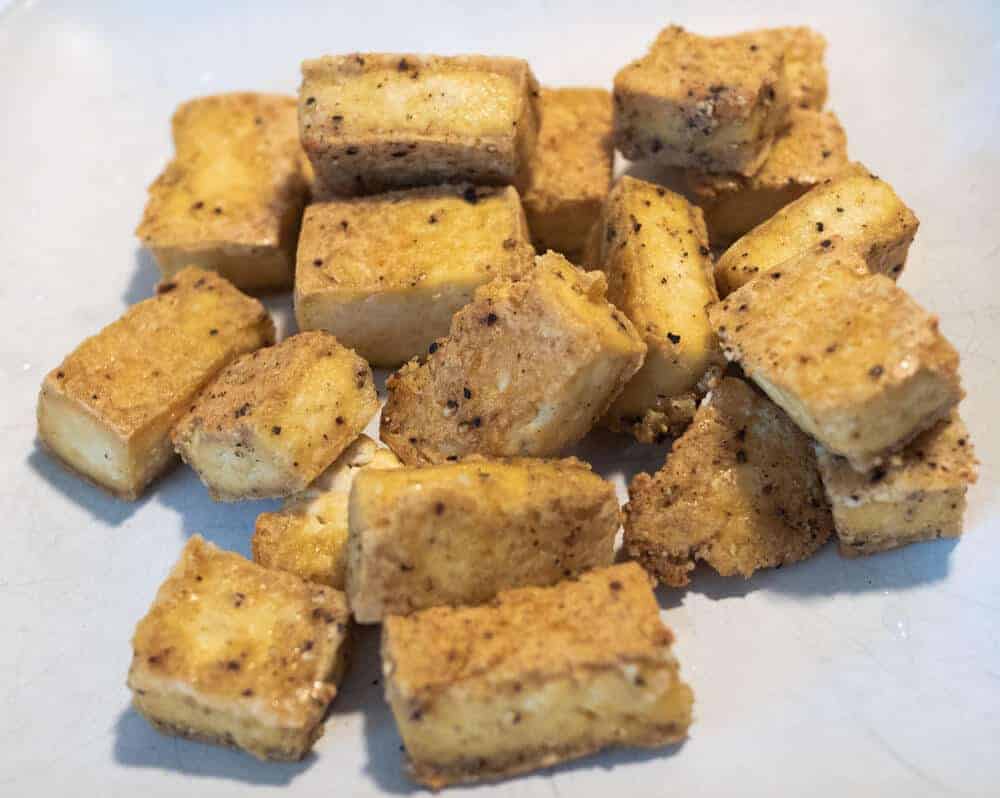 How to Cook Tofu Stir Fry
Once the tofu has been baked this is what it should look like when you take it out of the oven. It doesn't look all that great at this point, but I'm sure you can see the color and the texture that we have created.
Stick with me here and do not get discouraged by its plain look. We are going to jump on the flavor train here and finish making this tofu stir fry recipe delicious.
Before we get started with the stir fry process of this recipe keep in mind that if there is ANY vegetables that you want to add to this recipe to make it more of a veggie tofu stir fry that is totally possible.
I sometimes add a bunch of veggies to this stir fry. I don't have particular veggies that I always use because what I usually do is add the veggies that are nearing expiration in my fridge. I have added spinach, broccoli, bell peppers in many different colors, and carrots too.
The options of what to add are limitless for the most part. I usually stick to veggies that take around 2-3 minutes to stir fry. Feel free to try the mix of vegetables that you enjoy.
Let's get on with stir-frying this dish. I always think this is the fun part of cooking this dish. I like stir fry recipes because they are quick and easy and so good.
Grab a skillet and saute your onions for about 5 minutes over medium-high heat. If you are adding other vegetables now is the time to add them too.
Toss in your garlic and ginger and saute that until it's fragrant. Add your stir fry sauce making sure to stir it well and make sure the cornstarch is combined well.
Continue cooking until the sauce thickens. If the sauce is a little too thick thin it out with some water with about 1/4 cup at a time until you reach the desired thickness you prefer. Toss in the tofu and toss gently to coat with sauce and heat through. Garnish with the sesame seeds and chopped green onion scallions.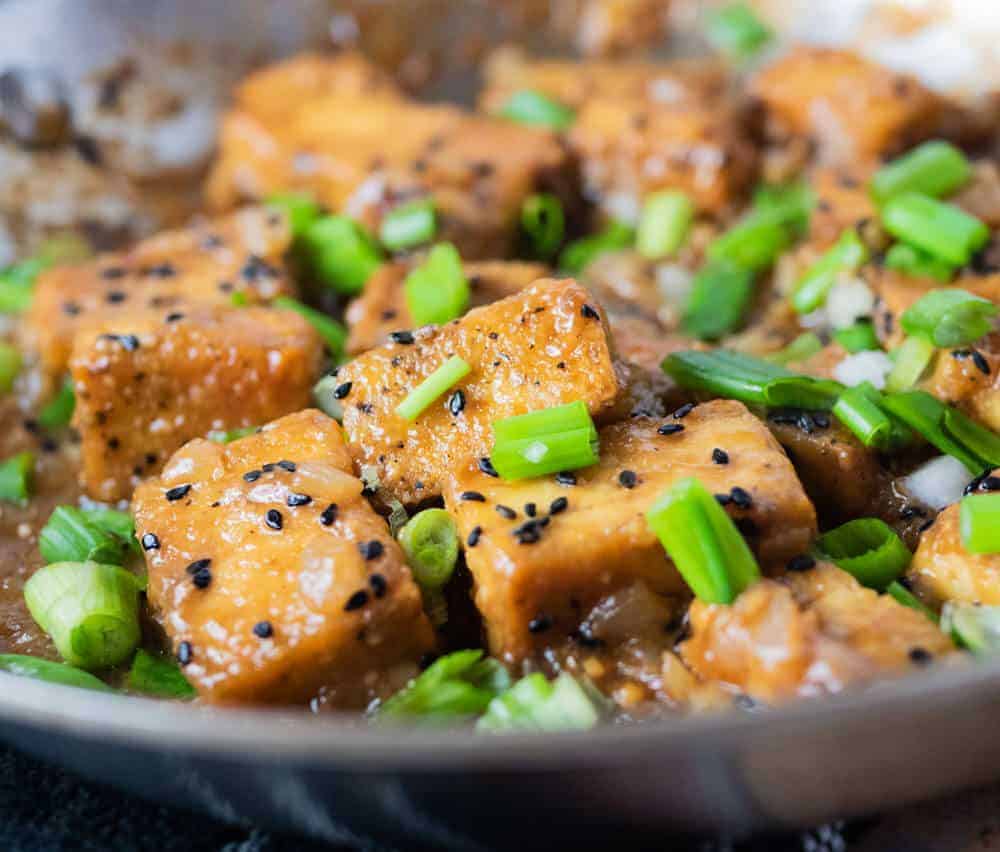 If you make this recipe please leave a comment below. Also if you have any questions go ahead and put it in the comment area. I do my best to answer them.
Other Recipes to Enjoy
Instant Pot Brown Rice
Vegetarian Pasta Salad Instant Pot
Jamaican Steamed Cabbage
Instant Pot Vegetable Lentil Soup
Asparagus Salad with Lemon Vinaigrette
Kitchen Essentials and Items Used
Alexia Smart Classics Frozen French Fries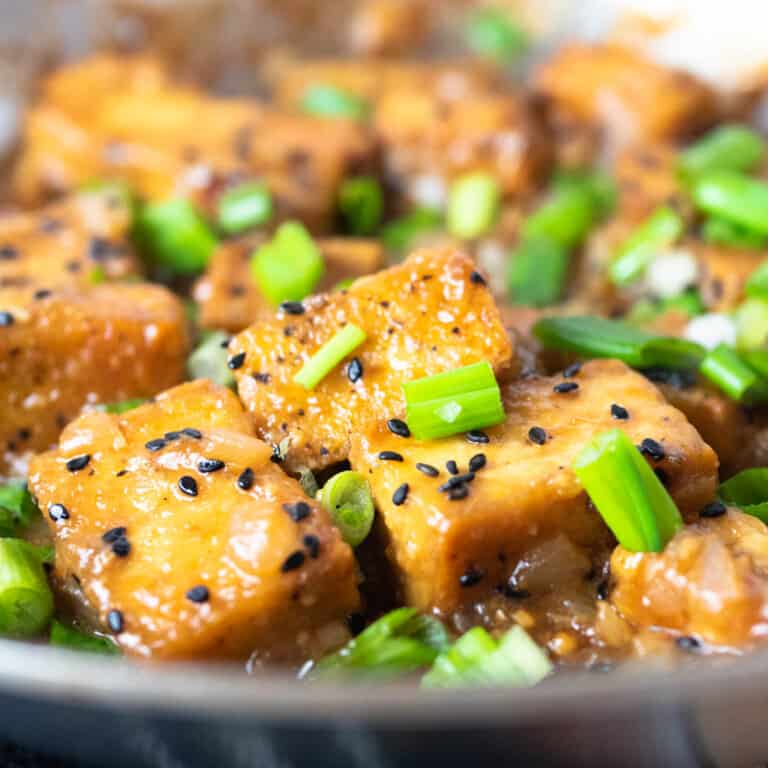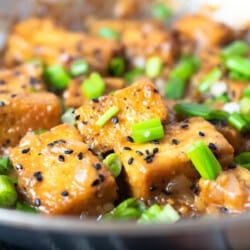 Ginger Garlic Tofu Stir Fry
Ginger Garlic Tofu Stir Fry is loaded with garlic and a touch of ginger. It is baked and then quickly stir-fried. It is loaded with texture and flavor.
Print
Pin
Rate
Ingredients
1

Pound

Firm Tofu

Drained and Pressed

1/2

tsp.

Sea Salt

6

Turns of Course Ground Pepper

1/2

tsp.

Garlic Powder

1

Tablespoon

Cornstarch

2

Tbsp.

Olive Oil

Divided

1

Onion Minced

6

Cloves

Minced Garlic

1/2

tsp

minced Ginger

1/2

tsp.

Black Sesame Seeds

2

Scallions Chopped

For Garnish
Stir Fry Sauce
1/4

Cup

Low Sodium Soy Sauce

1

Tablespoon

Sesame Oil

1

Splash of Rice Vinegar

about a tsp.

2

tsp.

Cornstarch

1/2

cup

Water

1/4

tsp.

Red Chili Flakes

Optional

1

tsp.

Sugar

Adjust to sweetness preference
Instructions
Cut Tofu Block in 3 equal size pieces. Lay slices between paper towel to absorb moisture. Then put something about one pound or so on top to press tofu. I used a cutting board but really anything will work that weighs about a pound. Let Tofu press for at least 30 minutes.

Preheat oven to 400 degrees. In a bowl mix Salt,Pepper,Garlic and Cornstarch. Stir to combine.Then add the Olive Oil and stir to form a paste with the spices.

Cut Tofu into 1 inch cubes and put in bowl of spice mixture and toss gently to coat being careful not to break up tofu pieces.

Place Tofu pieces on parchment paper lined sheet pan in a single layer and bake 15 to 20 minutes. Then flip tofu pieces and bake an additional 15 to 20 minutes. Remove from oven.

Make stir fry sauce. Mix together Soy Sauce,Sesame Oil,Rice Vinegar,Cornstarch,Water,Chili Flakes and Sugar. Stir to Mix well. Make sure before you add stir fry sauce to pan that you stir to combine it so it is not settled.

Heat pan over medium high heat. Add Tablespoon of Olive Oil to pan. Sauté Onion for 4 to 5 minutes. Add garlic and ginger and saute till fragrant. Then add stir fry sauce and stir well to combine. Wait for sauce to thicken. Lower heat a bit and then toss in Tofu to coat. If sauce is too thick add a little water /4 cup at a time till desired thickness. Top with sesame seeds and chopped scallions and serve.

Serves 2
Nutrition
Join Our Facebook Groups
if you would like even more recipes and to share your own recipes join our Facebook groups. We run quite a few groups and there is a lot of recipes in these groups. It takes just 1-2 minutes to join.
Instant Pot Recipe Spot
Air Fryer Recipe Spot
Vegan and Vegetarian Plant Based Recipes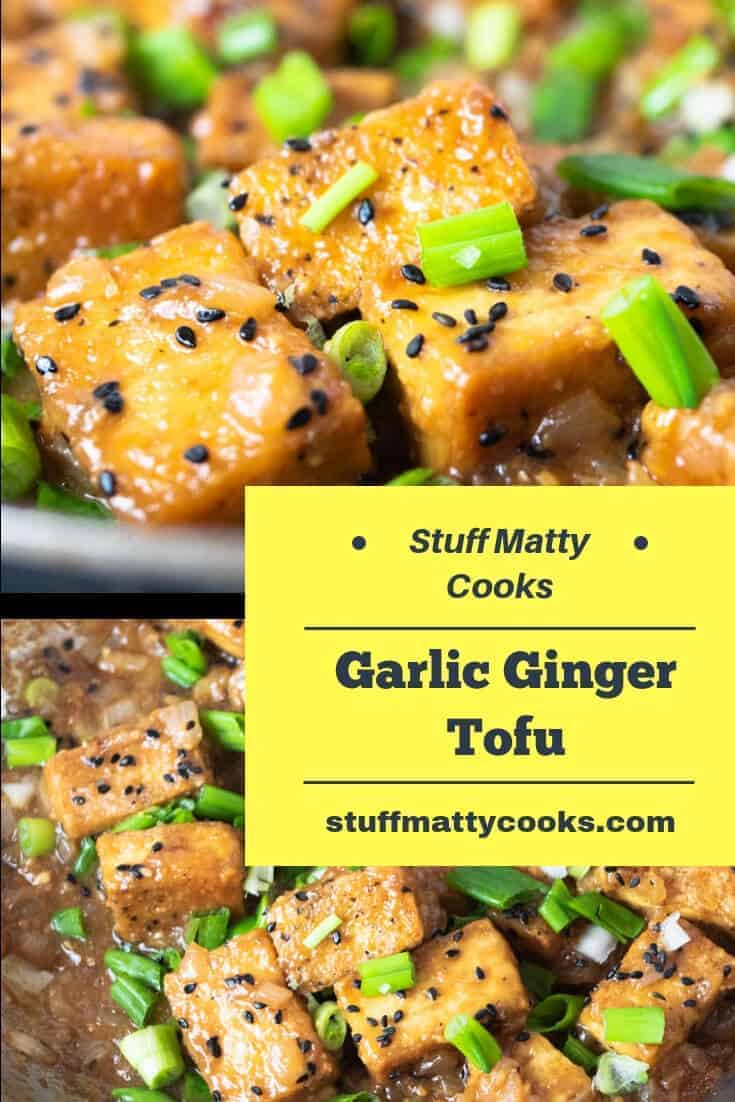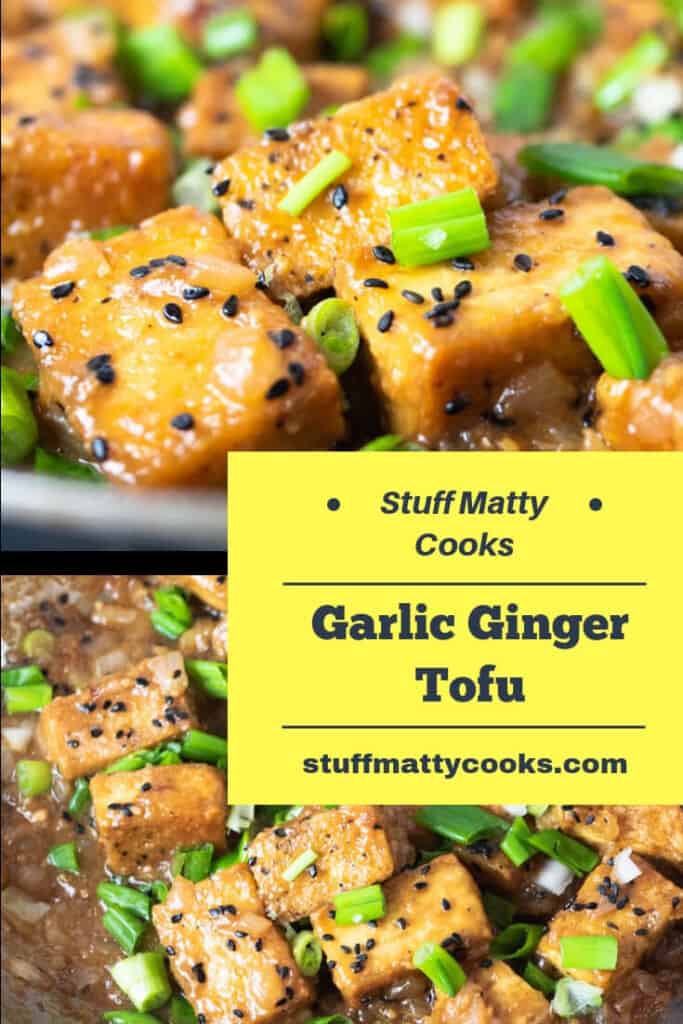 (Visited 6,909 times, 1 visits today)