This Ginger Garlic Tofu Stir Fry is completely delicious. Take it from me because I am not Vegan. I don't mind Tofu at all if it is made right. What do I mean by MADE RIGHT? I mean its got to have texture and flavor and not just be a soggy squishy mess. This Ginger Garlic Tofu has exactly that. It is filled with flavor and texture. The flavors are definitely Asian.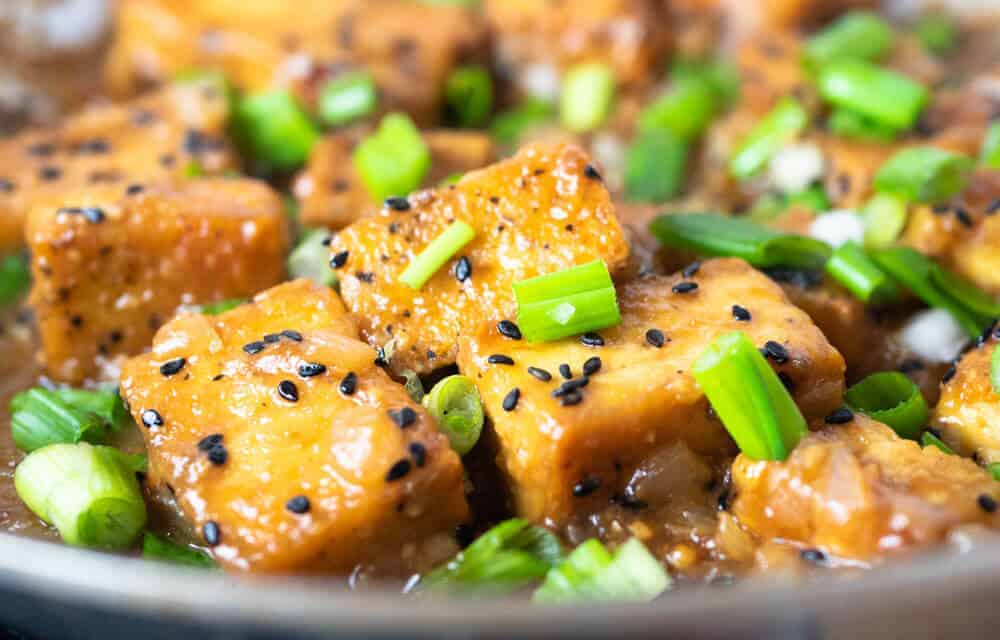 Ginger Tofu Stir Fry
This tofu is loaded with garlic and spices. I know it may seem like a lot of garlic but trust me its good this way. Tofu will basically take on the flavor of whatever you put on it. But before we get to that point we have a couple steps to make this Ginger Garlic Tofu Stir Fry.
Baked Tofu Makes a Difference in Texture
The first step in making this tofu is to Slice it into even slices and Press it. By pressing the tofu first is get a lot of the water out of the tofu so we can create some texture instead of it being soft and squishy. This is a big step do not skip it. It is not complicated at all just lay the tofu on a layer of paper towel then cover with another layer and then put some even weight on top of it. I used a wooden cutting board but you can really use anything that weighs about 1 pound. Let the tofu get pressed for 20-30 minutes.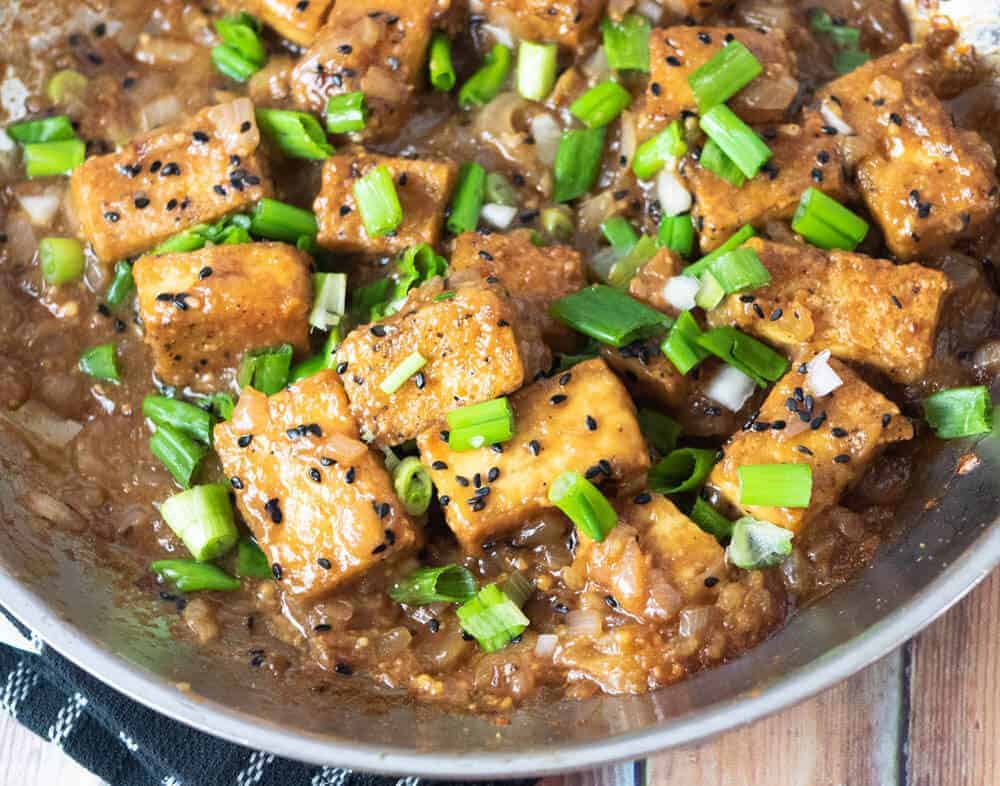 Once the tofu has been pressed cut it into about 1-inch cubes. Then it is time to season the tofu a bit in some spices and some olive oil. Then we are going to BAKE the tofu on a sheet pan. This is a big step that is going to give the tofu that texture we want. It takes about a total cook time of about 40 minutes in a 400-degree oven. Spread the tofu on a parchment lined sheet pan and bake. Then flip tofu and bake an additional 20 minutes. You can use tinfoil but you want the tofu not to stick so if you do use something to stop it from sticking like nonstick spray or an olive oil spray.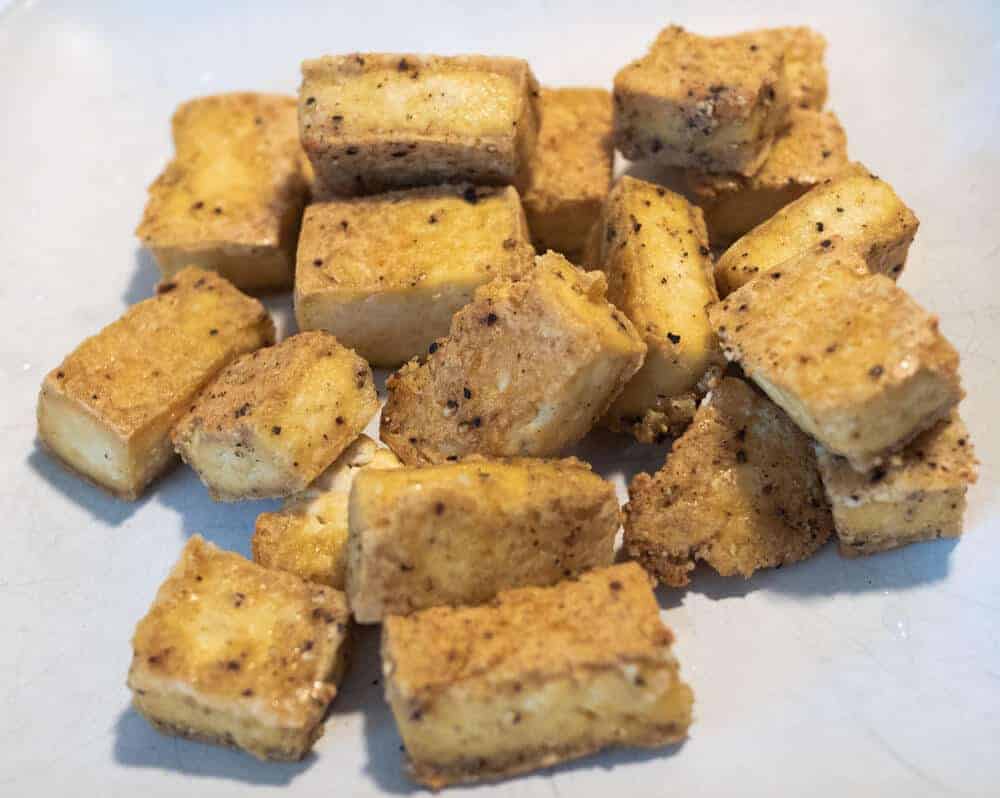 This is what the baked tofu should look like when you take it out of the oven. It doesn't look all that great at this point I agree but I'm sure you can see the color and the texture that we have created. I just wanted to give you an extra reference so you don't get discouraged. We are going to jump on the flavor train here and finish making this Ginger Garlic Tofu Stir Fry.
How to Make Tofu Stir Fry
Well, we are on our last step of making this tofu stir-fry. Grab a skillet and saute your onions for about 5 minutes over medium-high heat. Then throw in your garlic and ginger and saute that until its fragrant. Then add your stir fry sauce making sure to stir it well and make sure the cornstarch is combined. Continue cooking until sauce thickens. If the sauce is a little too thick thin it out with water about 1/4 cup at a time till desired thickness. Then toss in the tofu and toss gently to coat with sauce. Garnish with the sesame seeds and chopped scallions.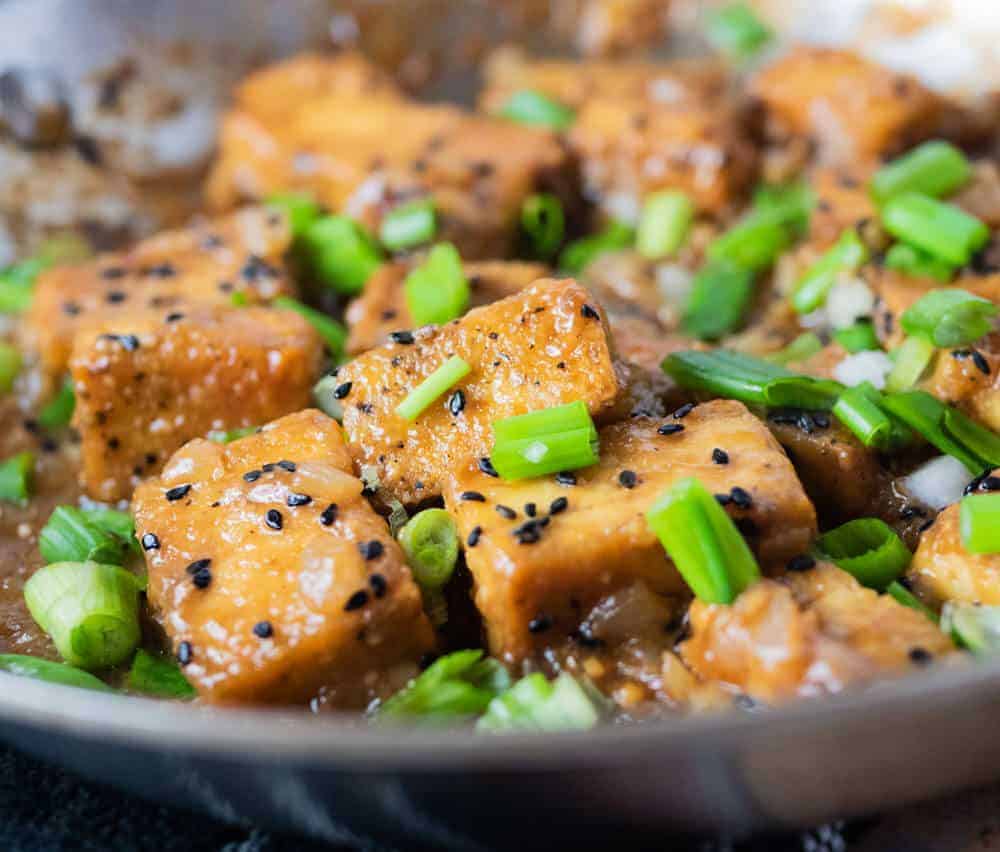 If you make this recipe please leave us a rating and comment below. Also if you have any questions go ahead and put it in the comment because I do answer.
You may also like Vegetarian Pasta Salad Instant Pot Pasta salad. Its loaded with crunchy veggies and it great as a lunch or a side dish.
Ginger Garlic Tofu Stir Fry
Ginger Garlic Tofu Stir Fry is loaded with garlic and a touch of ginger. It is baked and then quickly stir-fried. It is loaded with texture and flavor.
Ingredients
1

Pound

Firm Tofu

Drained and Pressed

1/2

tsp.

Sea Salt

6

Turns of Course Ground Pepper

1/2

tsp.

Garlic Powder

1

Tablespoon

Cornstarch

2

Tbsp.

Olive Oil

Divided

1

Onion Minced

6

Cloves

Minced Garlic

1/2

tsp

minced Ginger

1/2

tsp.

Black Sesame Seeds

2

Scallions Chopped

For Garnish
Stir Fry Sauce
1/4

Cup

Low Sodium Soy Sauce

1

Tablespoon

Sesame Oil

1

Splash of Rice Vinegar

about a tsp.

2

tsp.

Cornstarch

1/2

cup

Water

1/4

tsp.

Red Chili Flakes

Optional

1

tsp.

Sugar

Adjust to sweetness preference
Instructions
Cut Tofu Block in 3 equal size pieces. Lay slices between paper towel to absorb moisture. Then put something about one pound or so on top to press tofu. I used a cutting board but really anything will work that weighs about a pound. Let Tofu press for at least 30 minutes.

Preheat oven to 400 degrees. In a bowl mix Salt,Pepper,Garlic and Cornstarch. Stir to combine.Then add the Olive Oil and stir to form a paste with the spices.

Cut Tofu into 1 inch cubes and put in bowl of spice mixture and toss gently to coat being careful not to break up tofu pieces.

Place Tofu pieces on parchment paper lined sheet pan in a single layer and bake 15 to 20 minutes. Then flip tofu pieces and bake an additional 15 to 20 minutes. Remove from oven.

Make stir fry sauce. Mix together Soy Sauce,Sesame Oil,Rice Vinegar,Cornstarch,Water,Chili Flakes and Sugar. Stir to Mix well. Make sure before you add stir fry sauce to pan that you stir to combine it so it is not settled.

Heat pan over medium high heat. Add Tablespoon of Olive Oil to pan. Sauté Onion for 4 to 5 minutes. Add garlic and ginger and saute till fragrant. Then add stir fry sauce and stir well to combine. Wait for sauce to thicken. Lower heat a bit and then toss in Tofu to coat. If sauce is too thick add a little water /4 cup at a time till desired thickness. Top with sesame seeds and chopped scallions and serve.

Serves 2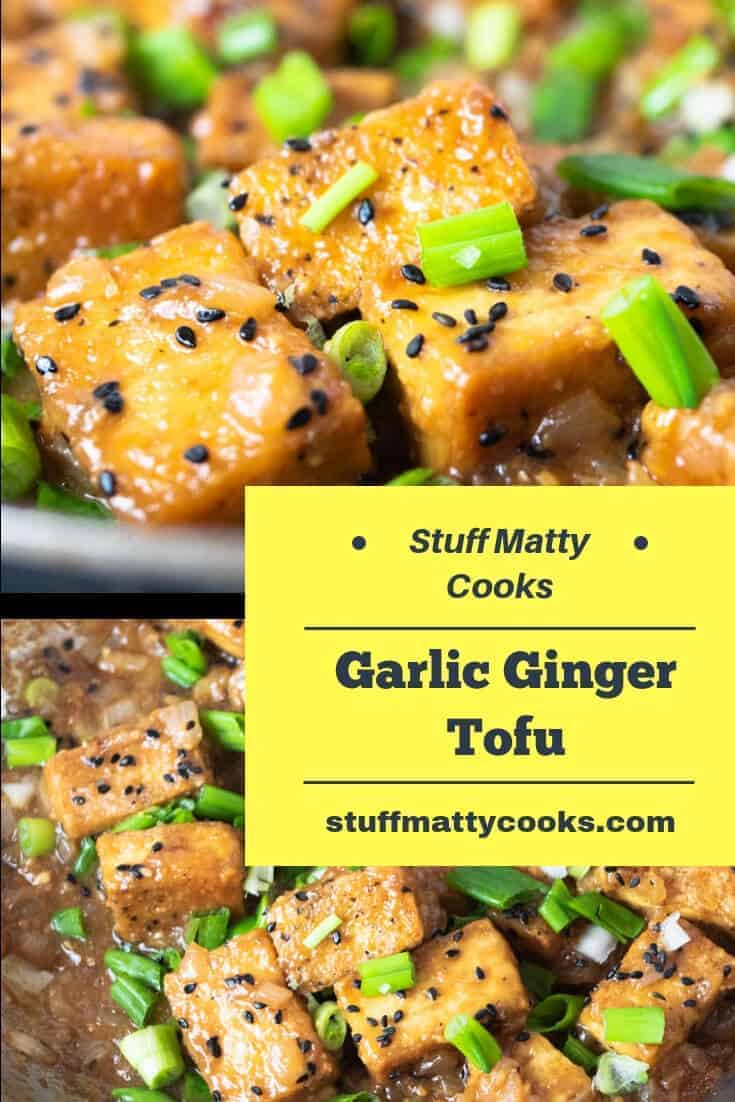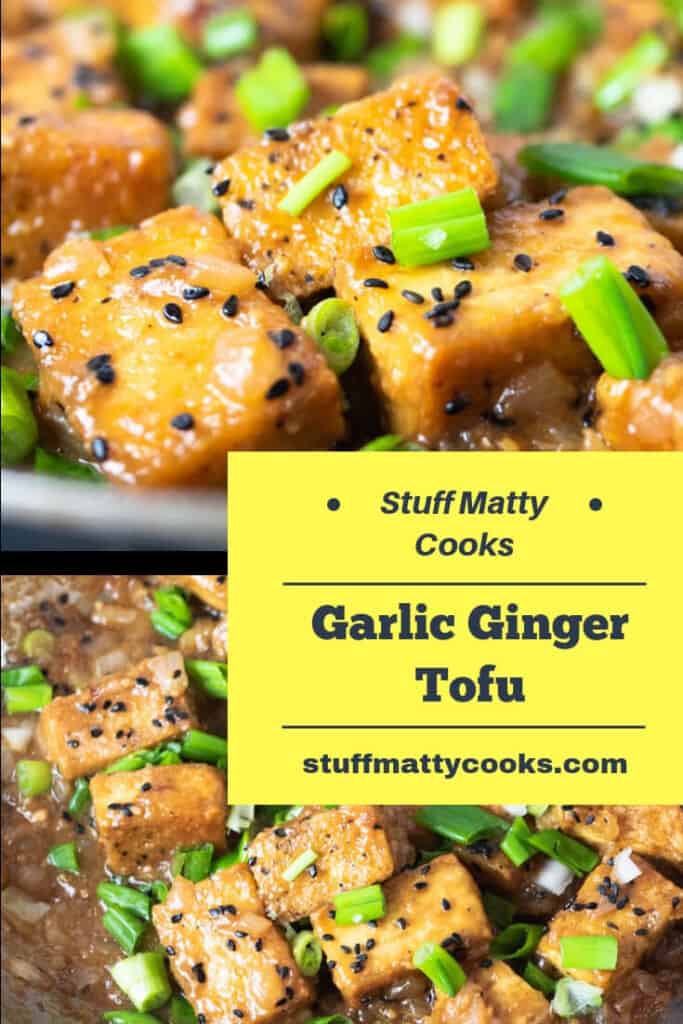 (Visited 2,856 times, 1 visits today)