I have been developing recipes for a few years now. Naan pizza has been a favorite air fryer recipe for quite a while. It has always been one of my go to recipes for lunch or a late night snack.
Every time I go to the store I buy a pack of this store-bought Naan bread. They are readily available at most markets and don't seem to be a specialty item. It turns out naan-bread makes a great pizza crust. It gets crispy but still has that pillow like texture.
The naan bread can be topped any way that you enjoy pizza. I do not have pizza sauce in a jar because I really do not like pizza sauce from a jar. The sliced tomato works out great and it is a healthy fresh flavor.
I usually always have tomatoes on hand and some variety of cheese that I enjoy. In this naan flatbread pizza recipe, I am sharing a Margherita style naan pizza recipe, and this one is my favorite.
I usually add fresh tomato, mozzarella cheese, and oregano. If you have fresh herbs on hand use them too. Sprinkle with parmesan cheese and you are in for a personal pizza that will satisfy any appetite.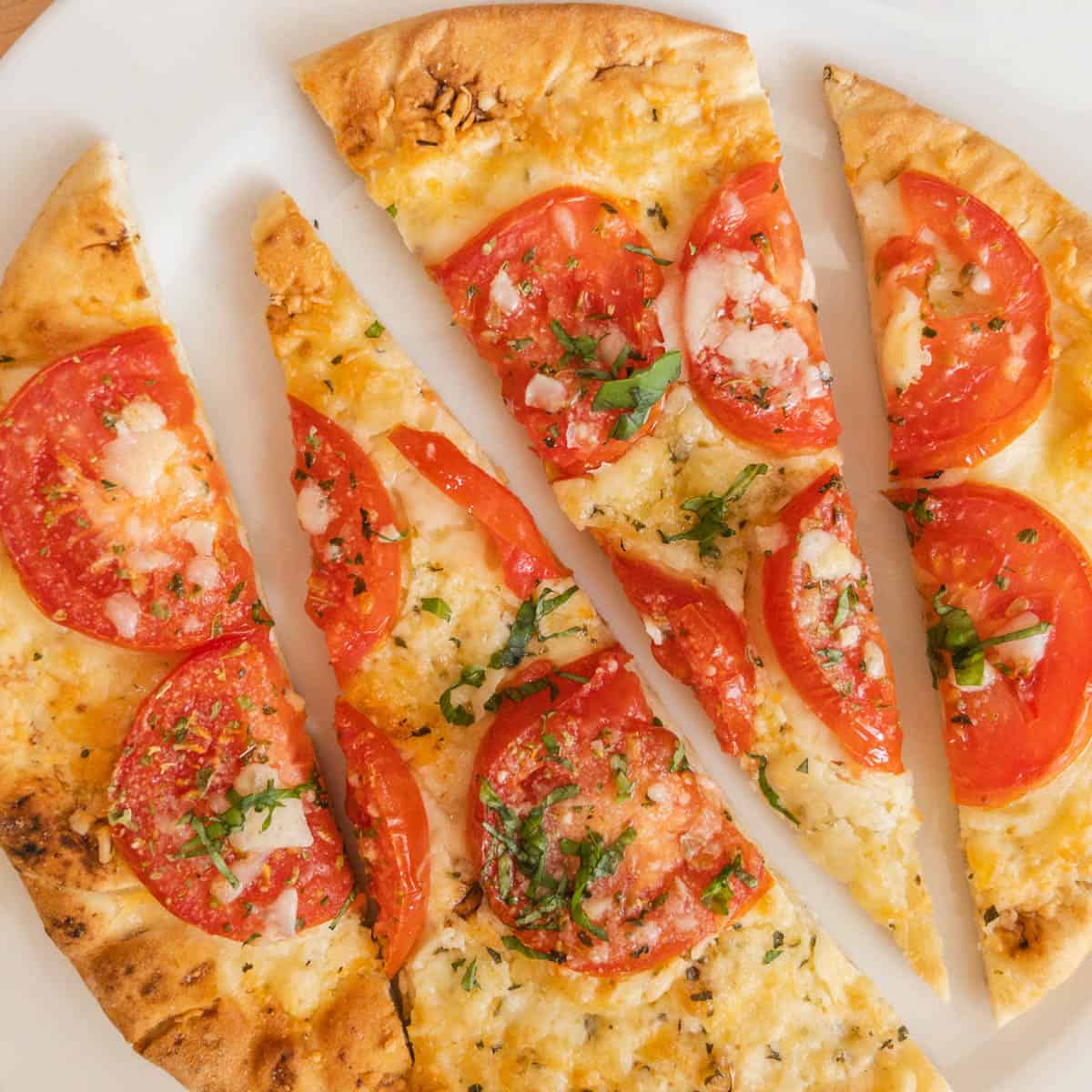 If you have ever made my Million Dollar Bacon it goes great on Naan pizza too. Sometimes I pair this pizza with Frozen Chicken Nuggets too. Everybody likes a variety of things to nibble on and both of these are quick and easy to make.
Jump to:
Ingredients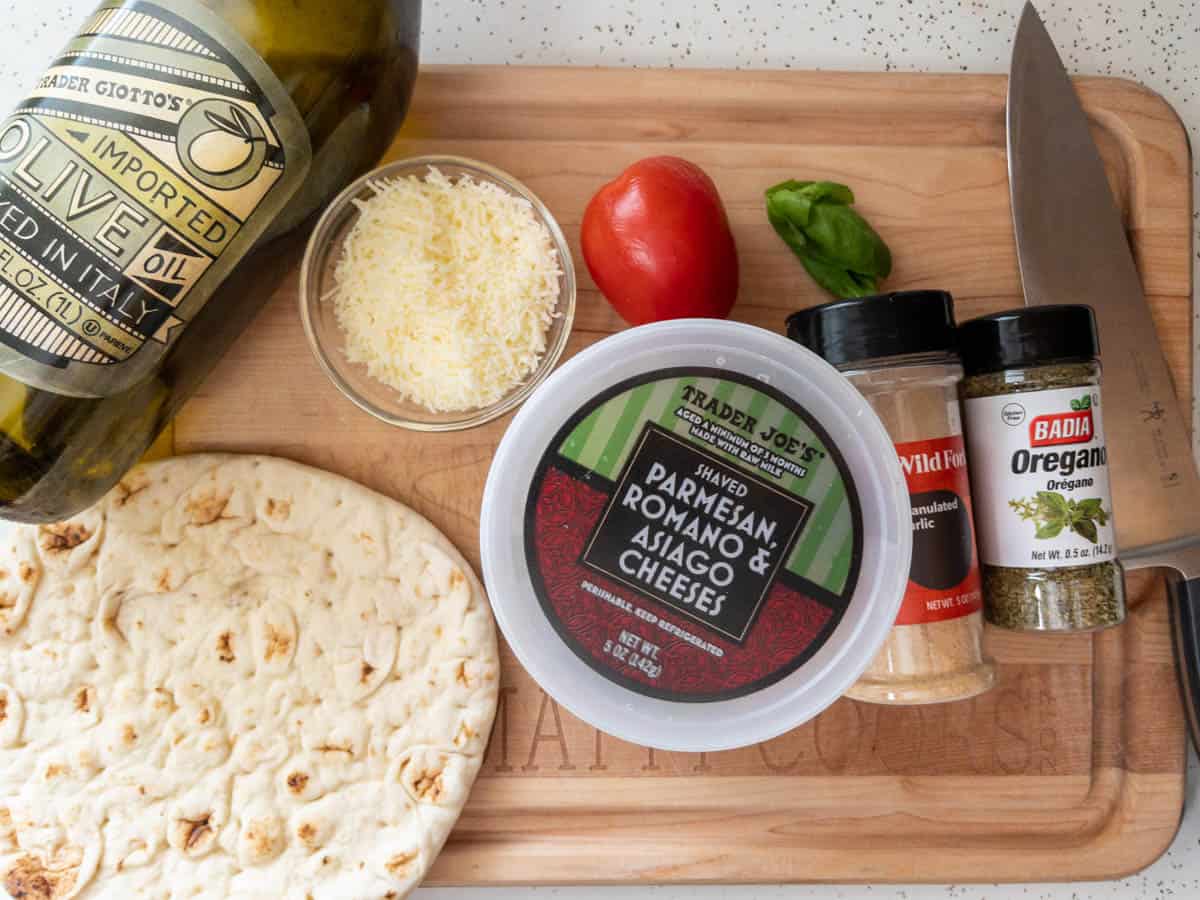 Olive Oil
Naan Bread
Tomato Slices
Mozzarella Cheese
Parmesan Cheese
Oregano
Garlic Powder
Fresh Herbs (Parsley, Basil or even Mint)
Jump to recipe card for quantities.
Instructions
This is a simple recipe to make and I will show you step by step how I do it step by step.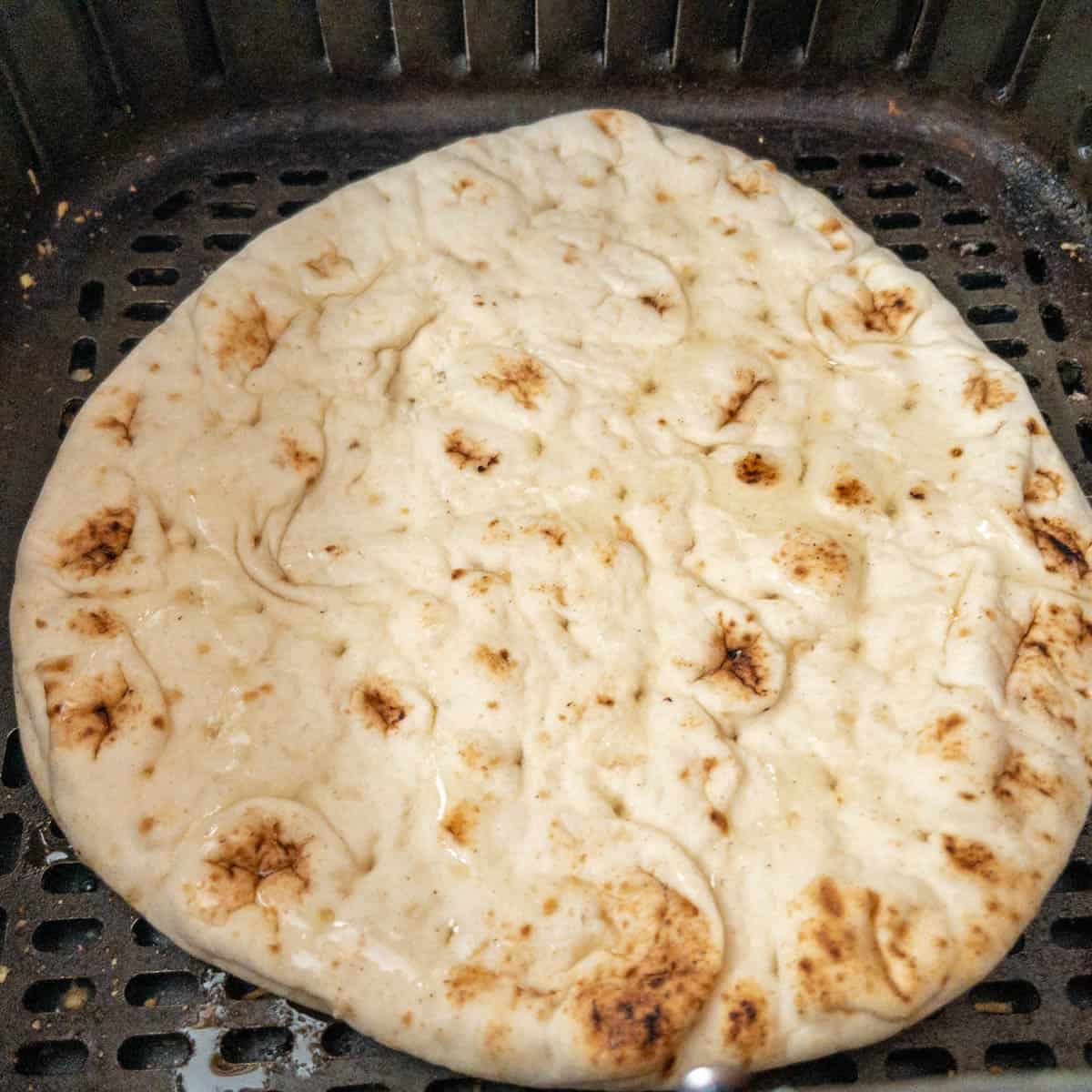 Step 1– I like to build the pizza directly in the air fryer basket. It keeps the mess to a minimum and since naan bread can be flimsy.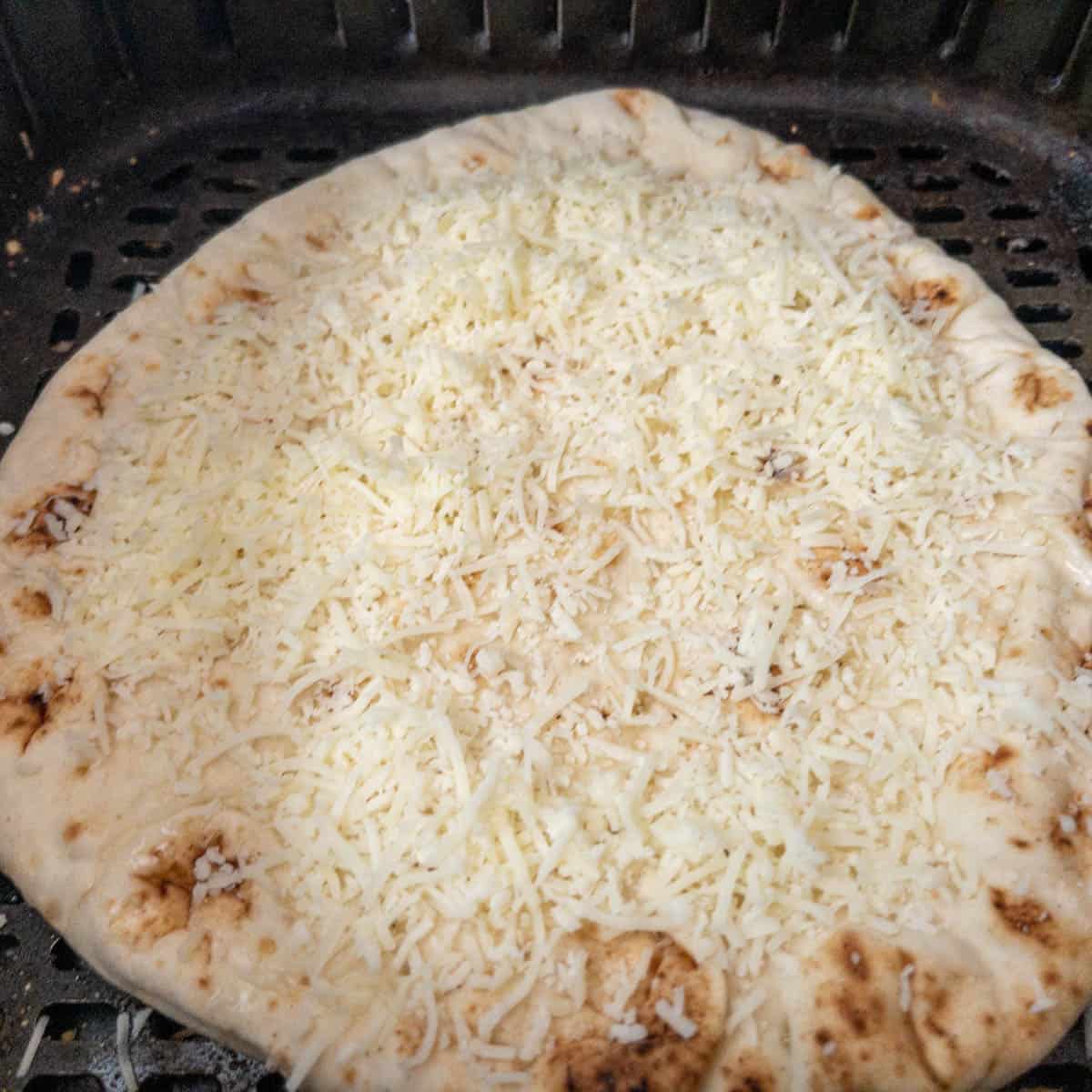 Step 2 – Add cheese to the naan bread making sure to spread evenly and cover the entire crust.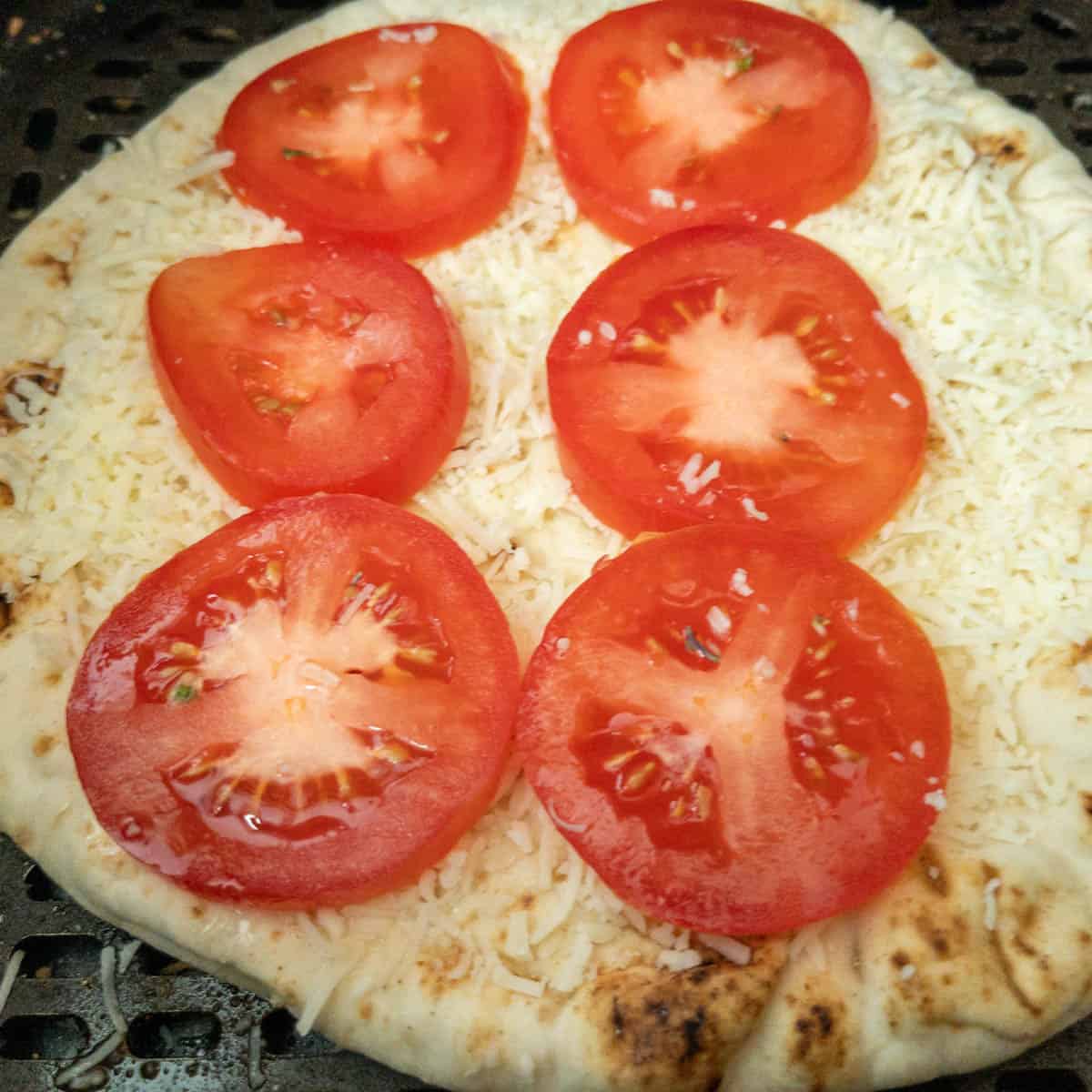 Step 3 – Add tomato slices. I use roma tomatoes. I cut the tomato into 6 slices and that works perfectly.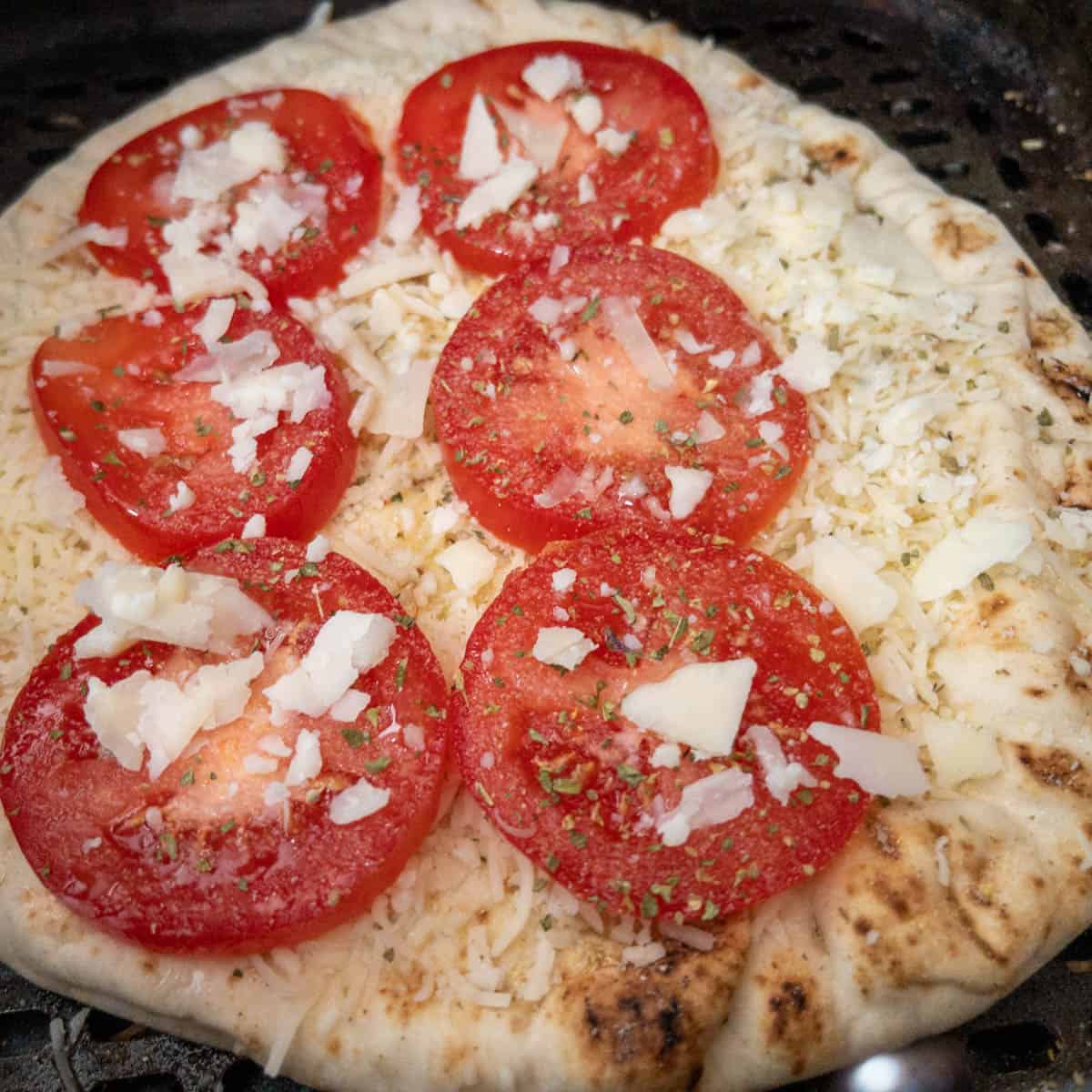 Step 4 – Top with parmesan cheese, salt, oregano, and garlic powder. Cook in air fryer at 370 degrees Fahrenheit for 5 minutes.
Cooking Naan Bread Pizza in Air Fryer
The cooking time for basket style and oven style air fryers is different. The process is the same but the cooking time differs by a few minutes.
Cooking Time in Basket Style Air Fryer air fry 370 degrees Fahrenheit for 5 minutes.
Cooking Times for Oven Style Air Fryer air fry 370 degrees Fahrenheit for 8 minutes.
Tip: For a crisper crust you can cook at 380 degrees Fahrenheit.
Cooking Naan Bread Pizza in Conventional Oven
Preheat Oven to 425 Degrees Fahrenheit
Place Pizza on Rack ( I don't use baking sheets for the pizza)
Bake for 8-10 minutes until Golden Brown and Cheese Is Melted.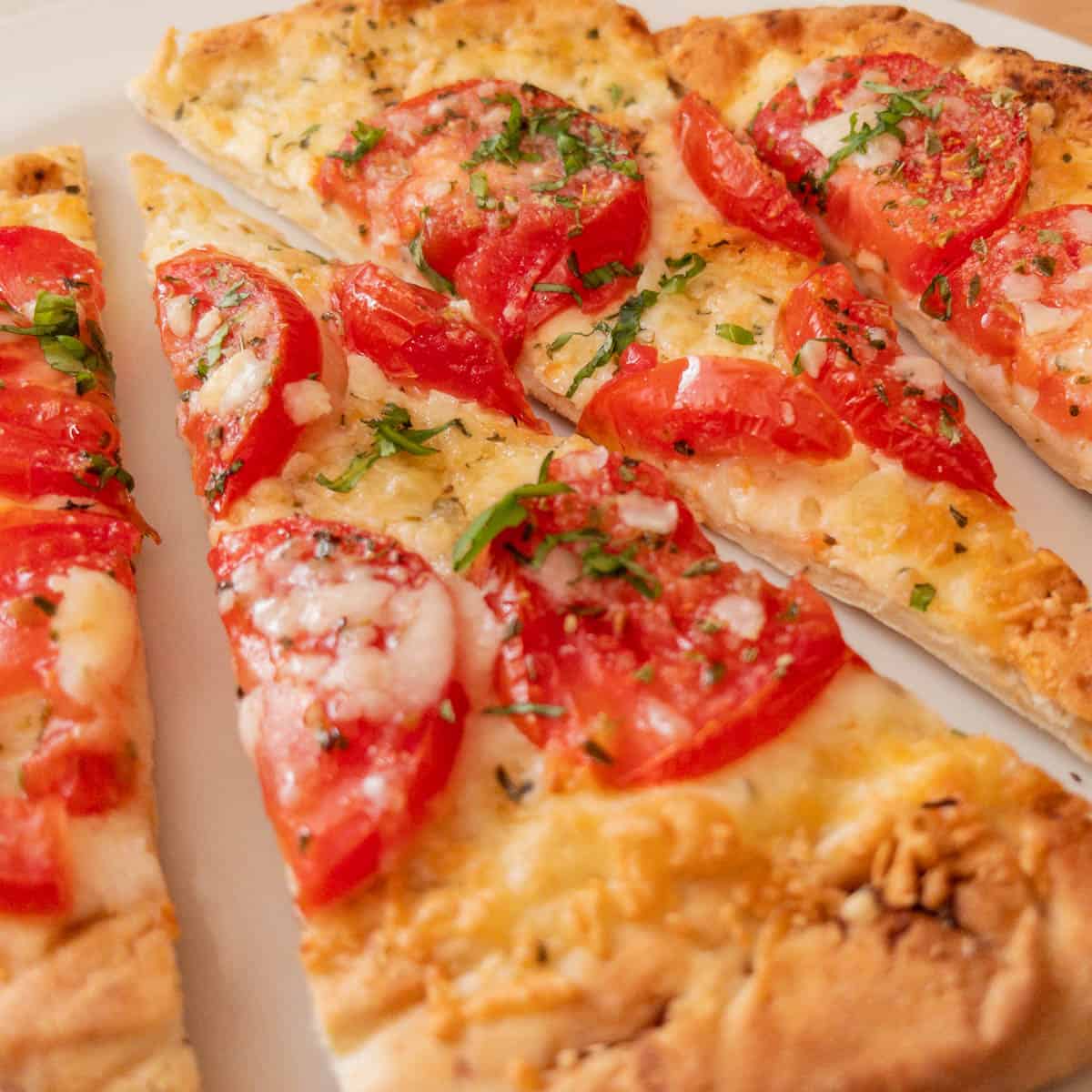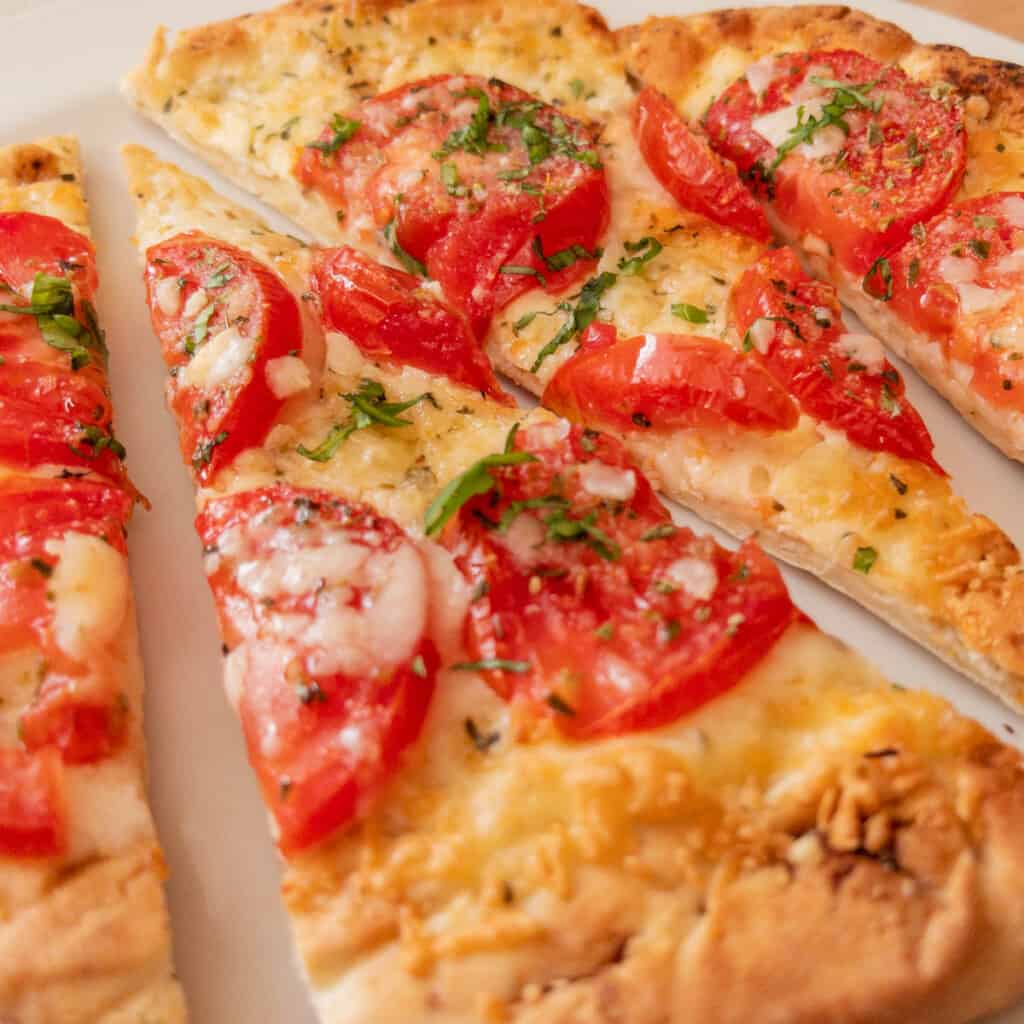 Air Fryer Naan Pizza Topping Variations
Pepperoni – add pepperoni for a more traditional pizza
Chopped Bell Peppers – Red and Green peppers add great flavor and color to a pizza.
Hawaiian Pizza – Top the pizza with chopped pineapple and ham for something different.
Chopped Onions – Onions are not for everyone on pizza but I love the flavor and texture.
Alfredo Sauce – For a different type of pizza top with alfredo sauce before other toppings.
Tip: Mini Naan can also be used and make for great party appetizers.
Substitutions
Pita Bread can be substituted for Naan Bread.
BBQ Sauce can be used in place of sliced tomato or pizza sauce.
Pesto Sauce is delicious in place of pizza sauce or spread on top of pizza sauce or as a base.
Equipment
I have more than one air fryer and of course, many things that I consider to be kitchen essentials. I am going to list what is needed and a few more items. I do receive a small commission for these items if you use my link at NO COST to you. Thanks for the support.
COSORI Air Fryer 5.8QT
COSORI Air Fryer Toaster oven XL 26.4QT
Air Fryer Parchment Paper Liners, 200Pcs Square Air Fryer Liners
Misen Chef Knife – 8 Inch Professional Kitchen Knife
Instant Vortex Plus XL 8 Quart 8-in 1 Dual Basket Double Air Fryer

Storage and Reheating
Pizza can be stored in an airtight container or zip top bag for 3 to 4 days. Reheat in the air fryer at 350°F for 3 to 4 minutes.
Store Brands of Naan Bread
Store brand Naan Bread is very popular and is available at most grocery stores. All the grocery stores in Florida where I am located have it. Below are a few stores that you may have in your area and the name of the bread.
Stone Fire is a popular brand available at most stores.
Specially Selected is an Aldi house brand that I have used.
Trader Joe's has their own Naan Bread Brand.
Naan is an easy bread to make homemade and I will be sharing my recipe.
Other Recipes to Enjoy
Air Fryer Jerk Chicken Wings
Air Fryer Empanadas
Air Fryer Dumplings
Air Fryer Chicken Nuggets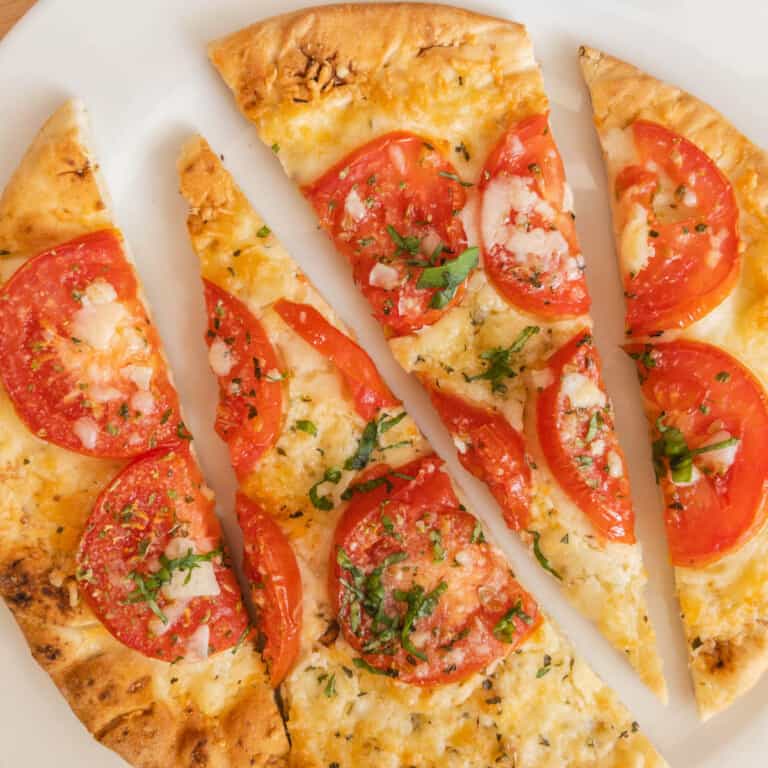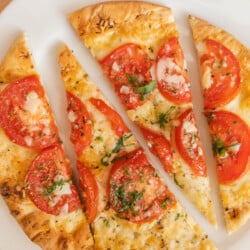 Naan Bread Pizza in the Air Fryer
Naan Pizza in the air fryer makes as meal or late night snack in less than 10 minutes
Print
Pin
Rate
Ingredients
1

Naan Bread

Store Bought

3

Tbs.

Pizza Sauce or Sliced Roma Tomato

1/4

Cup

Mozzarella Cheese

1

tsp.

Olive Oil

for drizzling on top before cooking

1

Pinch

of Salt

1

Pinch

Oregano (About 1/4 tsp.)
Instructions
Cooking Instructions in Basket Style Air Fryer
Place Naan Bread in Air Fryer Basket

Add Cheese and your favorite toppings

Air Fry 375 Degrees Fahrenheit for 5 to 7 minutes until edges are golden brown.
Cooking Instructions for Oven Style Air Fryer
Place Naan Bread Pizza with Topping in Oven at 375 Degrees Fahrenheit for 10 minutes.
Cooking Instructions for Conventional Oven
Preheat Oven to 425 Degrees

Place Naan Pizza with toppings DIRECTLY on Oven Rack

Cook 8-10 minutes until golden brown
Notes
All air fryers cook differently and cooking times could fluctuate by a few minutes and of course temperatures by a few degrees. All my recipes are tested but even so times can fluctuate by a couple minutes depending on air fryer and wattage.
Nutrition
(Visited 36,633 times, 1 visits today)