This Leftover Corned Beef and Cabbage Soup Recipe is a most definite thing to make when you have leftover corned beef slices or scraps. This makes an entire other meal out of the leftovers. Loaded with carrots, celery, onions, and potatoes this makes a hearty inexpensive meal.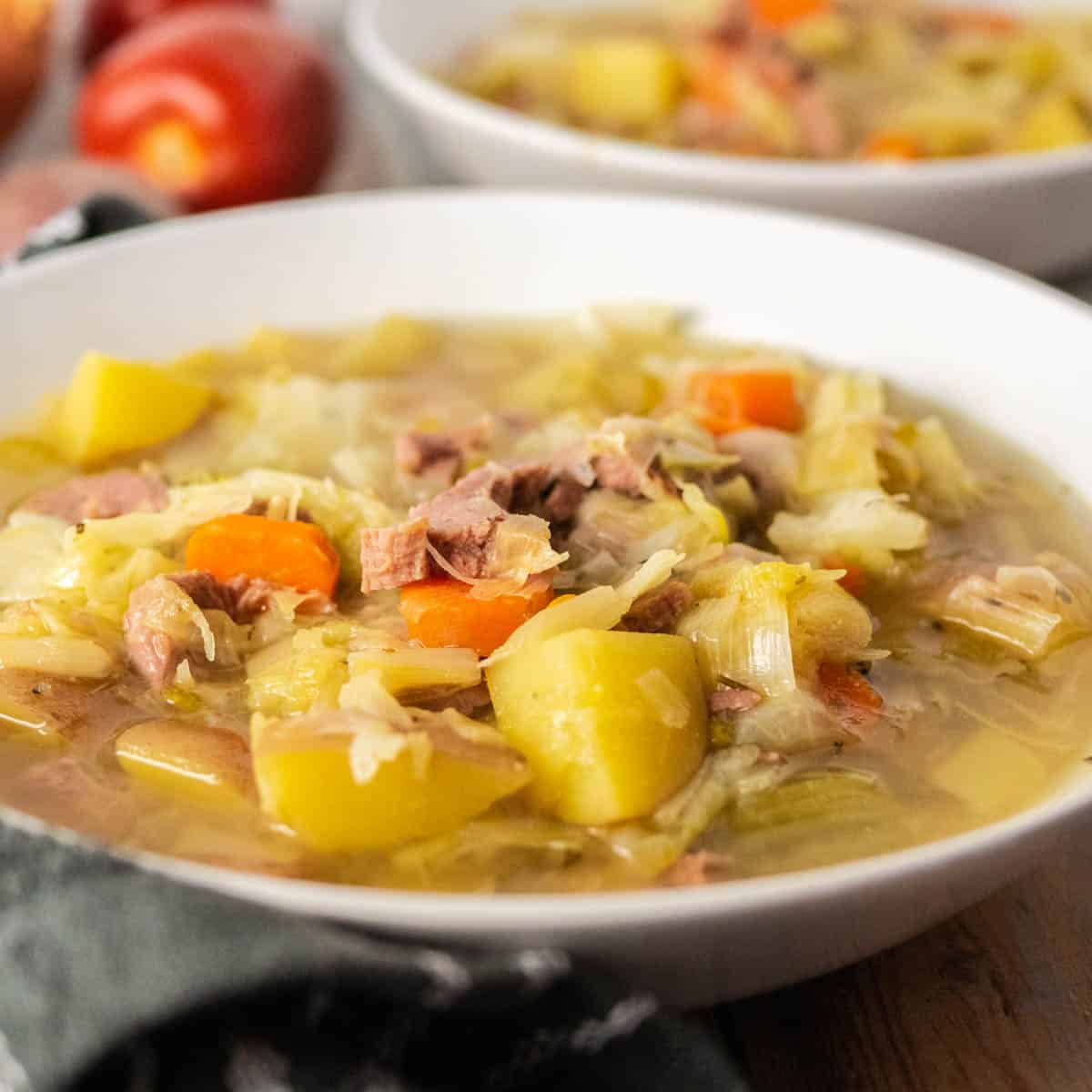 Cabbage and Corned Beef Soup
Most people make corned beef hash with leftover corned beef. While I do LOVE Corned Beef Hash I was looking for something a little bit different. It doesn't have to be St Patricks Day to enjoy Corned Beef and Leftover Corned Beef and Cabbage Soup are really delicious as well.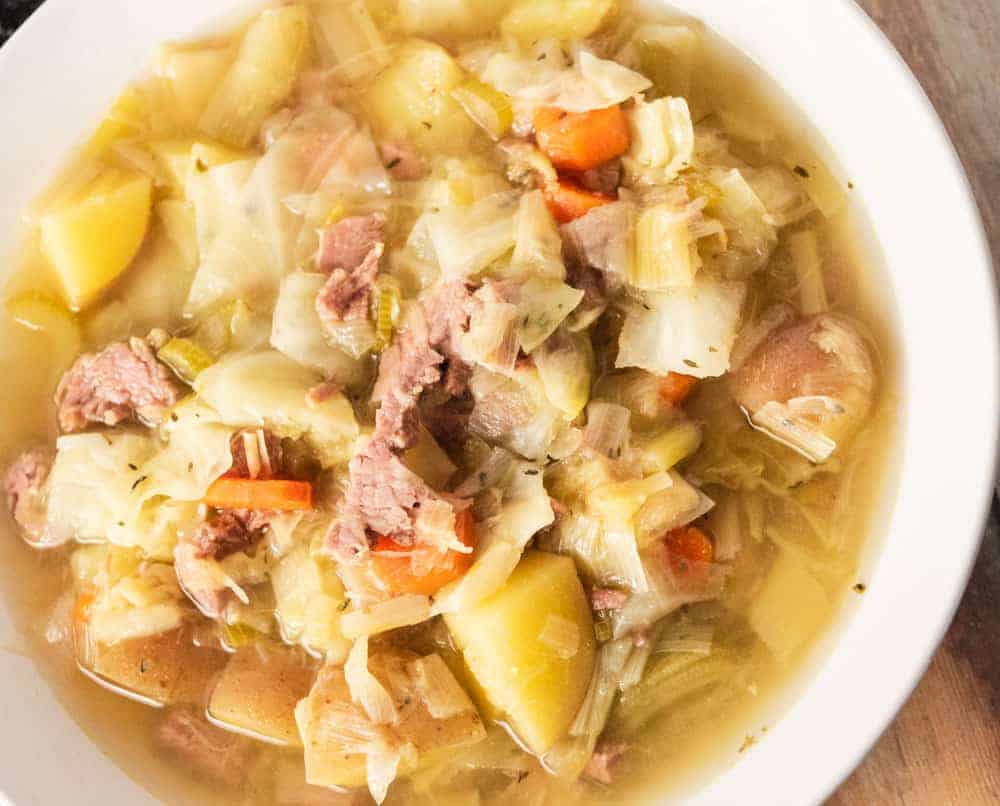 How to make Corned Beef and Cabbage Soup.
This soup is easy to make. Grab a Dutch Oven or any heavy pot of your choice and heat about 2 Tablespoons of olive oil in a medium-high temperature pan. When that gets how add some carrots, celery and some onion. Let that saute for a few minutes.
Saute your vegetables
While the veggies are cooking I usually would be chopping up the corned beef. You can chop it into chunks or into strips if you prefer.
Add Corned Beef
After about 5 to 7 minutes of sauteeing the veggies and the corned beef to the pot and stir to combine. Let the corned beef and veggies cook for about 3 minutes to extract some of that corned beef flavor.
Add Stock and Water
At this point, I add my stock to the pot. In this recipe, I used corned beef stock that I reserved from cooking the corned beef, chicken stock, and some water. If you don't have your leftover stick from cooking your corned beef thats ok just replace the corned beef stock with chicken stock. Using the corned beef stock is just another layer of good flavor. You can remember to save the stock the next time you cook corned beef.
Add Seasonings and Potatoes
Add your seasonings and potatoes. In this recipe, I used some Italian seasoning which came out great. Now add your potatoes and let the soup come to a boil and then turn the heat to MEDIUM and let the potatoes simmer for about 15 minutes or until potatoes are tender.
Add Cabbage
Uncover the pot and add your cabbage to the soup. Let the soup simmer uncovered for about another 10 minutes and you are ready to enjoy.
Corned Beef and Cabbage Soup in the Instant Pot, Crock Pot, Slow Cooker
Instructions for the Instant Pot
Making Corned Beef and Cabbage soup can be done in the Instant Pot and it is quick and easy to do. Push the saute button on your Instant Pot and put it on the "normal" setting. When the screen reads "HOT" add about 1 Tablespoon of oil to the pressure cooker. Then add your cabbage and saute about 3 minutes. Add your carrots celery and onions to the Instant Pot and saute 3 minutes more.
Add your potatoes, stock, and or water and corned beef to the Instant Pot with all other ingredients and stir to combine.
Put the lid on the Instant Pot and turn the valve to the "SEAL" position. Press the "CANCEL" button and then press the "PRESSURE COOK" button and set the timer for 15 MINUTES. When cook time is compete do a quick pressure release and enjoy.
Instructions for the Crock Pot Slow Cooker
Add all the ingredients to the slow cooker or crockpot. Stir all ingredients to combine. Cook 7-8 Hours on Low Temperature or 3 to 4 Hours on High Temperature .
Please share this recipe on social media so I can continue to bring you recipes like this one. I would really appreciate it.
More Recipes to Enjoy.
Instant Pot Turkey Chili
Instant Pot Salisbury Steak Meatballs

Kitchen Essentials for Making Corned Beef and Cabbage Soup
Dalstrong Carving Knife
Organic Chicken Broth Base
John Boos Maple Cutting Board
FreshJax Organic Italian Seasoning Blend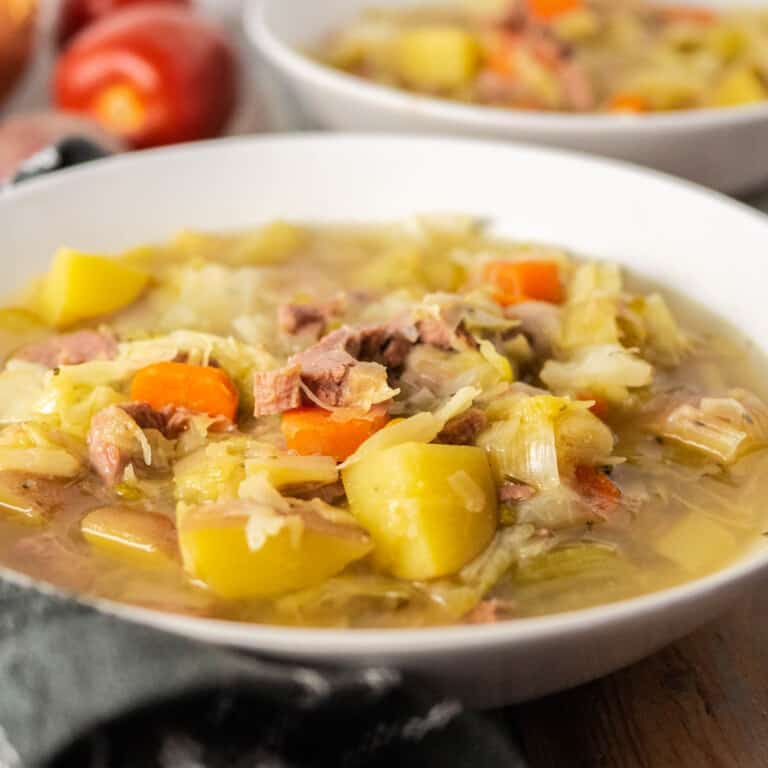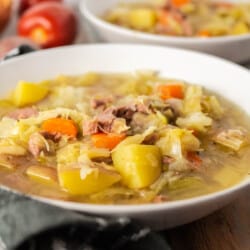 Leftover Corned Beef and Cabbage Soup
Leftover Corned Beef and Cabbage Soup
Print
Pin
Rate
Ingredients
1

Pound

Leftover Cooked Corned Beef Shredded

4

Cups

Corned Beef Stock from Cooking Corned Beef.

2

Cups

Water

1

Cup

Chicken Broth

2

Carrots Cut Into 1 inch Rounds

2

Stalks Celery Cut into 1 inch Pieces

1

Onion Chopped

3 to 4

Red Potatoes Cubed

1/2

Head of Green Cabbage Chopped

1/2

tsp.

Salt

1/2

tsp

Pepper

1/2

Tbsp.

Italian Seasoning

1

tsp.

Thyme

1

Tbsp.

Olive Oil
Instructions
Heat olive oil in large Dutch oven or stockpot over medium heat. Add carrots celery and onions and sauté about 5 to 7 minutes. Add corned beef And sauté about three minutes. Add corned beef stock, and water, chicken broth, salt, pepper, Italian seasoning thyme, and potatoes. Bring to a boil then cover and simmer for 15 minutes until potatoes are tender. Once potatoes are tender add cabbage and cook uncovered 10 minutes until Cabbage is at desired tenderness.
Nutrition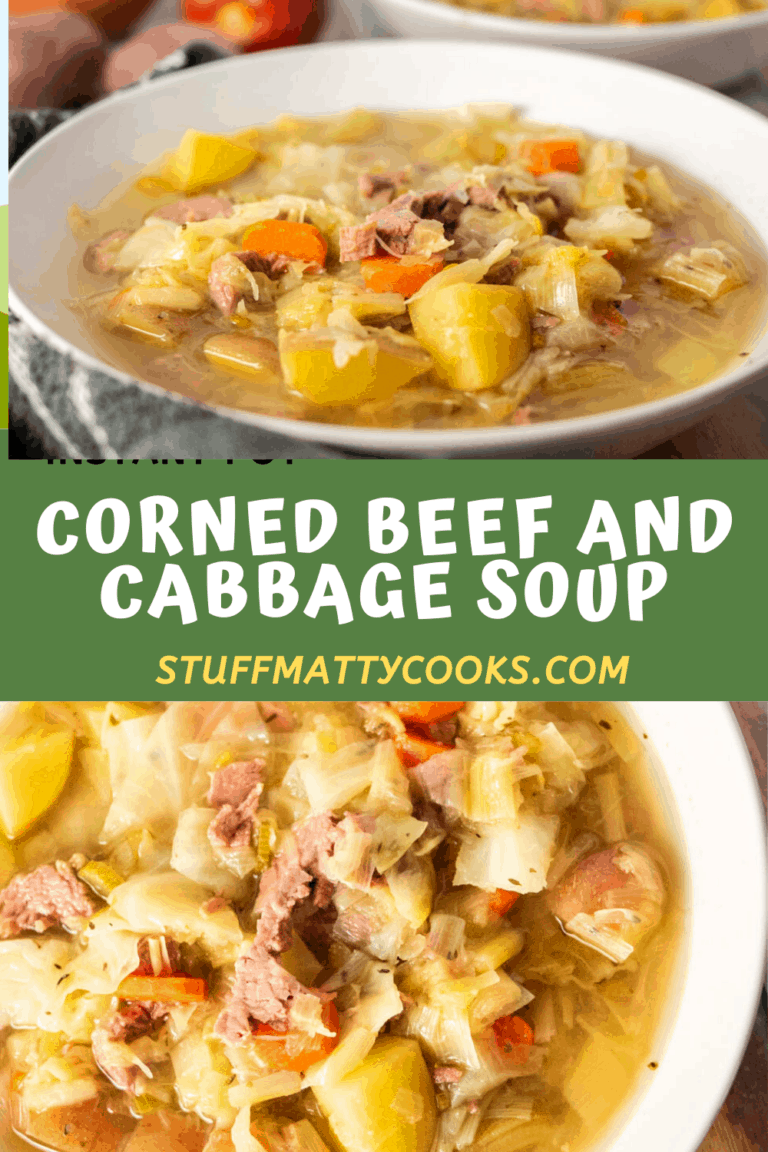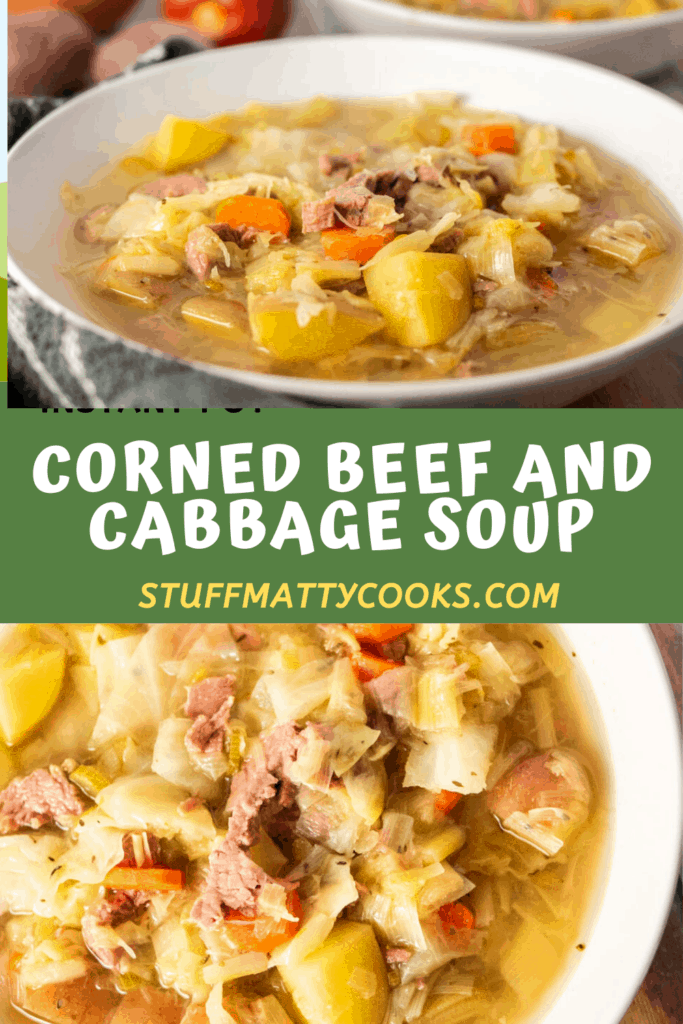 (Visited 15,308 times, 2 visits today)