Instant Pot Vegetable Broth is one of the best things to make when you have an Instant Pot. It is so easy to make. Once you make this Instant Pot vegetable stock recipe I think you will be sold because the veggie broth can be used in all of your pressure cooker recipes.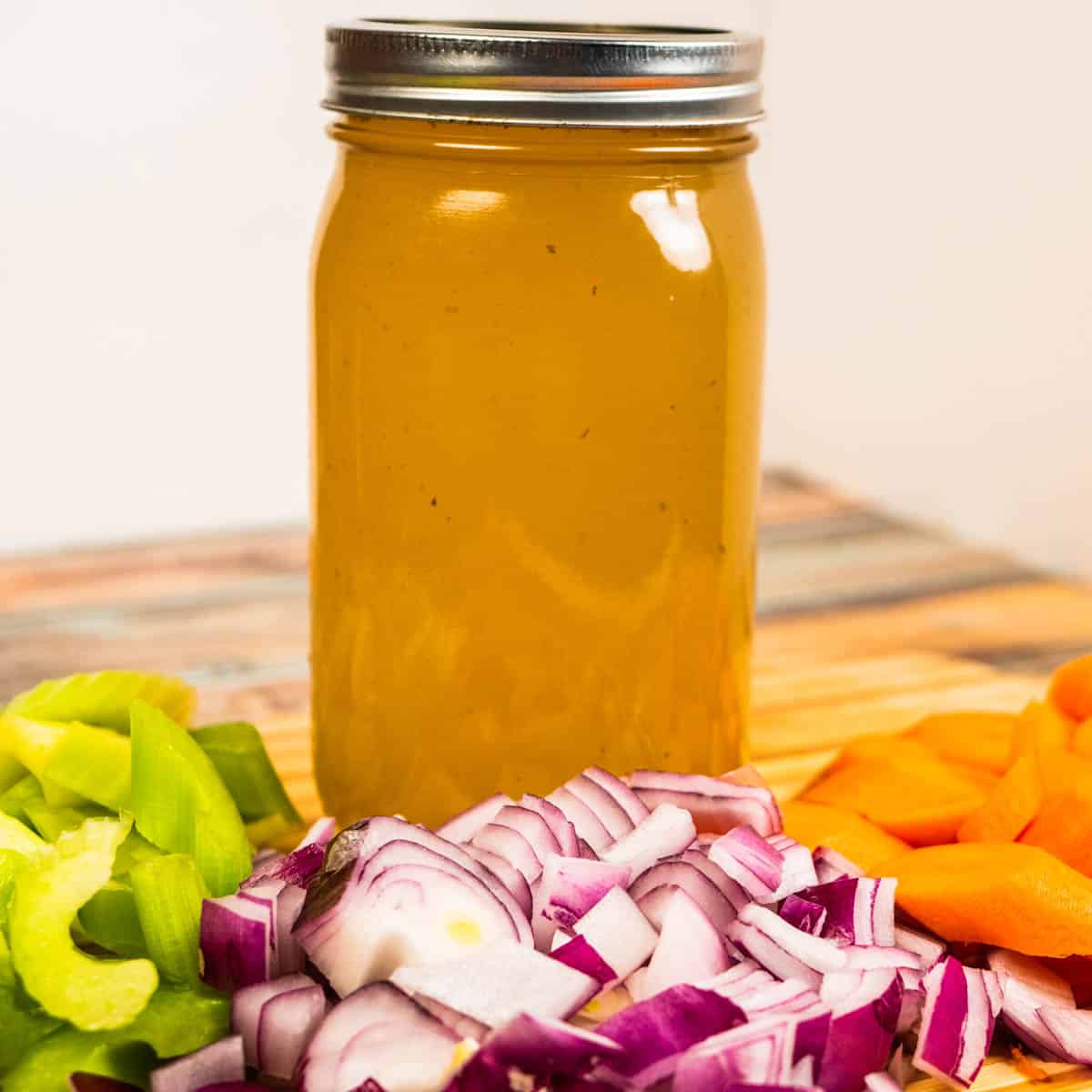 Instant Pot Vegetable Broth
Of course, the vegetable broth is great when used in homemade soups and stews, but did you know that you can stir fry with vegetable broth? I did not know and I learned it from a vegan friend. It is low calorie and flavorful too. These days when I make stir fry vegetables I am always using veggie broth.
I know that I am not the only one that has veggies in the fridge that need to be used up before they go bad. Making vegetable broth in the instant pot is a great way to utilize those vegetables. The homemade vegetable broth tastes so much better than store-bought.
Stop wasting money on vegetable broth. The instant pot is a great way to make vegetable broth and the homemade stock has a ton more flavor than anything you can purchase. Especially when using fresh herbs.
I save all of my vegetable scraps in a zip bag in my freezer. All the carrot tops and peelings, celery ends, onion scraps too. Whatever veggies that you use regularly and have scraps save them.
It really does take less than 15 minutes to have everything in the pressure cooker and cooking. Just throw in all your vegetables and fill to the max fill line. Add some spices like Italian seasoning, add salt, bay leaf and some garlic.
The days of wasting your money on broth are over. Trust me that this Instant Pot veggie broth is so much better than store bought. I also use the same recipe to make chicken stock.
Try adding some different ingredients to your stock recipe. Experiment with flavors that you enjoy. Sometimes I add dried mushrooms to my broth. The mushrooms create a whole different depth of flavor.
Homemade broth is on a different level. I use it in most of my instant pot recipes in place of water. One of my favorite uses is when making rice. It adds so much more flavor.
Jump to:
Ingredients
Carrots
Celery
Onions
Celery Leaves
Herbs (Rosemary, Sage, Thyme, or Italian Seasoning)
Garlic
Salt & Pepper
How to Make Instant Pot Vegetable Broth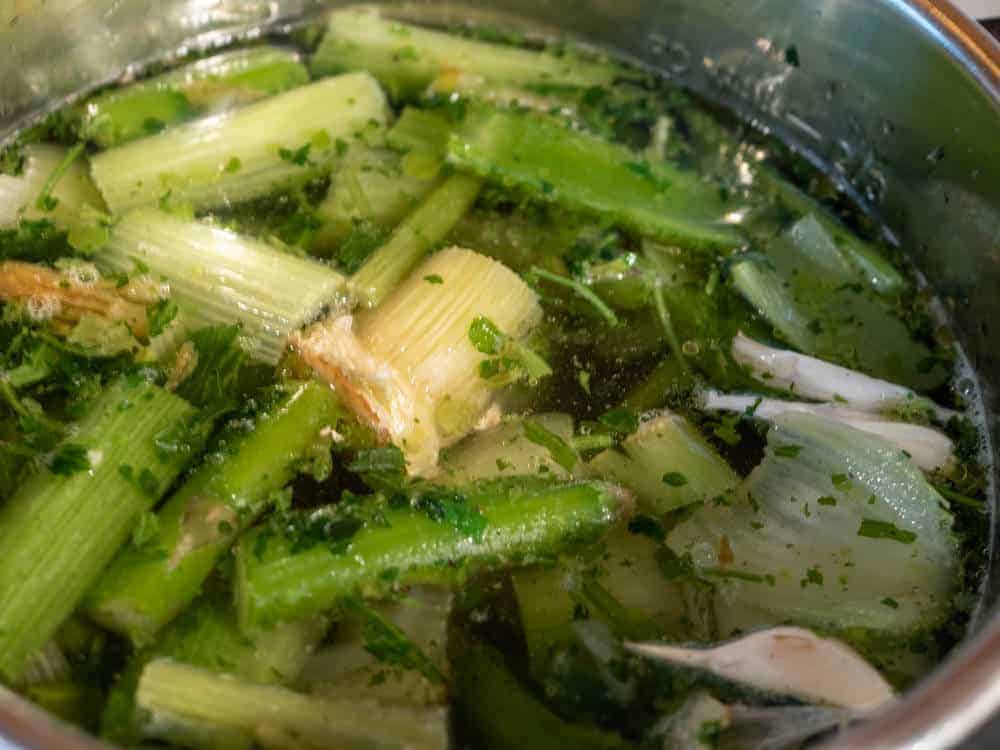 The recipe for the vegetable broth is down below but here is a breakdown of the steps that I used to make the veggie stock.
Add all vegetables and herbs to Instant Pot– the first step is to add all your veggies and herbs to the pressure cooker.
Add Water- Fill your Instant Pot with water. I used about 8 cups of water. Be careful not to overfill your pressure cooker past the max fill line.
Cook Vegetable Broth- Set your pot to pressure cook on the HIGH PRESSURE setting for 30 minutes or 40 minutes. When cooker time is complete wait 10 minutes natural release and then do a Quick Pressure Release.
Strain the Broth- The final step is to set up a pot under a fine mesh strainer and strain all the vegetables from the broth. Salt broth to taste.
How to Make Vegetable Broth in Slow Cooker
If you prefer to make the vegetable broth in a slow cooker you can set the slow cooker to HIGH for 2 hours or set to Low for 6 Hours.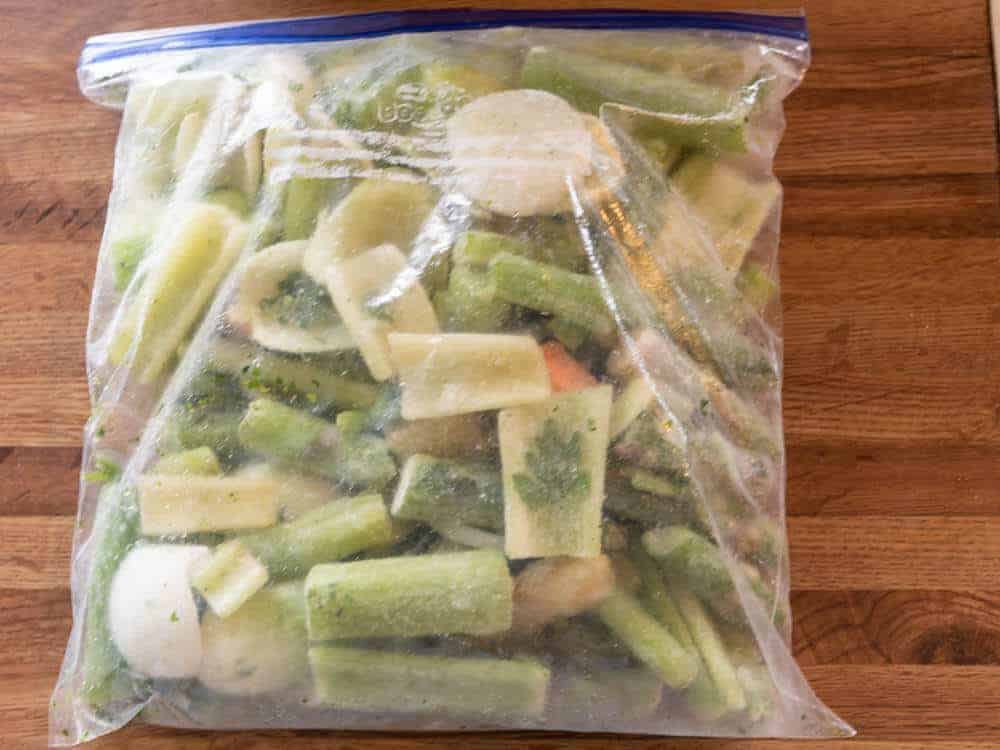 Making Veggie Broth with Veggie Scraps
Making veggie broth from vegetable scraps is a great way to make broth. Using things like carrot heads, celery ends and ends of onions that are normally discarded. I keep these veggie scraps in a gallon-size resealable bag in my freezer. When the bad is full it is time to make some veggie broth.
Other Veggies to use to Make Broth Stock
Mushrooms
Garlic
Bay Leaves
Parsley
Carrot Peels
Potato Peels
How to Store Vegetable Broth?
Vegetable broth can be stored in the refrigerator for 3-4 days generally. The homemade vegetable broth seems to last a bit longer. It can be stored it in the refrigerator in an airtight container for up to a week.
Can you freeze Chicken Broth or Vegetable Broth
Yes! You can freeze chicken broth or vegetable broth. Really you can freeze any homemade broth that you make. Including bone broth.
Most of the time I am making chicken broth and vegetable broth. I usually freeze about half of the batch that I make. I like to freeze broth in zip bags because i can lay them flat in the freezer.
I like to portion out the broth that I freeze into 1 cup and 2 cup portions so I can just grab them out of the freezer and they are ready to use for a recipe.
Recipes to Make with Veggie Broth
Instant Pot Lentil Soup
Corned Beef and Cabbage Soup
Kitchen Essentials and Items Used in this Recipe:
Instant Pot Ultra 10-in-1 Electric Pressure Cooker
Santoku Knife – MOSFiATA 7″ Super Sharp Professional Knife
Amazon Brand – Solimo Gallon Food Storage Bags, 120 Count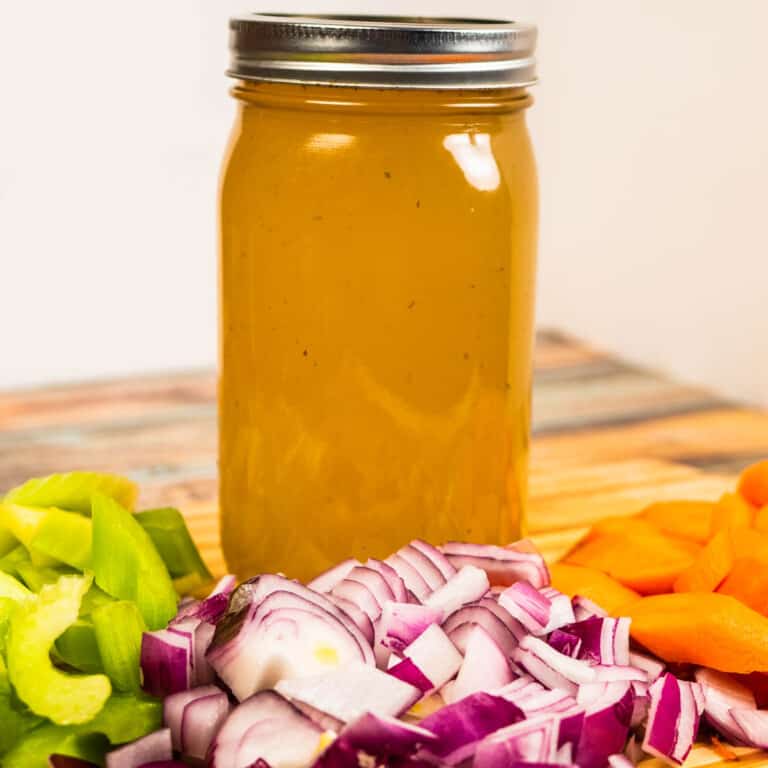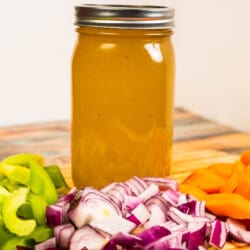 Instant Pot Vegetable Stock Broth Recipe
Instant Pot Vegetable Stock can be made with your veggies of choice to make the broth. Vegetables like carrots, celery,onions and garlic are among some of the choices.
Print
Pin
Rate
Ingredients
6

Carrots

1

Large

Onion Cut into Chunks (Unpeeled Optional)

3

Stalks

Celery

1

Handful

Celery Leaves

4

Cloves

Garlic Unpeeled

8

Cups

Water

1

tsp

Salt

1

Tbsp

Italian Seasoning

1

Bay Leaf
Instructions
Cut Carrots and Celery 3 to 4-inch lengths

Chop Onion into Chunks. (Peeling is optional but there is flavor in the onion skins.)

Smash Garlic lightly to release oil. You do not have to peel the garlic.

Add all Veggies and Herbs to the Instant Pot

Add 8 Cups of Water. (Do NOT Fill Past Max Fill Line)

Add Italian Seasoning or Herbs of Choice

Put Lid on Instant Pot and Turn Valve to SEAL Position

Pressure Cook on High Setting 40 Minutes.

When Cook Time is Complete wait 10 Minutes and do a Quick Pressure Release

Remove Lid and Strain Broth and Store in Mason Jars.
Nutrition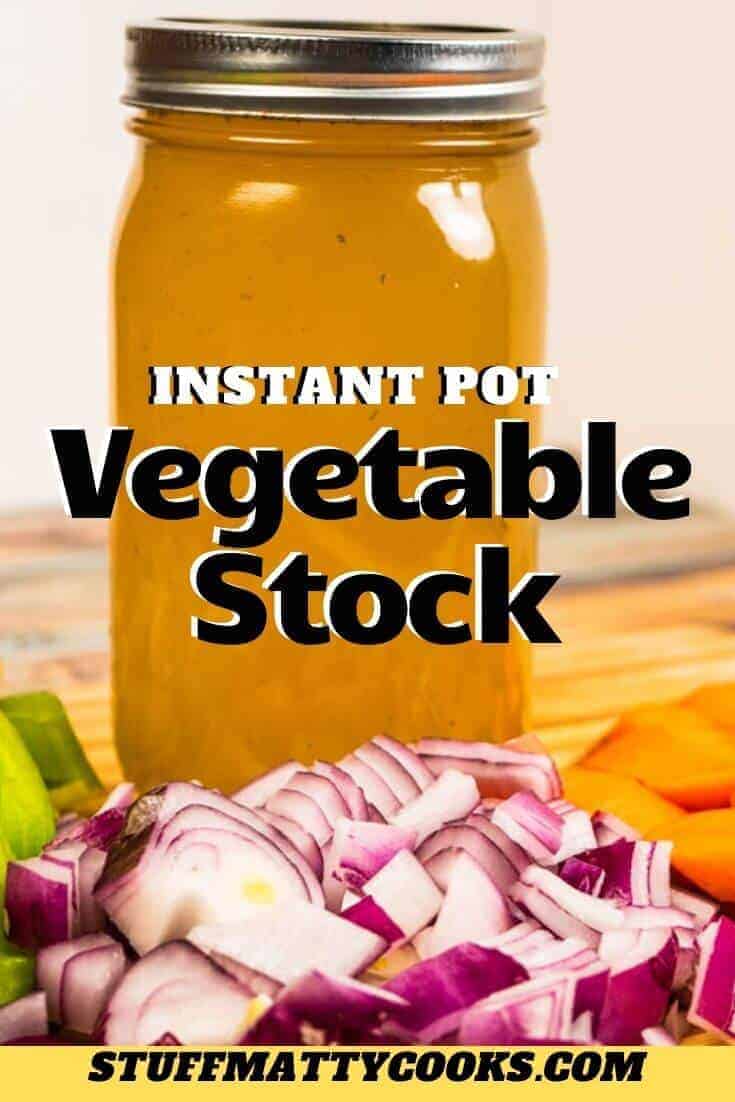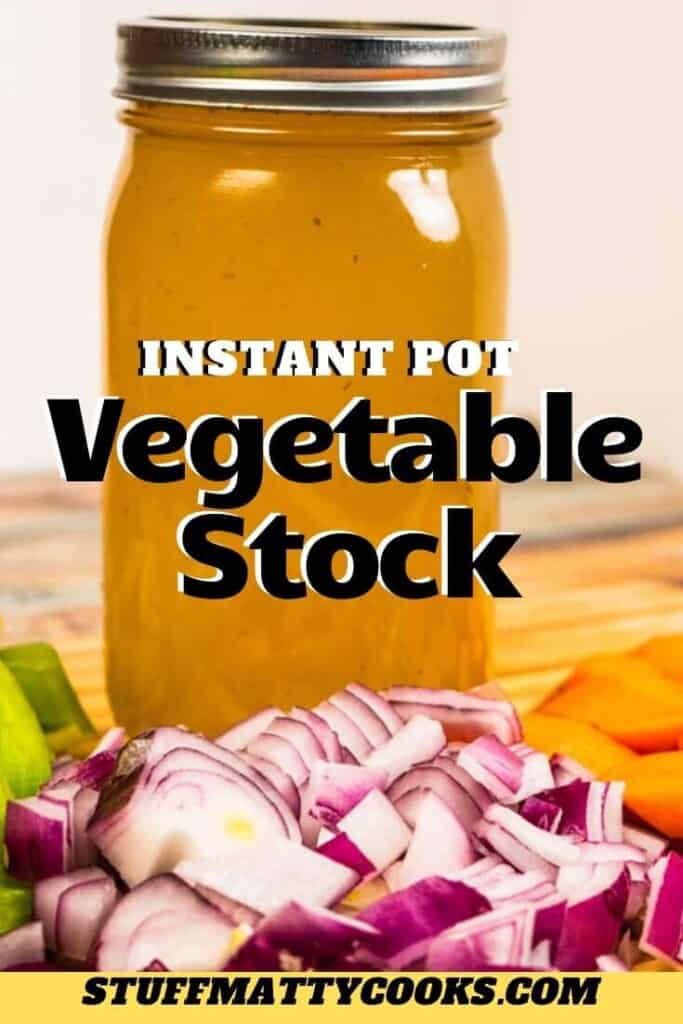 (Visited 22,445 times, 1 visits today)