What is a Cheesy Cauliflower Steak you ask? Not to worry. I asked myself the exact same question. Cauliflower is wildly popular to replace rice and mashed potatoes and I think both those things are delicious.
I decided to make these roasted cauliflower steaks that are coated in and spice and oil mixture, and roasted in the oven with a bit of cheese and BOOM! Cheesy cauliflower steaks are a success and delicious!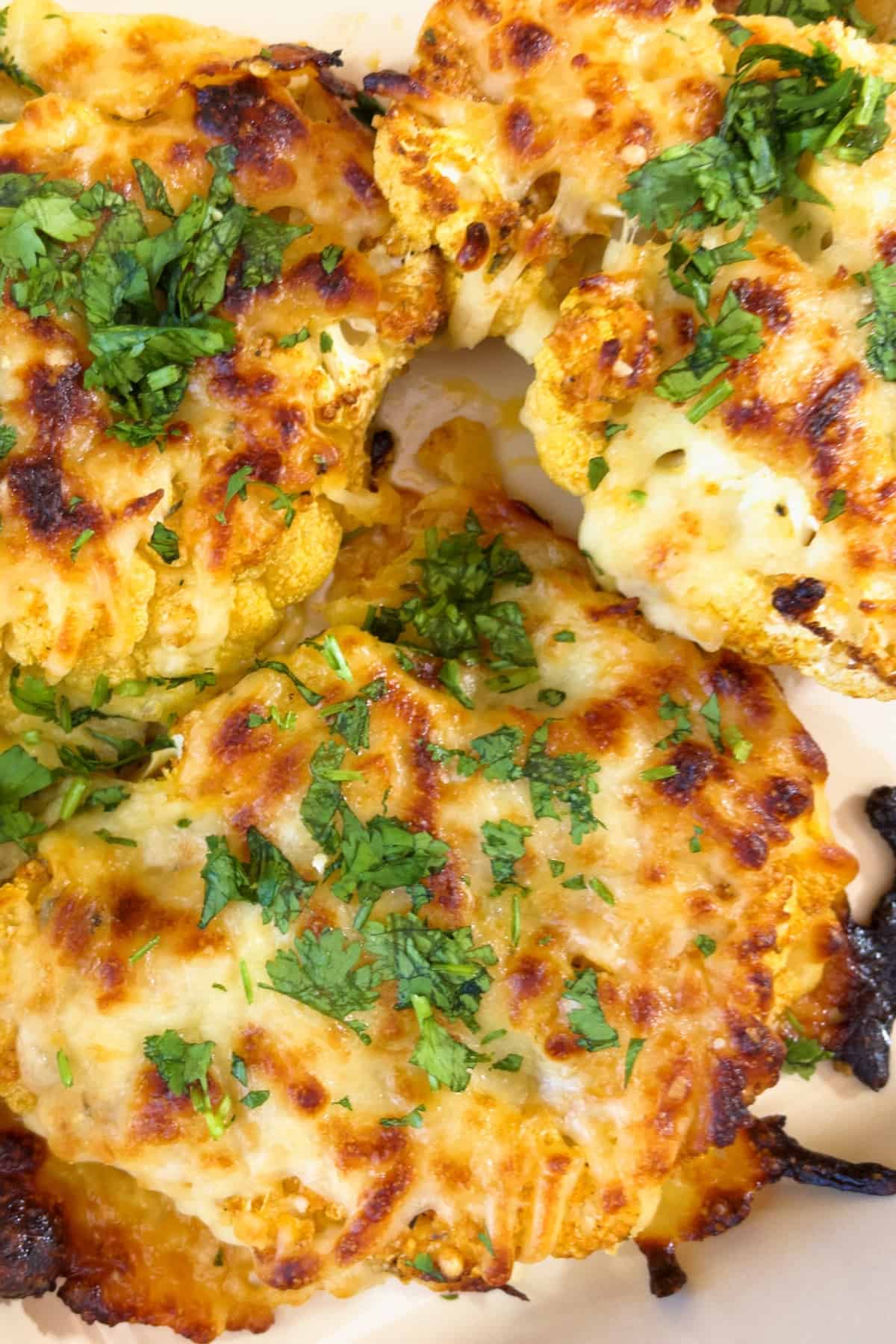 I am always looking for tasty side dishes that are healthy and complement a variety of proteins. The first time I made this cauliflower steak recipe it was a side for a delicious steak that I had bought. I was amazed that something as simple as cauliflower roasted in the oven had as much flavor as my steak, and I almost enjoyed it more.
If you are looking for a great dish to pair with this side my Island Chicken is always a hit and will pair wonderfully with this cauliflower steak.
Jump to:
Ingredients for Cauliflower Steaks
The ingredients I used to season the cauliflower are simple. It was a combination of salt, pepper, garlic powder, thyme, smoked paprika, and turmeric. I mixed up all the spices and some olive oil, and added a bit of Parmesan cheese. The final step is the mozzarella and some herbs as a garnish.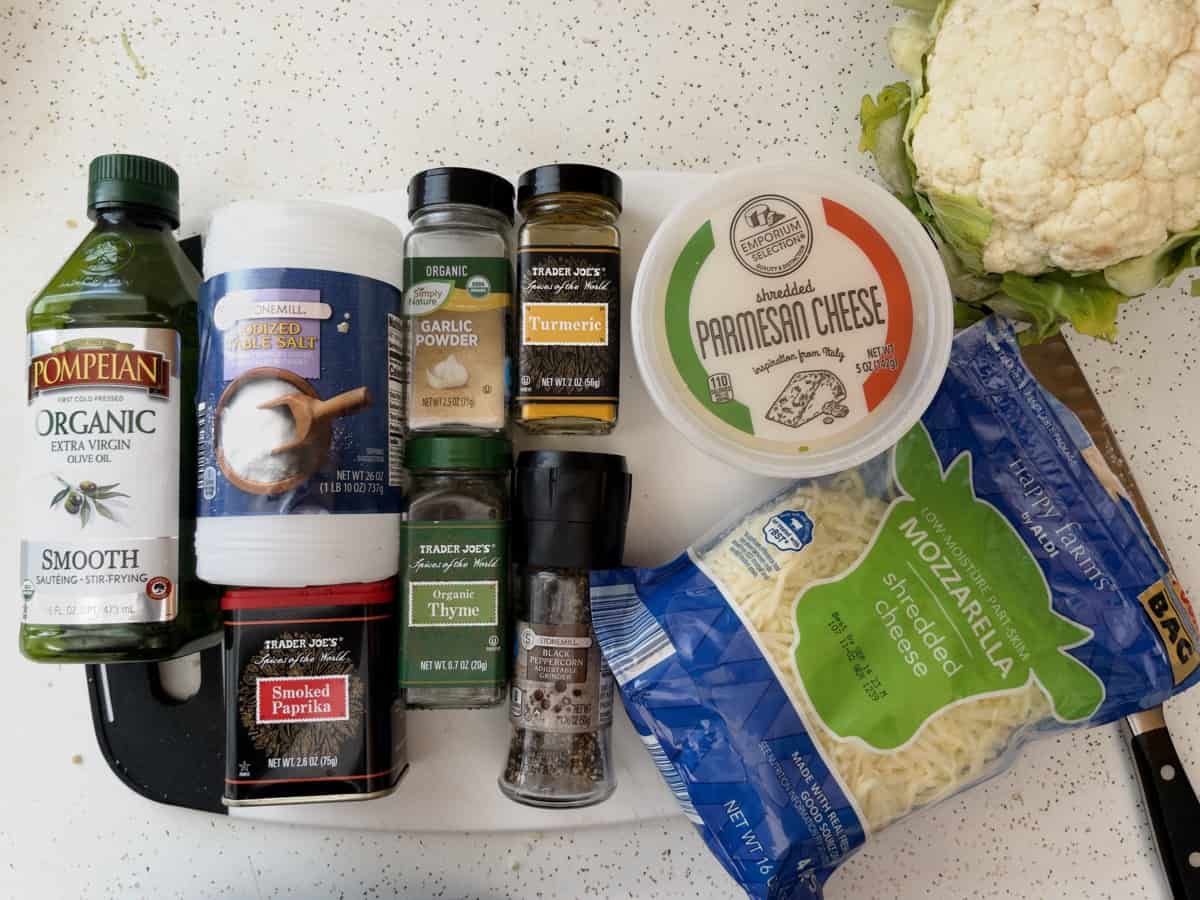 Salt
Black Pepper
Garlic Powder
Thyme
Smoked Paprika
Turmeric
Olive Oil
Parmesan Cheese
Mozzarella Cheese
See recipe card below for quantities.
Instructions for Roasted Cauliflower Steaks
Below is each step needed to create this cheesy roasted cauliflower side dish. This is an easy dish that is huge on flavor. This is low carb and gluten free also. I find it is great as a main dish too.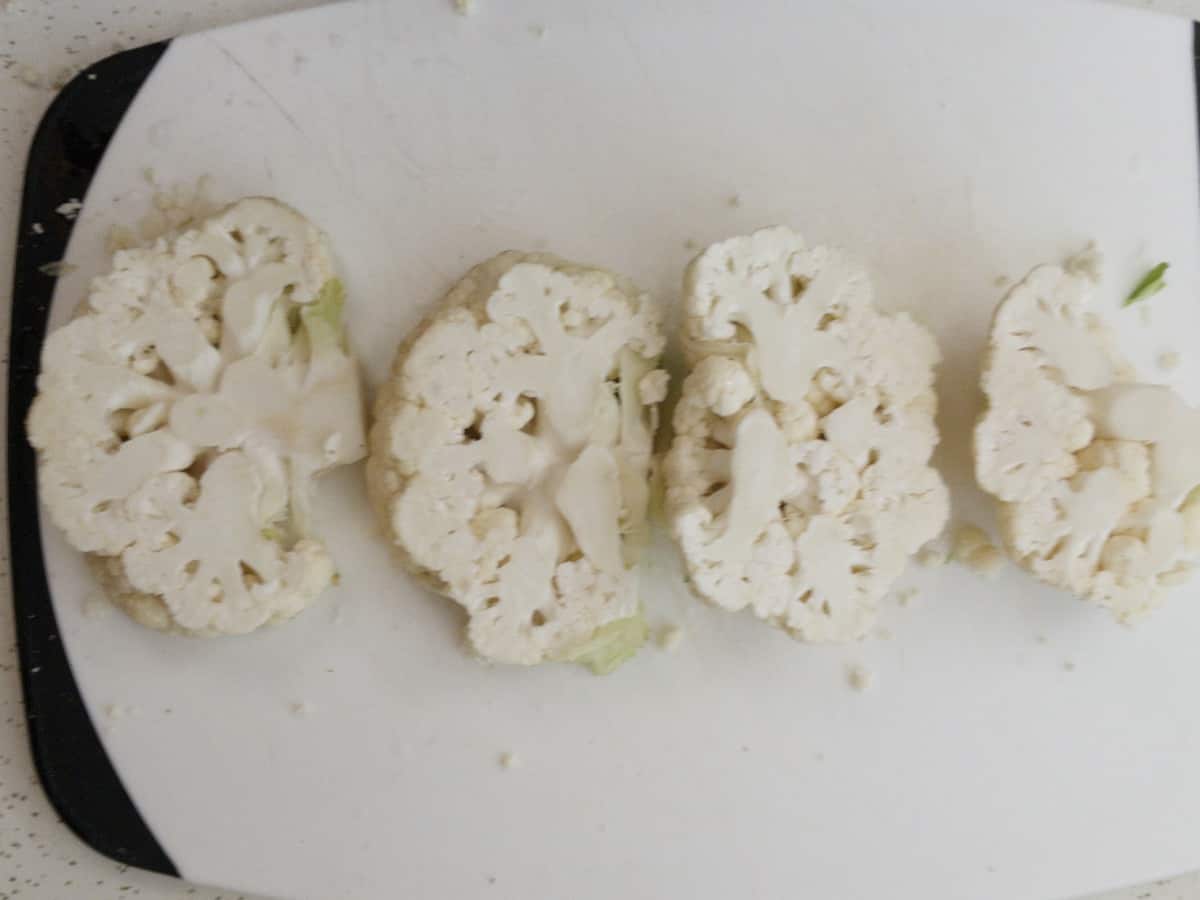 Cut the Cauliflower into steaks by first, removing the stem from the bottom of the cauliflower. Place cauliflower on cutting board, stem side down, and cut in half through the core. Then cut each half into two pieces to make the steaks. I like the steaks about 1 to 1 1/2 inches thick.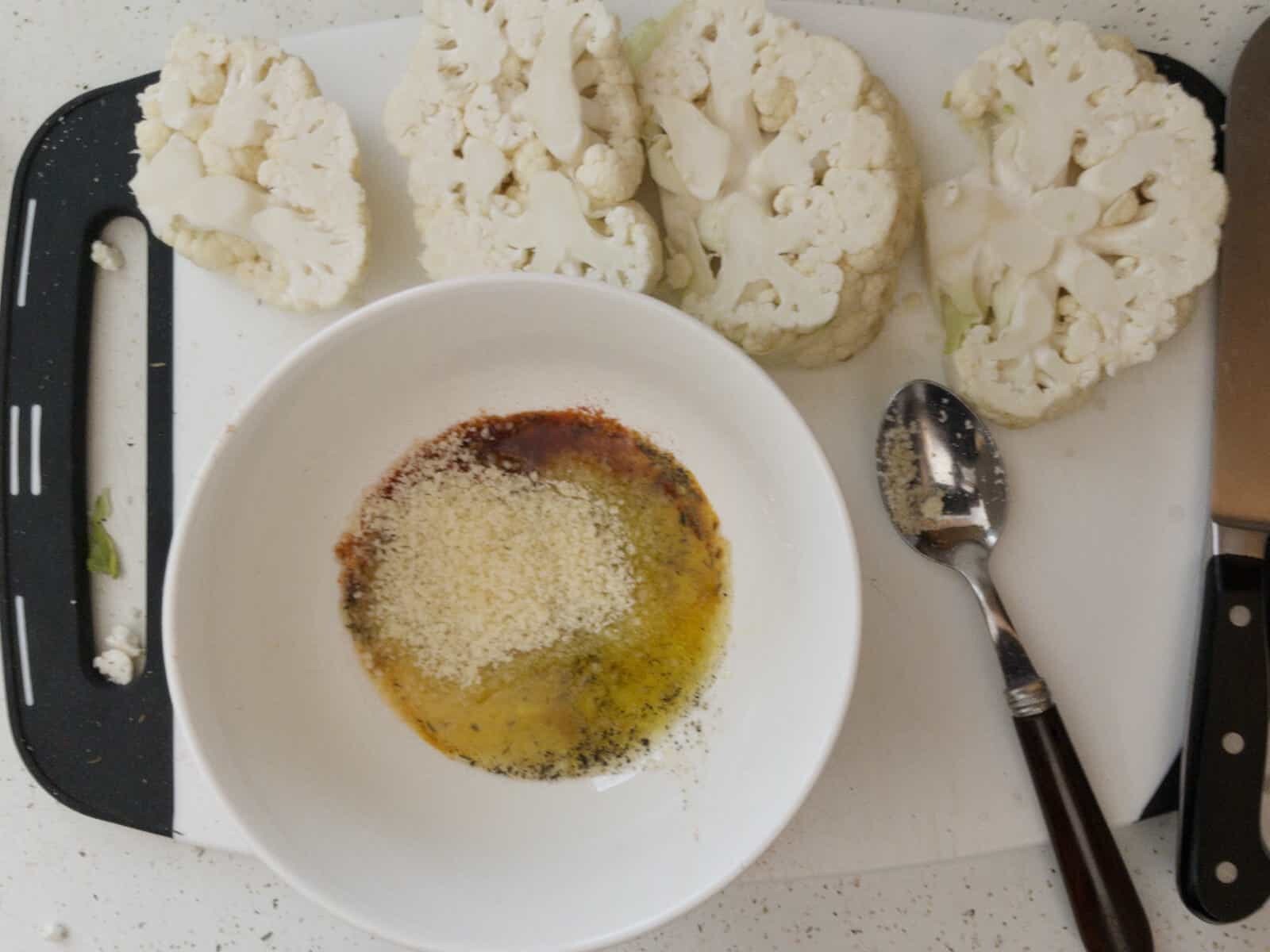 Make the Spice Rub by combining salt, pepper, garlic powder, smoked paprika, turmeric, and thyme in olive oil. Add 2 Tablespoons grated parmesan and mix well.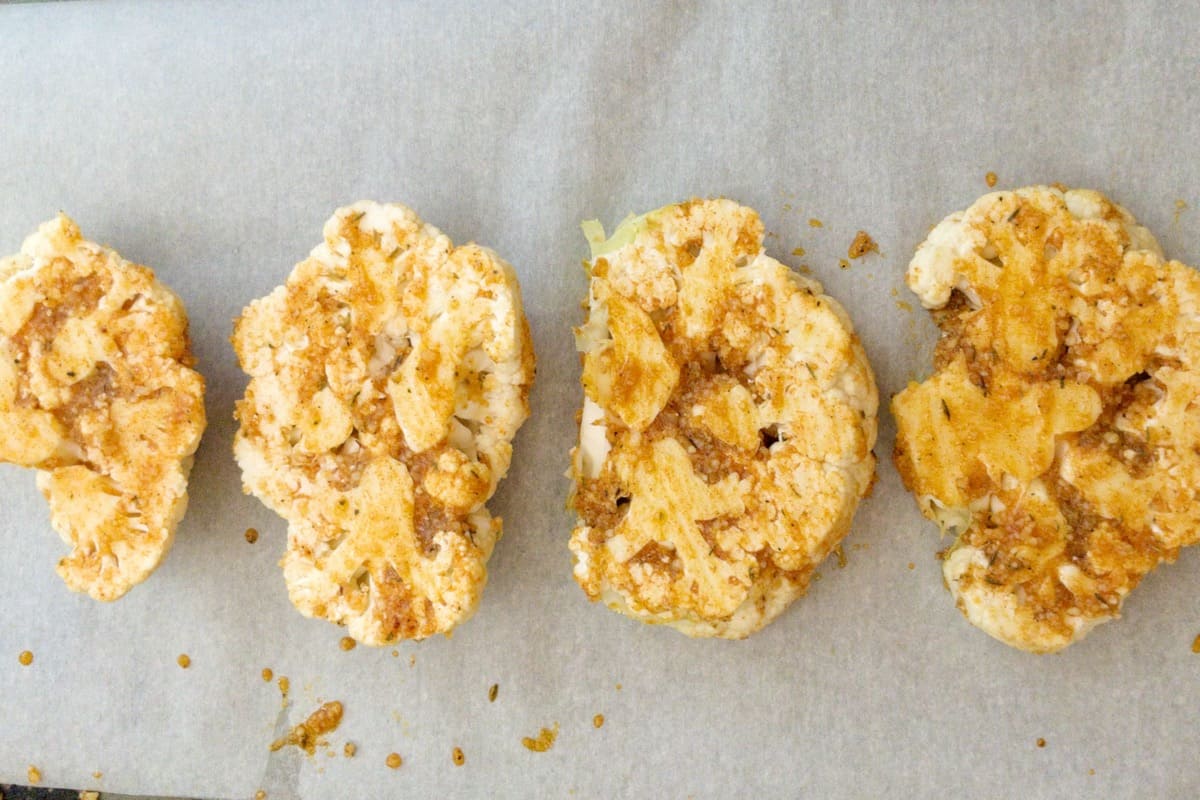 Brush Cauliflower Steaks with spice mixture on both sides and place on parchment lined baking sheet.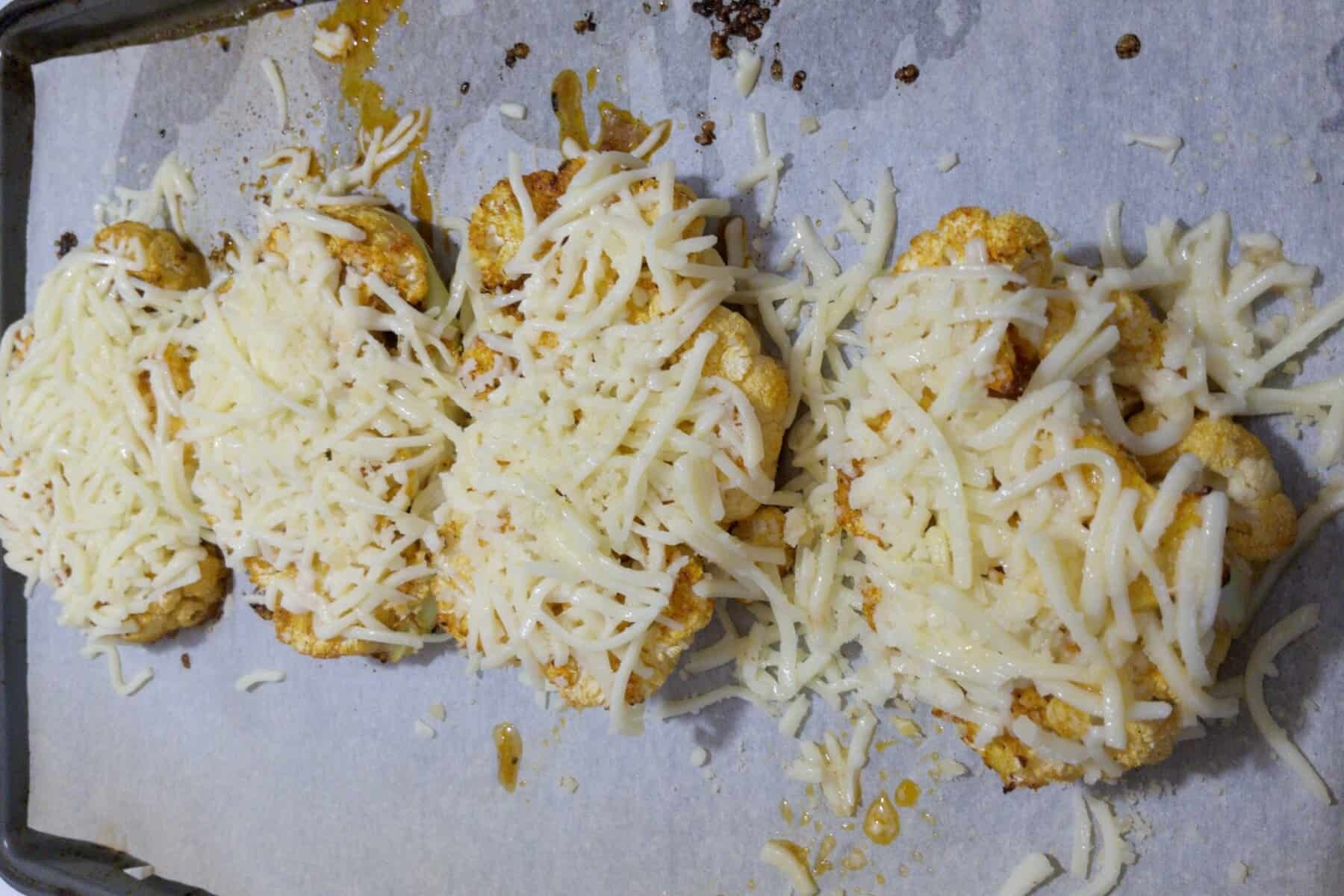 Top with Mozzarella cheese and return to oven or air fryer and cook until cheese has melted and gotten some color. About 5 minutes.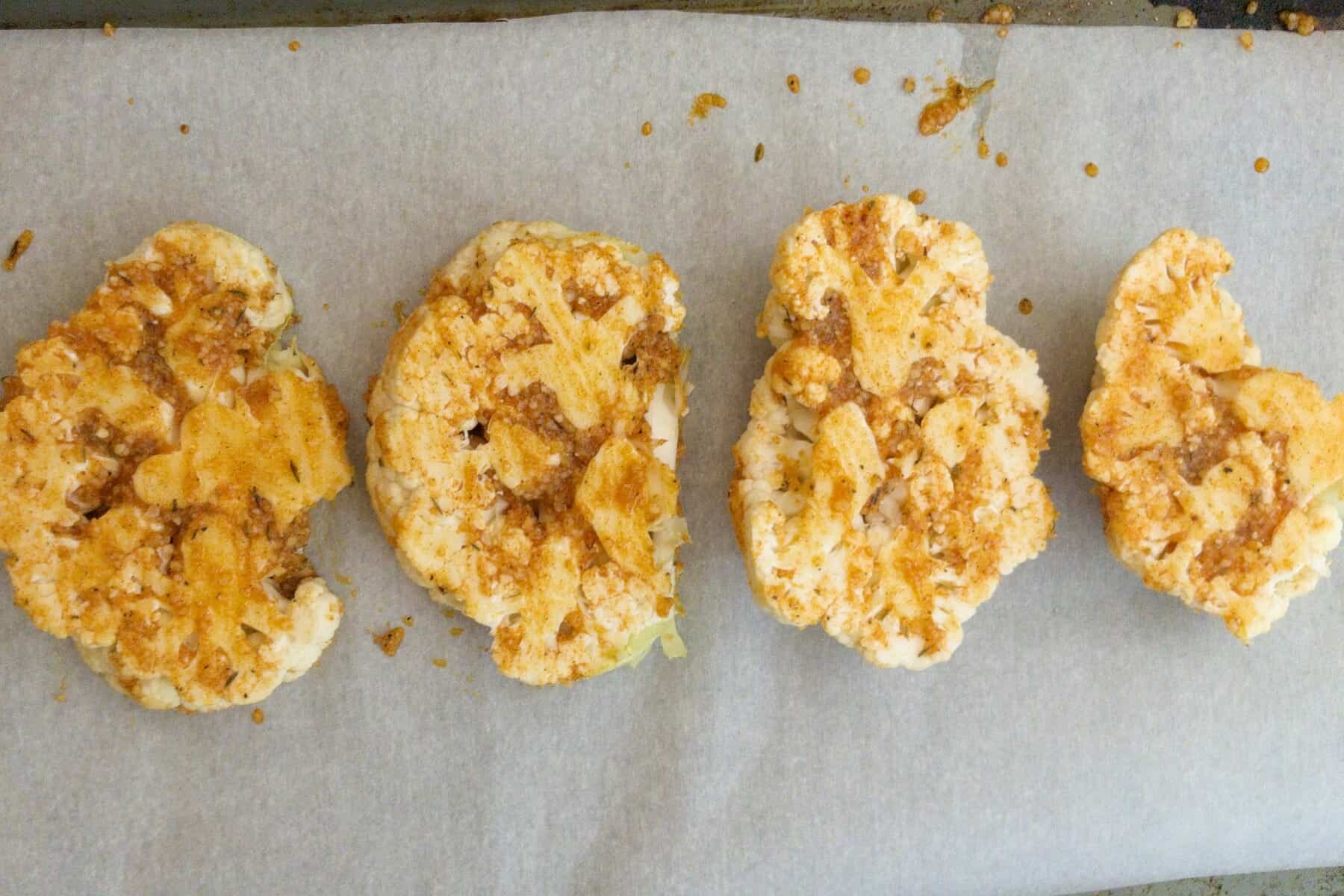 Roast in Oven or Air Fryer. Preheat the oven. Place in oven and cook at 400°F for 20 minutes. If using an air fryer place in air fryer basket at 400° for 15 minutes.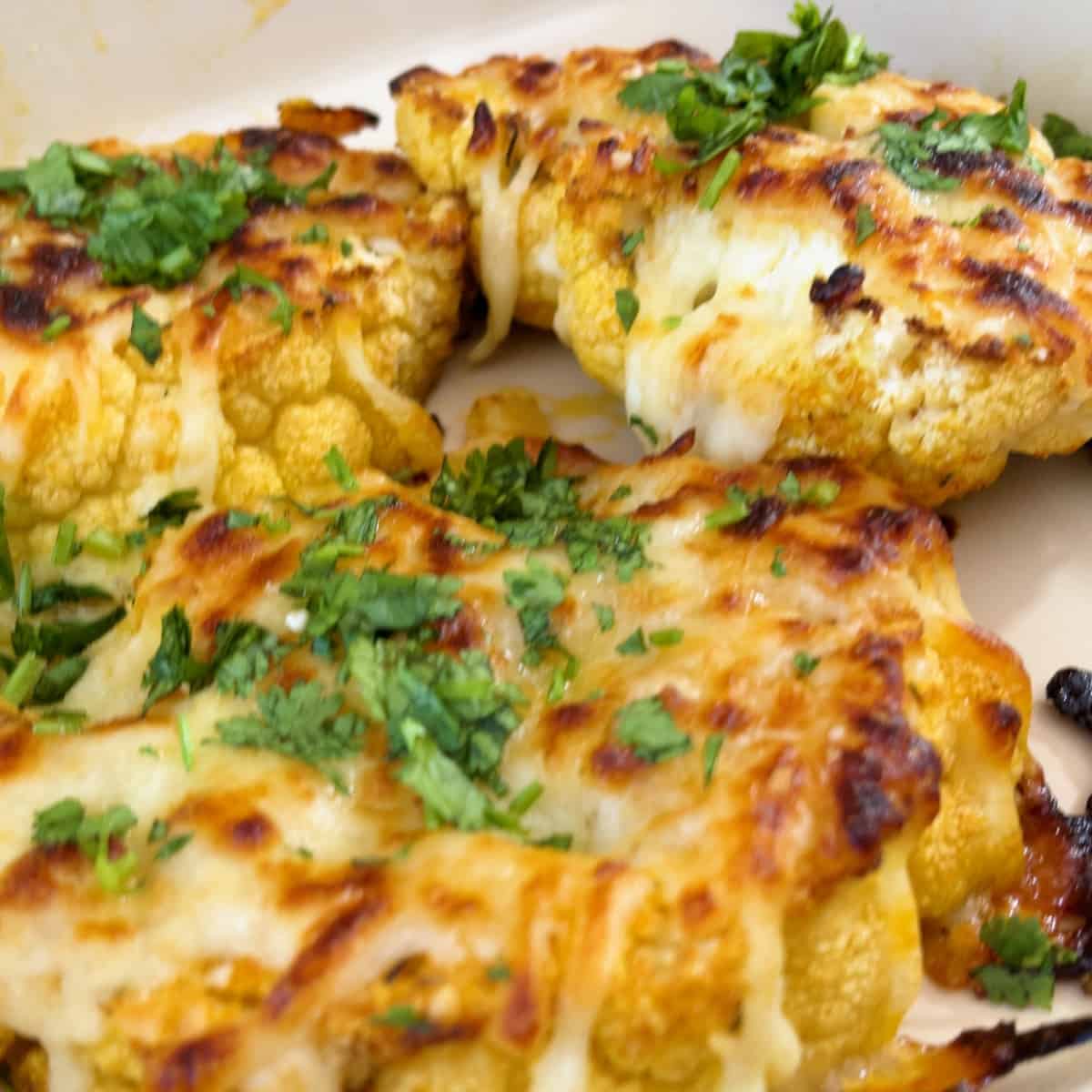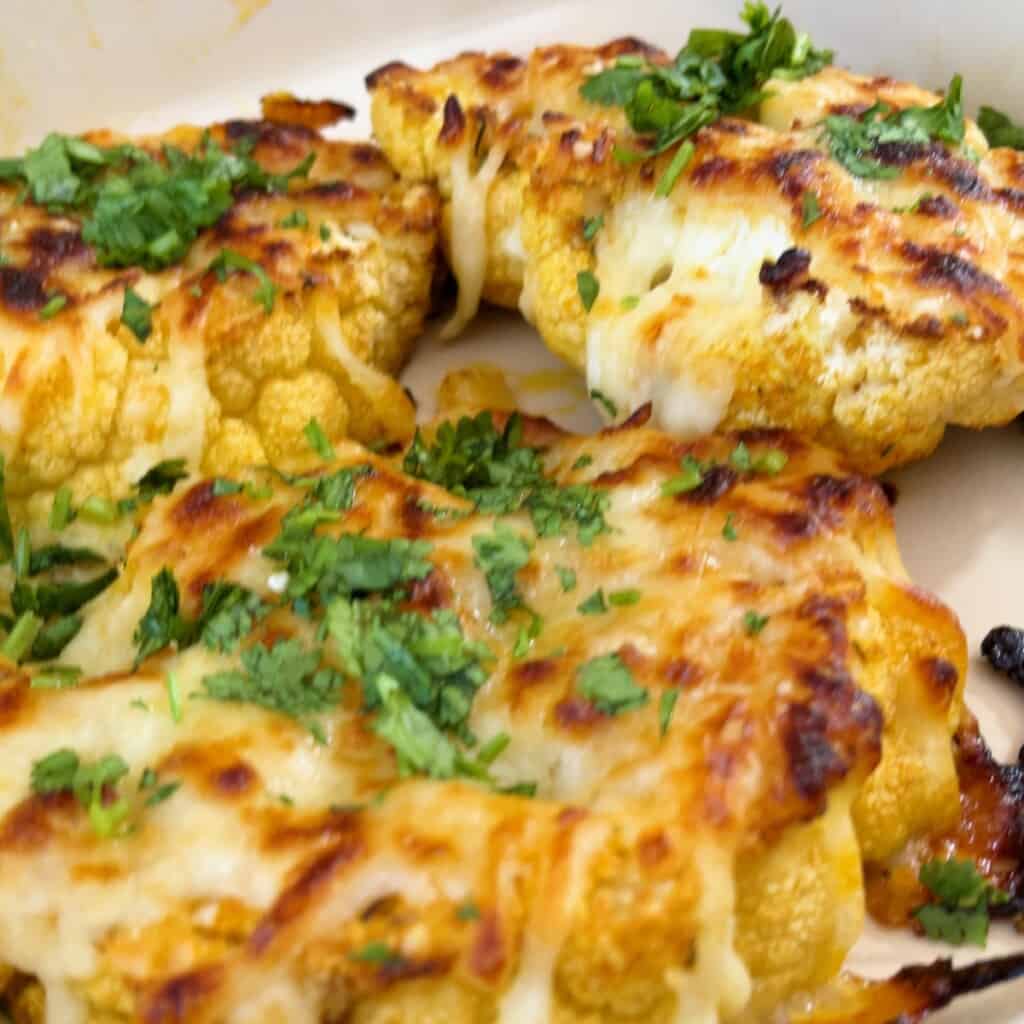 How to Air Fryer Cauliflower Steaks
If you are interested in using the air fryer this recipe is perfect for making an air fryer cauliflower steaks version. Cooking time is a a bit faster.
Preheat air fryer to 400°F
Cut Cauliflower into steaks
Coat with spice mixture
Place in air fryer basket and air fry 15 minutes
How to Cut Cauliflower Steaks
Rinse cauliflower under cold water.
Remove stem from bottom of the cauliflower
Place stem side down and cut in half through the core
Slice each half into two pieces making 1 to 1 1/2 inch thick slices.
Substitutions and Variations
Cajun Seasoning – Cajun seasoning is quick and ready made and can be used in place of the spice rub.
Herbs – Cilantro can be used in place of parsley and vice versa. I always say use what you got. Of course the herbs add some flavor but it's also the green pop that makes this dish look delicious.
Avocado Oil – any type of oil that you prefer can be used. I always use either olive oil or avocado oil most of the time.
Spicy – If you want to give this dish a spicy kick you can use some red chili pepper or some chipotle powder.
Equipment Used
I always list the equipment I use to make a recipe along with the ingredients, and also like to list kitchen tools that I find really useful. I do receive a commission on the sale of these products at absolutely no cost to you. Thanks for your support.
Nordic Ware 3 Piece Baker's Delight Set
Instant Pot Vortex Plus 6-in-1 6-Quart Large Air Fryer Oven
Misen Santoku Knife – 7.5 Inch Japanese Style Kitchen Knife
Unpretentious Smoked Paprika
Amazon Brand – Happy Belly Ground Turmeric
McCormick Garlic Powder
Whole Thyme Leaves
Organic Valley Organic Shredded Mozzarella Cheese
AmazonFresh Mediterranean Extra Virgin Olive Oil
Storage and Reheating
Cauliflower steaks can be stored in an airtight container in the refrigerator for 3-4 days. If you are looking to reheat cauliflower steaks I am including a couple methods.
Reheating in the Oven
Place cauliflower steaks in an oven safe dish in a 350°F oven for 10 to 15 minutes.
Reheating in Air Fryer
Place cauliflower steaks in the air fryer basket and reheat at 350° 4 to 7 minutes or until heated through.
Top tip
I always like to line the sheet pan with parchment paper for easy cleanup, and a nonstick surface.
FAQ
How to Cut Cauliflower Steaks So They Don't Fall Apart?
Cut off the base so you have a flat bottom. Cut Cauliflower in half down the middle.
Then cut the 2 pieces in half. Keep the thickness of each steak the same thickness.
Why is Cauliflower Steak Called Steak?
Cauliflower steak is called steak because it is cut into planks that resemble the same thickness as a steak.
Related
Looking for other recipes like this? Try these: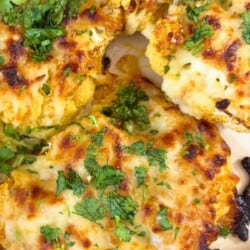 Easy Cheesy Roasted Cauliflower Steaks
These easy cheesy roasted cauliflower steaks are not only low-carb and gluten-free but they're delicious and big on flavor. Great side dish for any meal. Also great for a plant based meal.
Print
Pin
Rate
Ingredients
1

Head of cauliflower cut into steaks

2

Tablespoons

olive oil

1/2

teaspoon

salt

1/4

teaspoon

black pepper

1/2

teaspoon

garlic powder

1/2

teaspoon

turmeric

1/2

teaspoon

smoked paprika

1/2

teaspoon

dried thyme

2

tablespoons

Parmesan cheese.

1/2

Cup

shredded mozzarella cheese

1

tablespoon

chopped parsley

or cilantro, for garnish.
Instructions
Oven Roasted Instructions
Preheat oven to 400°F

Slice cauliflower in half through core. Then slice each half into two slices or three depending on the size of your cauliflower. I like to make slices about 1 to 1 1/2 inches thick.

place cauliflower slices on parchment lined baking sheet.

Mix together, olive oil, salt, black pepper, garlic powder, smoked paprika, thyme and turmeric in a bowl and add Parmesan cheese and mix until combined.

Brush both sides of cauliflower slices with spice mixture.

Place cauliflower slices in oven and roast for 20 minutes.

remove from oven and top each cauliflower slice with some mozzarella cheese. Return to oven and bake until cheese is melted. About five minutes.

Top each cauliflower slice with chopped parsley, or cilantro and enjoy.
Air Fryer Cauliflower Steaks Instructions
Preheat air fryer to 400°F

Cut Cauliflower into steaks

Place in air fryer basket and air fry 15 minutes
(Visited 14,661 times, 1 visits today)