Instant Pot Mussels in Garlic Butter are so delicious they are going to be one of your new favorite recipes to prepare in your Instant Pot. All you need to go with it is some crusty bread and maybe a glass of wine. This is the best mussels recipe and since we are making these mussels in the pressure cooker they are ready in just 3 minutes.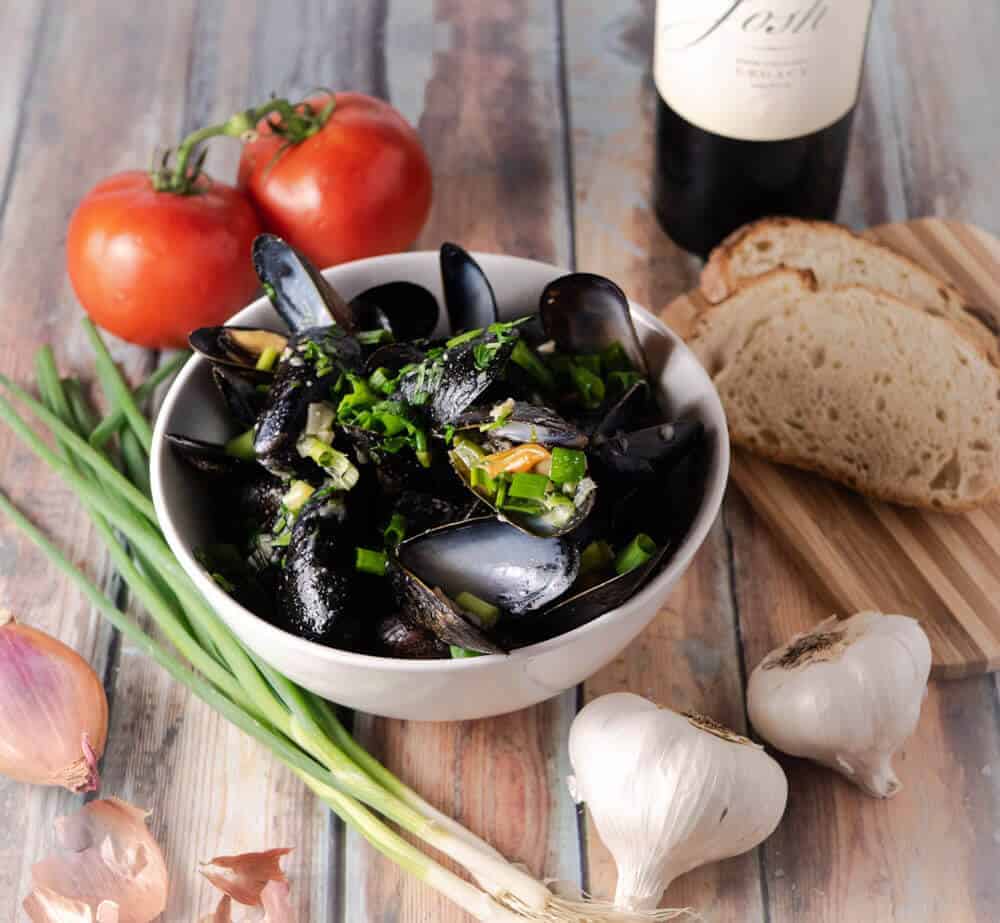 What are PEI Mussels?
When selecting mussels you want to try and get PEI Mussels. What are PEI Mussels? PEI stands for "Prince Edward Island" and it has become one of the best places for cultivating mussels. Prince Edward Island has become one of the primary providers for mussels in North America.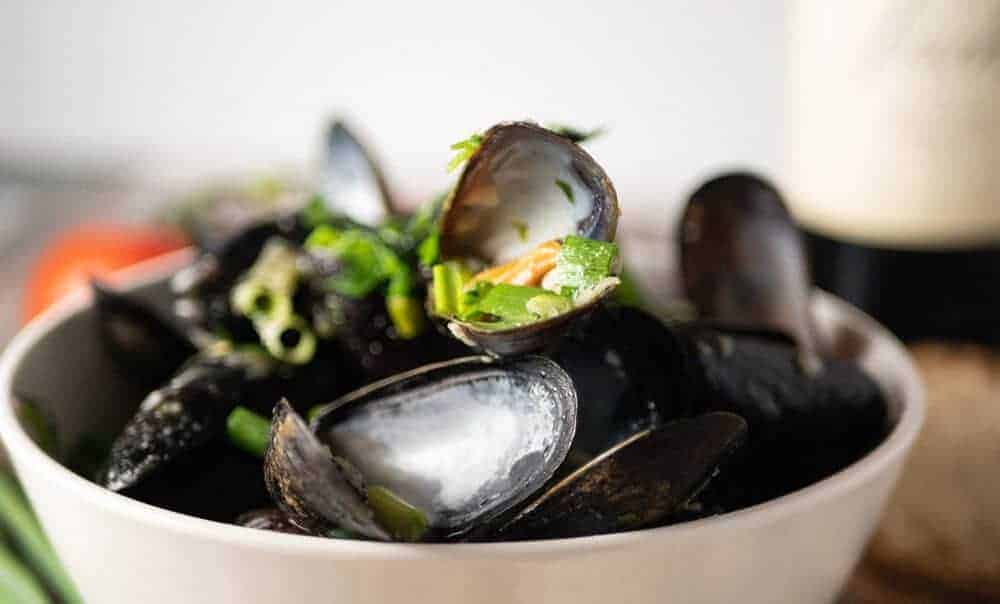 How to Store Mussels
Remove from plastic bag and store either loose or in mesh bag
Place in a bowl or unsealed container
Cover with a clean damp cloth or paper towel. Remember – never store in the water!
Store in fridge (up to a few days and make sure they smell like the ocean)
Drain daily any water that collects in bowl/container.
Nutritional Facts of Mussels
Mussels are one of the most well-rounded foods to include in your diet, high in zinc, iron and other minerals, vitamins A and B12. A fantastic source of protein, low in calories and low in fat
Health Benefits of Mussels
High in Protein and Iron
Eating Mussels have many health benefits. Not only are they high in protein but they are also high in iron. They are better for the environment and the protein and iron levels rival that of red meat.
High in Vitamin A and B-12
Vitamin A is excellent for the skin, eyes and immune system. While B12 is an essential vitamin that only naturally occurs in animal products. B12 deficiency can lead to problems with heart health and anemia, among other complications, and is important for overall health.
Omega 3 Fatty Acids
The heart benefits from a reduction in the risk of a heart attack due to those all-important Omega-3 fatty acids. Omega-3s are vital and have many health benefits that should not be overlooked.
Mussels is one of the most healthy foods containing Vitamin A and B-12. It is also a food that is very high in protein and low in fat. It has also been said that mussels helps with inflammation.
How to Cook Fresh Mussels
These are GREAT as an appetizer or as a dinner. The recipe can be easily doubled as well. The Instant Pot not only makes the cooking process as easy as pie but it also can hold ALOT of mussels too. So even if your having a party or just having some friends over for dinner or to watch a game these are EASY to prepare.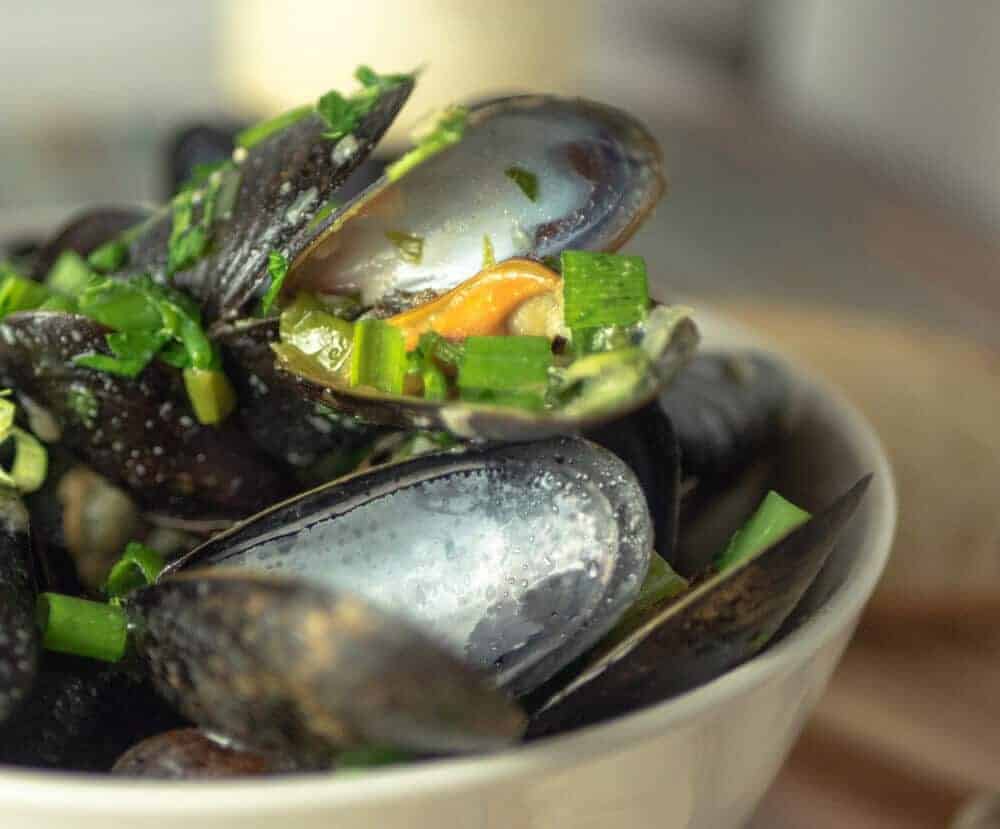 Please don't be intimidated like many others to prepare these Instant Pot Mussels with Garlic Butter Sauce. They are sure to become one of your favorites. Not only are they delicious but they are also very healthy and very affordable to purchase.
I have been asked by some blog followers to create some unique recipes to prepare with the instant pot that is very simple and this is one of them. I would like to also say THANK YOU for stopping by my blog and if you happen to prepare these mussels or any recipe from my blog please leave a rating and a comment.
How to Steam Mussels
Steaming mussels is an easy thing to do. All you need is some mussels with the beards removed. Rinse the mussels in fresh water. Also make sure none of them are open or broken. Discard andy broken or open ones. Grab some garlic and herbs of your choice. The recipe below is for the instant pot but I am going to also give you a stovetop steamed mussels version right now. The process is simple.
Put 1 Tablepoon of Olive Oil in a pan over medium heat. When oil is hot add garlic and saute till the garlic is fragrant. Then add the wine (about a 1/4 cup. Let that cook for a moment and add about 1/2 cup of chicken broth. Then add the mussels. When pan comes to a simmer put a lid on top.
How Long do you Steam Mussels?
This is IMPORTANT. Once you put the lid onthe simmering mussels cook no longer than 5 MINUTES. Shake the pan a little once and a while during cooking but when 5 minutes is up take the lid off the pan and add chopped parsley and stir. Then salt and pepper to taste. THATS IT. It really is that easy to steam mussels.
If you have any questions at all feel free to drop it in the comment box below I do my best to answer them all.
Other Recipes to Enjoy
Instant Pot Sausage and Peppers
Instant Pot Lamb Curry
Instant Pot Lo Mein
Chicken Lettuce Wraps (Instant Pot)
Items I used in this Recipe. Available from Amazon. You can HOVER OVER THE LINK to see INFO and PRICE or just Add Them to Your Cart on Amazon. I do receive a small commission from Amazon at NO EXTRA COST to YOU. Thanks so Much for Your Support.
[easyazon_image align="none" height="110″ identifier="B00FLYWNYQ" locale="US" src="https://images-na.ssl-images-amazon.com/images/I/41L%2Br0px7RL._SL110_.jpg" tag="stuffmattycoo-20″ width="110″][easyazon_link identifier="B00FLYWNYQ" locale="US" tag="stuffmattycoo-20″]Instant Pot DUO60 6 Qt 7-in-1 Multi-Use Pressure Cooker[/easyazon_link][easyazon_cta align="none" identifier="B00FLYWNYQ" key="small-light" locale="US" tag="stuffmattycoo-20″] [easyazon_image align="none" height="110″ identifier="B00415IRQO" locale="US" src="https://images-na.ssl-images-amazon.com/images/I/61Nesk%2BoKFL._SL110_.jpg" tag="stuffmattycoo-20″ width="105″][easyazon_link identifier="B00415IRQO" locale="US" tag="stuffmattycoo-20″]Better Than Bouillon Organic Chicken Base, Low Sodium[/easyazon_link][easyazon_cta align="none" identifier="B00415IRQO" key="small-light" locale="US" tag="stuffmattycoo-20″]
Best Mussels Recipe
Instant Pot Mussels
Instant Pot Mussels in Garlic Butter
Ingredients
1

Pound

Mussels

3

Cloves

Garlic Minced

1

Shallot Minced

3 to 4

Tablespoons

Chopped Parsley

2 to 3

Chopped Scallions

2

Tablespoons

Unsalted Butter

2

Tablespoons

Olive Oil

1/4

cup

White Wine suitable for drinking

1

Cup

Chicken Broth

Salt and Pepper to Taste
Instructions
Rinse Mussels under cold water to clean.

Mussels have "beards" that stick out of the shell. Most of the time this is already removed when you buy them in the supermarket. If you come across some that have beards just pull it backward to remove.

Check Mussels as you are rinsing them for broken shells and cracks and discard those. If mussels are really dirty you may need a scrub brush but this is normally not the case.

Now it is time go over to your Instant Pot and hit the SAUTE button an put it on the "normal" setting. Remove the lid and wait for the screen to say "HOT"

Add butter and olive oil to pan and wait for mixture to get hot. Once hot add the shallots and let saute about 2 minutes and then add garlic and saute about 1 minute more until fragrant.

Then pour in wine and stir. Let it cook down for a minute then add chicken broth and stir. Add about half of the parsley and scallions and hold on to the other half for garnish.

Add mussels to the Instant Pot and stir slowly to coat with broth. Put lid on Instant Pot and turn valve to "Seal."

Hit Cancel on your Instant Pot and then hit MANUAL PRESSURE COOK Button and set for HIGH pressure.

Set Timer for 3 MINUTES.

When cook time is complete do a QUICK RELEASE by opening valve with a wooden spoon being careful not to get burned.

Remove lid from Instant Pot

Remove mussels from Instant Pot to a Bowl and sprinkle with leftover scallion and parsley garnish. Serve with crusty bread to soak up all the yummy garlic sauce.

Enjoy.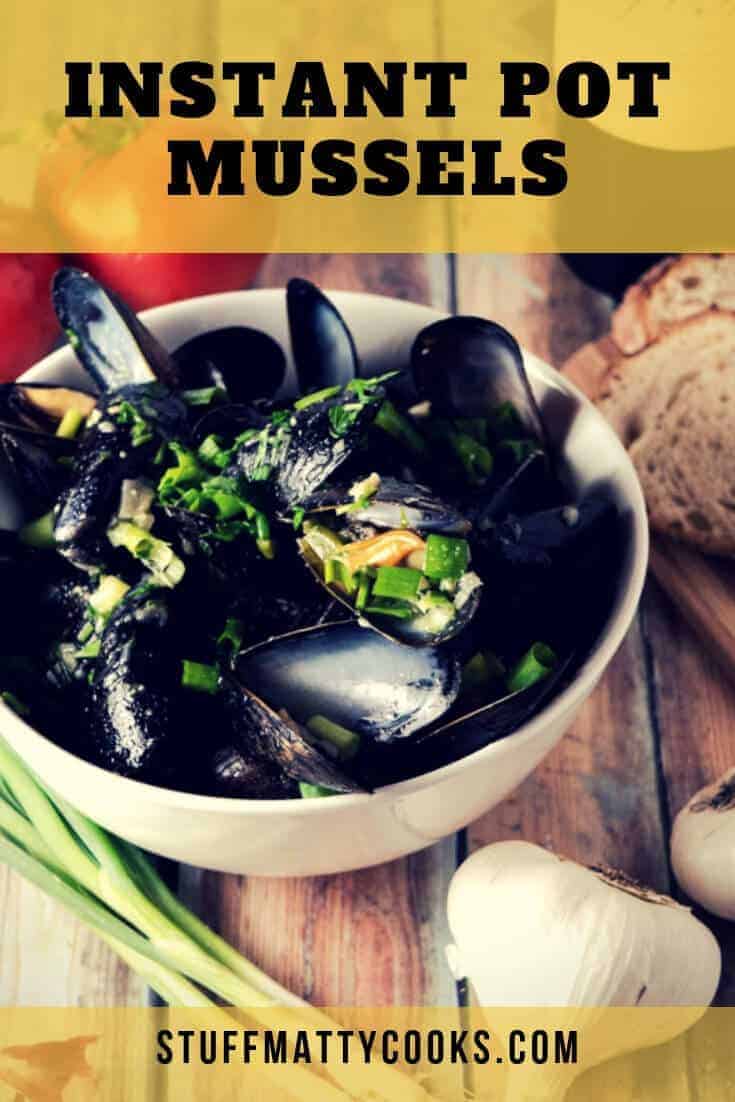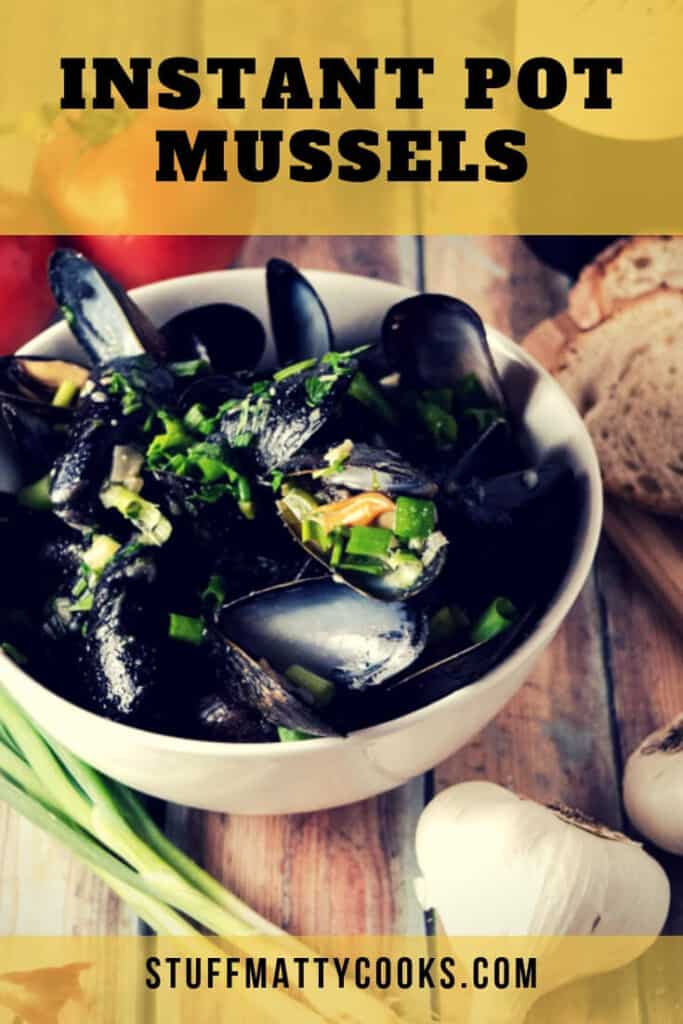 (Visited 14,703 times, 11 visits today)