Instant Pot Lamb Curry. Where did that come from? Well, I was sitting around brainstorming as us food bloggers do. I look in the fridge and I'm like Oh yea, Lamb Chops. I had bought them at the store because they looked really good and the price was right. So I grabbed them. I buy the lamb shoulder chops because they are pretty versatile. You can grill them, pan fry them, braise them and in this case throw them into the Instant Pot Pressure Cooker. Originally this wasn't my plan of what I was going to do with them but I am really happy with this recipe for lamb curry.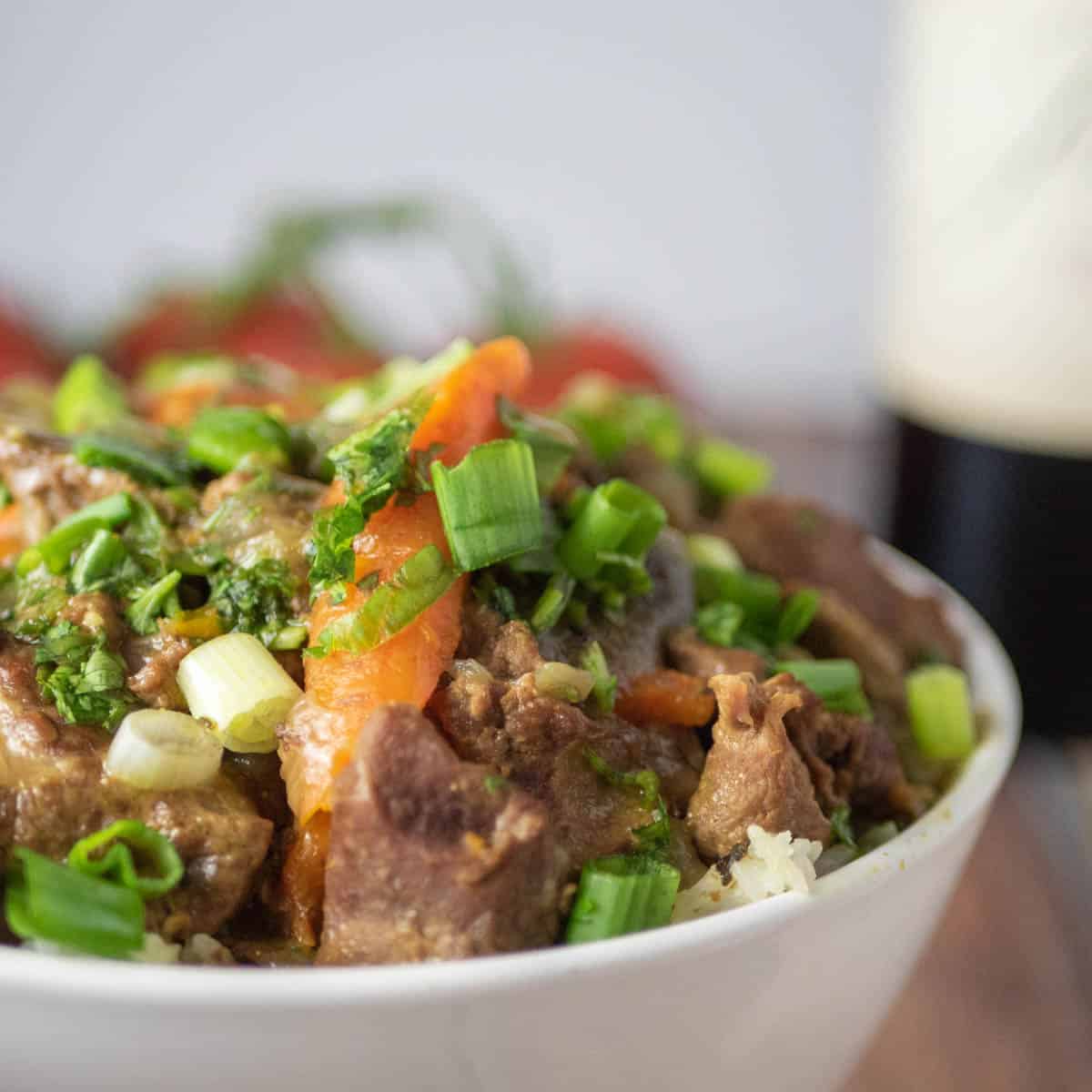 Instant Pot Lamb Curry
I always try to come up with recipes most of the time that don't use crazy unique ingredients. I like to have ingredients in the recipe that most people would have in their home. I mean the Instant Pot is pretty much all about simple and quick, but why not step it up a bit with this Instant Pot Lamb Curry Recipe. It is simple and can be ready in about 30 minutes of cook time.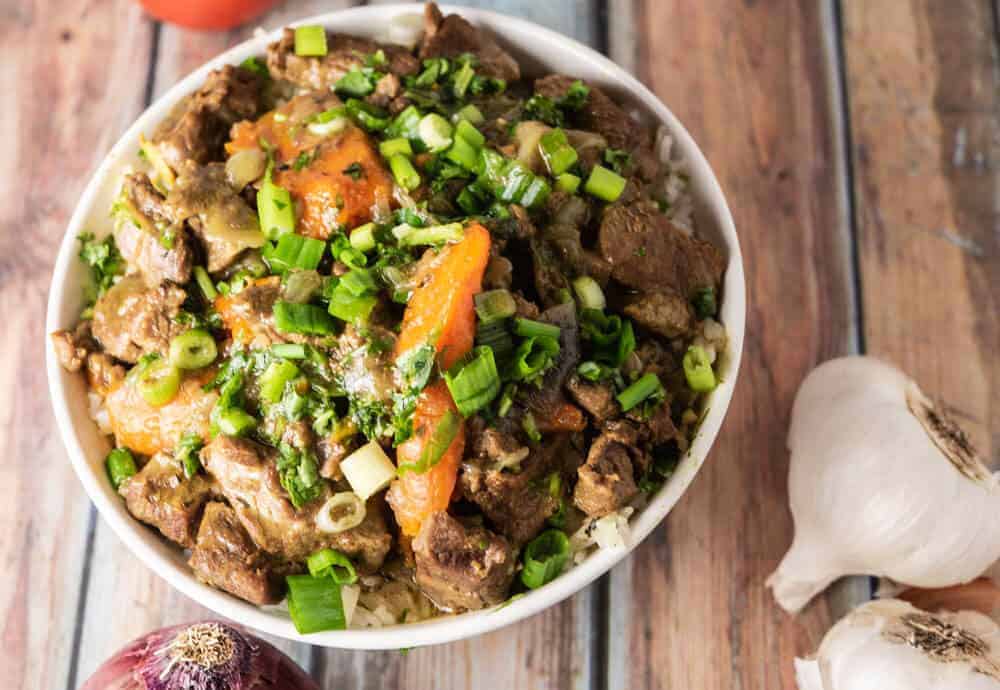 This Instant Pot Lamb Curry is totally delicious. The meat comes out very tender like is has been braising all day. This is why I just love my Instant Pot. Great food in a fraction of the time. This recipe is really simple and is almost a Dump Meal. You basically put all the ingredients in at once and hit a few buttons, but I like to do a little saute of the lamb and the onions for a few minutes. I think it brings out more flavor even though it isn't a necessary step.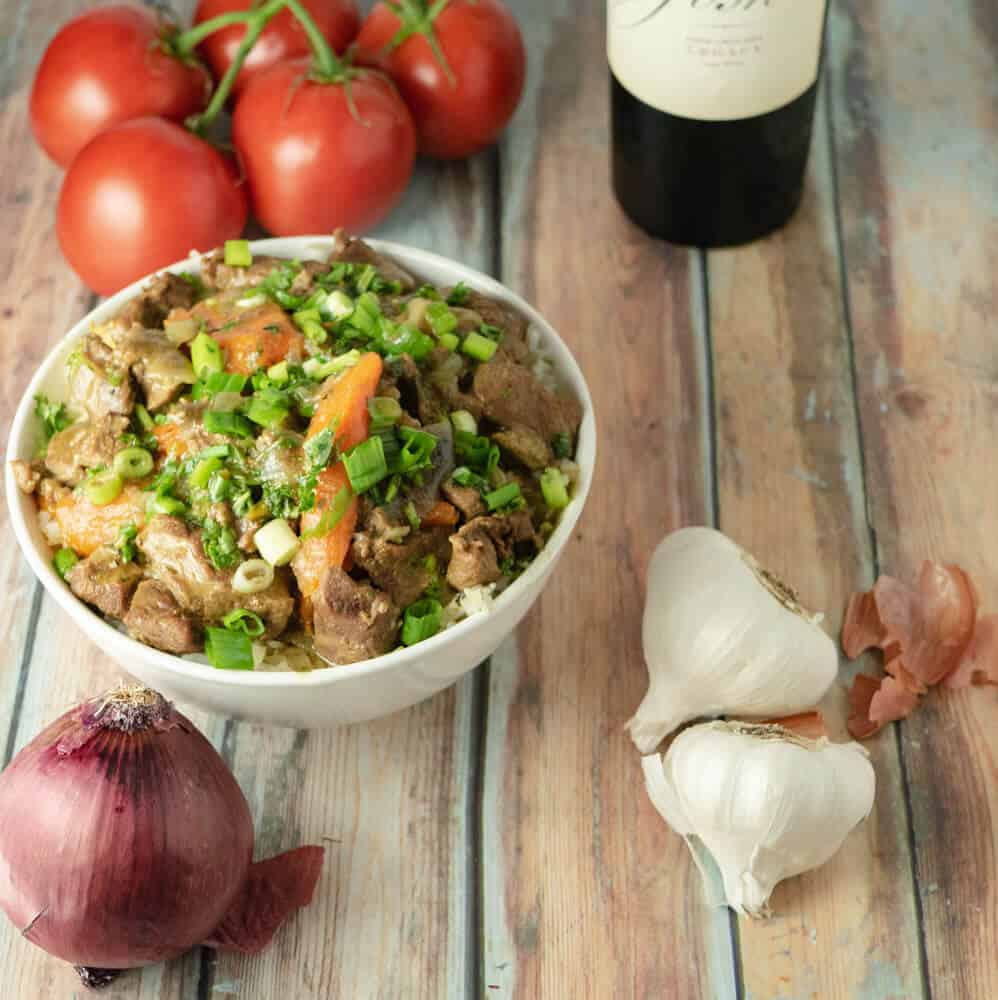 This is the time of year to make this dish. It's tasty and bold and great when the weather is starting to cool down. You can serve this over rice or even mashed potatoes if you prefer. No matter how you serve it take advantage of the sauce because it is thick rich and savory. This recipe is a straight-up dish of comfort food.
Recipe for Lamb Curry
Ingredients in Lamb Curry
Lamb
Onions
Garlic
Curry Powder
Thyme
Salt
Chicken Broth
Cornstarch
Water
Scallions
Cilantro
How to Make Lamb Curry Recipe in Slow Cooker
This dish can absolutely also be made in a crockpot or slow cooker. This is an easy slow cooker lamb curry recipe process is basically the same as the pressure cooker lamb curry recipe but since it is in the slow cooker the cooking time is different.
Cooking time and process for the crockpot or slow cooker version would be 3 hours on HIGH or 6 hours on LOW. When cook time is completed stir in the cornstarch slurry and let cook 20 minutes more. This is one of the best lamb curry recipes ever.
How to Make Lamb Curry in the Instant Pot
Saute – Push Saute button on Instant Pot to HIGH setting. When it reads "HOT" Saute Lamb, Onions, and Curry Powder 3 to 4 minutes.
Deglaze – Pour chicken broth into Instant Pot and deglaze by scraping the bottom of the pan with a wooden spoon to release bits on the bottom of the pot.
Add Garlic, Thyme, and Salt – into the pressure cooker and then place the lid on to the pressure cooker. Turn the valve to the "SEAL" position. Set timer for 20 minutes on HIGH PRESSURE.
Release Pressure – When cook time is complete let pressure cooker NATURAL RELEASE for 10 MINUTES and then do a Quick Release.
Thicken Sauce – Press CANCEL BUTTON and then Press SAUTE Button and set to the NORMAL setting. Stir in cornstarch slurry and gently stir lamb mixture to combine. Let mixture come to a boil and thicken for about 2 MINUTES.
Other Recipes for the Instant Pot
Instant Pot Chicken Curry
Instant Pot Chicken Curry Meatballs
Instant Pot Salisbury Steak Meatballs
Greek Chicken Instant Pot
Kitchen Essentials and Items Used in Recipe
Instant Pot Ultra 10-in-1 Electric Pressure Cooker
Better Than Bouillon Reduced Sodium Chicken Base, 8 oz
Instapot Cheat Sheet Magnet Set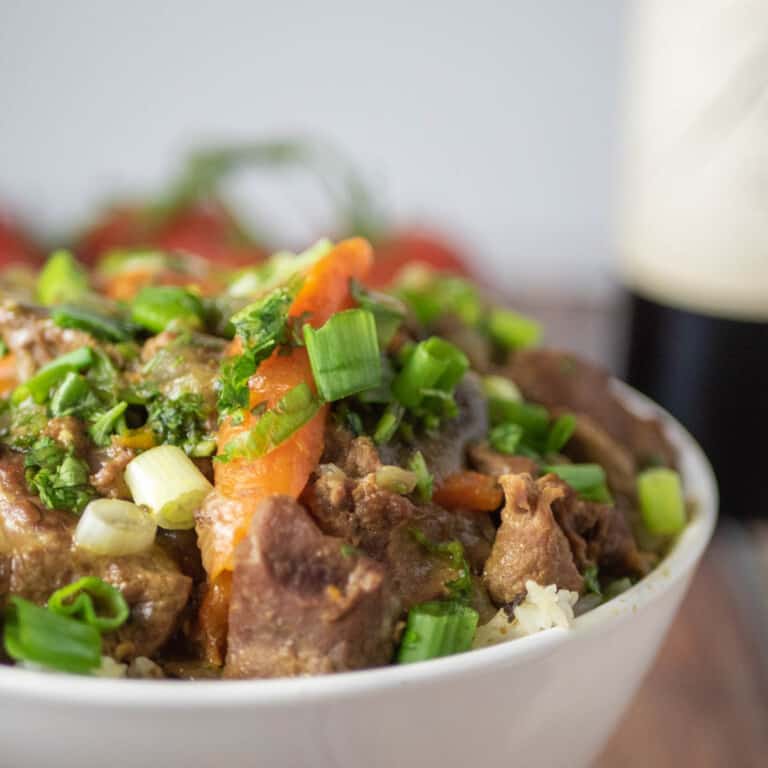 Ingredients
1

Pound

Lamb

shoulder or leg meat cut in 1 inch cubes

1

Medium onion cut in 1 inch wide pieces

2

Carrot cut in 2 inch pieces on the bias

2

Tbsp.

Curry Powder

2

Cloves

Garlic Minced

2

tsp

Dried Thyme

1/2

tsp.

Salt

1 1/2

Cups

Chicken Broth

2

Tbsp.

Cornstarch

for slurry

4

Tbsp.

Water

for slurry

1

Chopped Scallion for Garnish

2

Tbsp.

Chopped Cilantro for Garnish
Instructions
Push Saute Button on Instant Pot until MORE is lit up. Once the screen reads "HOT" you are ready to begin.

Put Lamb, Onions, and Curry Powder in Instant Pot and saute for 3 to 4 minutes. Deglaze bottom of pressure cooker by pouring in Chicken Broth and then scraping the bottom of the pressure cooker to release the bit on the bottom of the pan.

Put Garlic, Thyme, and Salt into the pressure cooker and then put the lid on to the pressure cooker. Turn the valve to the "SEAL" position. Set timer3 for 20 minutes on HIGH PRESSURE.

When cook time is complete let pressure cooker NATURAL RELEASE for 10 MINUTES and then Release Pressure.

Press CANCEL BUTTON and then Press SAUTE Button and set to NORMAL setting. Stir in cornstarch slurry and gently stir lamb mixture to combine. Let mixture come to a boil and thicken for about 2 MINUTES.

Serve over rice or mashed potatoes and top with Chopped Scallions and Cilantro Garnish.

Serves 2
Nutrition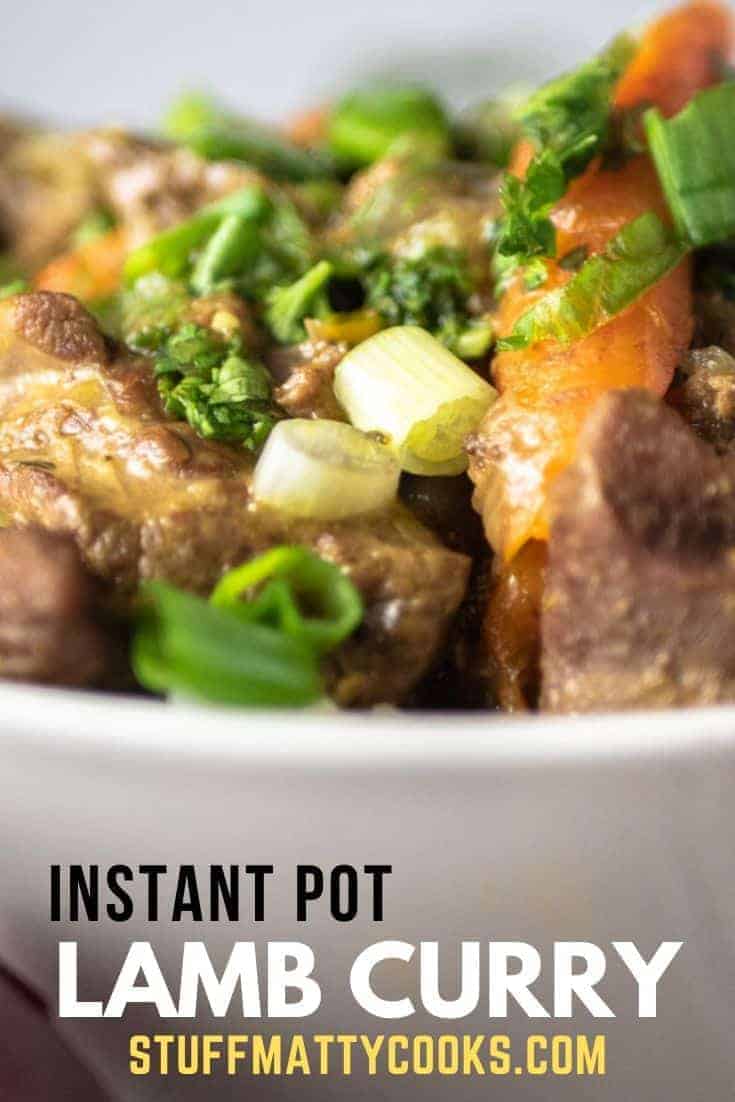 (Visited 5,670 times, 1 visits today)