Instant pot hard boiled eggs 5 5 5 method is the easiest and fastest way to make perfect hard boiled eggs every single time. The yolks come out fluffy and bright, and the shells are easy to peel off. Follow my process below and you will become a pro at making hard-boiled eggs in your Instant Pot.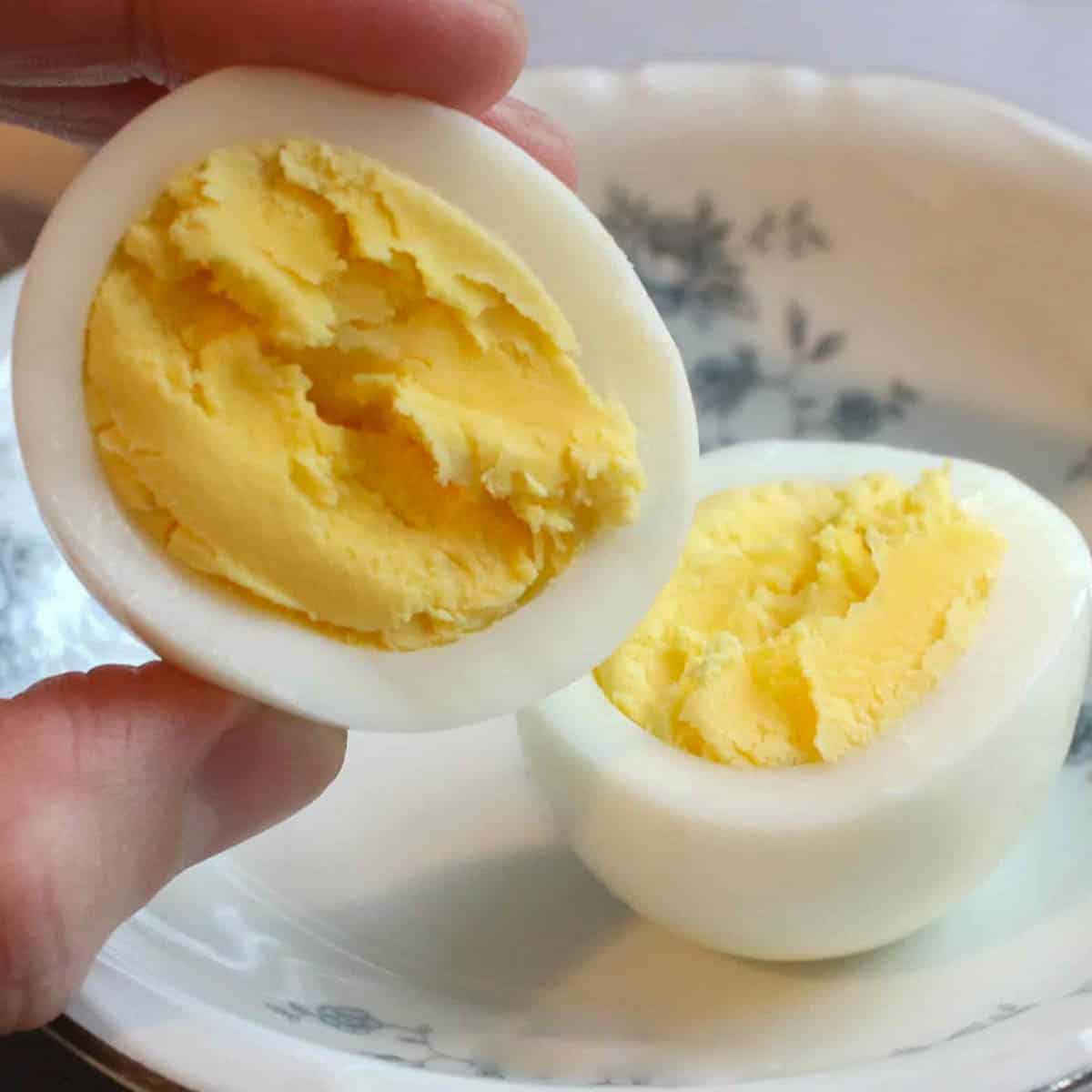 Instant Pot Hard Boiled Eggs 5 5 5 Method
Once I started making hard boiled eggs this way I said to myself I'll never use my stovetop to make hard boiled eggs again. One of the best things about this method is that it is basically a set and forget method.
This method is WAY better than cooking hard boiled eggs on your stovetop. The results of cooking Instant Pot 5 5 5 eggs in the pressure cooker is also much more consistent. Believe me, using this method is going to be your go to method.
Let's face it the traditional method of cooking hard boiled eggs on the stove can lead to inconsistent to disastrous results. Making hard boiled eggs this way can be downright difficult. Using this 5 5 5 method page makes things easy.
I make a lot of eggs each week simply because they are high protein, inexpensive, and really versatile.
It doesn't matter if you are making hard-boiled eggs for deviled eggs during the holidays, egg salad for lunch during the week. I love making them to crumble i salads for extra protein. Hard boiled eggs are good to have around and ready to go.
Jump to: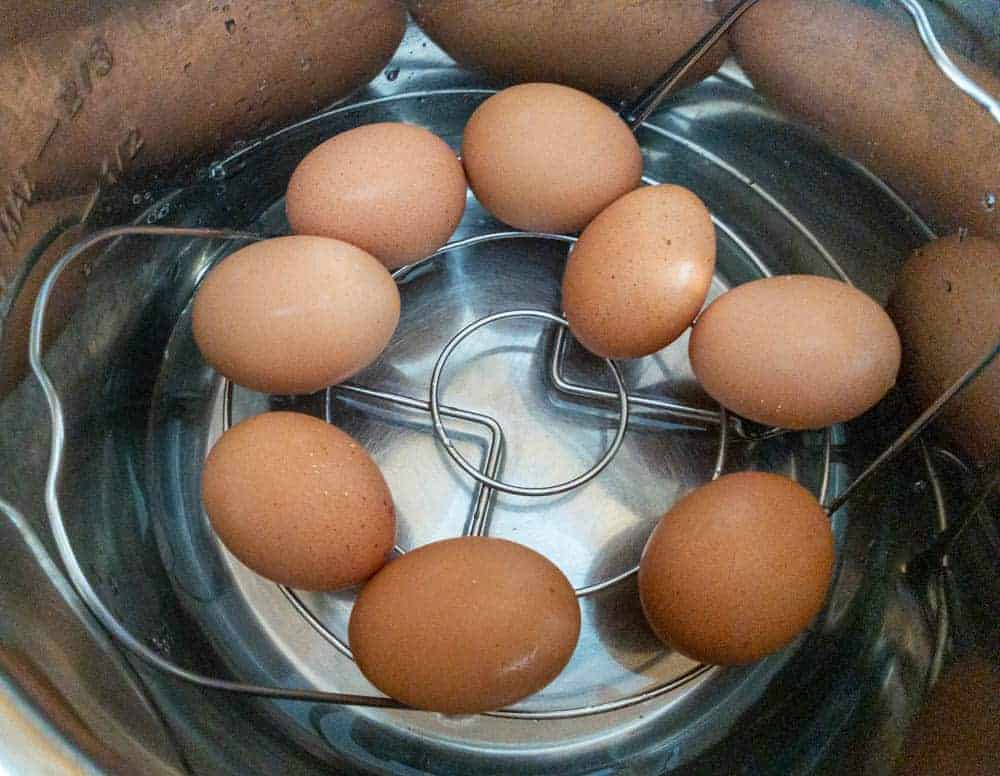 No more standing around waiting for water to boil adjusting the temperature to make sure it's right. The process is as simple as placing the eggs in the Instant Pot, adding a bit of water and placing the lid on the pressure cooker and setting the cooking time. Follow my steps below and you will become hard boiled egg ninja.
What is Instant Pot 5-5-5 Hard Boiled Egg Method?
The 5-5-5 method is a simple process I've just three steps to coming up with perfect eggs.
Pressure Cook Eggs 5 Minutes.
Let sit 5 Minutes when cooking is completed.
Quick Release Pressure and remove eggs and add to an ice bath 5 minutes.
JUMP TO RECIPE FOR FULL INSTRUCTIONS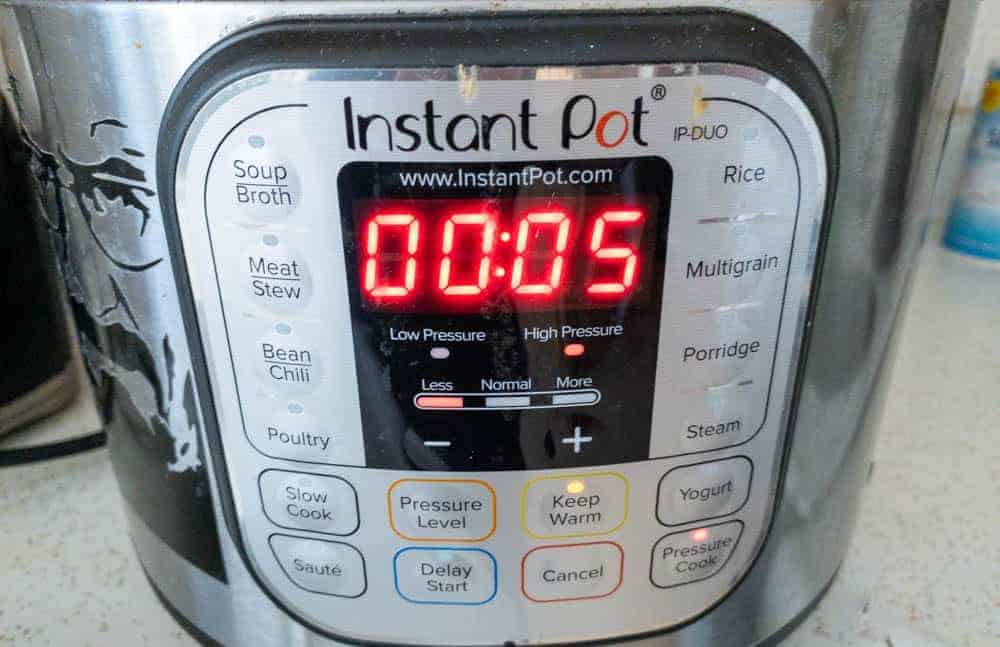 How to Hard Boil Eggs in Instant Pot
Step 1 – Place trivet into the pressure cooker to keep the eggs off the bottom of the pressure cooker liner. Add 1 cup of water to the instant pot.
Cold water is what I use. Place eggs on top of the trivet. If you were doing a lot of eggs you can pile them up.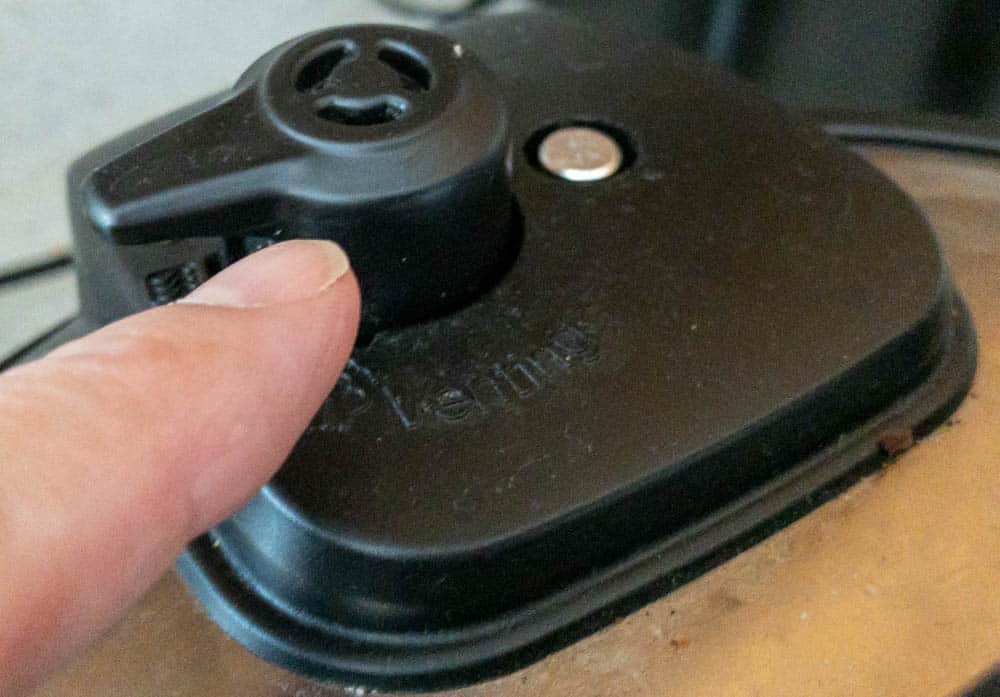 Step 2 – Fasten the lid on to pressure cooker and turn the pressure valve to the"SEAL" position as seen in the picture.
Step 3 – Pressure Cook 5 Minutes on HIGH PRESSURE. When cooking time is complete do a 5 minute natural release and then quick release any remaining pressure by moving the pressure valve to the open position.
Note: When releasing pressure be careful as the steam is HOT.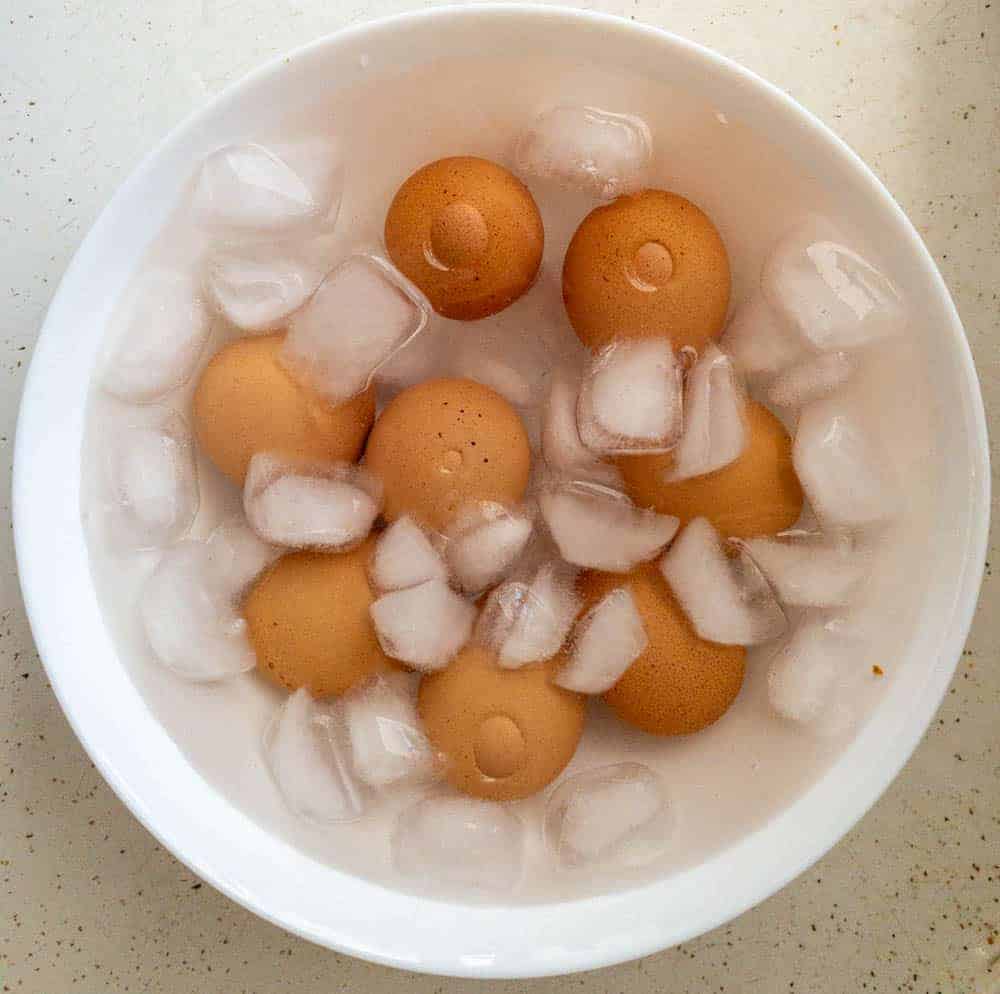 Step 4 – Remove eggs from pressure cooker to Ice Bath. Be careful as eggs will be hot. I usually use a pair of tongs to remove the eggs.
Another good trick is to use a steamer basket. They are available in silicone or metal and I will link to them below.
Place eggs in ice bath as shown in the picture. Let eggs cool and ice bath for 5 minutes.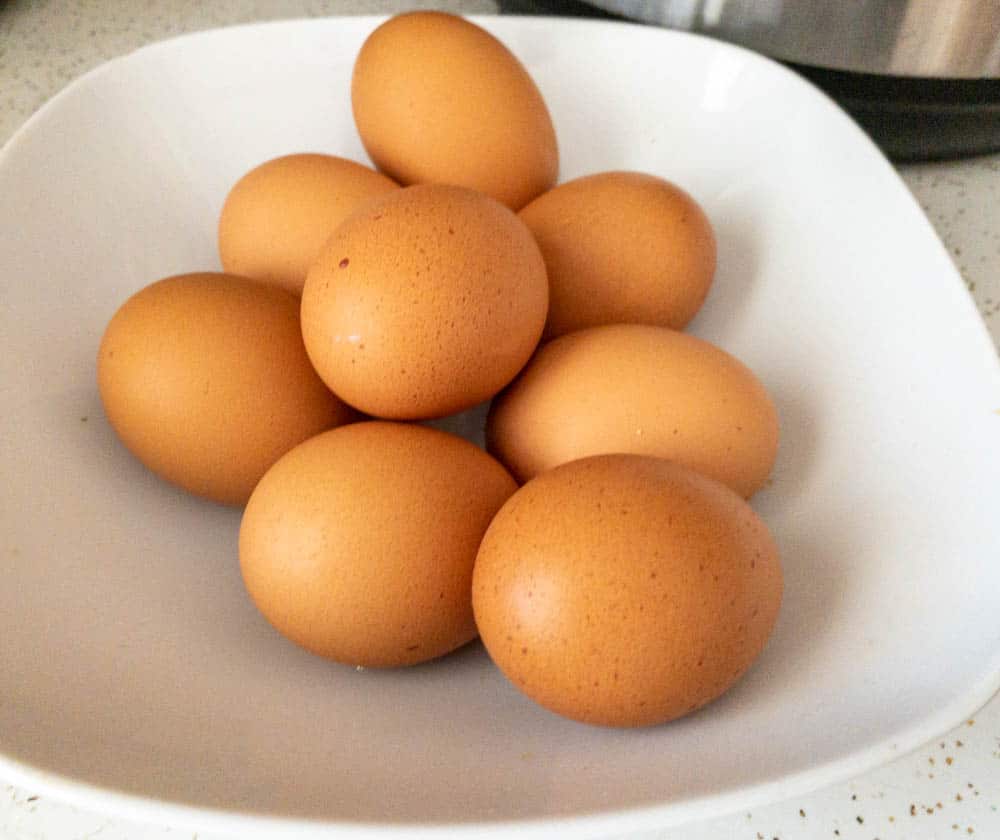 Step 5 – Peel Eggs. Hard boiled eggs in the Instant Pot are so much easier to peel. The shells seem to come right off. I am not sure why this happens but I am not complaining.
As you can see from the picture hard boiled eggs come out beautiful. The pressure cooker is your new hard boiled eggs secret weapon.
Cooking Time Variations for Hard Boiled Eggs in Instant Pot
I am going to include this cooking time addendum because I know that people are particular about their hard boiled eggs so below are a few cooking time variations to the standard 5 minute cooking time that is normally done with the standard 5 5 5 method.
3 Minutes – Fully set whites with slightly soft runny yolk
4 Minutes – Fully set whites with cooked and creamy yolk
6 Minutes – Fully cooked whites with firm yolk
Hard Boiled Eggs Ideas
Hard boiled eggs have a lot of uses. They are great for a quick breakfast I am loaded with protein. Below are a few of my uses for hard-boiled eggs.
Egg Salad
Deviled Eggs
Crumble or slice over a salad for extra protein
Quick and Easy Breakfast
Easter Eggs
Other Recipes to Enjoy
Air Fryer Empanadas
Air Fryer Bacon Wrapped Asparagus
Million Dollar Bacon
Kitchen Essentials and Items Used
Below are some of the items that I used in this recipe as well as what I consider essential items for your instant pot or air fryer. I do earn a small commission on these items from the Amazon affiliate program at absolutely no cost to you. Thanks for your support.
Alexia Smart Classics Frozen French Fries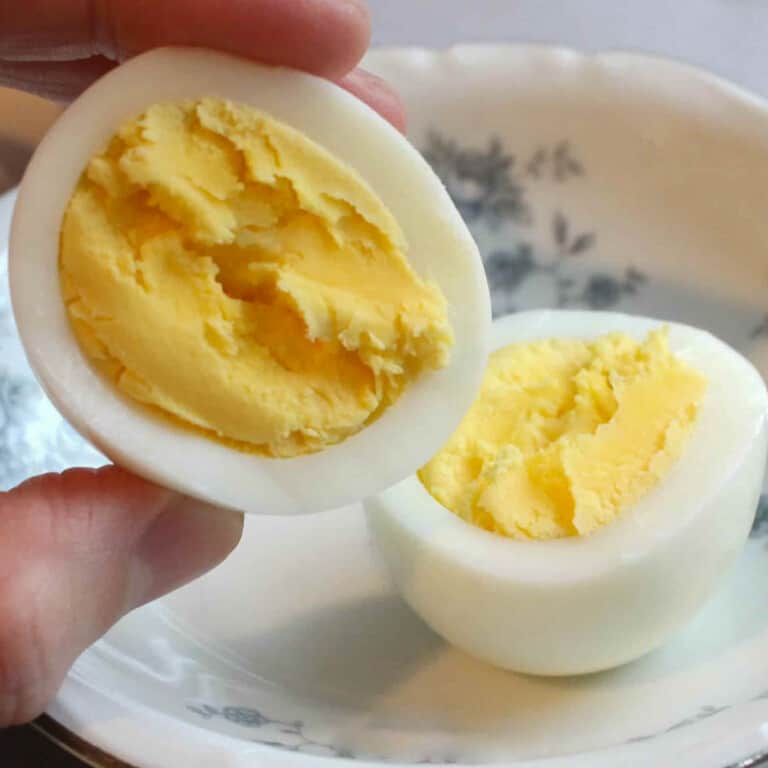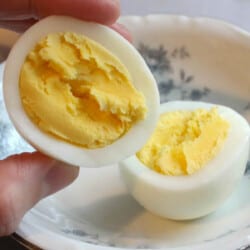 Instant Pot Hard Boiled Eggs 5 5 5
Instant pot hard boiled eggs using the 5 5 5 Method
Print
Pin
Rate
Instructions
Place trivet in bottom of instant pot

Place one cup of cold water into instant pot

Set eggs on top of trivet spreading evenly. Eggs can be stacked.

Place live on instant pot

Turn pressure valve to the SEAL position

Cook eggs on high-pressure for five minutes

When cook time is complete to five minute natural release and then release pressure.

Remove Lid from instant pot and add eggs to ice bath for 5 minutes

Store eggs in the refrigerator for seven days unpeeled or use within three days if peeled.

Storing in airtight container is recommended
Nutrition
Why Do Eggs Crack in the Instant Pot?
The reason eggs crack when hard boiling in the instant pot is because they come in contact with the water. The best way to avoid this issue is to use an egg rack, the trivet that is included with the Instant Pot.
A very convenient way is also to purchase a steamer basket for the instant pot. These are available in both metal or silicone.
I have linked to them in this article under the kitchen essentials and items used area. The steamer basket also makes it much more simple to remove the eggs when they are hot.
How to Peel Hard Boiled Eggs?
Hard boiled eggs made in the Instant pot are easier than ever to peel.
Tap base of egg on counter to crack
Turn egg on its side and roll on the kitchen counter
The shell will come right off without removing the egg white
Storing Hard Boiled Eggs
When hard-boiled eggs are handled properly they will last about seven days in the fridge. Up to store them in an airtight container. Hard boiled eggs should be stored and cooled with 2 hours of cooking.
TIP: if storing eggs unpeeled store in air tight container with damp paper towel on top and bottom to keep them moist.
Peeled hard-boiled eggs will last about three days.
Unpeeled eggs will last about seven days.
How Long are Hard Boiled Eggs Good for in the Refrigerator?
Hard boiled eggs must be cooled in the refrigerator within two hours of cooking.
Unpeeled Hard Boiled Eggs are Good for 7 Days
Peeled Hard Boiled Eggs are Good for 3 Days
Join Our Facebook Recipe Groups
Do not forget to join our Facebook recipe groups. There is thousands of members and recipes in these groups.
Interact with other users as well as share your own recipes. Recipes and tips are added to the groups daily. Share your creations and ideas with other users as well.
Instant Pot Recipe Spot
Air Fryer Recipe Spot
Vegan and Vegetarian Plant Based Recipes
(Visited 8,025 times, 1 visits today)