Air Fryer Green Bean casserole has to be one of my all-time favorite holiday time Thanksgiving side dishes. I love that flavor of the green beans with the cream of mushroom soup and the french fried onions. This can also be made in your oven but the air fryer makes this so quick and easy.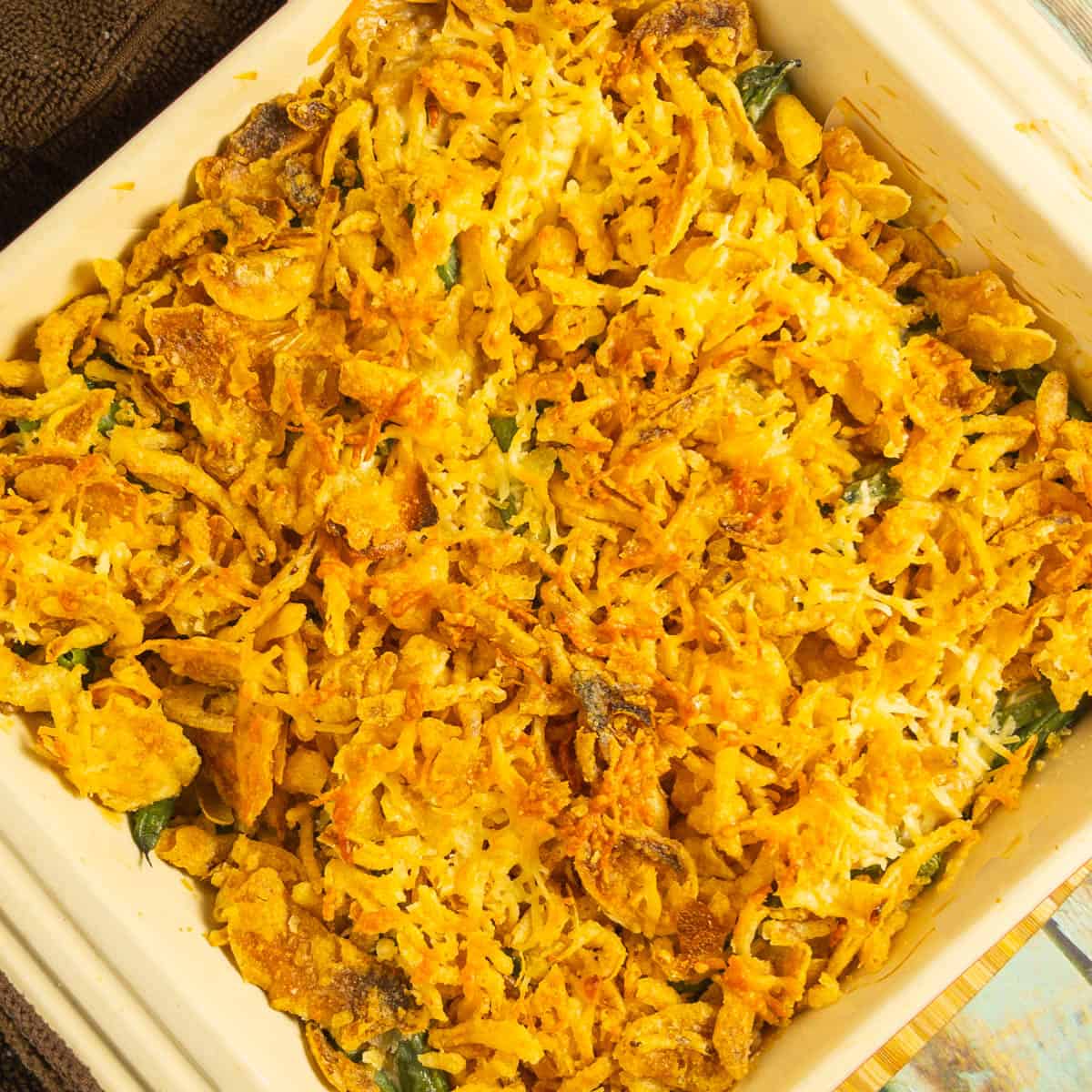 Green bean casserole was made popular by Campbell Soup company in 1955. This recipe has basically become a staple of holiday dinners like Thanksgiving.
If you were looking for other side dishes also for holidays my Parmesan Balsamic Brussel Sprouts is also a delicious side dish.
Jump to:
Ingredients
I used fresh green beans for this recipe and I steamed them a few minutes in some boiling water. But the fresh green beans can be replaced with canned green beans. Frozen green beans can also be used but thaw them beforehand.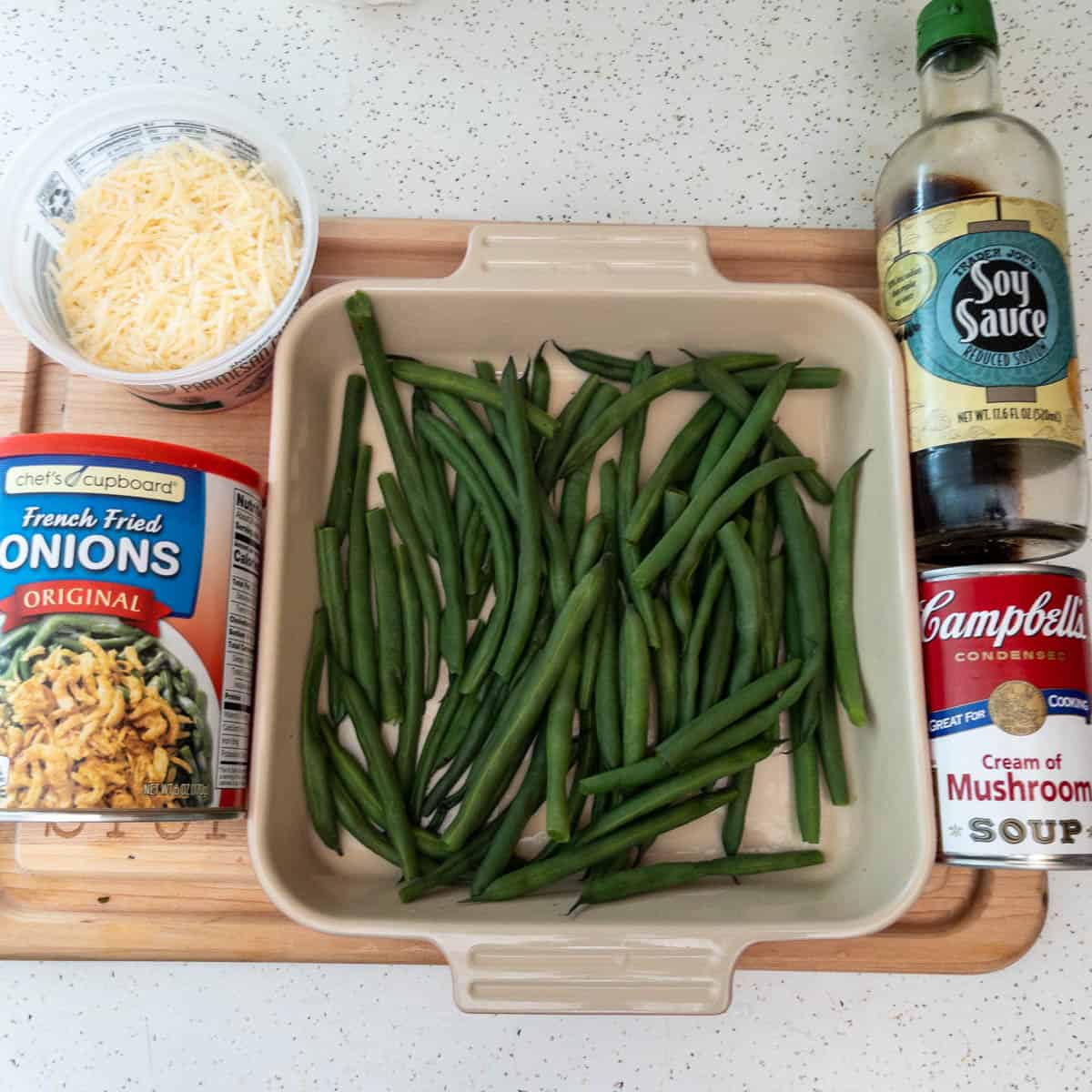 Green Beans (Fresh, Frozen, or Canned)
Parmesan Cheese or Cheddar Cheese
Cream of Mushroom Soup (Condensed Cream of Mushroom)
Milk or Half and Half
Soy Sauce
See recipe card for quantities.
How to Make Air Fryer Green Bean Casserole
I assume that you have an air fryer or air fryer oven to make this recipe. I used my Cosori Air Fryer Oven to make this but you can use a basket style air fryer as well. any baking dish that fits in your air fryer basket is fine.
Note: It does not matter what brand of air fryer you have. I have 2 air fryers and this comes out great. If you are making Ninja Foodi green bean casserole the process is the same. I will also have instructions below on how to make the green bean casserole in oven.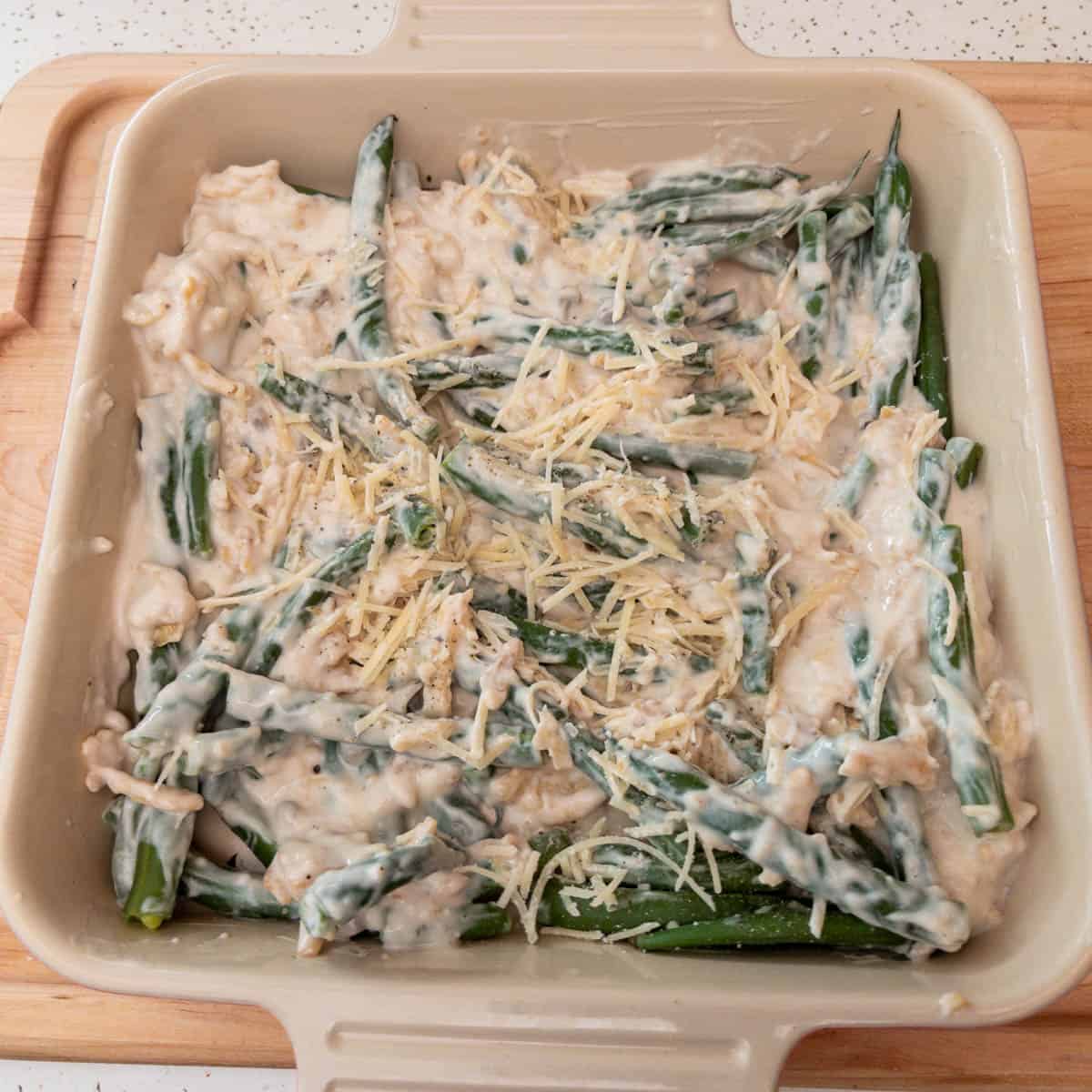 Step 1 – In a large bowl or directly in the baking dish mix all the ingredients. Are usually mix all the wet ingredients in the bottom of the baking dish. I save the Parmesan cheese and the green beans for last. This way you can mix the Cream of Mushroom soup, soy sauce, and milk together easily.
I used a baking dish that was 1 1/2 quarts in size. I then added a can of Cream of Mushroom condensed soup, 1/2 cup of milk ( I used half and half). I added 1 teaspoon of soy sauce
(low sodium) for some Umami flavor then added about 2/3 cup of the french fried onions. I added in a couple of pinches of Parmesan Cheese. I then added the green beans.
Toss everything to coat and then air fried for 12 to 15 minutes with the air fryer preheated to 350 degrees Fahrenheit.
Tip: Air Fryers vary in power. My oven air fryer is not as hot as my basket style air fryer so an adjustment of a few minutes of cooking time can be necessary. I just test them with a fork to see if they are tender to my liking before the final step.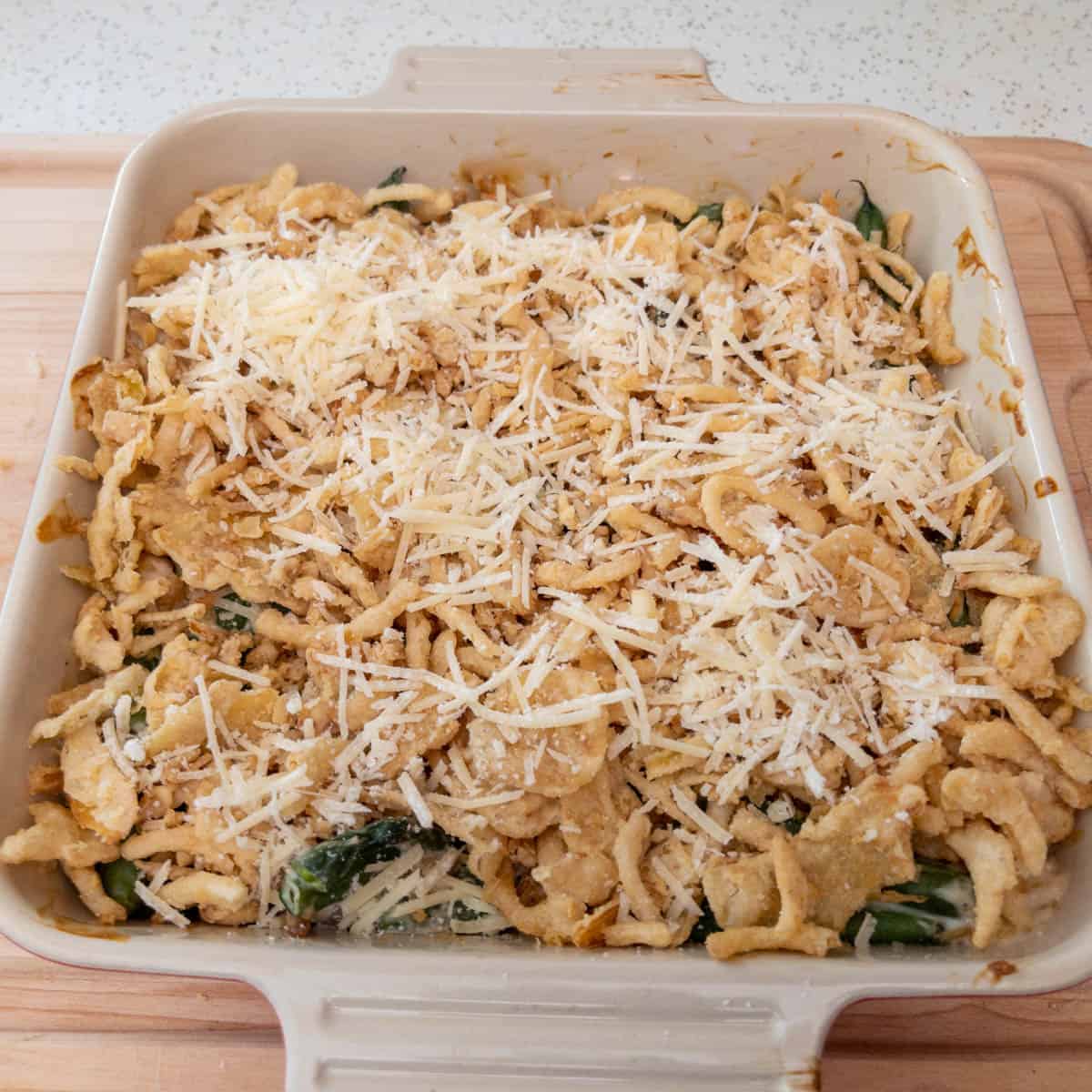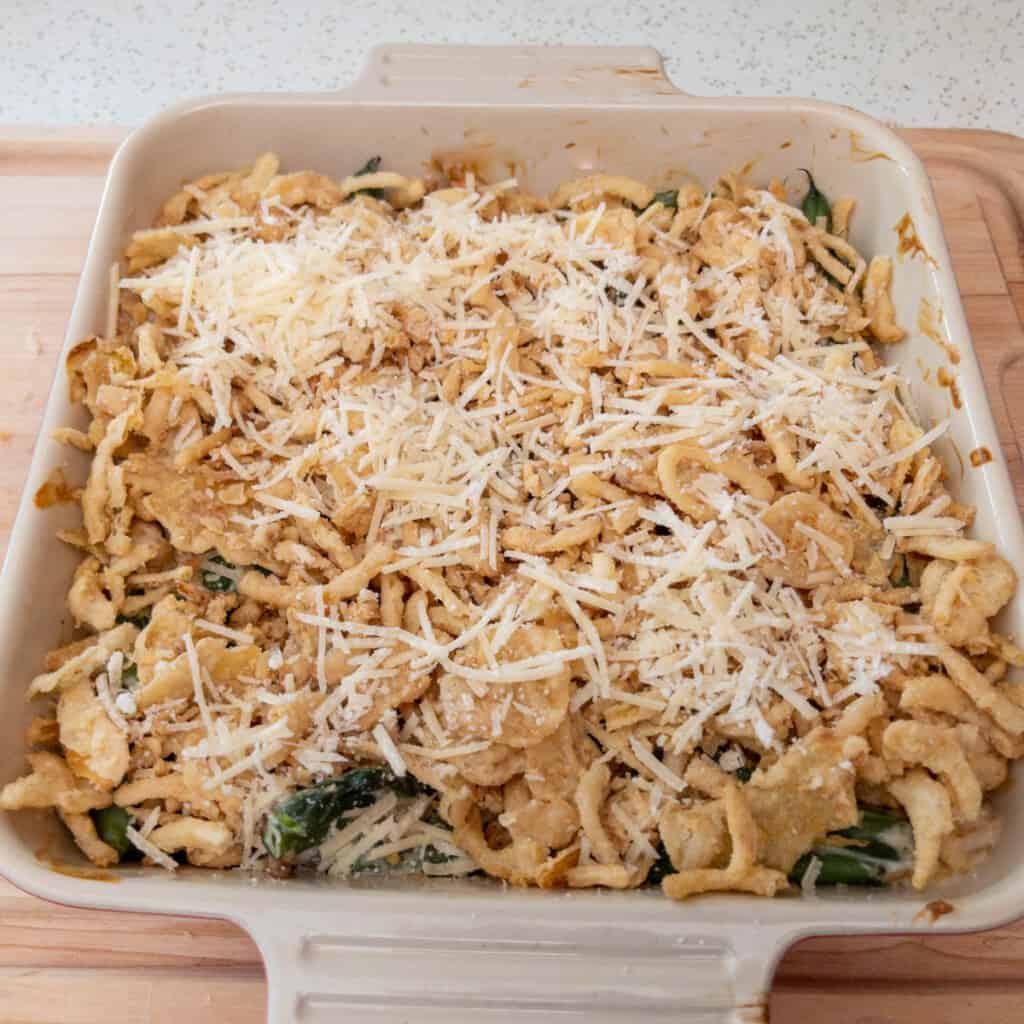 Step 2 – Remove the green bean casserole from the air fryer if necessary and top with the remaining onions and more Parmesan Cheese. I used about 1/2 cup of Parmesan in total. Return the casserole to the air fryer for 5 minutes bake time and check to see if it is golden brown. Bake in 5 minute increments until browned to your liking.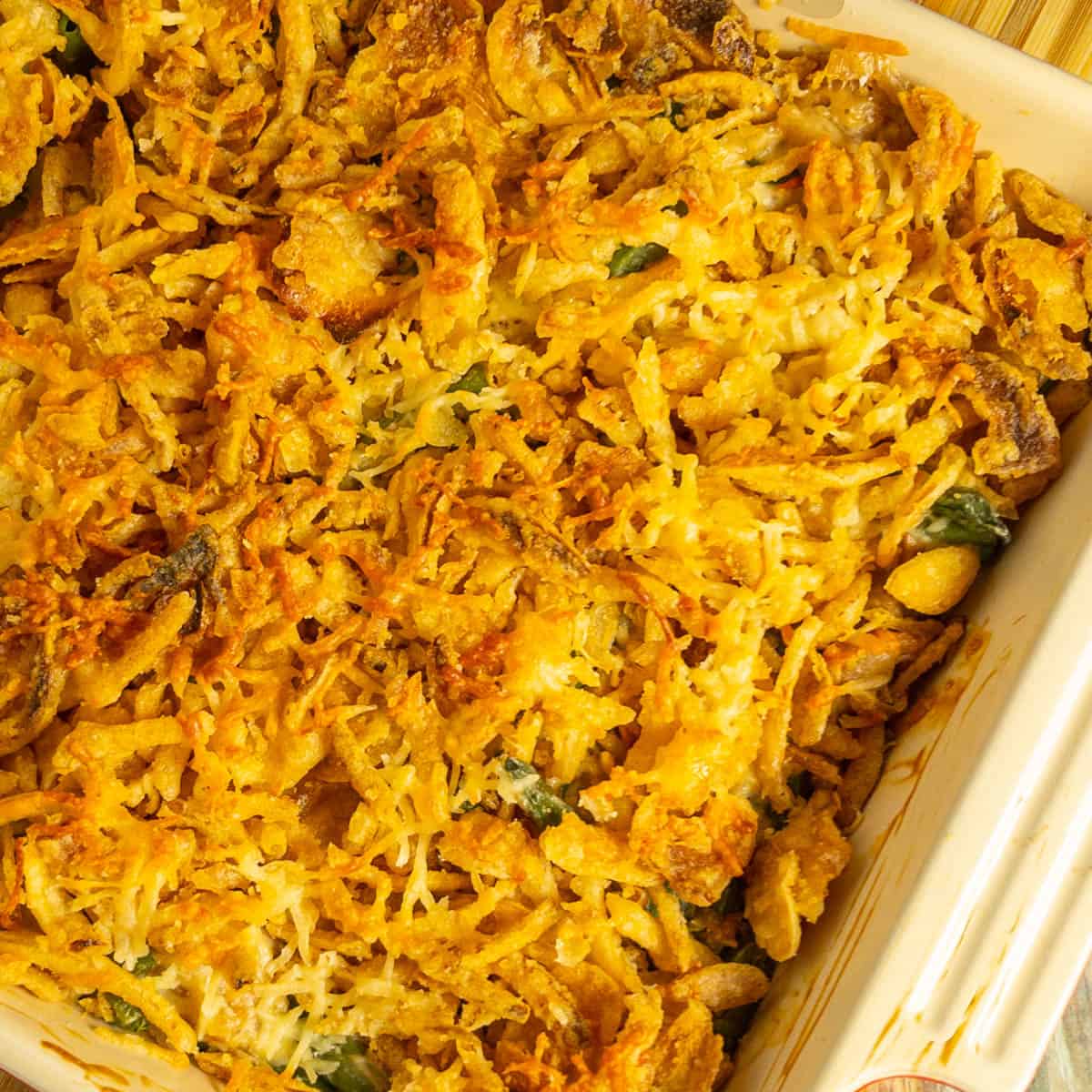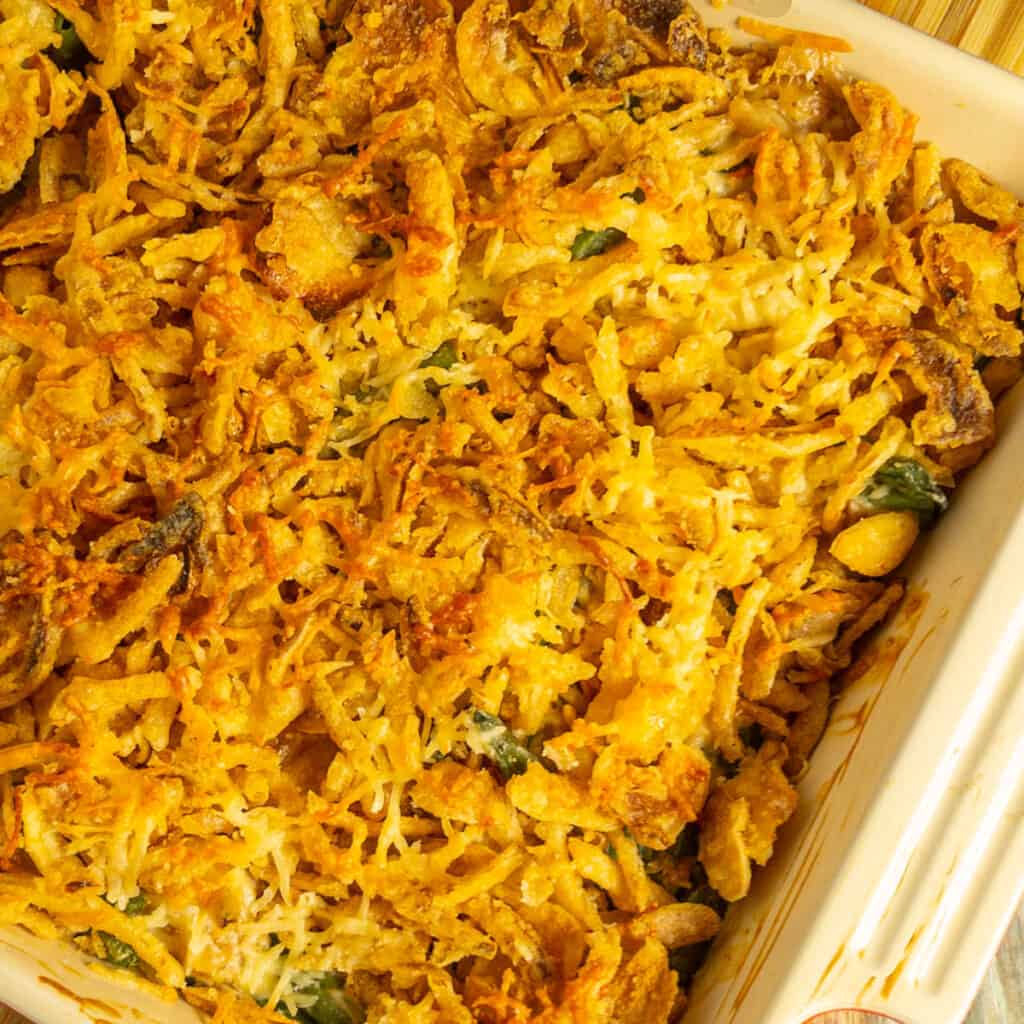 Step 3 – Remove from the air fryer and let sit a few minutes as this green bean casserole recipe will continue to brown a bit. I always let it cool down for awhile.
This is such an easy air fryer recipe to make to accompany a Thanksgiving dinner. It is so easy that this can be made last minute any time of the year.
Green Bean Casserole in the Oven
This green bean casserole can easily be made in the oven. The instructions for mixing the ingredients together are the same as above or in the recipe card.
Preheat Oven to 350 Degrees Fahrenheit
Mix together Green Beans, Condensed Mushroom Soup, Milk and Soy Sauce
Add 2/3 cup French Fried Onions and half the Parmesan Cheese
Bake 25-30 Minutes in Oven
Remove and top with remaining onions and Parmesan
Bake 5 minutes until golden brown and delicious
Total Cooking Time about 30 Minutes
Substitutions
Canned Green Beans – instead of fresh green beans canned can be used (About 2 cans).
Frozen Green Beans – Frozen green beans are fine. Be sure to thaw them before using.
Variations
Bacon add cooked chopped bacon to the mixture before cooking for a tasty southern twist.
Cheddar Cheese – add cheddar cheese in place of Parmesan or mix them.
See this spicy version of this recipe on my website! (placeholder for in-content link)
Equipment
I am going to list the equipment that I used to make this recipe. I do make a small commission from these affiliate links at absolutely no cost to you. Thanks for your support.
Cosori Air Fryer Oven Combo
Le Creuset Stoneware Baking Dish
Cosori Air Fryer Max (Basket Style 5.8 Quart)
Storage
Green Bean Casserole can be covered or stored in an airtight container for 3 days.
These ingredients don't stand up well to freezing.
Can I make Green Bean Casserole Ahead of Time?
Green bean casserole can be made a day ahead and stored in the refrigerator until baked. This makes it even easier I am your Thanksgiving turkey day.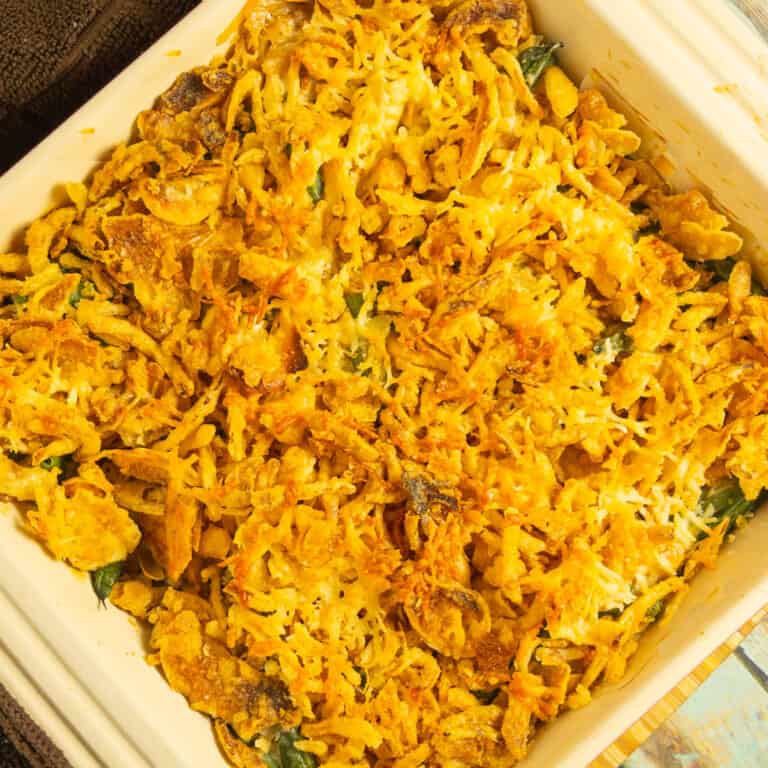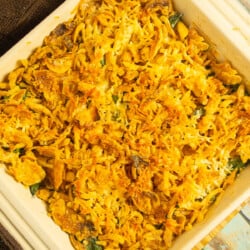 Air Fryer Green Bean Casserole (Air Fryer/Oven)
Air Fryer Green Bean Casserole is a quick an easy way to make a great side dish. Great for any entree or Thanksgiving holiday.
Print
Pin
Rate
Ingredients
1

Pound

Fresh Green Beans (Cooked) or 2 Cans Green Beans

1

Can

Condensed Cream of Mushroom Soup

1/2

Cup

Milk or Half and Half

1

tsp.

Soy Sauce ( I used Low Sodium)

1/2

Cup

Shredded Parmesan Cheese (Divided)

1 1/3

Cups

French Fried Onions
Instructions
Air Fryer Green Bean Casserole Instructions
Preheat Air Fryer to 350 Degrees Fahrenheit

In a Large Bowl or Baking Dish Mix together Cream of Mushroom Soup, Milk, Soy Sauce, 2/3 Cup French Fried Onions and 1/4 Cup of Parmesan Cheese

Add Green Beans and Mix to Coat

Place in Baking Dish and Air Fry 12-15 minutes

Top with remaining onions and Parmesan Cheese and Air Fry in 5 Minute increments until top is golden brown.
Green Bean Casserole in the Oven
Preheat Oven to 350 Degrees Fahrenheit

In a Large Bowl or Baking Dish Mix together 2/3 Cup French Fried Onions, Cream of Mushroom Soup, Soy Sauce, 1/4 cup Parmesan Cheese and Milk.

Add Green Beans to Mixture

Top with remaining Onions and Parmesan Cheese

Bake 5 minutes until onions are Golden Brown.
Nutrition
(Visited 2,997 times, 1 visits today)