Teriyaki Chicken Ramen is so good. I am totally in love with ramen noodles. In 30 minutes or less, you can have a tasty meal. This is one of the easiest teriyaki ramen noodles recipes.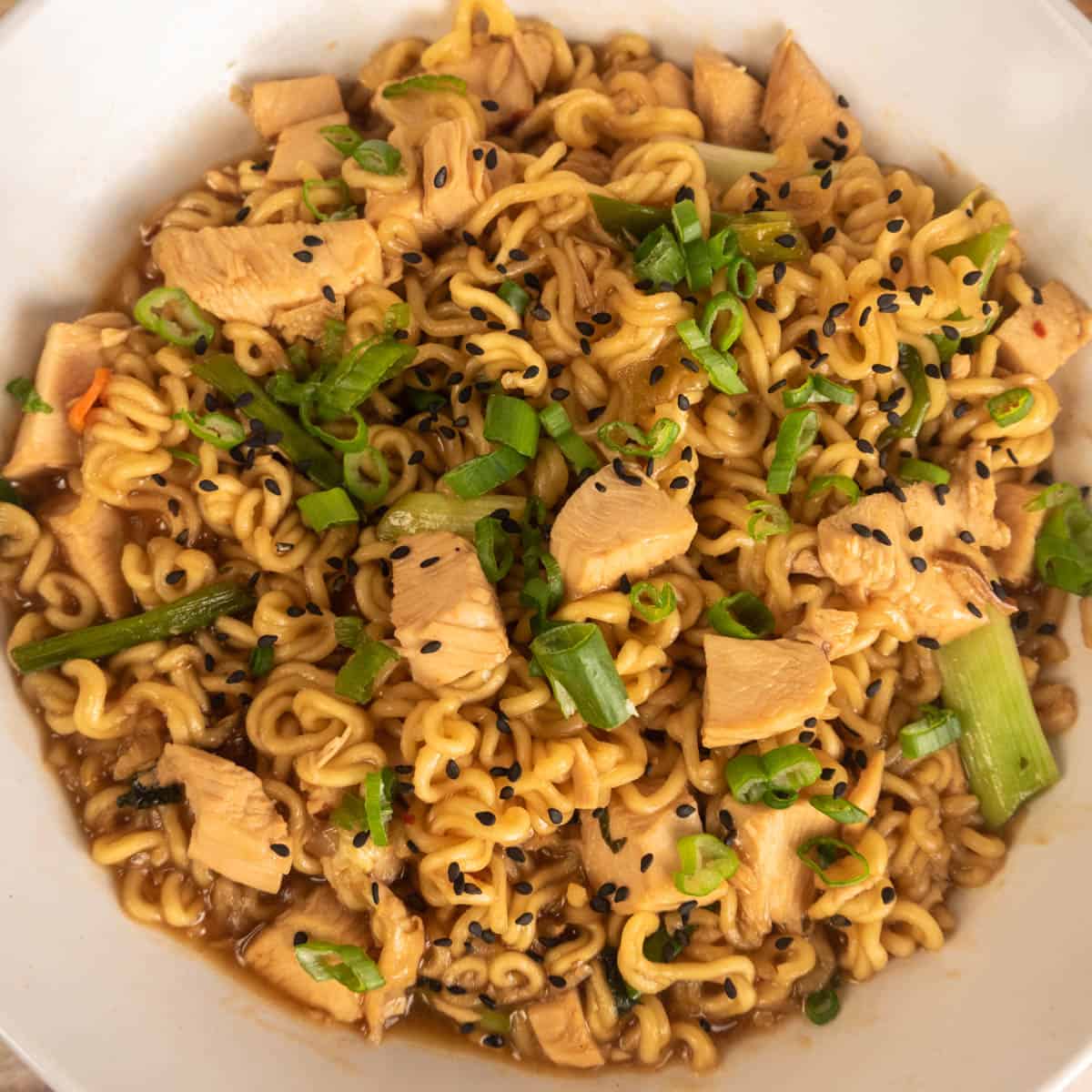 Chicken Teriyaki Ramen
It uses instant ramen noodles, some veggies and my easy teriyaki sauce recipes. This really is a one pot chicken ramen noodle recipe.
Ramen noodles have always been one of my favorites. Ever since I was a kid. I think back then though it was really the cup of noodles that wowed me when I was little.
It really has not been that long since I actually had a cup of those chicken ramen noodles. To this day I think it is still tasty. Sometimes it is just late night and you want a noodle bowl. This one is ready in 20 minutes or less.
Jump to: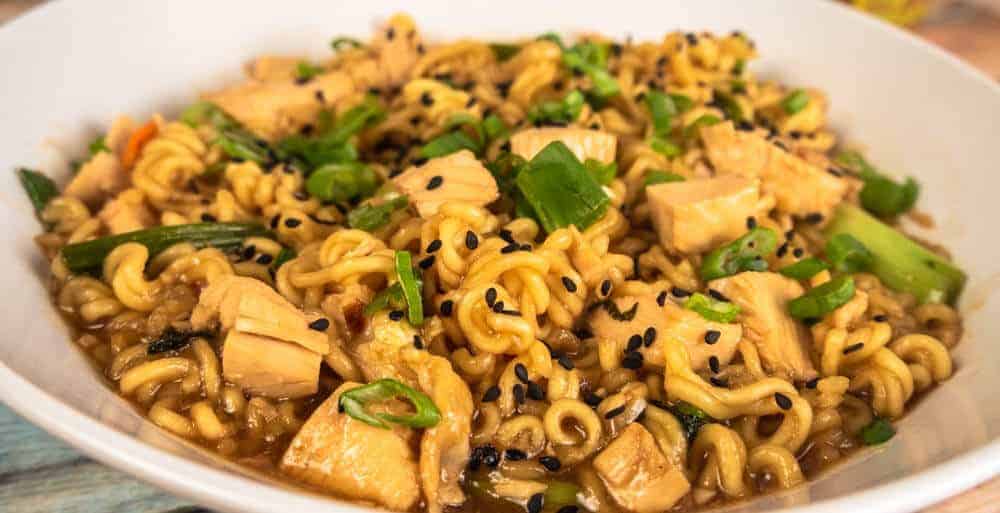 Chicken and Ramen Noodles
There is a reason that Ramen Noodles are so popular these days. The answer is simple, and it is because people LOVE noodles. The way that they can be prepared is limitless.
You can pretty much throw in any ingredients you enjoy. These days I usually toss the seasoning packet and make my own sauce. It is easy to make a sauce for a ramen noodle dish.
It can be as simple as some soy sauce, sesame oil, and a splash of rice vinegar and some hot pepper and generally, that is the making of a lot of Asian sauces.
I am sure if you live in or close to a bigger city like I do there are going to be a lot of places that serve ramen noodles. In my area of South Florida, there is a ton of places that are really just "Noodle Houses" serving all kinds. I have been to many of these. Some of them are very good.
After going to many of these places I had realized that it is not just the sauces or the broth that makes these places so much better. It is the noodles they have. The noodles have a better flavor and texture and chewiness that I totally love and crave. I since then have always been looking for better Ramen Noodles.
Well, the other day I had to go to the Asian market and get some staple ingredients that I use quite a bit. I happened to ask the lady behind the counter.
What are good Ramen Noodles? She takes me to the noodle section of the store. This store has an ENTIRE AISLE of noodles and maybe 20 different flavors and a few brands of ramen.
She pointed to a couple brands and said these were good. I picked out an assortment and checked out.
I am here to tell you there is a whole lot of difference in quality paying $1 for a pack of ramen noodles versus the type that we are all used to that come in a brick of 12 packs for $2.
The flavor and texture are totally better. It is totally worth the effort to get better ramen. There is this brand I took a photo of below which is what I used to make this recipe and another brand that I also like.
The good news is if you do not have an Asian market at the end of your block like I do you can order both brands off Amazon. I will link to both of them below in case you are interested in getting some. The 2 brands that I love are called Nongshim and Samyang.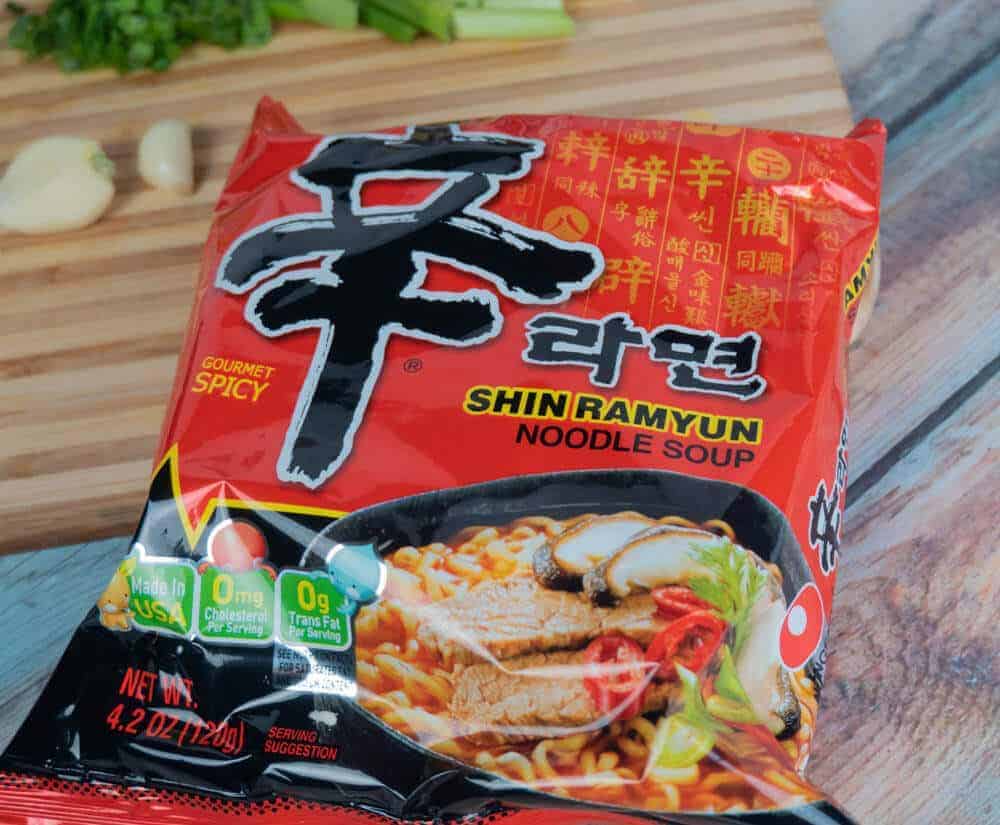 Best Ramen Noodles to Buy
When you're out looking for Ramen noodles I am sure you may not have thought that one may be better than the other. This is not the case there's a big difference in the quality of Ramen noodles.
My personal favorite is the Nongshim brand that is in the picture above. These are also dry noodles. The taste and texture are superior.
These are MUCH better than Nissin Top Ramen. They come in a bunch of flavors. This one is spicy and not your general chicken flavor.
Most of the time I ditch the seasoning packet when making this recipe. I also cut back on the amount of water making more just noodles instead of noodle soup. I get mine at the Asian grocery stores.
Ingredients Needed to Make Teriyaki Ramen
Ramen Noodles
Chicken Breasts
Soy Sauce
Rice Vinegar
Fish Sauce (Optional)
Sesame Oil
Garlic
Scallions
Sesame Seeds
Brown Sugar (optional)
What Other Noodles Can Be Used in Teriyaki Chicken Ramen Bowl
Feel free to change up your noodle game if you want to use a different type of noodles. There are quite a few options.
Zucchini Noodles – Also called "Zoodles" these are a fabulous low calorie replacement for noodles. You can boil them for 1 minute or just saute them until the texture is to your liking.
Yaki Soba Noodles – Yaki Soba noodles are a japenese buckwheat noodle that can be found in the refrigerator section. They are used in stir fry often. To cook boil in water 2 minutes and rinse.
Shirataki Noodles – These noodles are a good replacement if you are keto. They are light and have a great texture. Be sure to prepare them according to the package directions.
Japanese Glass Noodles – These noodles are delicious. They are made from sweet potato starch and they have a great texture and work well as a noodle replacement if you are looking to try something different. They turn clear when cooked.
This is where they get the name "glass noodles." If you are boiling them 2-3 minutes should do it. I find soaking them in very hot water for 5 to 15 minutes is the easiest way to prepare them.
Teriyaki Ramen Bowl Recipe Variations
Beef
Pork
Shrimp
Tofu
Green Peppers
Red Peppers
Mushrooms
Poached Egg
How to Make Teriyaki Noodles with Ramen
There are just a few steps to making this Teriyaki Noodles Recipe. You can include any vegetables that you like as long as they have similar cooking times. In a pinch, I have even used frozen vegetables and they are good too.
The same goes for the protein. In these recipes, I used roasted chicken that I had leftover, but you could just as well use Beef, Pork or Shrimp. If you are vegan you could also use Tofu.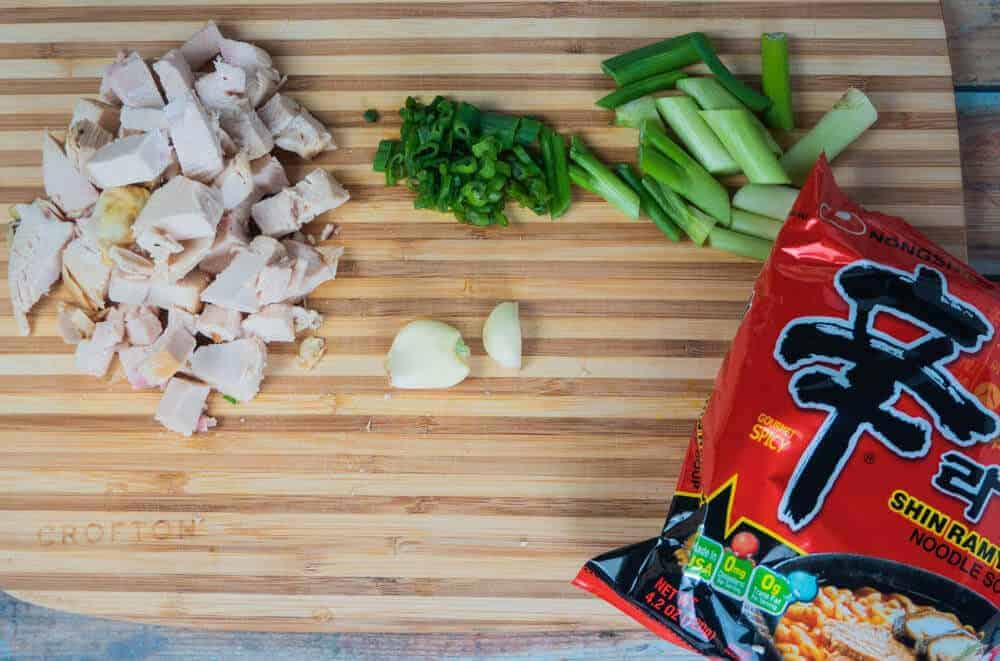 Full Recipe Below in Recipe Card
Step 1 Saute Garlic – In a large skillet or wok over medium high heat add Sesame Oil. Olive oil can be used also. Swirl to coat bottom. Saute garlic 2 minutes until fragrant.
Step 2 – Add Water or Broth to the pan. Instead of 2 cups water or broth I use just 1 cup. Bring to a Boil.
Step 3 – Add Ingredients for Sauce – Add Soy Sauce, Fish Sauce, Rice Vinegar and White Part of Chopped Scallions to pan and stir.
Step 4 – Add noodles to liquid. After a minute or so break up noodles with a spoon. Once noodles are broken up add cooked chicken and cook noodles 3-4 minutes. Generally, cook noodles according to package.
Step 5 – Thicken Sauce Mix cornstarch with water and then pour into pan. Let come to boil and cook one minute until sauce thickens.
Serve – Add to small bowl and top with the green onions and sesame seeds. A little soy sauce is good too.
How to Store Teriyaki Chicken Ramen
The noodles can be stored in a sealable plastic bag or container for up to 4 days.
Reheating Teriyaki Chicken Ramen
Of course you can use the microwave but I try to stay away from that method. I find reheating in a nonstick skillet over medium heat gets the job done well.
I place about 1 tablespoon of oil in the pan. When heated I put in the chicken ramen and heat until hot. Stirring constantly to prevent sticking.
Other Recipes to Enjoy
Udon Noodle Stir Fry
Instant Pot Chicken Lo Mein
Mongolian Chicken (Instant Pot)
Kitchen Essentials and Items Used
Nongshim Shin Noodle Ramyun, Gourmet Spicy Picante, 4.2-Ounce
Samyang Jjajang Hot Chicken Ramen
365 Everyday Value, Toasted Sesame Seed Oil, 8.4 fl oz
365 Everyday Value, Organic Rice Vinegar, Seasoned, 12.7 oz
Chicken Teriyaki Ramen
Chicken Teriyaki Ramen is delicious Ramen coated in Teriyaki sauce in a bowl full of Tasty Noodles and Chicken. A true One Pot Meal.
Ingredients
1

Pack

Nongshim Instant Ramen Noodles

4.2 oz

1

Cup

Water or Broth

3

Tbsp.

Soy Sauce

Reduced Sodium

1

Tbsp.

Fish Sauce

Optional

1

Tbsp.

Rice Vinegar

1

Tbsp.

Cornstarch

2

Scallions Chopped

White part separated and chopped

2

Cloves

Garlic Chopped

1

Cup

Cooked Chicken

2

Tbsp

Raw or Brown Sugar

or to taste

1

Tbsp.

Sesame Oil

2

Water for Cornstarch Slurry

1/2

tsp

Black Sesame Seeds
Instructions
In a large skillet or wok add Sesame Oil. Swirl to coat bottom. Saute garlic 2 minutes until fragrant. Add water to the pan. Bring to a boil. Add Soy Sauce, Fish Sauce, Rice Vinegar and White Part of Chopped Scallions to pan and stir. Add noodles to liquid. After a minute or so break up noodles with a spoon. Once noodles are broken up add cooked chicken and cook noodles 4 minutes. Mix cornstarch with water and then pour into pan. Let come to boil and cook one minute until sauce thickens. Add to bowl and top with the green part of chopped scallions and sesame seeds.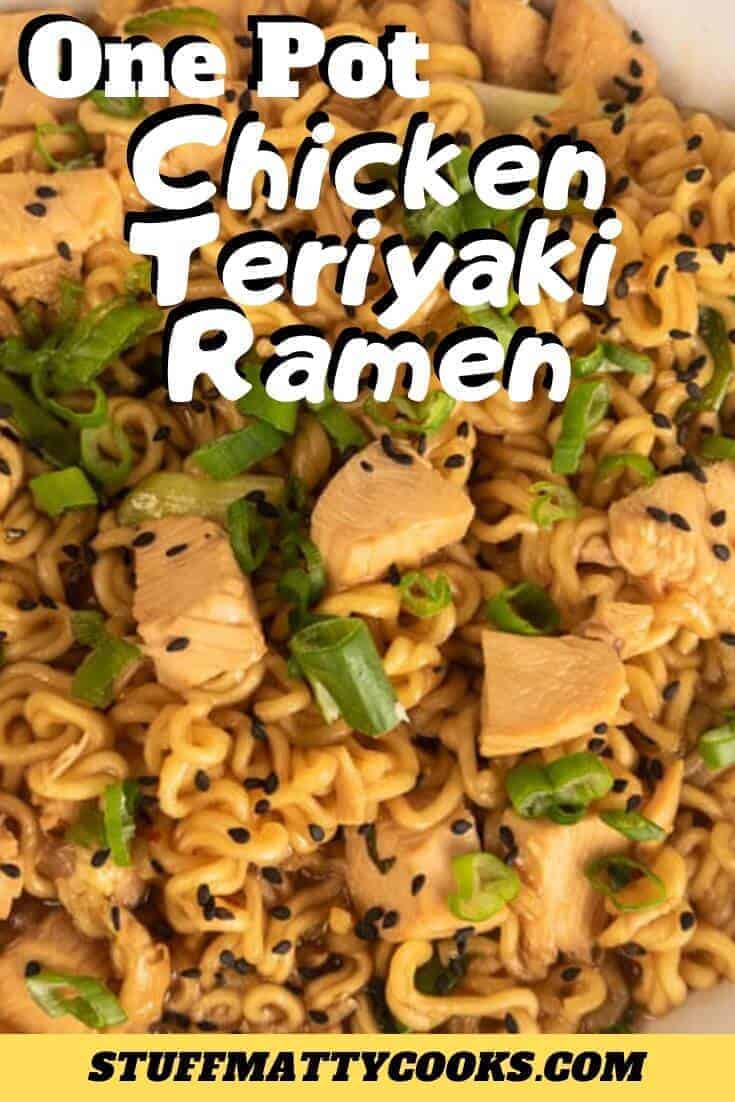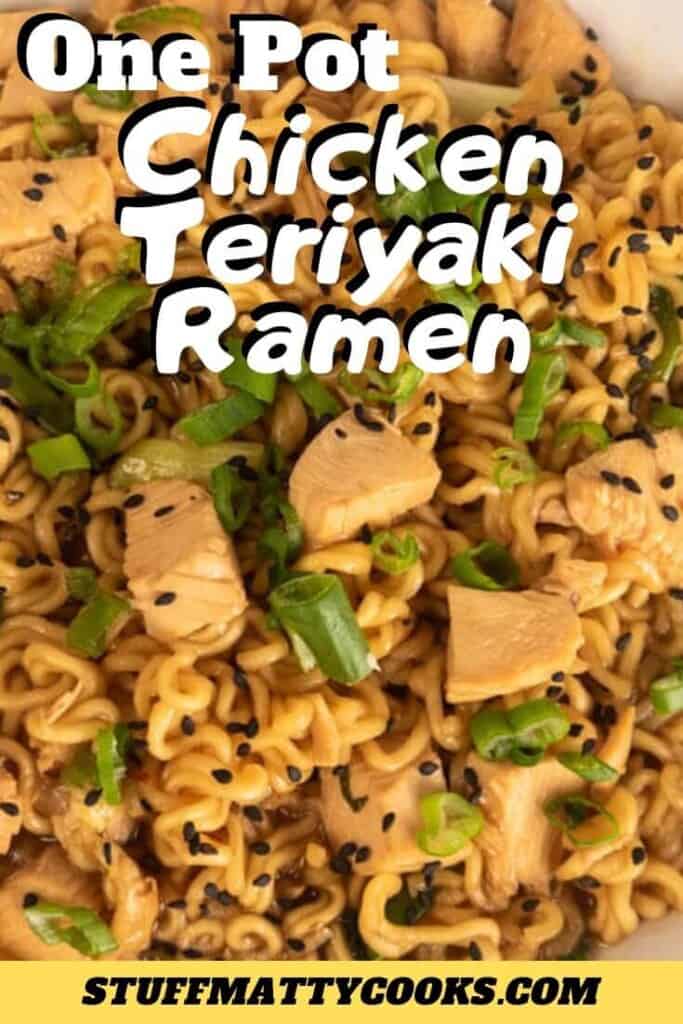 (Visited 4,655 times, 4 visits today)