I know not everyone likes brussel sprouts, but I am here to tell you that these Maple Bacon Roasted Brussel Sprouts are easy to make and delicious. There is something about the combination of maple syrup and bacon that makes everything special. these roasted brussel sprouts are sweet and salty and bursting with flavor.
The caramelization of brussel sprouts being roasted and the char flavor make these special, and that is one of the reasons this is one of my favorite roasted brussel sprouts recipes.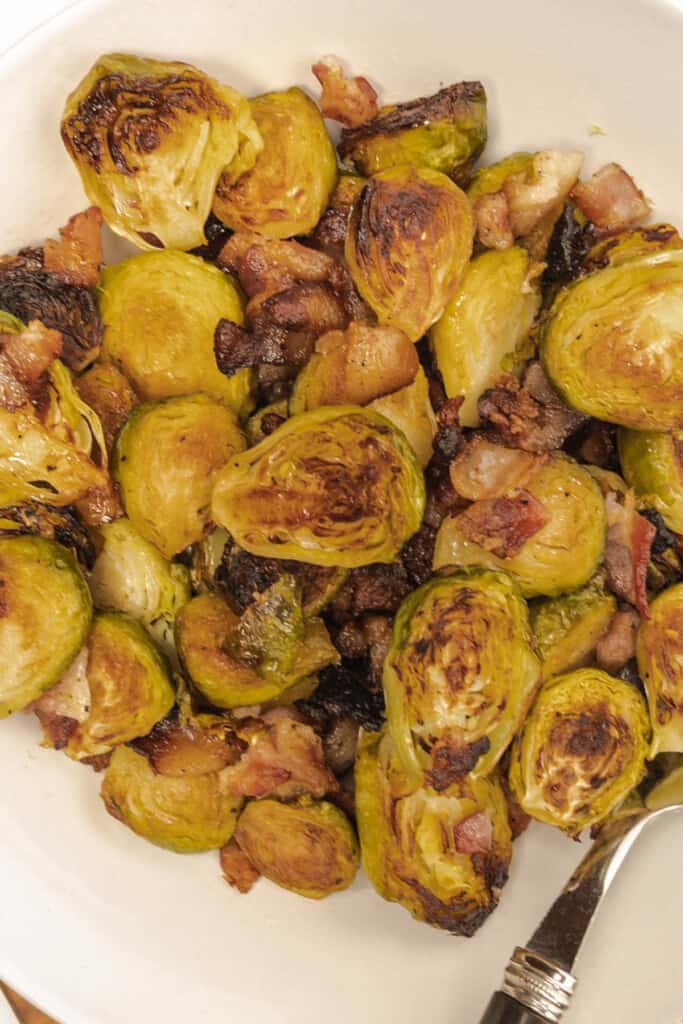 No matter how you feel when you hear the word "brussel sprout" I urge you to give these a try. I have converted some of the pickiest eaters with this roasted brussel sprouts recipe. recipe. I think my edge in getting people to try these is that they hear the words "maple syrup" and "bacon" and it tweaks their curiosity and they wonder if brussel sprouts with bacon and maple syrup are as good as they look.
These Maple Bacon Brussel Sprouts roasted in the oven make the perfect side dish for just about any meal. These are a great complement to any holiday meal. If you are in love with brussel sprouts don't forget to try my Steamed Cabbage recipe too.
Jump to:
Ingredients
One of the best things about this dish is that it is just a handful of common ingredients and it takes just a few minutes to prep and the brussel sprouts are ready to be roasted in the oven.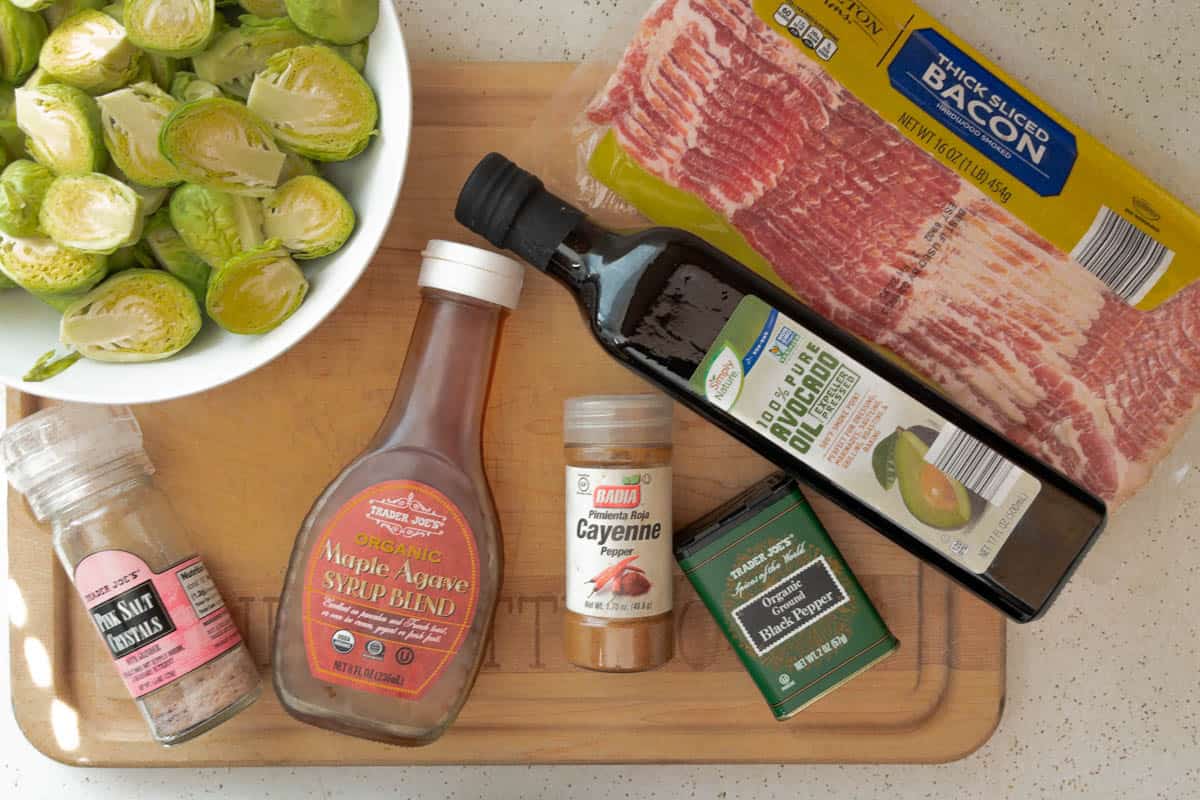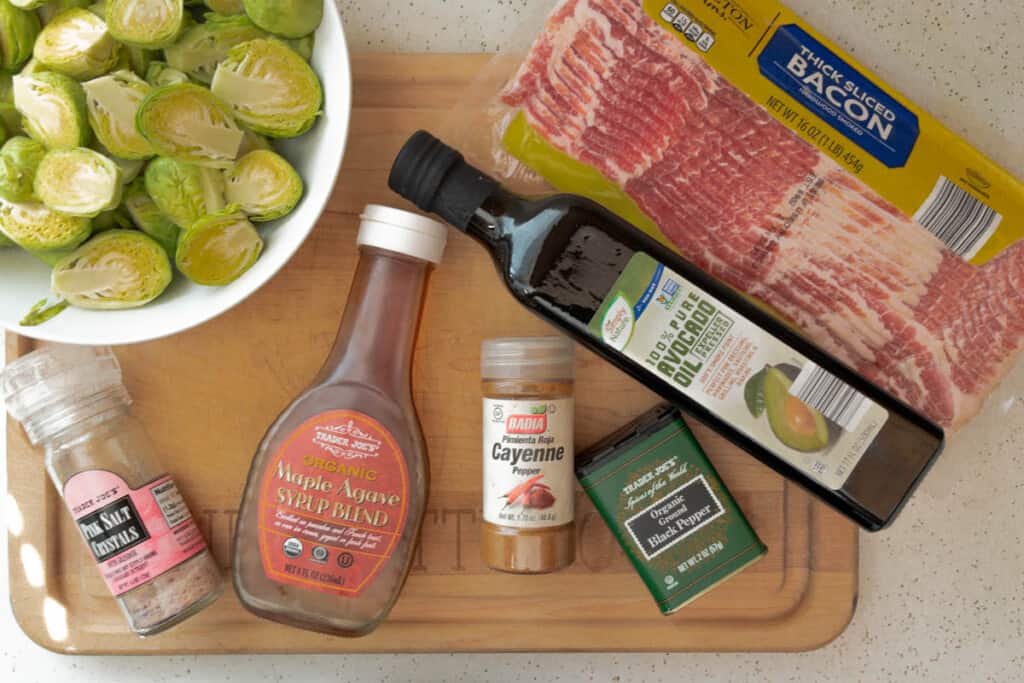 Brussel Sprouts (Make sure they are bright green when buying)
Thick Sliced Bacon
Maple Syrup
Avocado Oil or Olive Oil
Salt
Black Pepper
Cayenne Pepper (Optional)
Jump to recipe card for quantities.
How to Roast Brussel Sprouts
I am a complete lover of brussel sprouts. I especially love oven roasted brussel sprouts and I am going to show you how to get delicious brussel sprouts with just the right amount of charred goodness to balance out the sweet and salty flavor for a delicious side.
How to Trim Brussel Sprouts
Brussel sprouts can be made whole but I like them trimmed and cut in half to get the best results when roasting. Remove the bottom tough stem end from the bottom and peel away any outer leaves that are damaged.
Instructions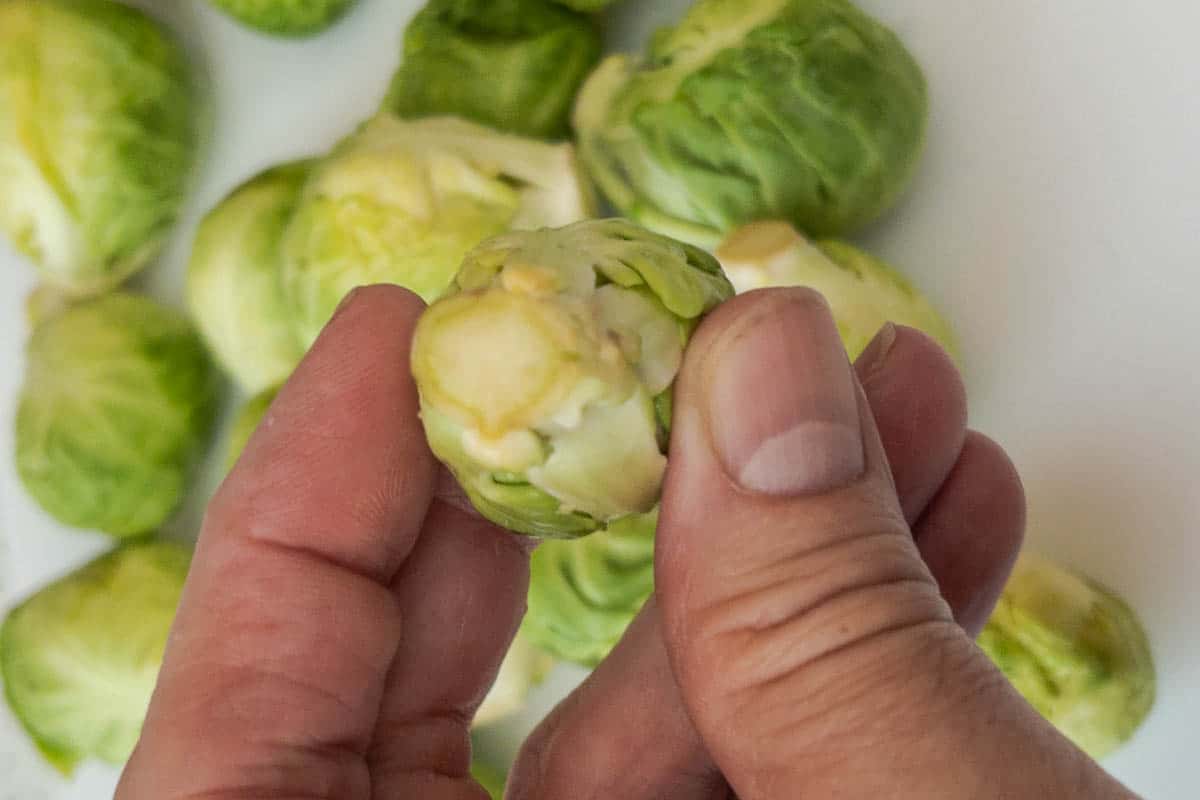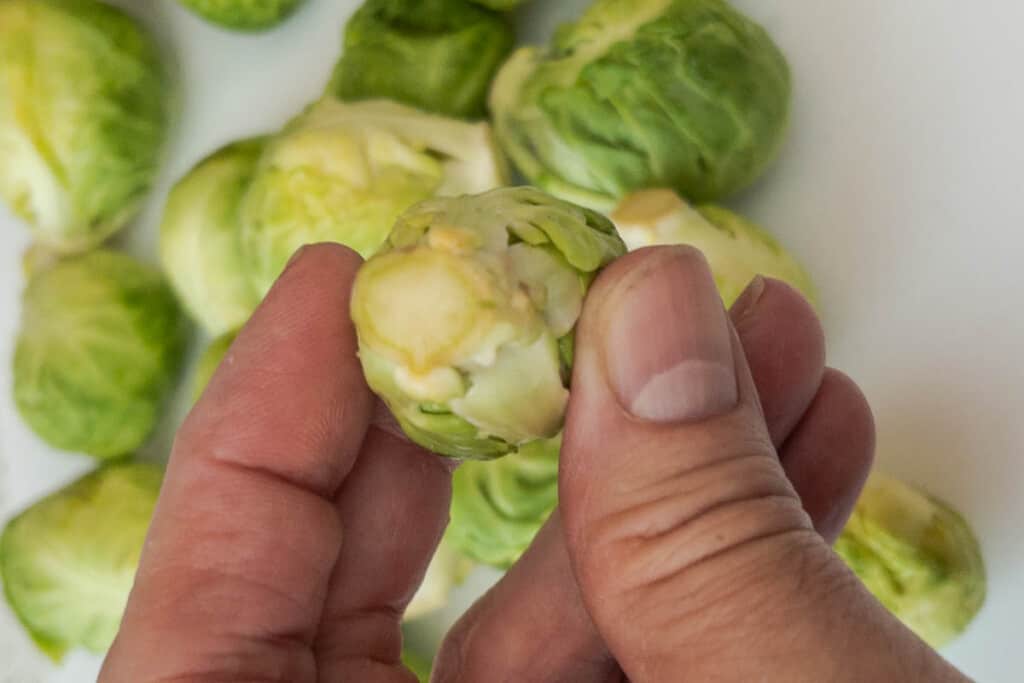 First, preheat your oven to 400 degrees Fahrenheit and place the rack in the middle position. Place rack on the upper level if you want them even more crispy. Trim the tough stem from the bottom and cut the brussel sprout in half. Repeat until done.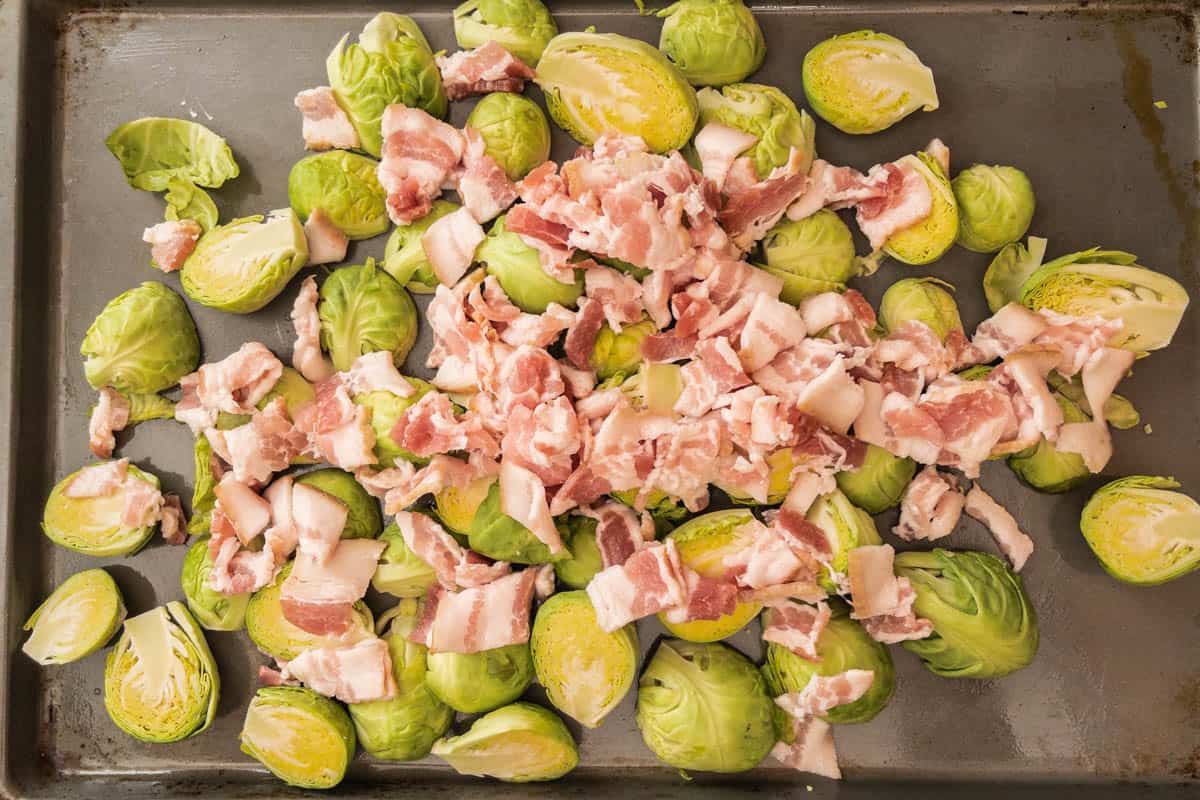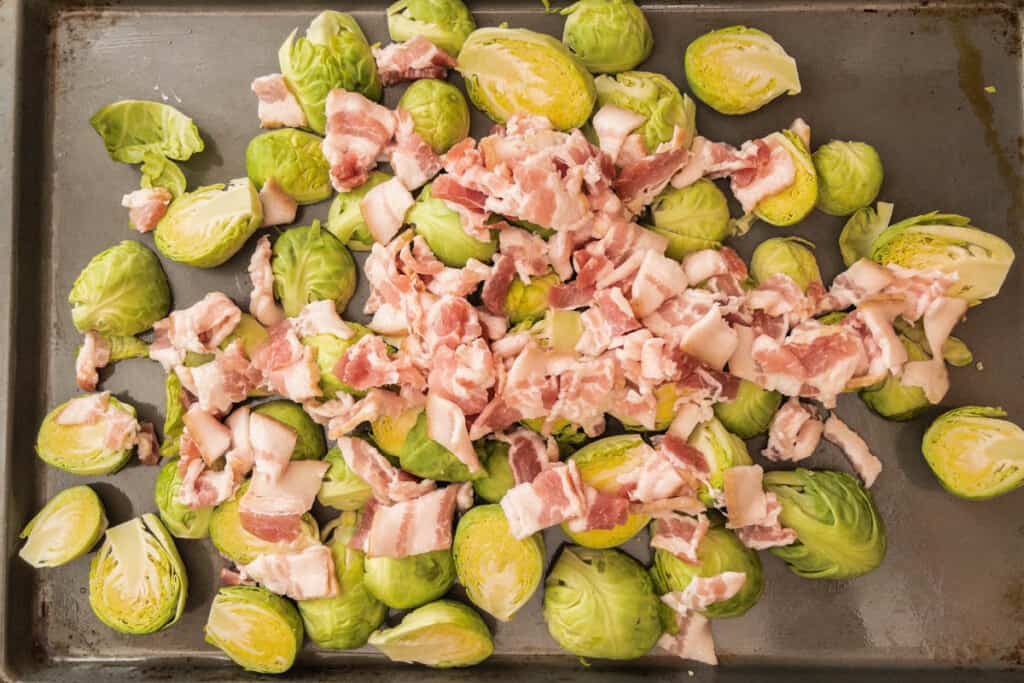 Cut bacon into 1/4 inch slices and place on top of brussel sprouts on a rimmed baking sheet. Drizzle with oil and season with salt, pepper, and cayenne pepper if using. Toss everything until coated well.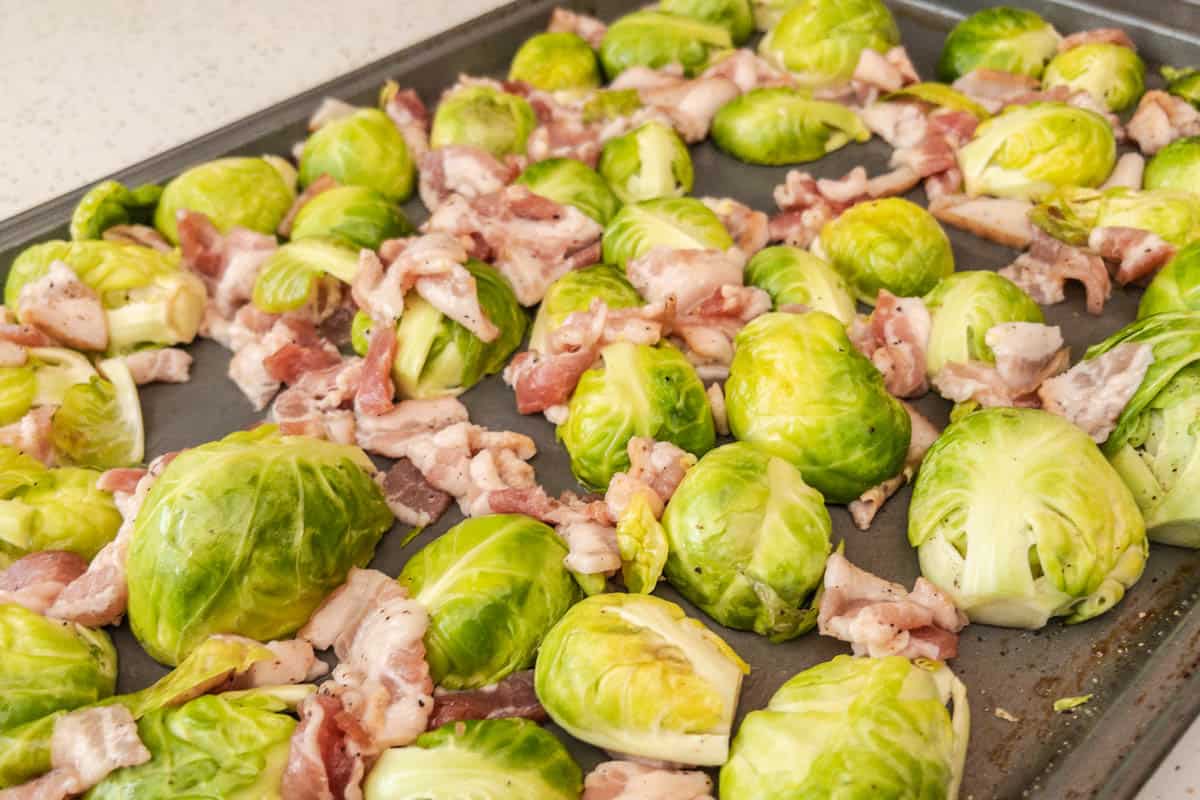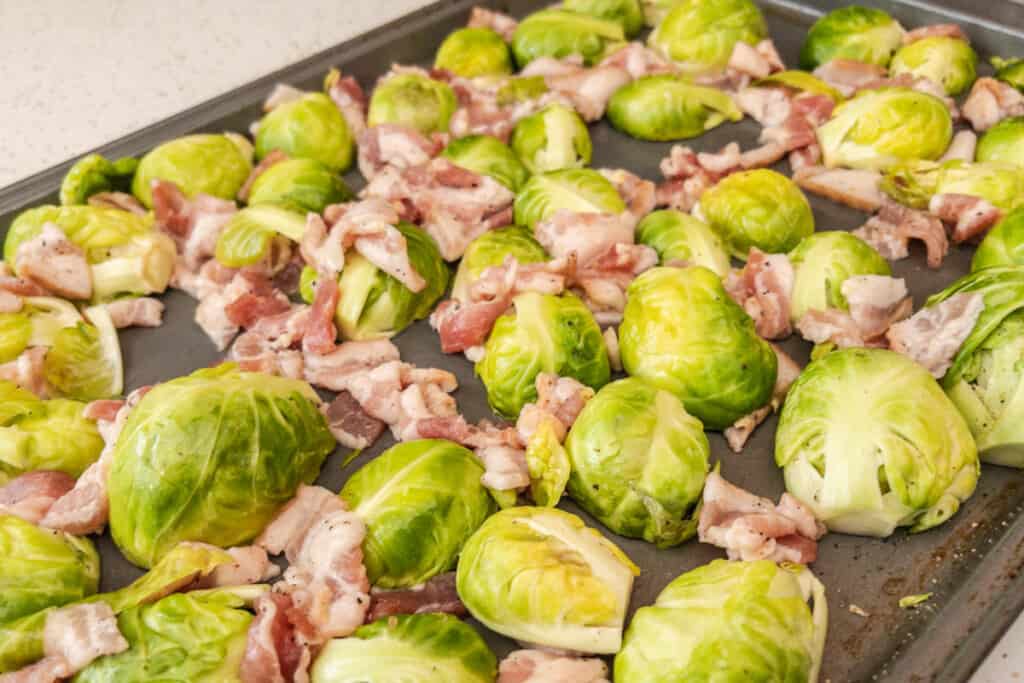 Turn sprouts cut side down. We want maximum surface area on the hot pan exposed to the high heat for caramelization. Try to get everything in a single layer.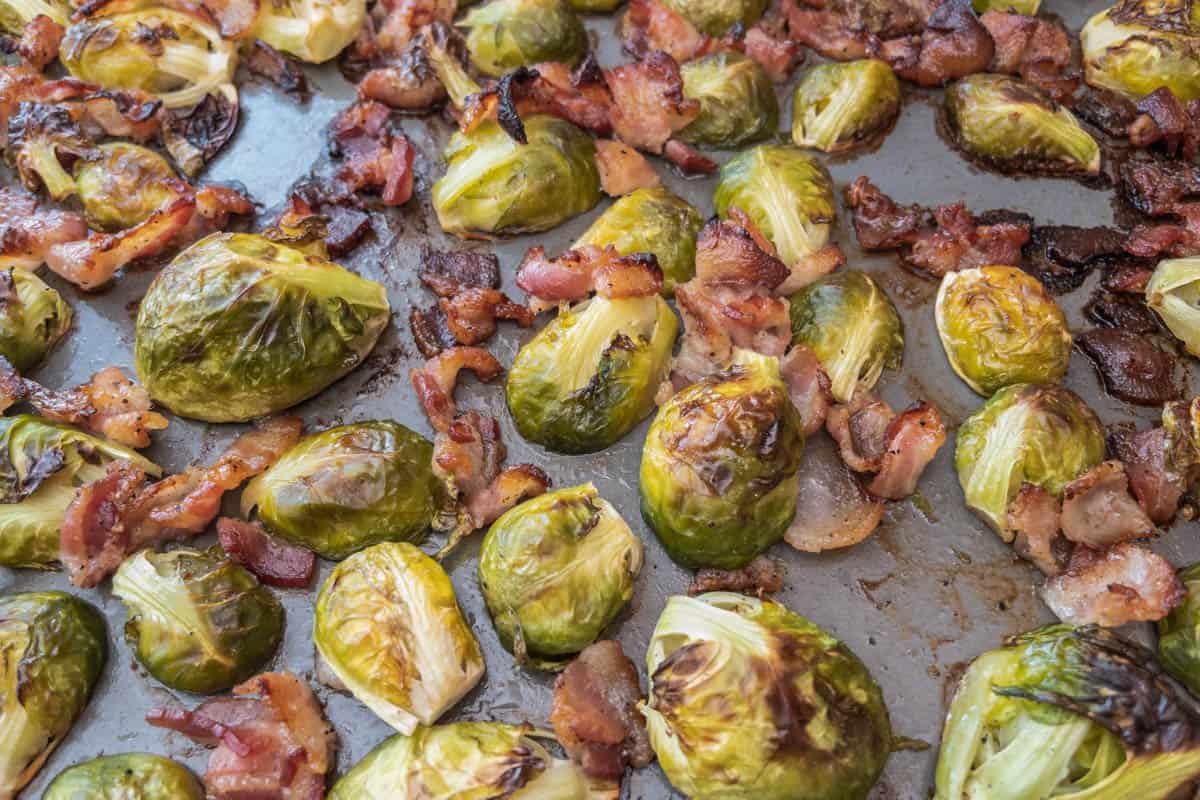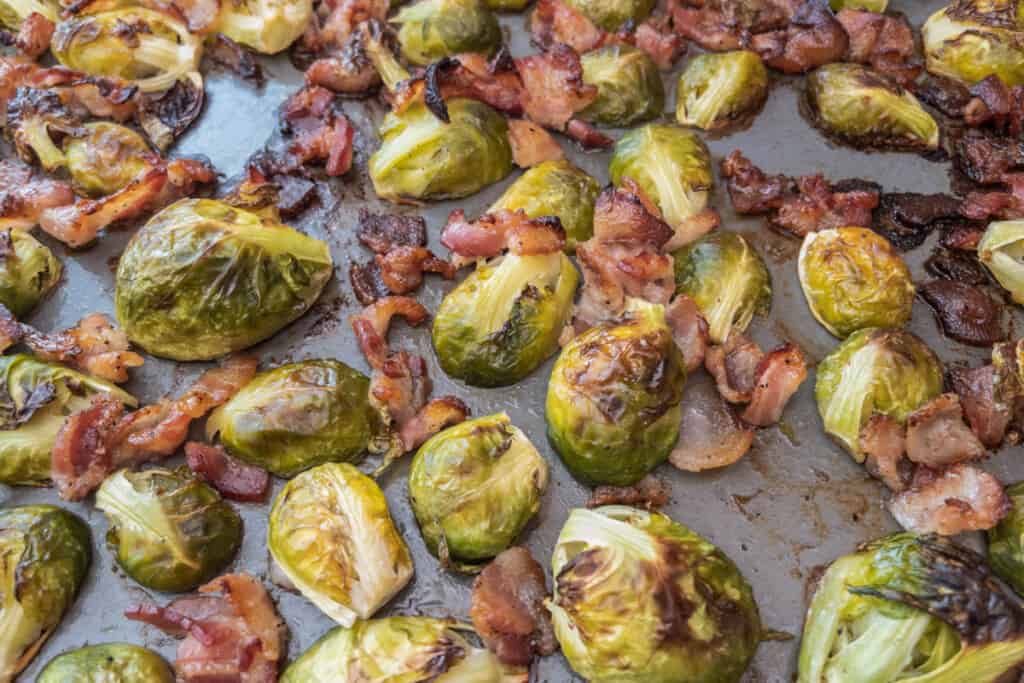 Place brussel sprouts in 400 degree oven and roast until brussel sprouts are charred and golden and cooked bacon is a bit crispy. This takes about 25 to 30 minutes.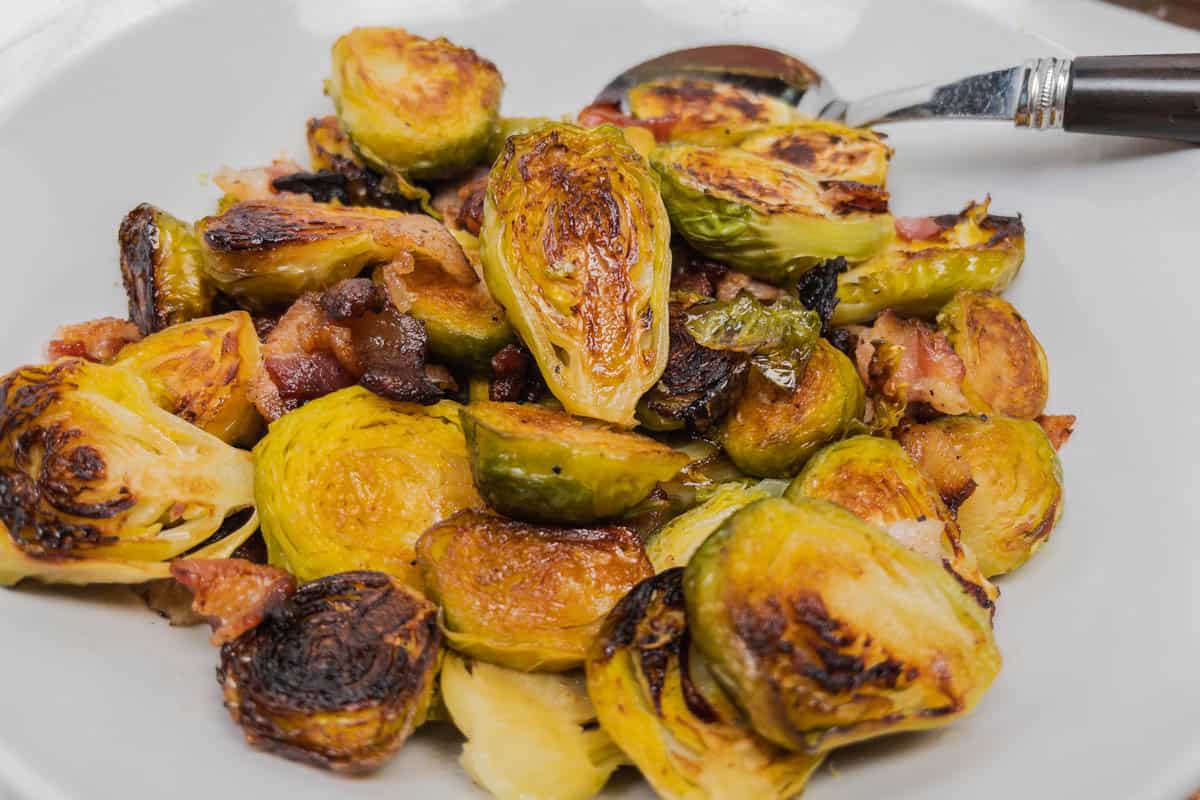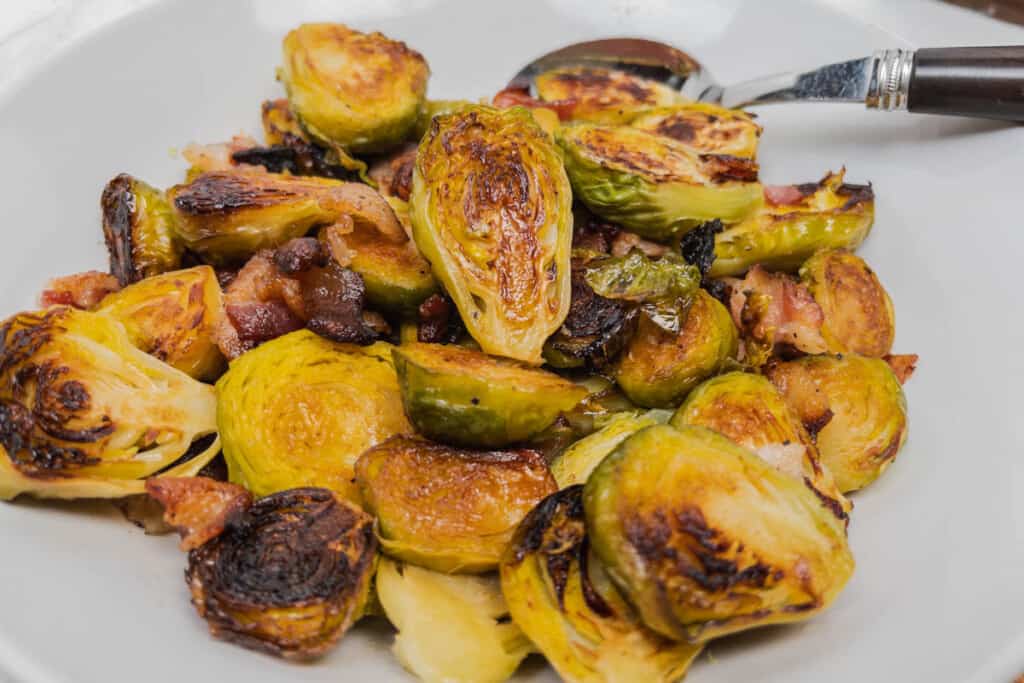 Brussel Sprouts are one of my favorite roasted vegetables. These come out great with the golden crust and a little bit of charring. I make these often for meal prep. Brussel sprouts are not only delicious they are healthy too.
Variations for Roasted Brussels
Make Them Spicy – add chili pepper flakes or cayenne pepper for a spicy kick.
Parmesan and or Balsamic Vinegar is a good variation. Try my Parmesan Brussels Sprouts for something different.
Equipment
I always list the equipment and other kitchen essentials that I use and love. I do earn a small commision on these items at NO COST TO YOU. Thanks for all of your support.
2-Piece Set, Rectangle Steel Sheet Pan
AmazonFresh Avocado Oil
Brussels Sprout Organic
Simply Organic Cayenne Pepper
Storage
Storing – Store brussel sprout in an airtight container for up to 4 days.
Reheating – Reheat in a 350 Degree Oven for 5 minutes until warm.
Brussel Sprouts Roasting Tips
Use a rimmed baking sheet and get the brussel sprouts on the baking pan in a single layer cut side down for maximum surface area contact to the pan. This assures good caramelization for both the brussel sprouts and crispy bacon pieces.

After about 20 minutes cooking time keep an eye on everything to prevent anything from burning. A little char is good but if it burns it will be bitter.
Recipes that Pair with Roasted Brussels
Oven Roasted Tri Tip
Bacon Wrapped Asparagus
Garlic and Parsley Potatoes (Instant Pot)
Instant Pot Ribs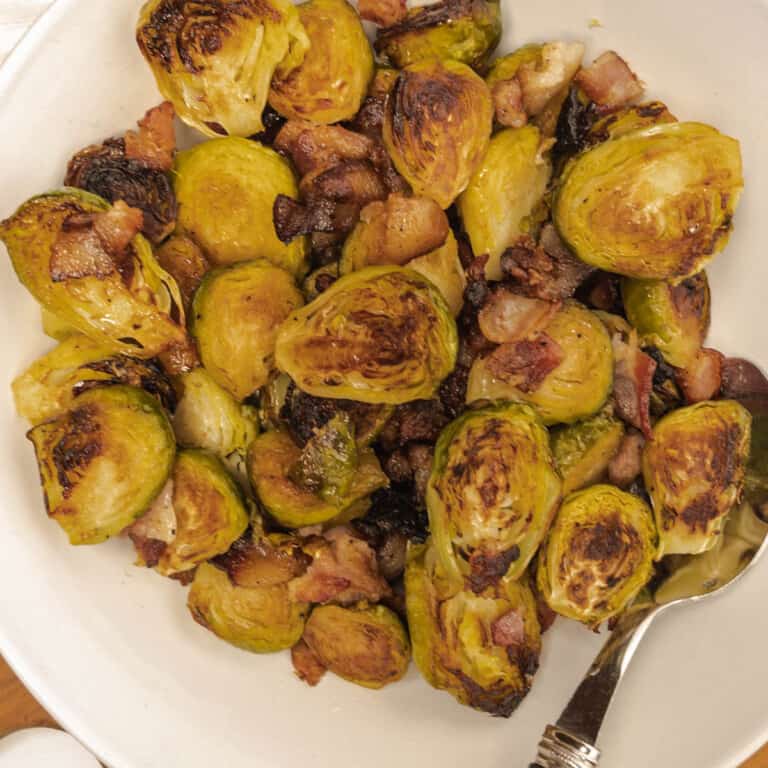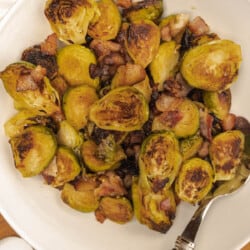 Maple Bacon Roasted Brussel Sprouts
Maple bacon roasted brussel sprouts are delicious. The sweet and salty combination creates a delicious side dish for any meal.
Print
Pin
Rate
Ingredients
1

Pound

Brussel Sprouts

5

Slices

Thick Cut Bacon

1

Tablespoon

Avocado Oil

1

Tablespoon

Maple Syrup

1/2

teaspoon

Salt 
1/4 tsp. Black Pepper
1/8 tsp. Cayenne Pepper
Instructions
Preheat oven to 400 Degrees Fahrenheit and place oven rack in middle position.

Prepare Brussel sprouts by removing stem end and cutting in half lengthwise. Repeat process until all Brussel Sprouts are done.

Cut slices of bacon into 1/4 inch slices crosswise.

Place Brussel Sprouts on oiled sheet pan. If you like you can foil the pan but great the foil a bit with whatever oil you are using.

Place sprout face down to get the best caramelization and color.

Place chopped bacon on top of sprouts and drizzle with avocado oil and maple syrup.

Season with salt, pepper, and cayenne pepper (if using).

Toss together the spices, sprouts and bacon until well coated.

Once everything is coated well turn the sprouts face down and distribute the bacon pieces evenly so they get good contact with the pan and caramelize.

Place in oven for 20 to 30 minutes. Check after 20 to see if you are getting good color n the sprouts and that the bacon is looking good. If more cooking is needed let cook full 30 minutes and enjoy.
(Visited 327 times, 1 visits today)