This classic easy candied pecans recipe has always been a favorite. Candied pecans are great as a snack, sprinkling on salads or sweet potatoes, or even ice cream.
Candied pecans are perfect for gift giving. This recipe for candied pecans is quick and easy. This recipe takes 10 minutes to make.
Candied pecans are a staple in our household. The holidays are the perfect time to eat these, but you can enjoy them all year round. Served with a sweet and savory cinnamon sugar spice mixture, these candied nuts are both sweet and savory. This is an old-fashioned recipe that I have been making for years and these pecans can be very addictive.
Jump to:
Ingredients Needed to Make Candied Pecans Recipe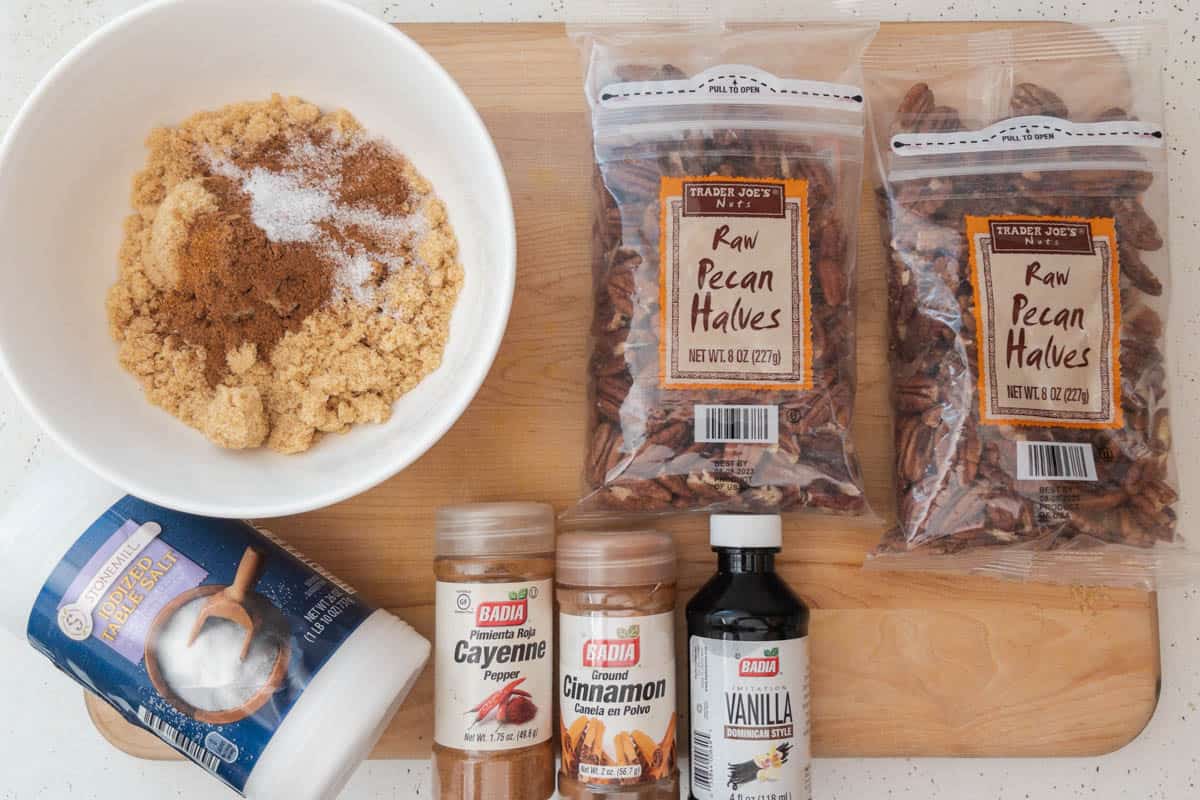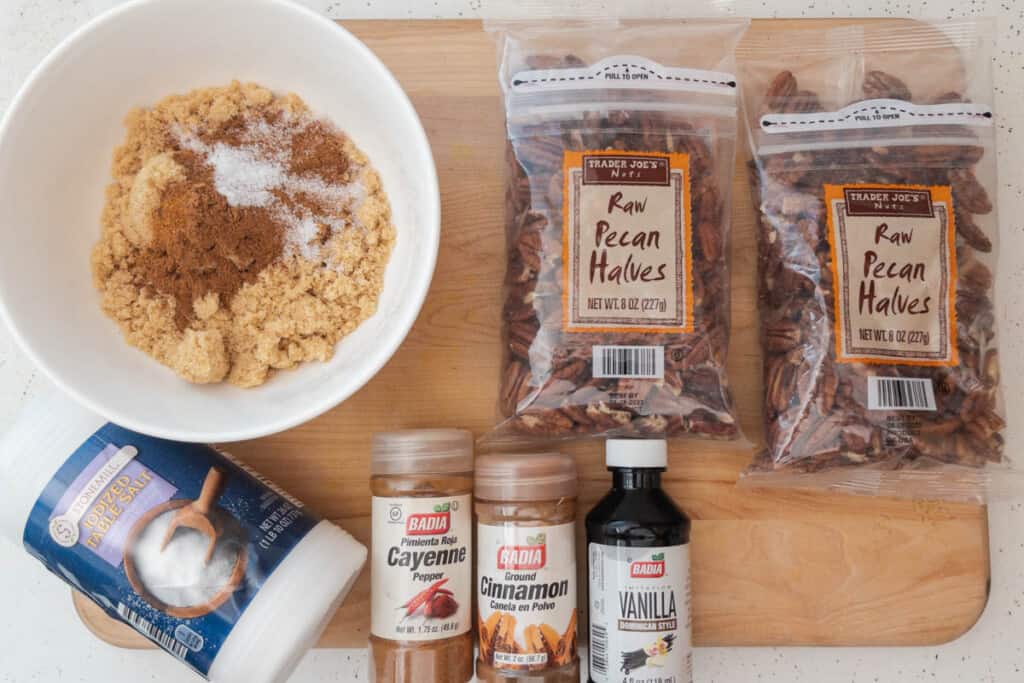 Trader Joes Pecan Halves (Use any brand you like)
Brown Sugar
Ground Cinnamon
Sea Salt (Fine Grind preferred)
Cayenne Pepper
Vanilla Extract
Maple Syrup (Optional for Drizzling)
See recipe card for quantities.
How to Make Candied Pecans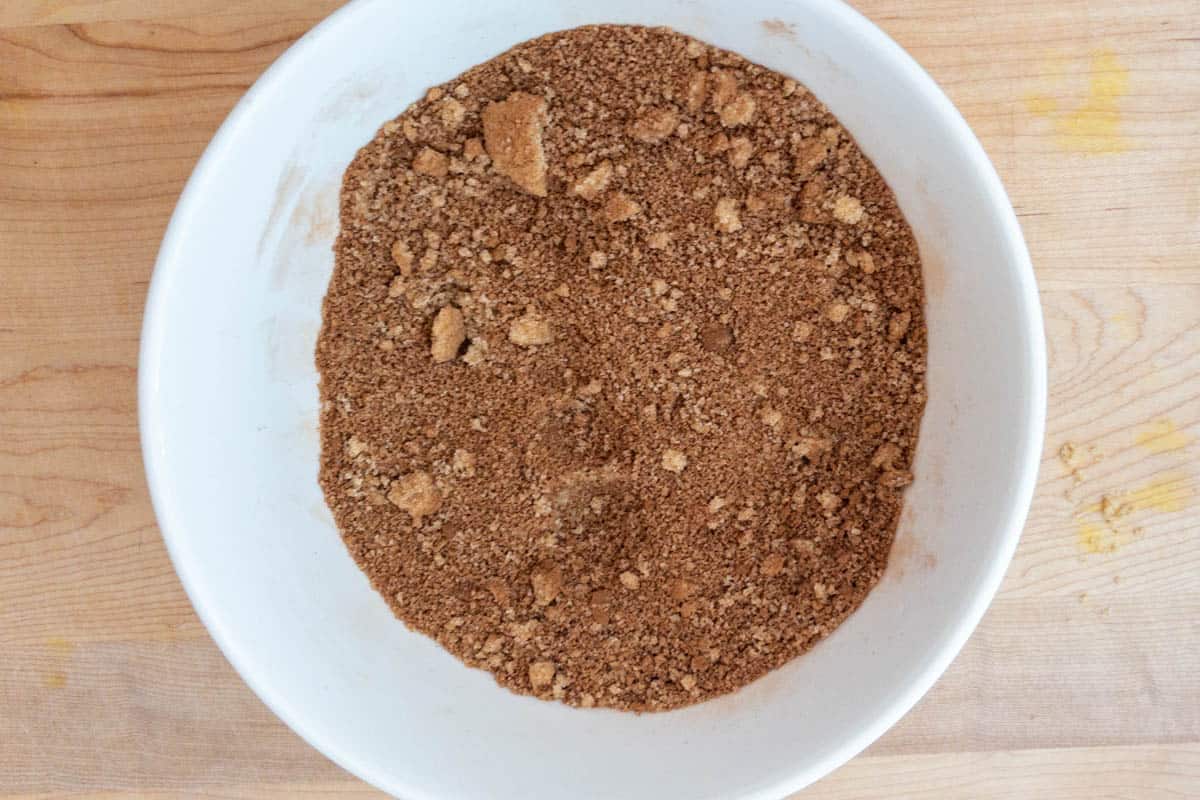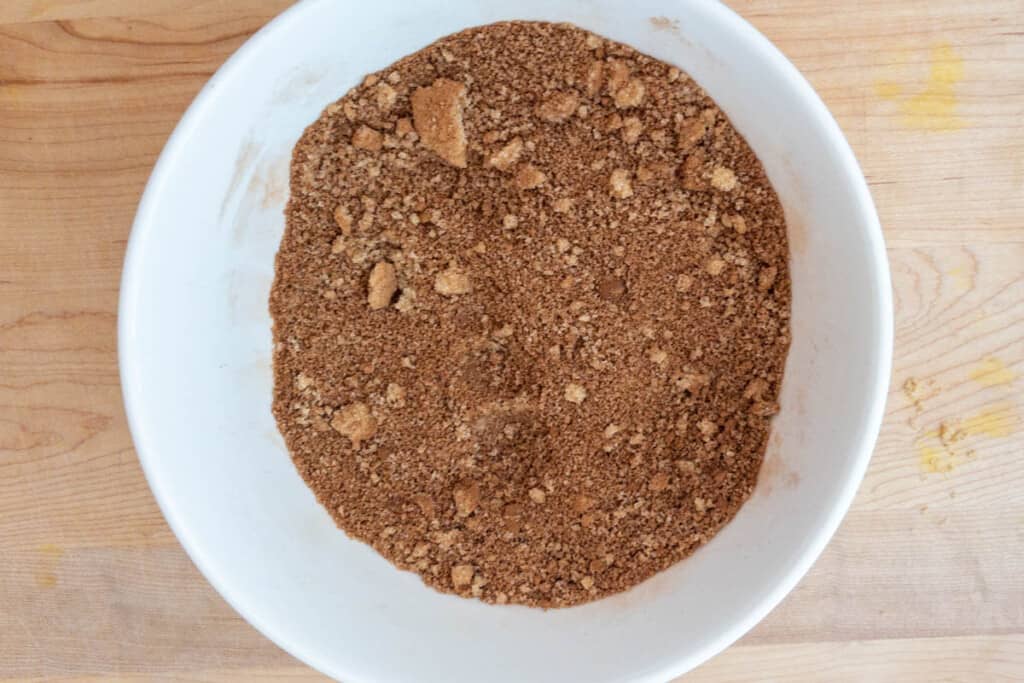 Combine brown sugar, cinnamon, cayenne pepper and salt in a large bowl. Mix well to combine.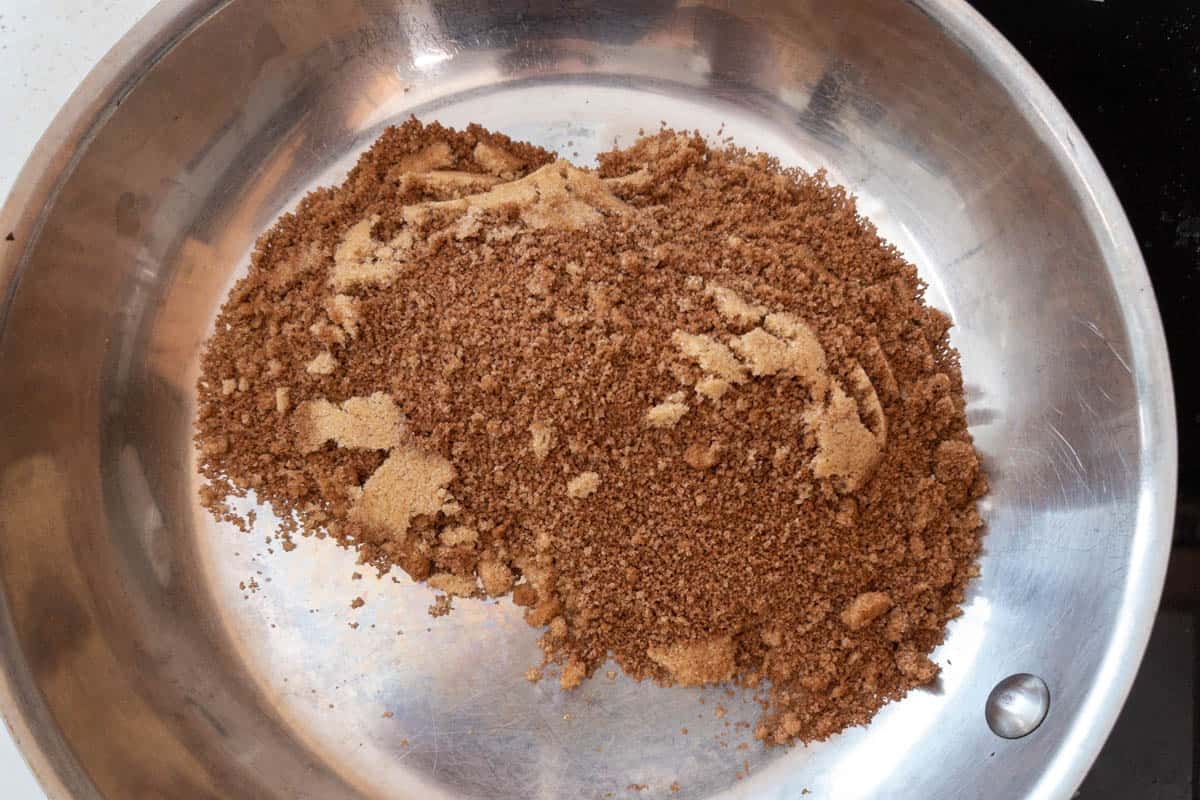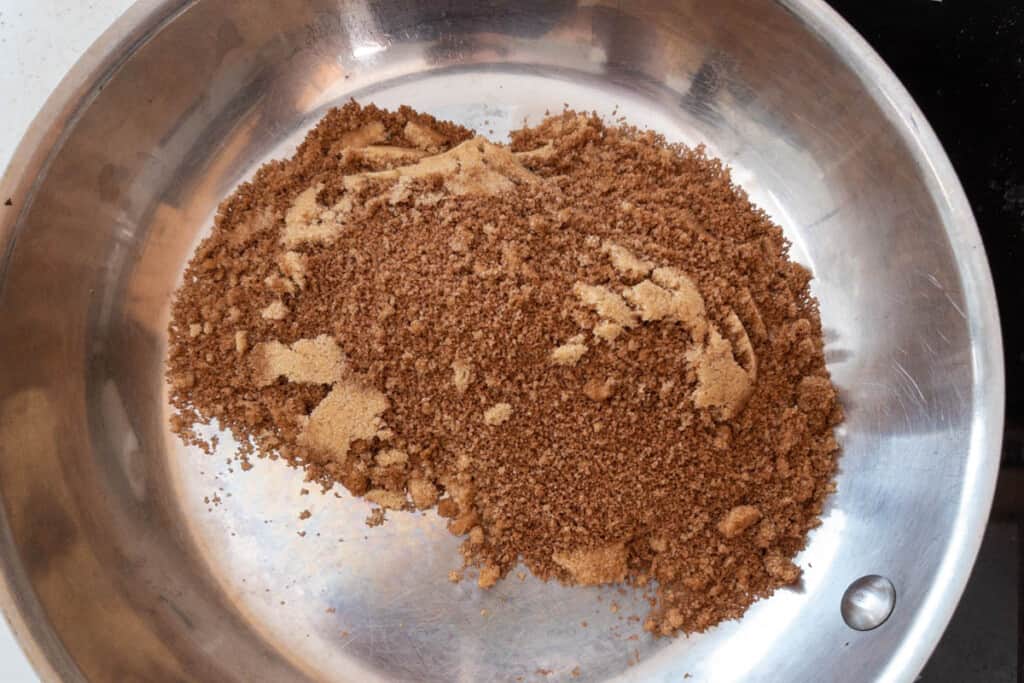 Preheat skillet on medium low heat. Add spice mix and water to pan stirring often.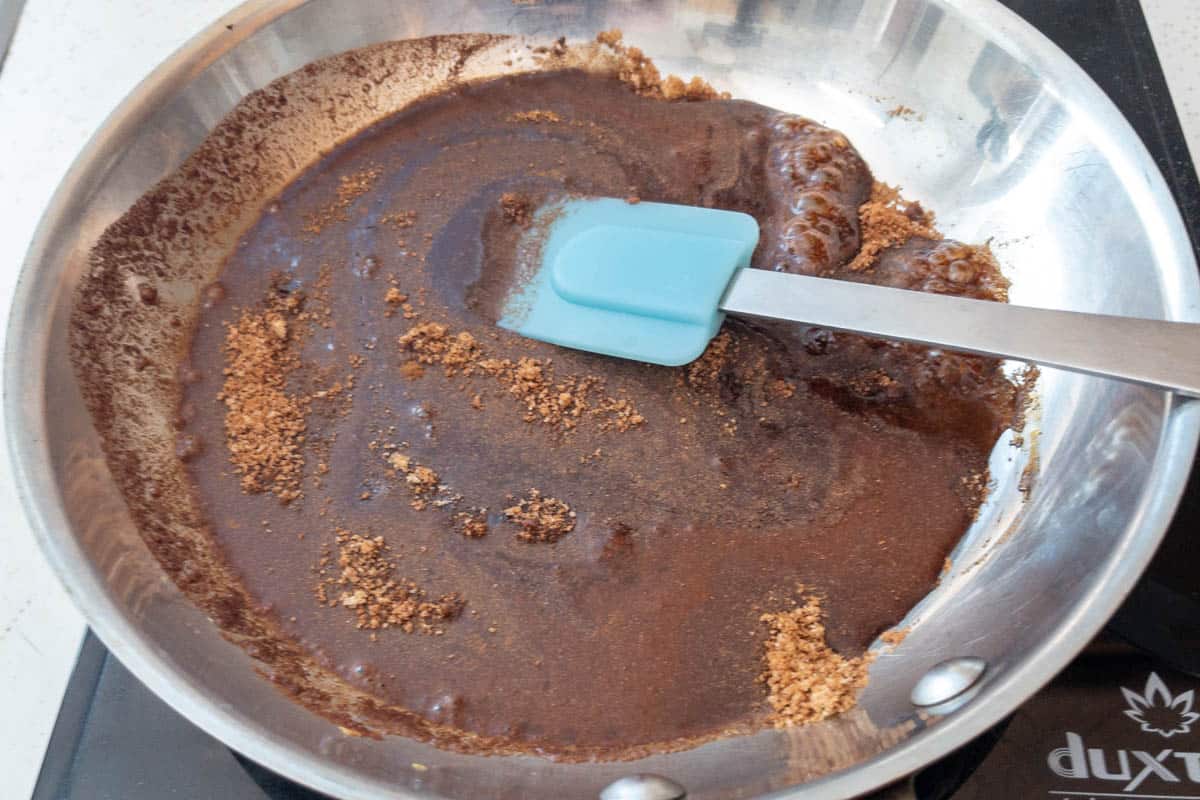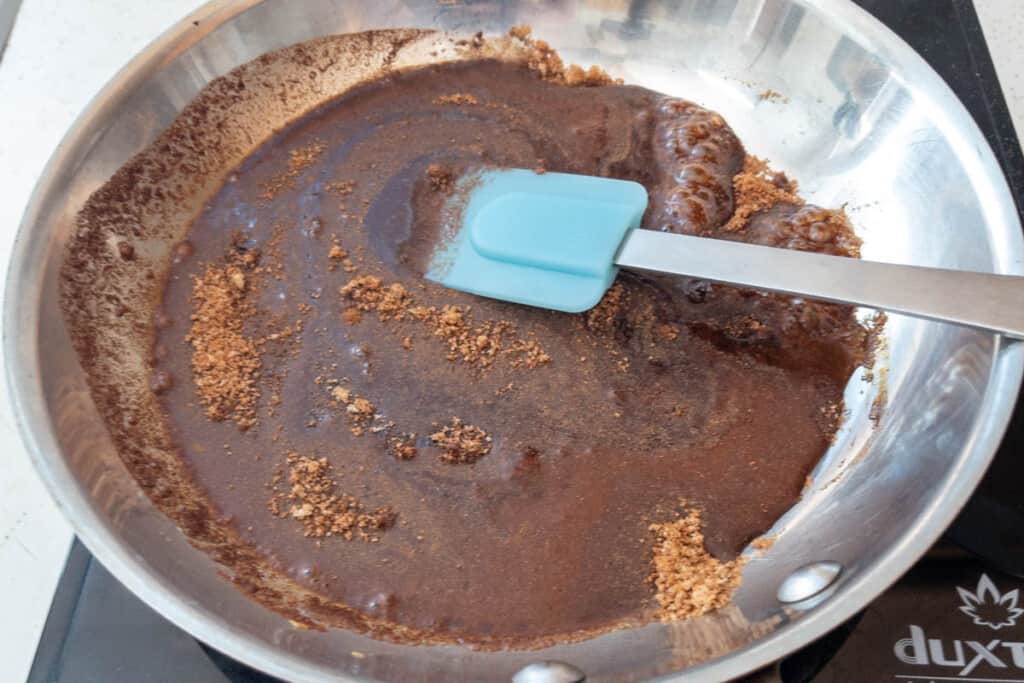 Stir the spice mixture often until water and sugar mixture begins to melt like the picture.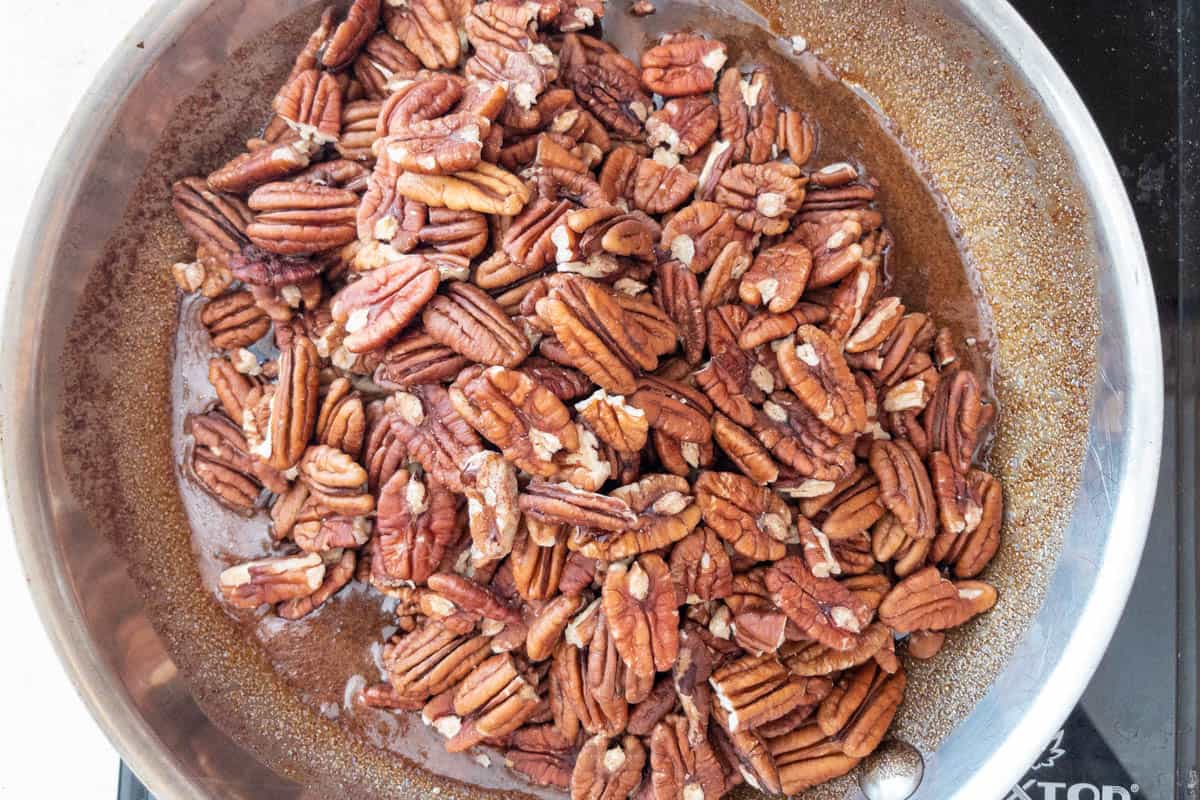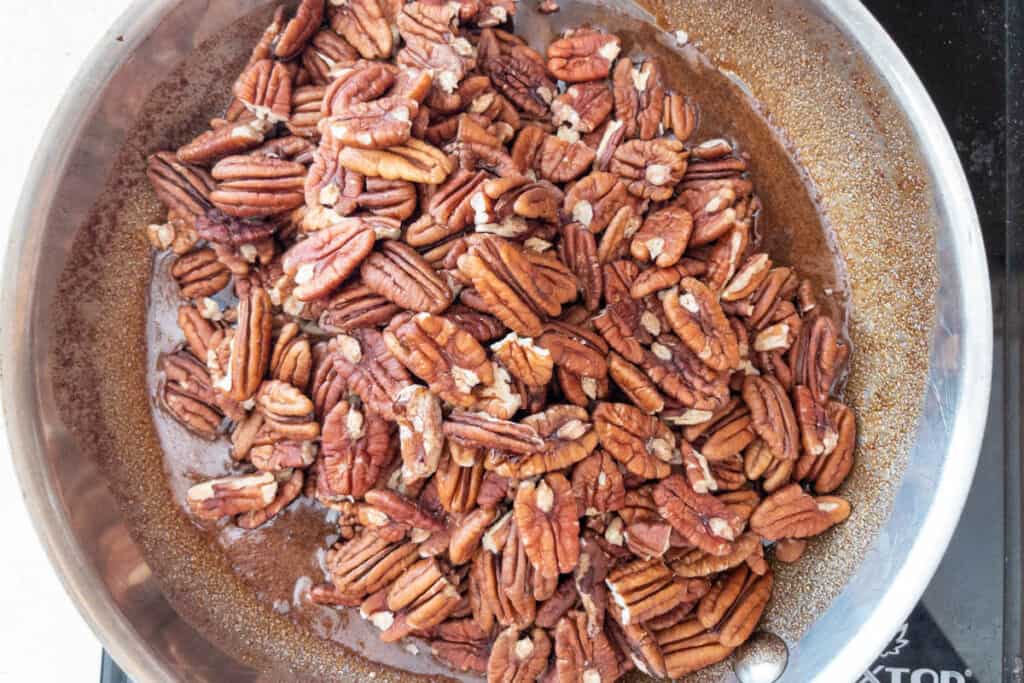 Add the pecans to the syrup mixture and stir to coat. Be careful as the candied pecans sticky coating can be messy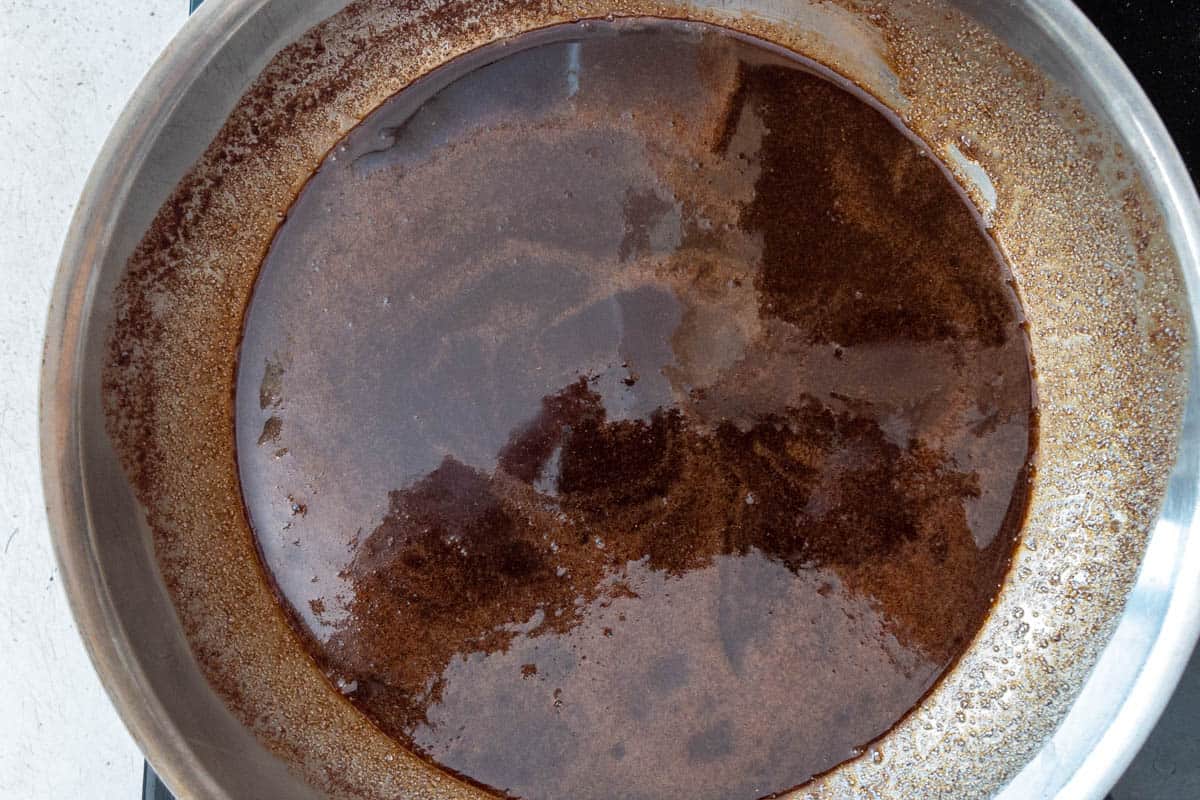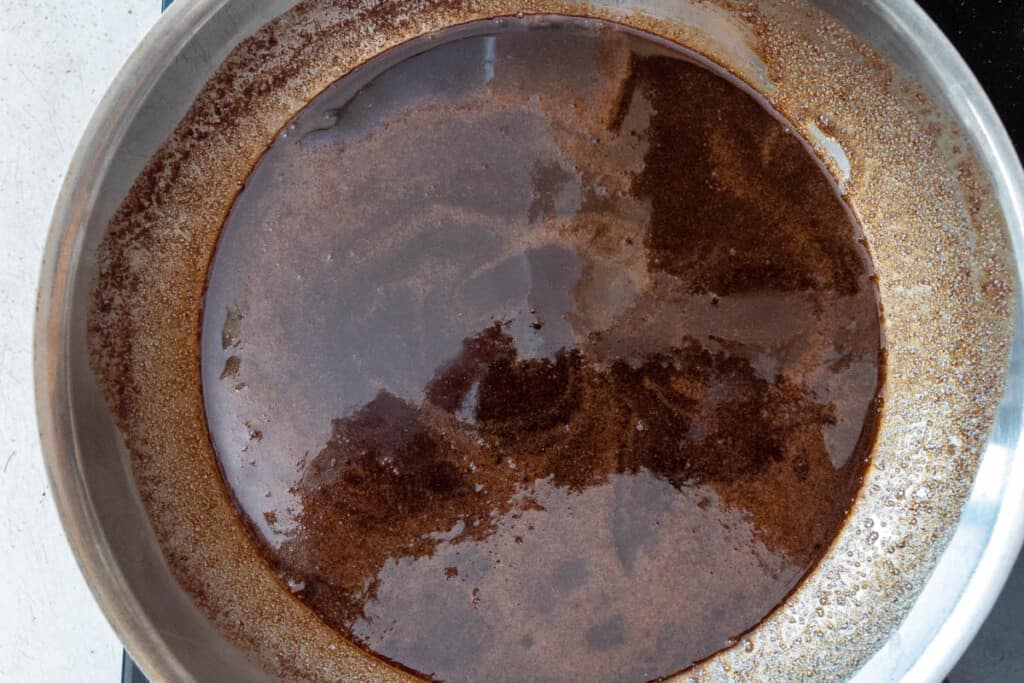 Mixture will turn into a thick syrup. Once syrup has formed add vanilla extract and stir to combine.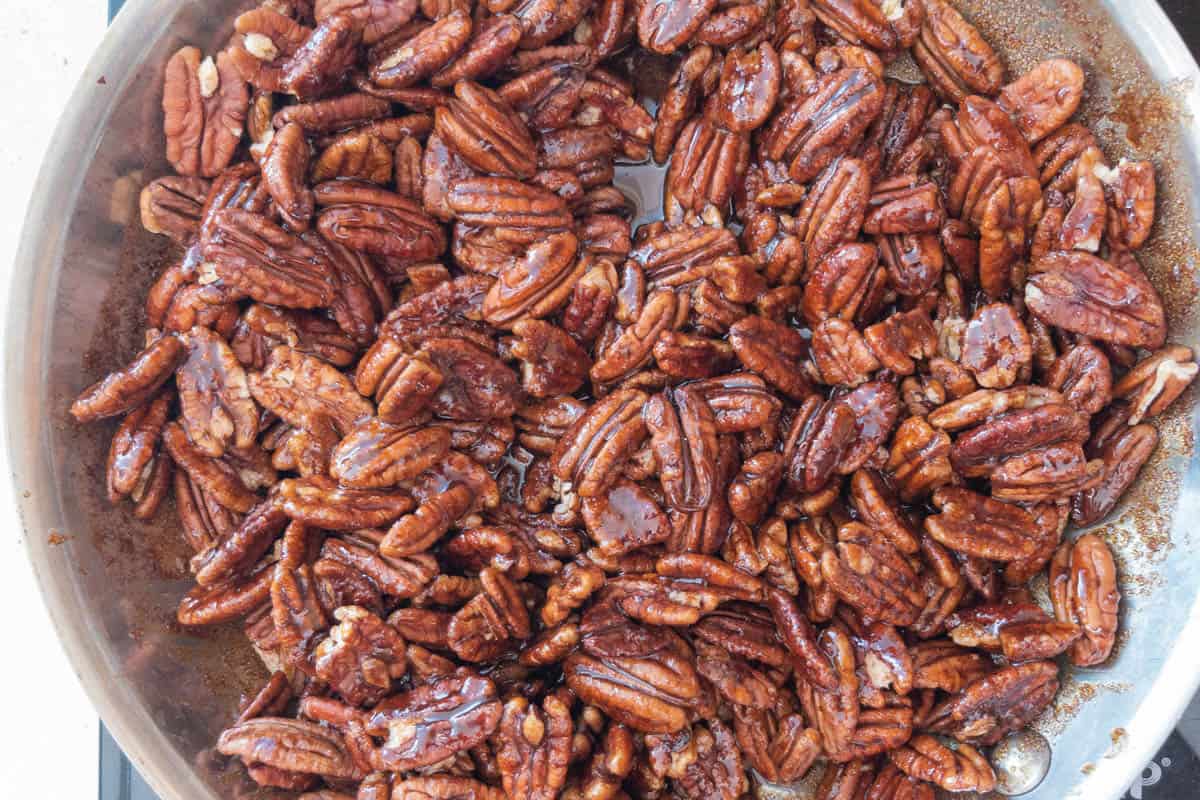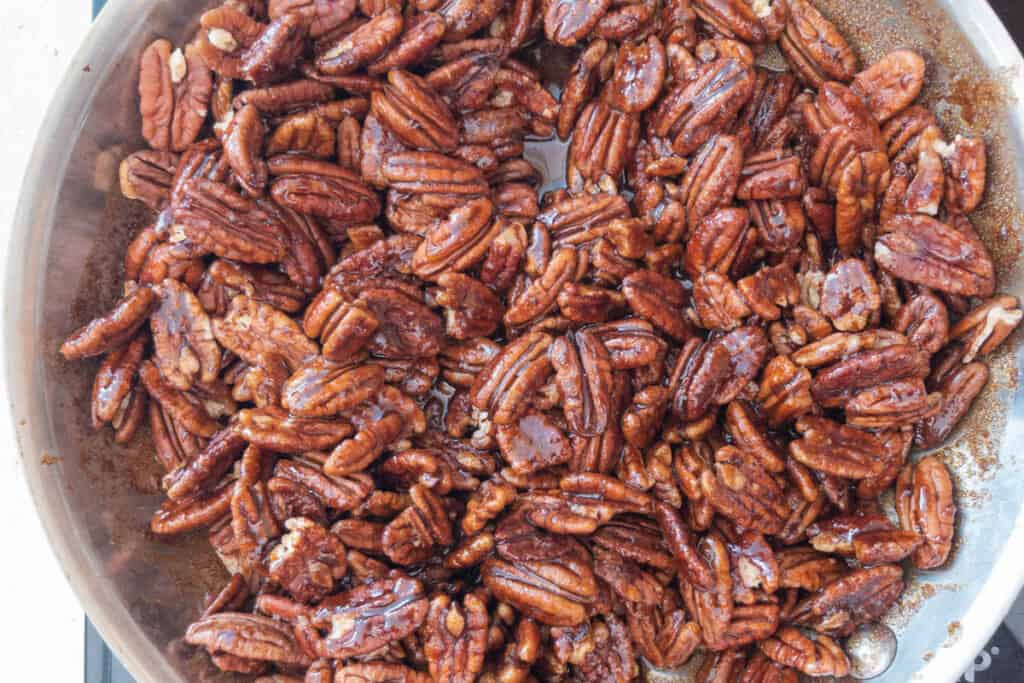 Continue to cook the pecans stirring often. At first, they will appear gritty. Cook the pecans until they become shiny. When they are shiny they are ready to be cooled.
Cool candied pecans on a baking sheet lined with parchment paper to prevent them from sticking. Spread the pecans out flat in a single layer making sure to not overlap them. too much.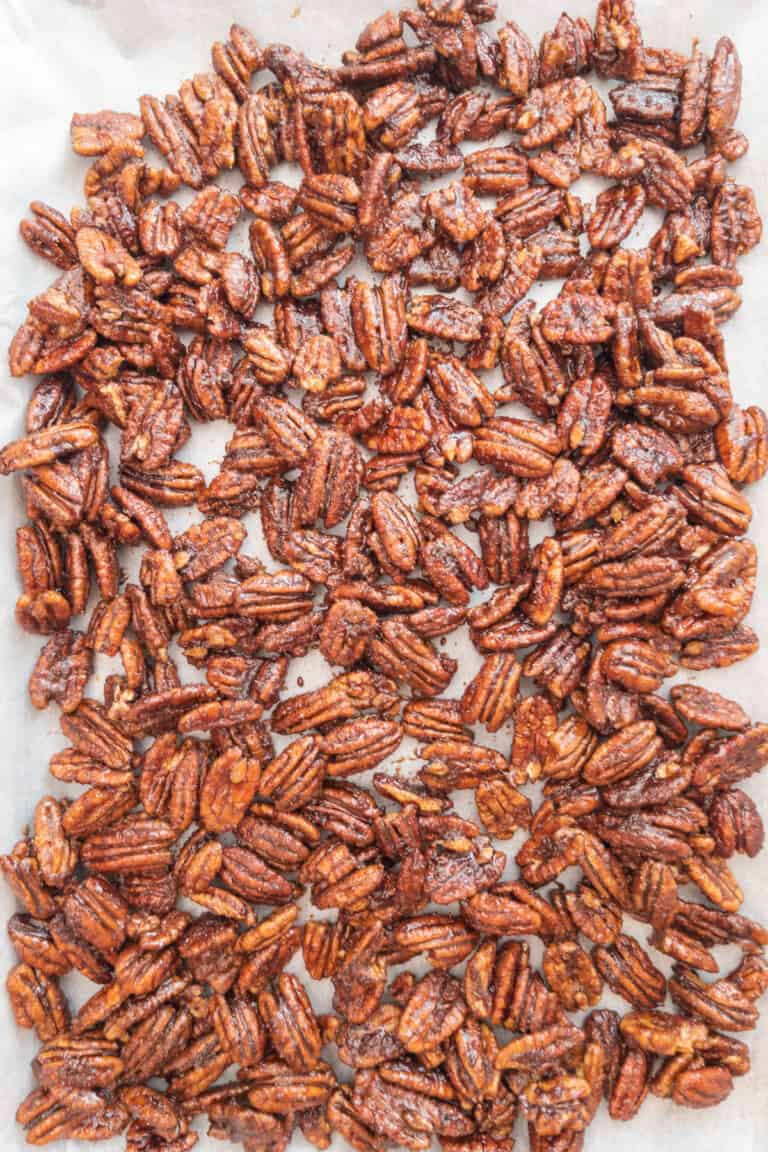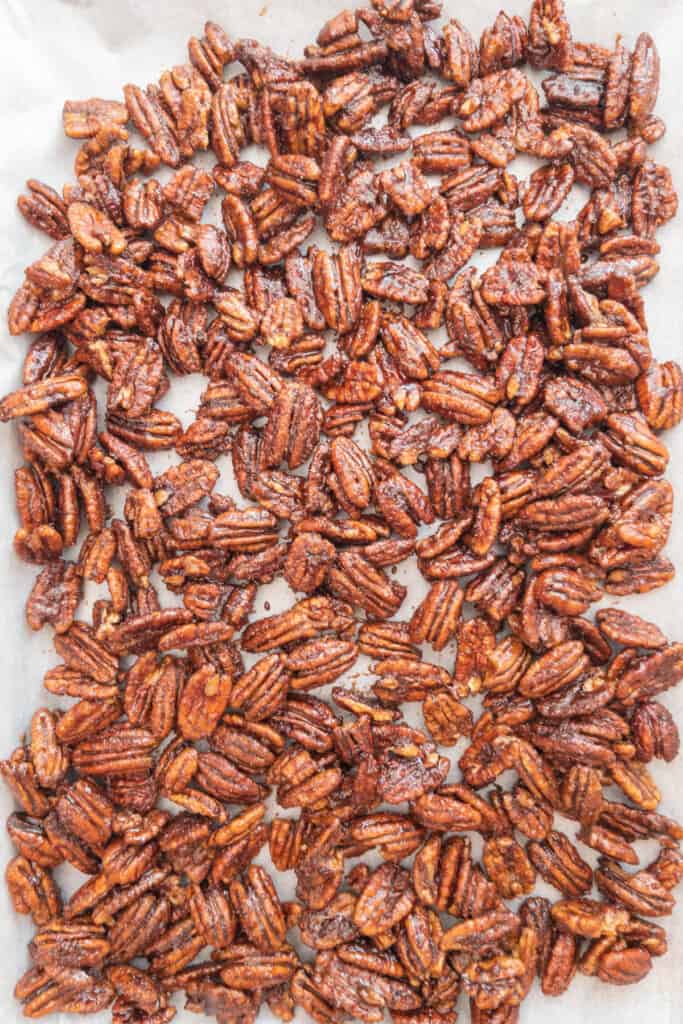 Allow the candied pecans to cool completely. It is during this process that the crunchy crusty yummy exterior is formed. Break apart the pecans and store them in an airtight container at room temperature.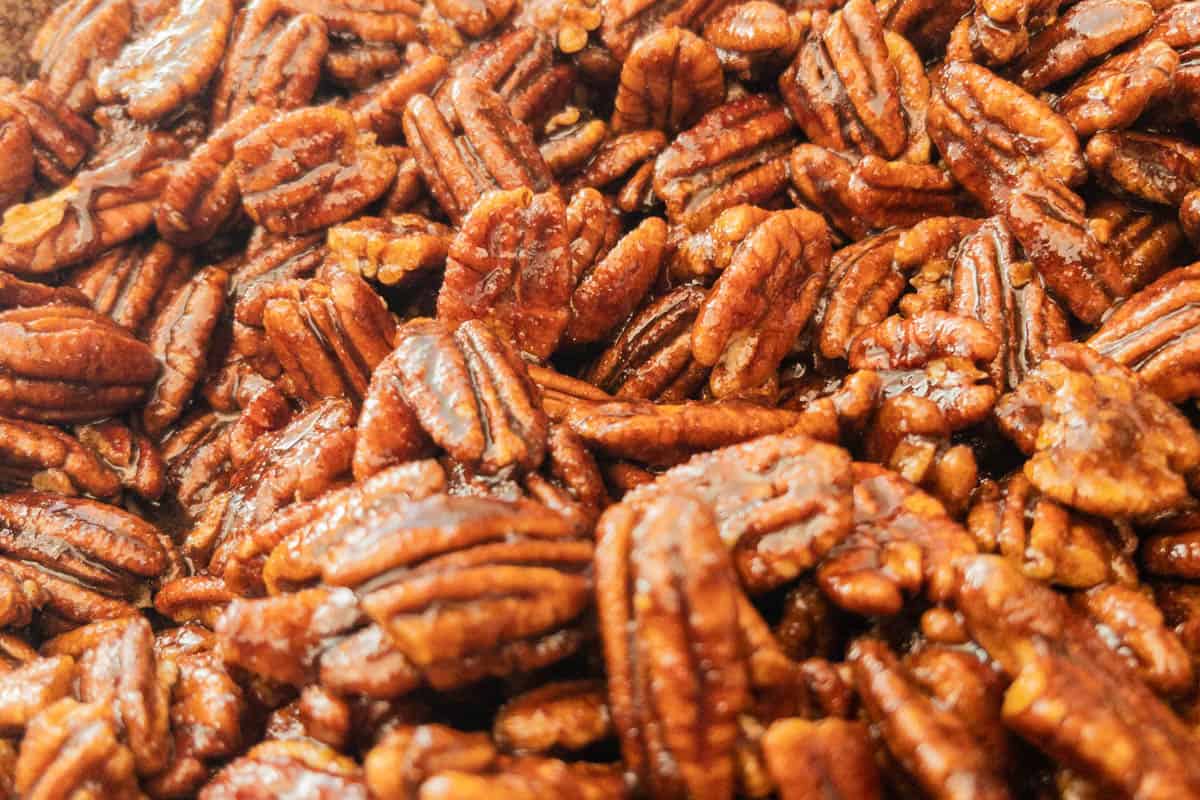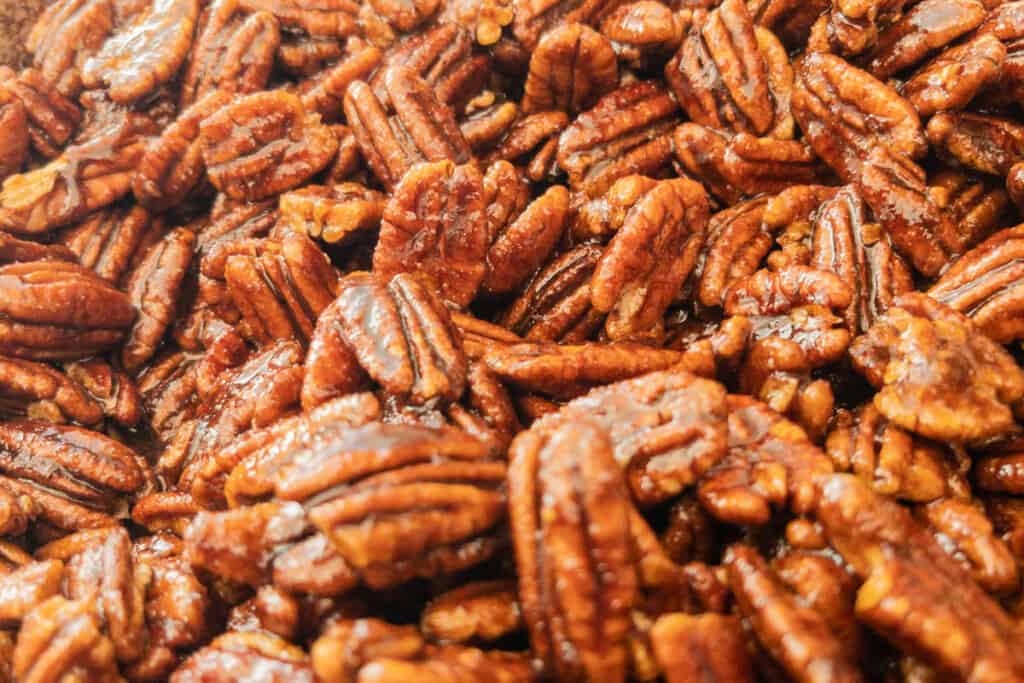 How to Serve Candied Pecans
Salads – These pecans are fantastic in salads. The texture and sweetness is great for a contrast to savory dressings.

Potatoes – These candied pecans are great on baked or roasted sweet potatoes. Great flavor and texture.

Ice Cream – Believe it or not these are fantastic on ice cream. I like them on vanilla.

Give as a Gifts – These pecans are a great holiday gift. I give them as gifts all year.
Variations
Maple Syrup – Maple Syrup can be added or substituted for a more natural approach to sweetness
Using Different Nuts – Different nuts can be used. Almonds, Walnuts, Pistachios, and even Peanuts. Make sure that whatever nuts you use that you start with "Raw Nuts" that are not previously roasted.
Make the Pecans More Spicy. Cayenne pepper is in the recipe already. Don't be afraid to double it if you would like more of a kick of heat.
Using Different Spices – Using some different spices is a great way to change up the flavor. I have used pumpkin pie spice, nutmeg, and even some fresh rosemary and they are all delicious. Get creative and try spices that you enjoy.
How to Make Candied Pecans in the Oven
I prefer making these pecans using my above skillet method. I feel it is easier to do. Although I like to include different cooking methods.
Preheat the Oven to 300 Degrees Fahrenheit.
Line a baking sheet with parchment paper to prevent sticking.
In a large bowl make the spice rub for the nuts.
In a separate bowl mix one egg white with a Tablespoon of water.
Toss the pecans in the egg white and water mixture.
Add the spice rub to the pecans and toss to coat well.
Spread pecans in baking sheet in a single layer and bake for 20 minutes.
Remove pan from oven and stir the pecans to make sure that they brown evenly. Cook the pecans and additional 20 minutes.
Equipment Used in Candied Pecans Recipe
Fisher Pecan Halves, 24 Ounces, Unsalted
Simply Organic Ground Ceylon Cinnamon, Certified Organic
365 by Whole Foods Market, Vanilla Extract Organic
Unbleached Parchment Paper for Baking
365 by Whole Foods Market, Sugar Light Brown Organic
Amazon Brand – Happy Belly Cayenne Red Pepper, Ground
Storage
Store candied pecans in an airtight container. They last about 1 week at room temperature. Store them in the refrigerator for up to 3 weeks.
Pecans can also be frozen. Store in an airtight container in the freezer for up to 2 months.
FAQ
Are Praline Pecans the same as candied pecans?
Praline Pecans are just one variety of candied pecans. They have a crispy coating and are sometimes called flavored pecans
Are Candied Pecans Gluten Free
As long as the variety being made does not contain flour they are gluten free.
Why did my Candied Pecans come out sticky?
If your pecans are sticky, it means the sugar didn't get hot enough to create a hard, brittle coating. Electric stoves tend to have less heat power than gas stoves. If you're using an electric stovejust cook the nuts for a few minutes longer and they will turn out perfect.
Can this recipe be doubled?
Yes! This recipe can be doubled. Just make sure that you have a large enough skillet to hold the amount of nuts you are making.
Other Recipes to Enjoy
Air Fryer S'mores
Green Beans in the Air Fryer
Turkey Legs in the Air Fryer
Easy Vegetable Broth in the Instant Pot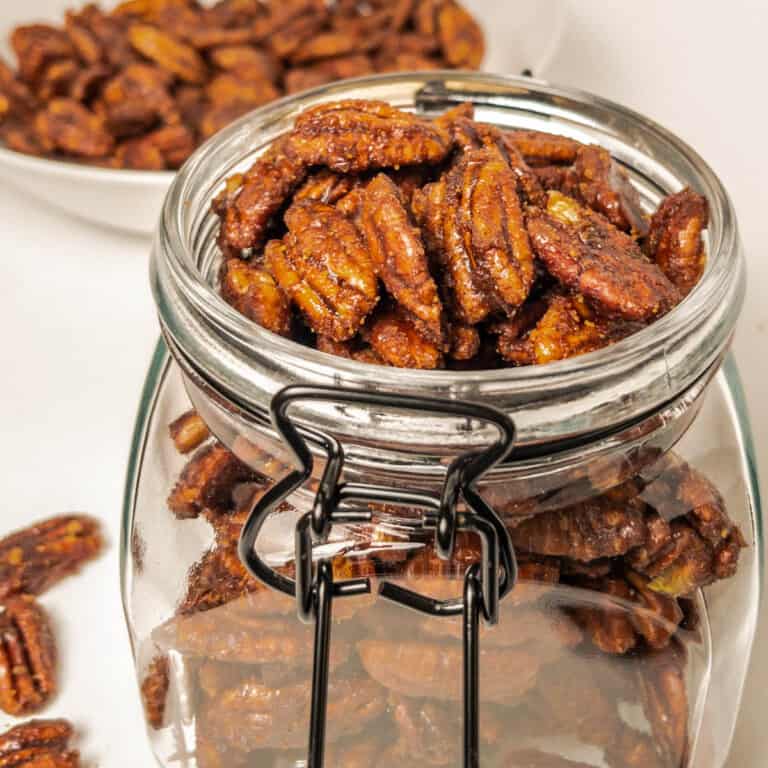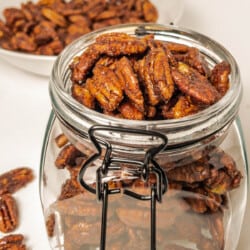 Candied Pecans Recipe
Candied Pecans are easy to make. They are delicious as a snack or served in a salad. Quick and easy 10 minute recipe. Candied pecans also make a great gift.
Print
Pin
Rate
Ingredients
16

oz.

Trader Joes Pecan Halves (2 bags(

3/4

Cup

Brown Sugar

3

tsp.

Ground Cinnamon

1

teaspoon

Salt

I use fine sea salt

1/8

tsp

Cayenne Pepper

Just a Pinch

1

tsp.

Trader Joes Vanilla Extract

3

Tbsp.

Water

1

Tbsp.

Maple Syrup for drizzle

Optional
Instructions
In a large bowl add Brown Sugar, Cinnamon, Cayenne Pepper and Salt. Mix well until everything is combined.

Preheat skillet on Medium Low heat. Add Spice mix to pan with water stirring often.

Spice mix will begin to melt and look like thick syrup. Add vanilla and stir to combine well.

If adding Maple Syrup which is optional now is the time. I skip it sometimes.

Stir mixture to combine well. Add Pecans.

Stir Pecans and syrup mixture to combine and coat the pecans. Keep an eye on temperature of pan as to not burn mixture.

Stir often cooking pecan mixture. Cook until pecans are no longer "gritty" We are looking for a glossy shiny texture.

When pecans are glossy they are done. Spread pecans on parchment lined baking sheet in single layer and let cool completely. When cool break apart pecans and enjoy.
Notes
Most of the time I skip adding the maple syrup. I suggest you try it both ways and see how you like them. Sometimes I'm in the mood for something even sweeter so I add the maple syrup.
Keep an eye on the heat level of your pan keeping in mind not to burn the sugar mixture. Burn sugar is bitter and undesirable. If pan gets too hot lower heat level.
(Visited 472 times, 1 visits today)