Naan Bread Pizza with caramelized onions is one of my favorites. If you need a quick dinner that is faster than takeout then I am about to turn you on to YOUR new favorite too. This caramelized onion naan bread pizza recipe is covered in cheese and caramelized onions and the flavor is amazing.
This is by far one of my favorite air fryer recipes for homemade pizza, but it is great in the oven as well. The texture of the naan bread and the cheese and the sweet and savory flavor of the onions is a hit in my book.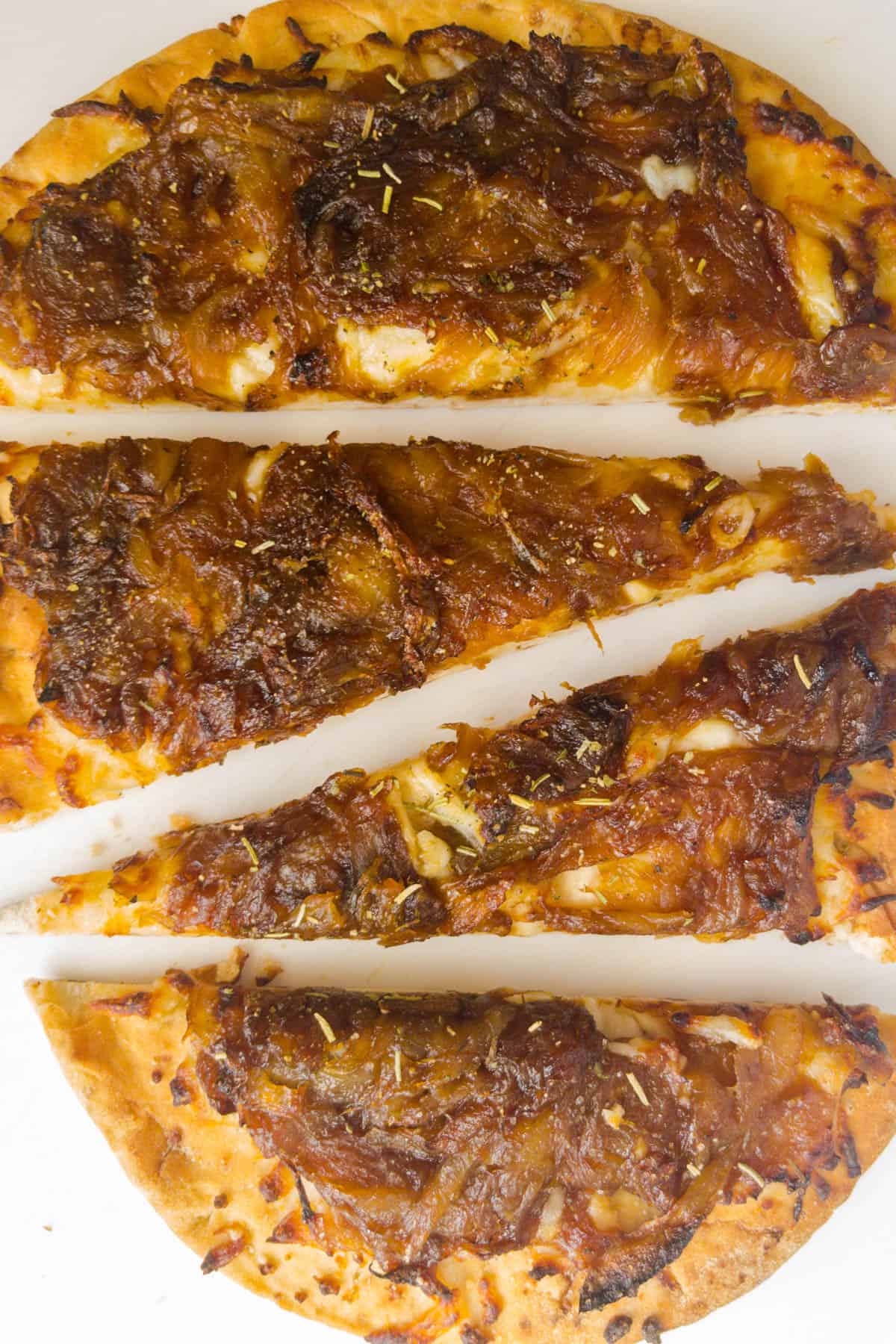 Originally when I first made an air fryer naan pizza it was my Margherita Pizza and since then I have been trying different toppings and flavor combinations. The possibilities are endless and it's all just so darn good. This caramelized onion naan pizza does not even need pizza sauce. It is a white pizza of sorts.
Jump to:
The convenience is also what I love about making flatbread pizza with naan bread. A bag of naan can be kept in your freezer at all times. The size of them is perfect for a personal pizza.
If you have guests it is easy to air fry a few in a short amount of time. Each one of them can have different toppings. I have given a few ideas below that I like.
Ingredients for Naan Pizza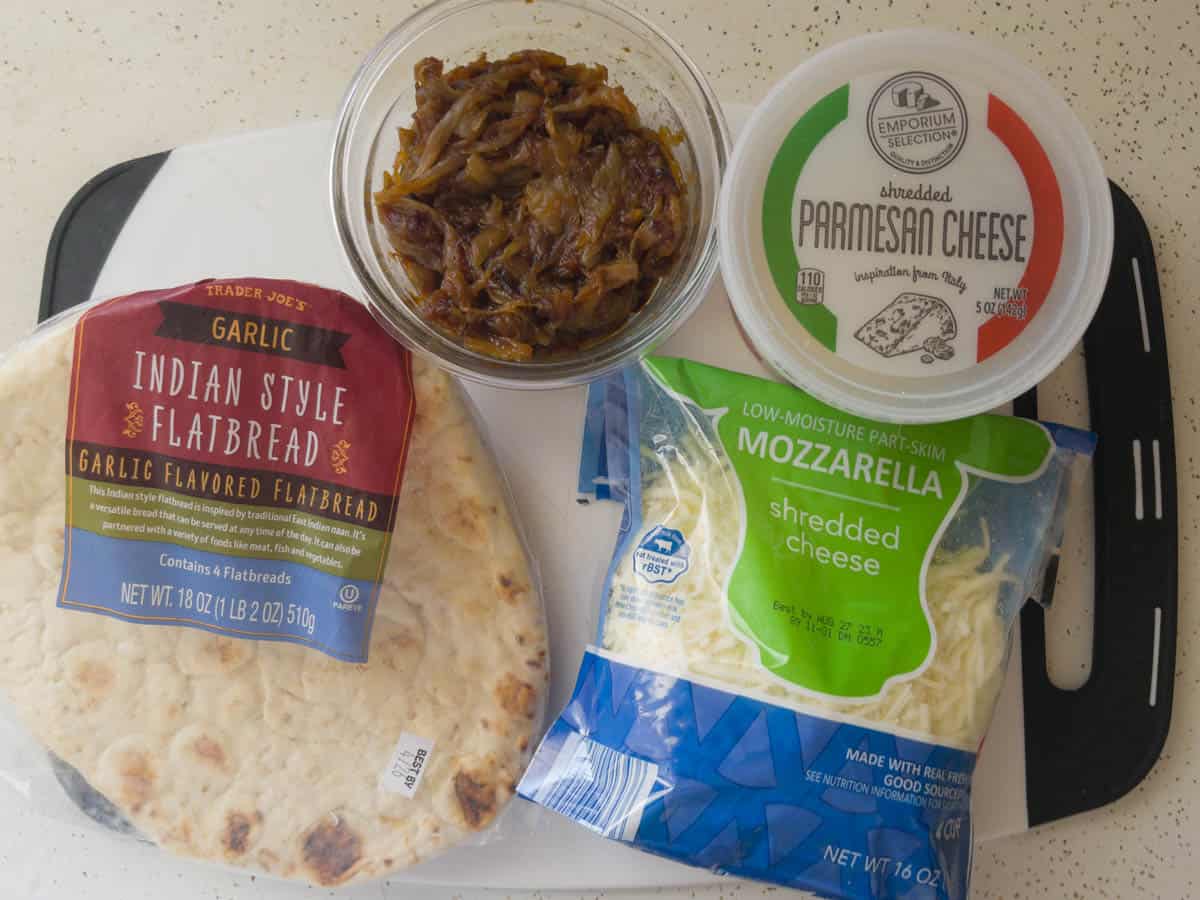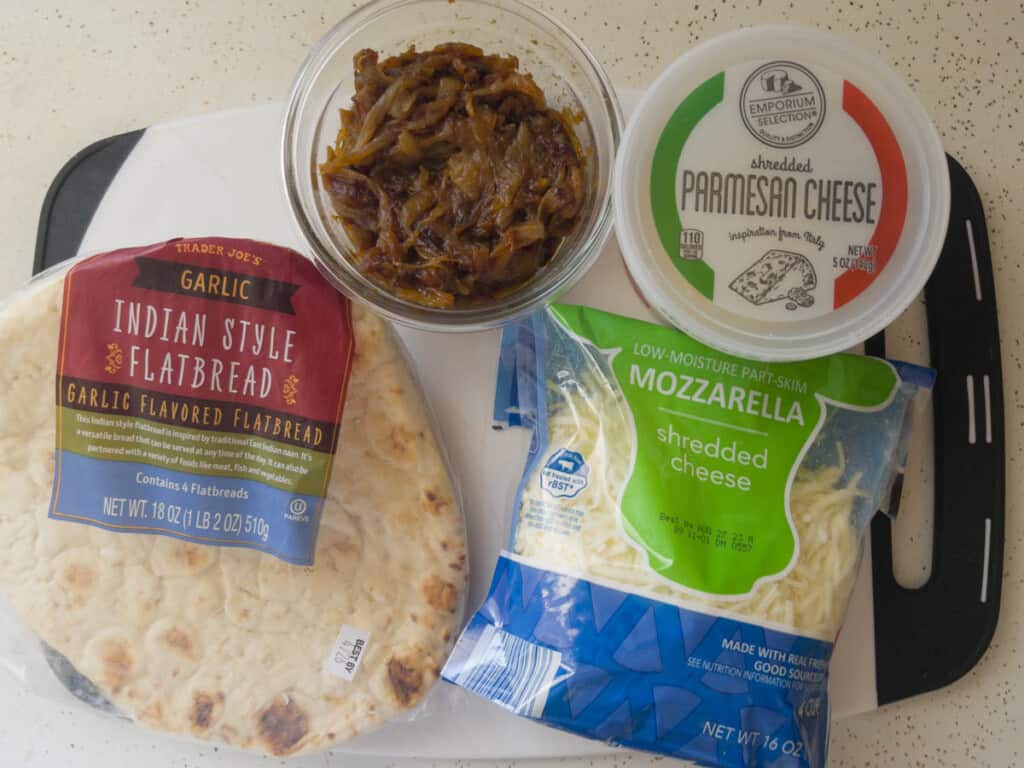 Naan Bread
Shredded Mozzarella Cheese
Caramelized Onions
Parmesan Cheese
Ingredients for Caramelized Onions
Yellow Onions
Olive Oil
Salt
Black Pepper
Water
See recipe card for quantities.
How to Make Naan Pizza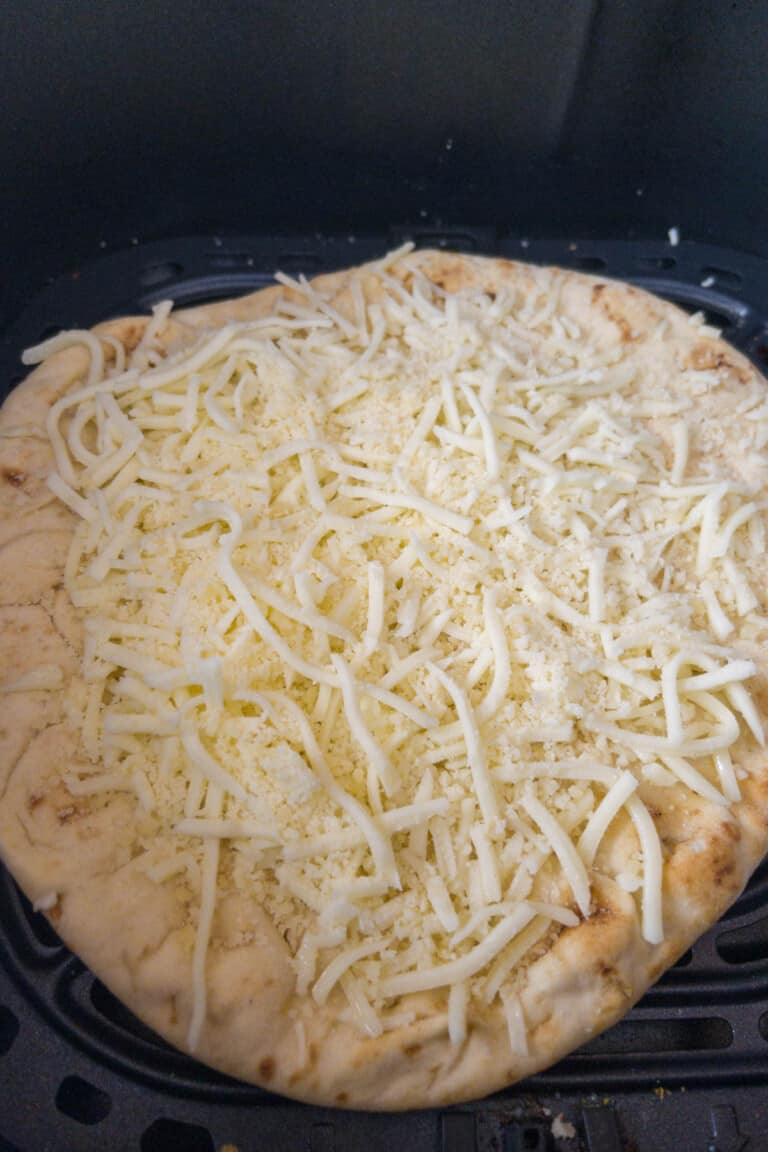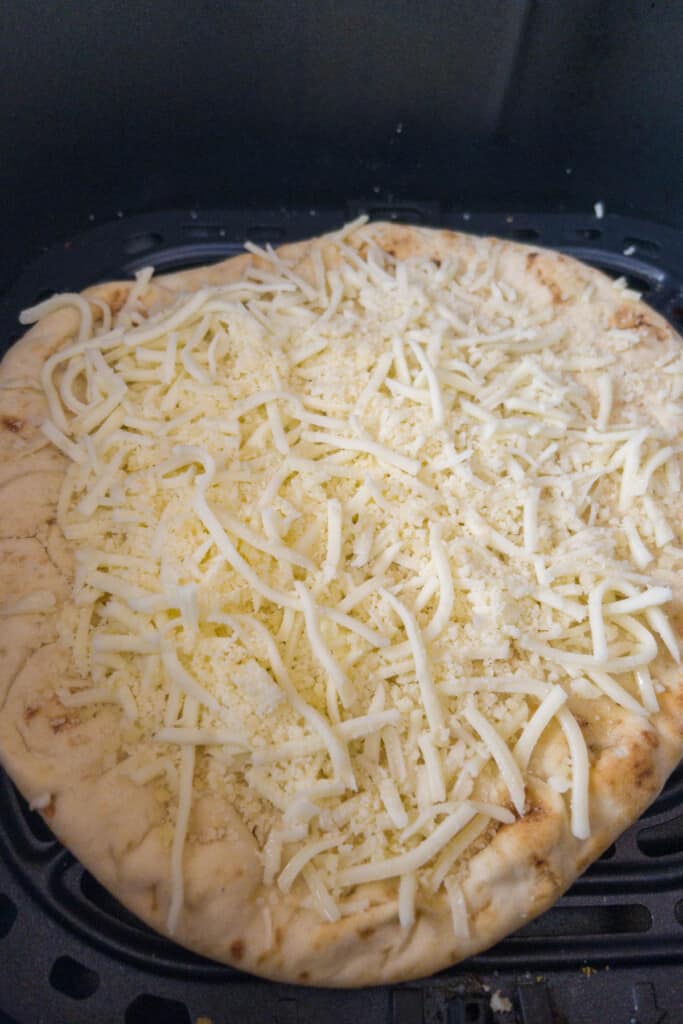 Place naan bread in the air fryer basket. Cover in cheese.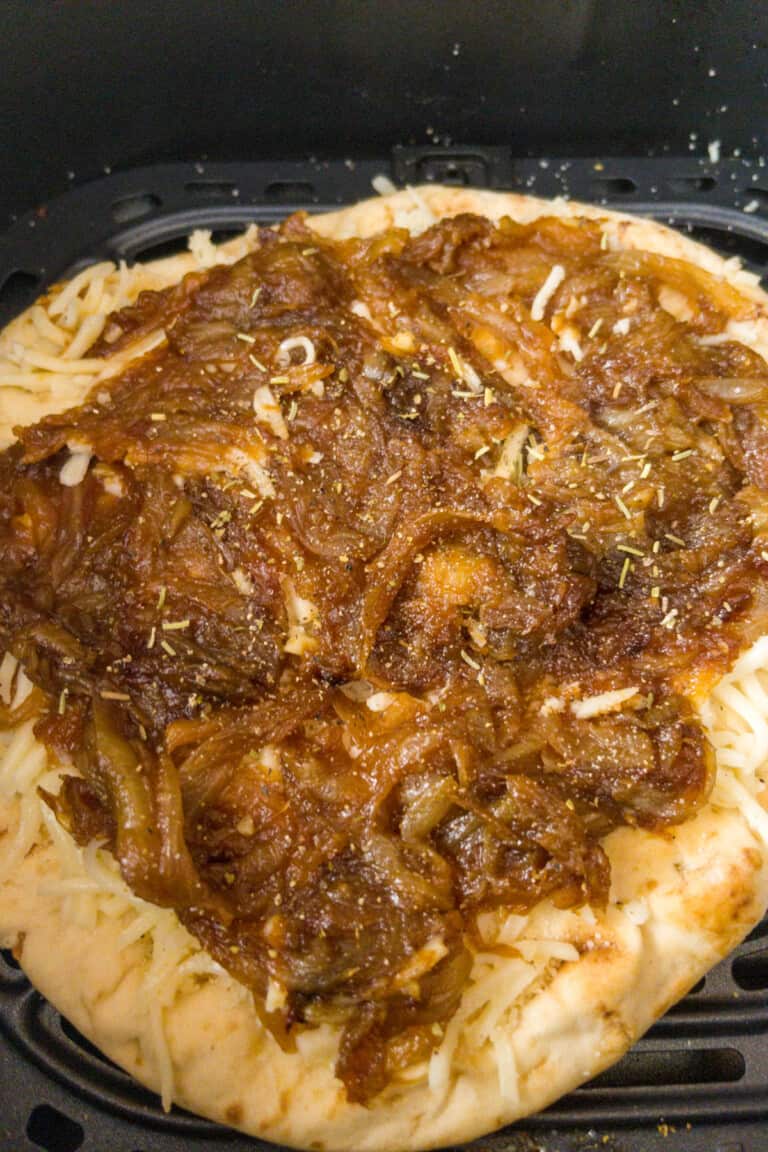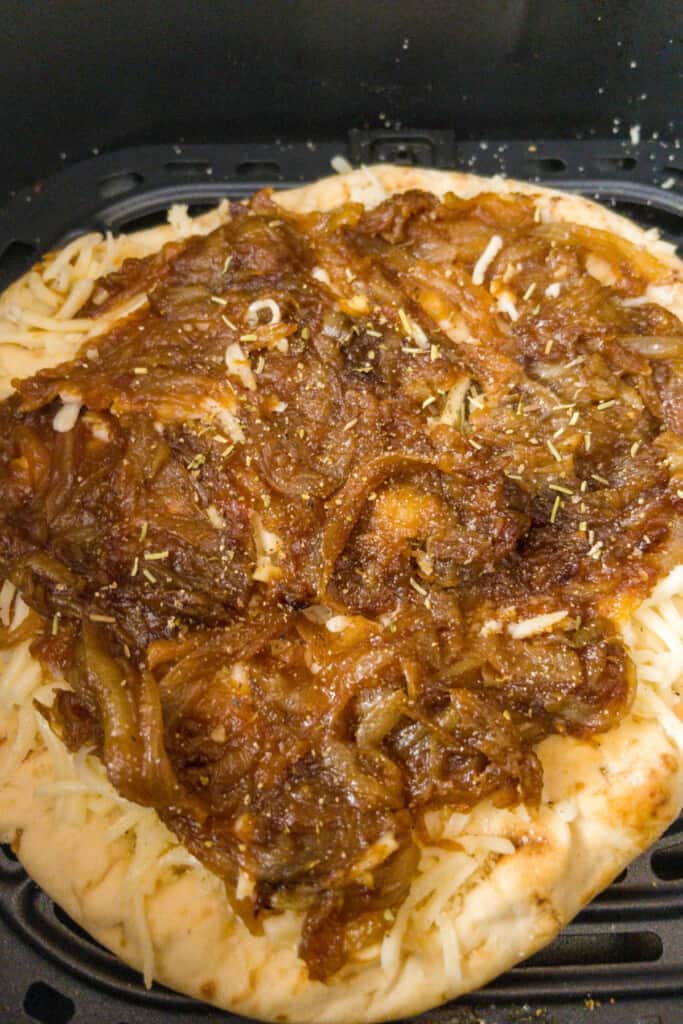 Spread caramelized onions over the cheese.
How Long to Cook Naan Pizza
Set the air fryer to 375 degrees Fahrenheit and cook for 5 to 7 minutes until golden brown and delicious. I do not bother preheating the air fryer. Usually, I assemble
Tip: I like to make these Naan pizzas in the air fryer because it's quick and easy and takes less than 10 minutes to make this easy flatbread pizza recipe. Here is a link to the air fryer that I use.
Naan Pizza Recipes and Ideas
Margherita Pizza
Add Mozzarella Cheese, Sliced Tomato, and Basil to make this delicious version. This is the one that I make the most. I usually always have the required ingredients.
Mexican Pizza
Make it a Mexican pizza by using a Mexican cheese blend, chopped tomatoes, and some sliced jalapenos.
Vegetarian Pizza
If you are looking for something vegeterian add you choice of sauteed veggies. I like mushrooms, bell peppers, and onions. This is a great flavor combination.
Hawaiian Pizza
If your looking for something different Hawaiian pizza is great. Top the pizza with ham or Canadian Bacon and some chopped pineapple. Fresh or canned pineapple works great. I love this salty sweet flavor combination.
Buffalo Chicken
If you have some chicken left over or a store bought rotisserie chicken toss it with some buffalo wing sauce to make and quick and easy spicy treat that everyone loves to eat.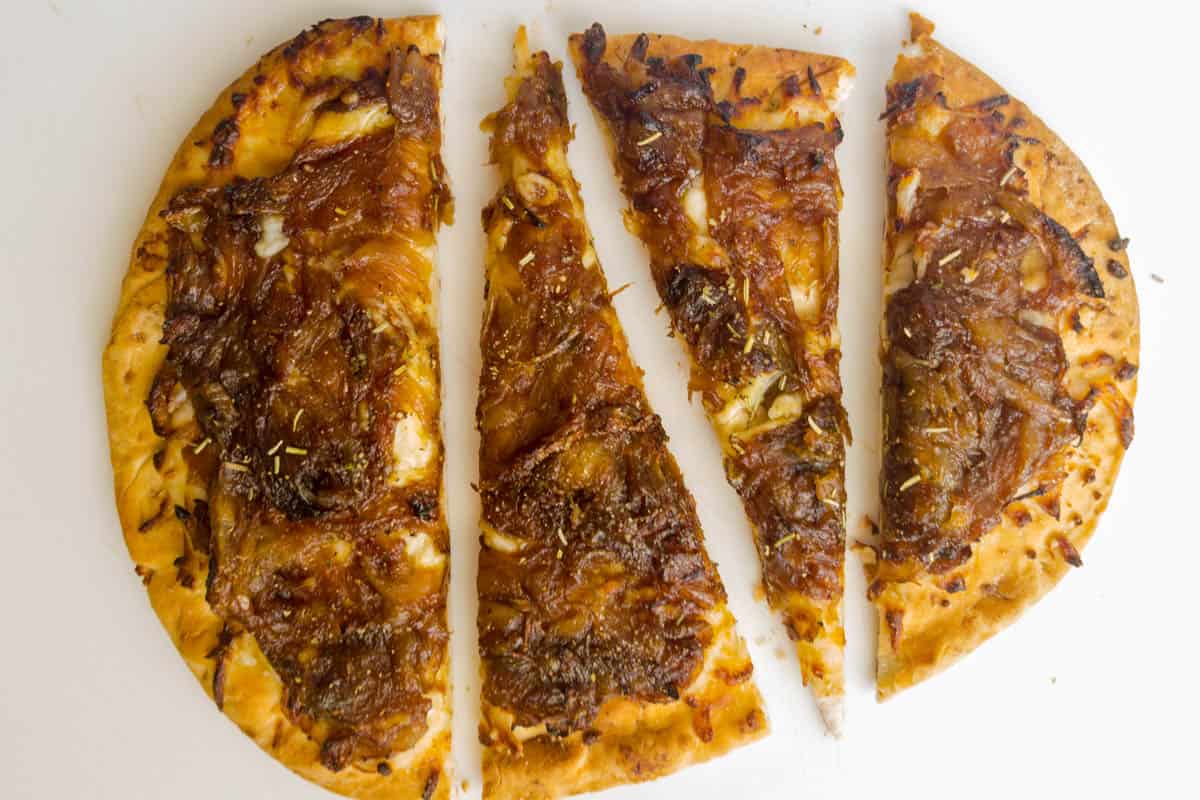 How to Make Caramelized Onions
I am going to show you how to make good caramelized onions in about 20 to 30 minutes. This is something I usually do the night before and I use about 4 onions at a time since they are great on everything.
Slice onions into 1/4 inch wedges and place in large nonstick skillet.
Add 2 tablespoons olive oil and 3/4 tsp. salt.
Heat skillet over medium high heat and add 3/4 cup water.
When the onions start to steam cover and cook 10 minutes until the water disappears.
Remove the lid and continue cooking pressing onions down forming a flat layer of onions on the bottom and sides of the pan.
Let cook for 30 seconds and stir the onions and scrape up any brown bits from the bottom of the pan. Flatten out onions again and cook for another 30 seconds. Repeat this process every 30 seconds until onions are nicely browned. About 20 to 30 minutes.
Once the onions are nicely browned mix a pinch of baking soda and a couple tablespoons of water and add the mixture to the onions and cook until liquid is absorbed.
Easy Pizza Sauce
If your a person that must have pizza sauce on your pizza by all means put some on it. I find that this caramelized onion pizza doesn't need it at all.
Any store bought sauce can be used but I usually always have a small can of tomato sauce in the pantry just for pizza sauce. I love this recipe and it is a no cook recipe. It lasts 3 to 4 days in the refrigerator.
1 can Tomato Sauce
1 Clove Minced Garlic
1/4 tsp. Salt
1/4 tsp. Black Pepper
1/4 tsp. Dried Oregano
1 tsp. Olive Oil
1 pinch sugar
Kitchen Essentials and Equipment
Here is the equipment that I used to create this recipe as well as some kitchen essentials that I love. I do receive a small commission on the sales of these items at absolutely no cost to you. Thanks for your support.
Instant Pot Vortex Plus
365 Whole Foods Naan Bread
365 by Whole Foods Mozzarella Organic
Organic Roma Tomatoes
Organic Yellow Onions
365 Organic Oregano
Air Fryer Parchment Liners


Storage for Naan Pizza
I usually don't have any leftovers but if you do naan pizza can be stored in an airtight container in the refrigerator for up to 3 days.
Top tip
If you would like the Naan bread even more crispy place the Naan bread in the air fryer for a couple of minutes at 375° before you put any toppings on the Naan pizza.
FAQ
What is the difference between Naan Bread and Pizza Dough?
Pizza dough is water, yeast, salt, and flour. Naan bread is enriched and has dairy like yogurt.
Where do you buy Naan Bread?
I usually buy mine from Trader Joe's. It is also available at Aldi and Whole Foods.
Related
Looking for other recipes like this? Try these:
Pairing
These are my favorite dishes to serve with [this recipe]: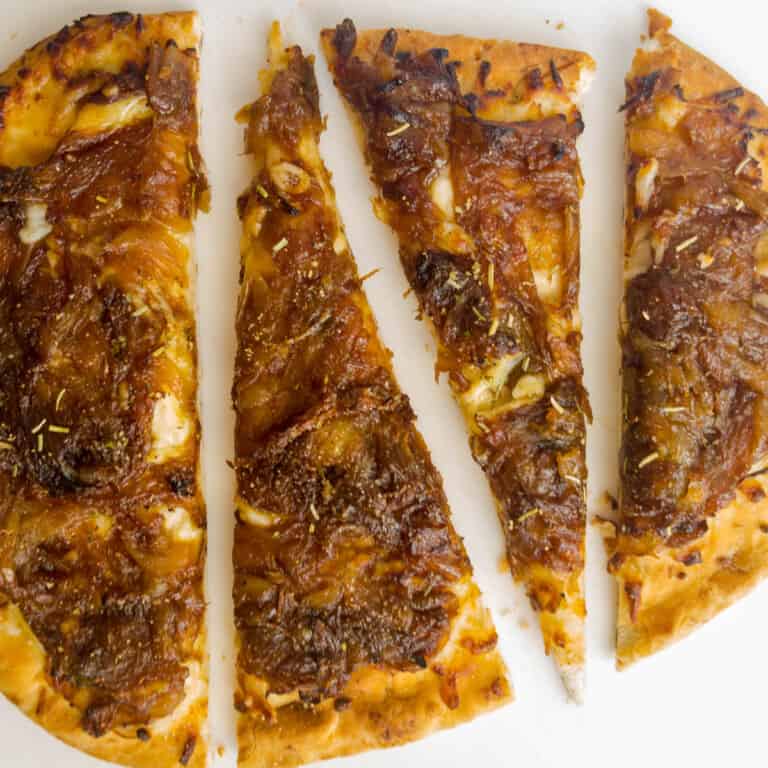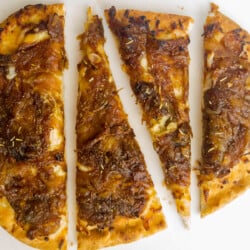 Naan Bread Pizza with Caramelized Onions
Naan Bread Pizza with Caramelized Onions is loaded with flavor and is delicious. Ready in less than 10 minutes.
Print
Pin
Rate
Ingredients
Naan Bread Pizza Ingredients
1

Naan Bread Flatbread

1/2

Cup

Caramelized Onions

1/2

Cup

Mozzarella Cheese

2

Tbsp.

Fresh Grated Parmesan Cheese

1/4

tsp

Salt

1/4

tsp

Black Pepper

1/4

tsp

Dried Rosemary

1/4

tsp

Dried Oregano
Caramelized Onions Ingredients
4

yellow or white onions cut into wedges

2

Tbsp.

Oil

I used olive oil

3/4

of a teaspoon salt

3/4

Cup

water

2

Tbsp.

Water

for baking soda mixture at end

pinch

of baking soda

about an eighth of a teaspoon.
Instructions
How to Make Naan Pizza in Air Fryer
The air fryer does not require preheating. Although if you would like a more crispy naan pizza place naan bread in air fryer at 370 degrees Fahrenheit for 2 minutes prior to adding toppings.

Spread cheese evenly on Nan bread in a single layer. Top with caramelized onions. Spread onions out evenly.

Sprinkle with Parmesan cheese. Season with salt, black pepper, dried rosemary, dried oregano.

Set air fryer to 370 degrees Fahrenheit and cook naan pizza for 5-7 minutes until golde3n brown and delicious.
How to Make Caramelized Onions
Slice Onions in half root to tip and then cut into quarter inch wedges.Place in large nonstick skillet over Medium High heat.Add 2 tablespoons olive oil and 3/4 teaspoon salt.Add 3/4 Cup Water

When onions start to steam quite a bit cover and cook 10 minutes until the water disappears.

Remove the lid and stir the onions. Press, onions flat to the bottom of the pan to get maximum contact on the bottom of pan and do the same on the the sides of the pan.

Let the onions cook 30 seconds and stir. Press the onions to the bottom and sides of the pan again and let cook another 30 seconds. Repeat this process every 30 seconds until the onions are nice and brown. This takes about 20 to 30 minutes

Once the onions are nicely browned mix a pinch of baking soda and a couple teaspoons water and pour into the onions. Continue cooking the onions until the water is gone.
How to Make Naan Pizza in Oven
Preheat oven to 425°F.

While the oven preheating assemble pizza on sheet pan

place Nan pizza in oven 10 to 12 minutes until the cheese is melted and the crust is golden brown.
(Visited 2,777 times, 3 visits today)