Pork Kabobs (Grilled Shish Kabob) are absolutely delicious. The salty herb and garlic combo with the flavor of being grilled make these kabobs of grilled pork tenderloin an absolute winner.
The pork loin that has been marinated and grilled is so juicy. I love it. It is also so easy to cook. I am sure this will become one of your favorite recipes.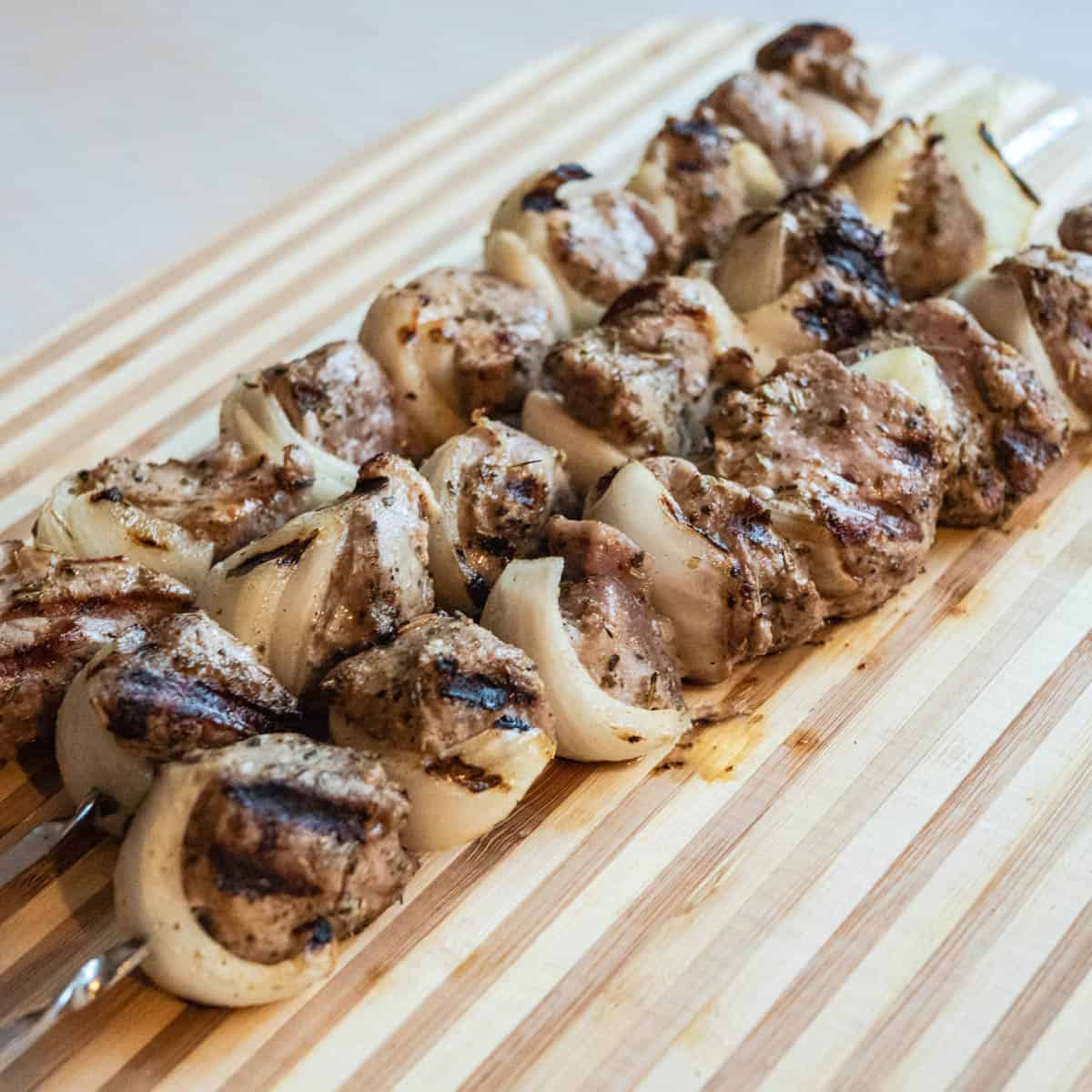 Pork Kabobs Grilled
Who doesn't like grilled pork kabobs? These are one of my favorite grilling recipes. Some may call them pork shish kabobs. "Shish" is an English form of Turkish and it means (sword or skewer) Kabob means "Roasted."
There is a bit of history for you. Either way pork kabobs in the grill are delicious no matter how they are prepared. If you would like to print recipe use the buttons at the top of the page.
Jump to: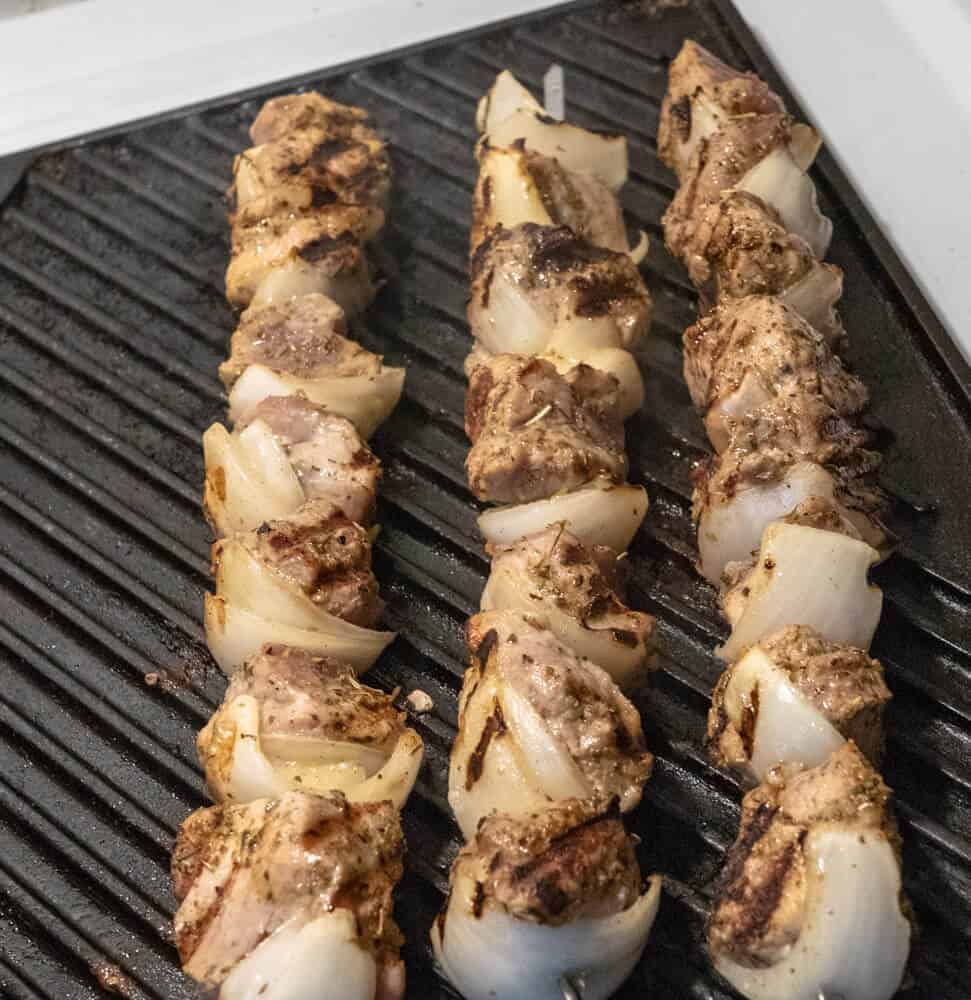 How to Make Pork Kabobs
Making this pork kabobs recipe is relatively easy. It is a combo of Salt, Pepper, Garlic Powder, Paprika, Oregano, Seasoned Salt, Oregano, Italian Seasoning, Olive Oil, and Wine. This is mixed together to form kind of a paste. This makes up the pork marinade to marinate pork.
I like to put a little bit of the marinade aside before i add pork as kind of a basting sauce.
Marinade for Pork Kabobs
Salt
Pepper
Garlic Powder
Paprika
Oregano
Italian Seasoning
Seasoned Salt
Olive Oil
Soy Sauce (optional)
Brown Sugar (optional)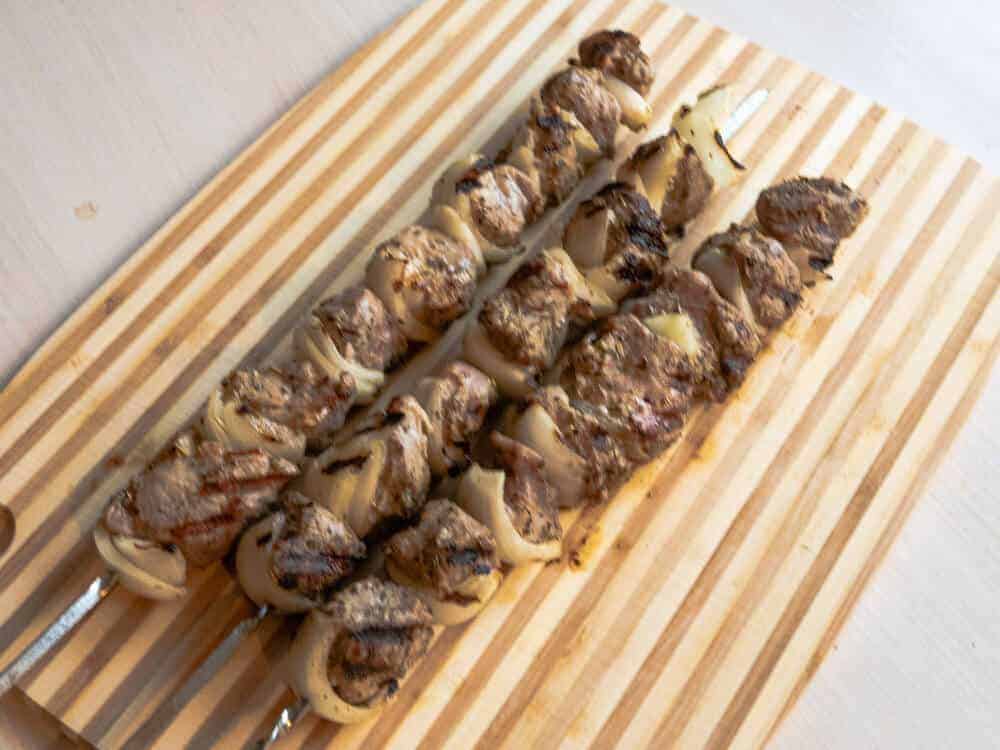 Prepare Pork Kabobs
Cut Pork Tenderloin into 1-inch cubes. Place in the marinade for at least 30 minutes to overnight. If not marinating overnight place onions in the marinade as it makes a nice flavor.
Cut onions also into 1-inch cubes. Keep any vegetables that you use a uniform size so they all cook evenly.
Once your pork has been marinated and you are ready to cook it is time to thread your meat and vegetables into kabobs. Metal skewers can be used, but I usually like to use wooden skewers for this as when you are done with them you can just toss them and do not have to clean them.
If you are using wooden skewers soak them in water for 15 minutes so they do not burn on the grill.
Thread your meat and vegetables onto the kabob sticks until you have used up all of your meat and vegetables. Don't worry in the case of kabobs leftovers are a good thing. Leftover kabobs of any kind are always a favorite.
Now that your kabobs have been assembled it is time to cook. Choose your preferred cooking method. I always like the grill the best but at the time that I made this recipe, it was summer in Florida and too hot to grill.
These are good on the Charcoal Grill, Gas BBQ Grill, Cast Iron Grill Stovetop Grill, or they can even be Broiled in the Oven.
Variations
There are many variations in making kabobs. Are usually try to keep it simple using things like red onion, red pepper, green bell pepper.
I sometimes like to add pineapple and baste with a little soy sauce. The sweetness of the pineapple goes great with the peppers and onions. If you like bbq sauce you can also brush on a thin layer.
Tip: If you want to kick up the flavor a bit add about 1/4 teaspoon of red pepper flakes to the marinade.
Cooking Pork Kabobs on Charcoal Grill
Set up your fire fir direct-fire cooking and adjust the temperature for a medium-high flame. Once your fire is hot place pork kabobs on grill and grill 3 minutes per side on all 4 sides. Depending on your grill it can take up to 5 minutes per side but I find I like them at about 3 minutes per side.
Cooking Pork Kabobs on a Gas Grill
Light your gas grill and let it preheat for about 15 minutes on medium-high heat. Place Pork Kabobs on the grill. Grill over a direct flame for 3 to 5 minutes on all four sides of the kabob.
Cooking Pork Kabobs on a Cast Iron Stovetop Grill
This is the method I used for this recipe. Although I like the Charcoal Grill method the best this is an easy method and is great when it is too hot or cold outside to grill and you a craving a kabob.
Place your Cast Iron Grill on the stovetop and allow it to preheat for about 15 minutes. Lightly oil the grill surface. Once preheated put pork kabobs on the grill and grill to medium-high heat for 4 minutes per side. Remove the pork from the grill and let sit for 5 minutes.
Broiling Pork Kabobs in the Oven
Place your oven grate on the second level from the top. You want the Kabobs about 4-5 inches away from the broiler element.
Let the broiler preheat about 10 minutes with the door cracked open. Place your kabobs on a broiling pan or roasting rack type pan if you do not have a broiler pan. Broil about 5 minutes on all sides.
Note: No matter which cooking method is used pork should be cooked to an internal temperature of 145 degrees.
Other Recipes For You:
Air Fryer Crispy Fried Chicken
Oven Roasted Tri Tip Recipe
Chicken Adobo (Instant Pot)
Kitchen Essentials and Equipment Used:
Bamboo Skewers Natural Bamboo 10 Inch 100 Pieces
Lodge Cast Iron Grill/Griddle for Stovetop
Cuisinart Full Size Gas BBQ Grill 4 Burner
Weber Original Kettle Premium Charcoal Grill 22 Inch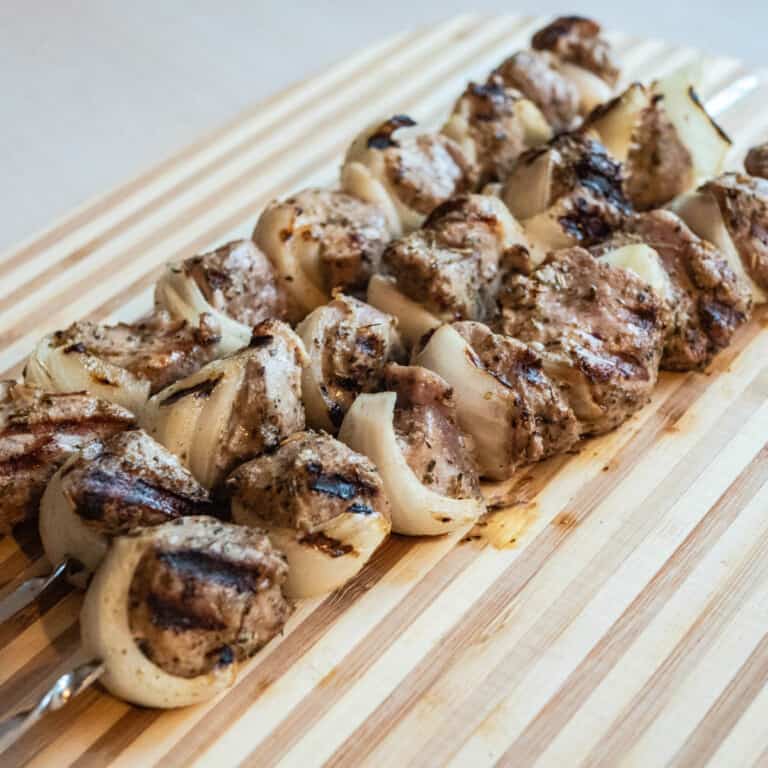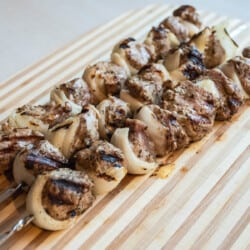 Marinated Pork Kabobs
Marinated Pork Kabobs that can be cooked on a charcoal grill, stovetop grill, gas bbq grill or broiled in the oven.
Print
Pin
Rate
Ingredients
1

Pound

Pork Tenderloin

1

tbsp

Italian Seasoning

1/2

tsp

Garlic Powder

1/2

tsp

Salt

1/2

tsp

Pepper

1/2

tsp

Oregano

1/2

tsp

Season Salt

1/2

tsp

Paprika

2

tbsp

Olive Oil

1

medium

Onion (Cut into 1 inch Pieces)

1/4

Cup

White Wine
Instructions
In a Large bowl mix all spices and wine together and then mix in Olive Oil forming somewhat of a paste. Trim Pork tenderloin of most fat and silver skin. Cut tenderloin into one inch pieces. Also chop onion into one inch small pieces. Mix pork tenderloin chunks and onions into bowl of spice mixture. Ensure everything is coated well. Let marinate for at least 30 minutes but preferably a few hours to overnight.

Turn grill to medium high setting. About 400 degrees. Thread pork tenderloin onto skewers with onions. Grill a total of about 15 minutes ON ALL 4 SIDES. Turning kabobs every 3 to 4 minutes. Pork is done when it reads 145 to 150 on a meat thermometer.

Enjoy.
Nutrition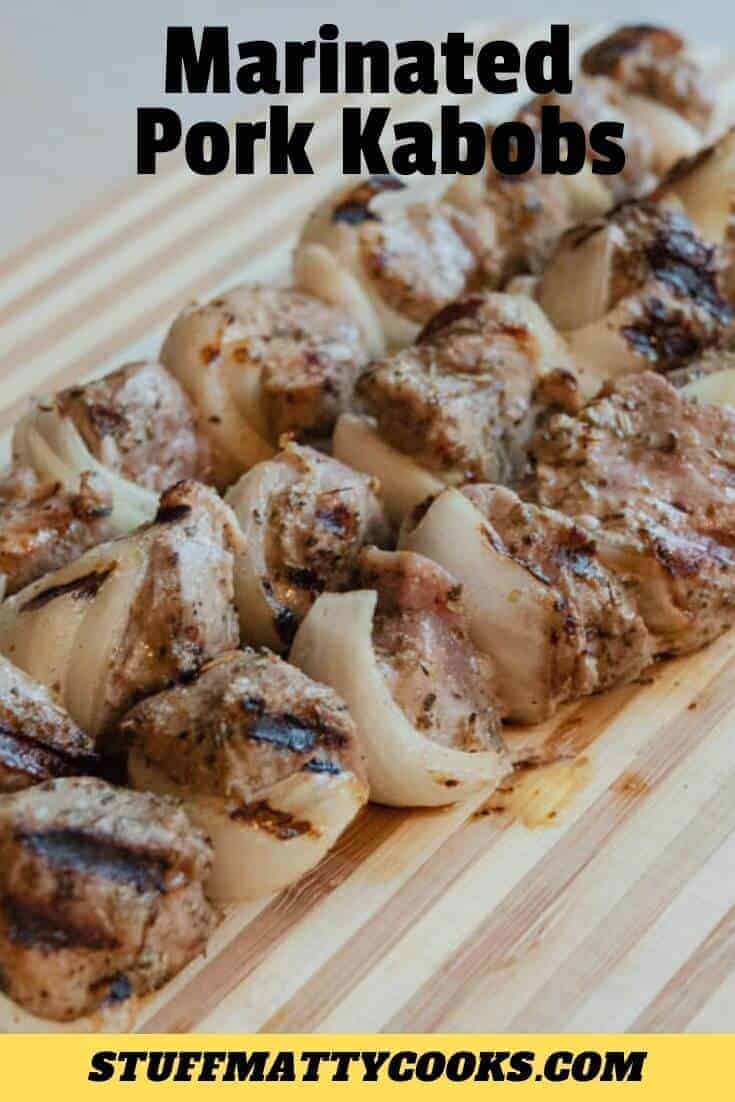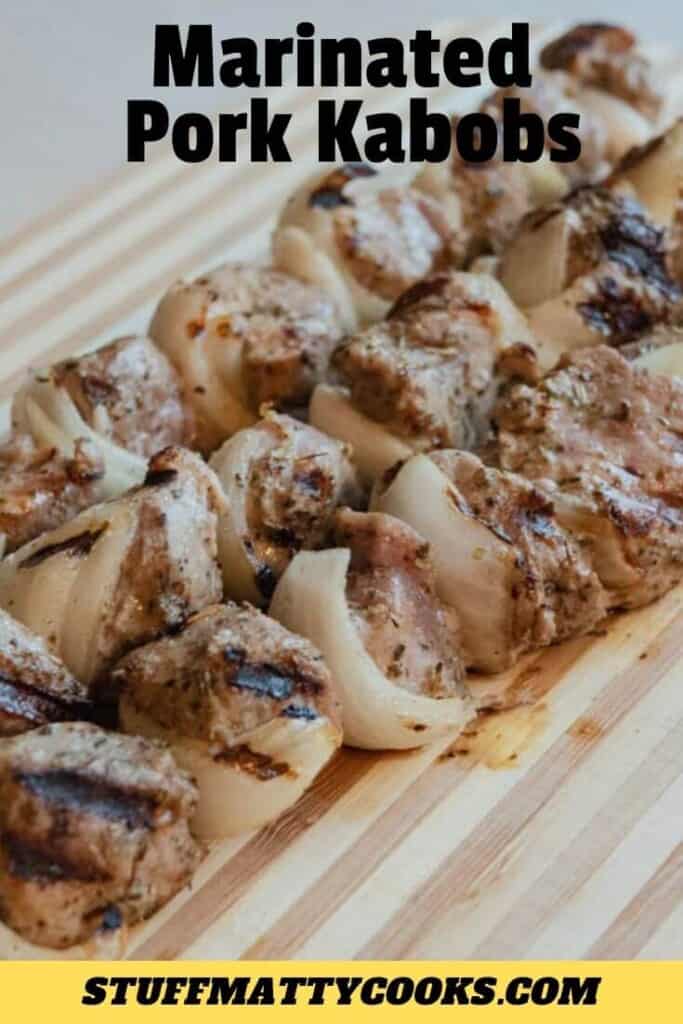 (Visited 5,997 times, 1 visits today)