I LOVE Tzatziki sauce! It is such a refreshing flavor. My greek tzatziki sauce recipe will not disappoint. A tzatziki recipe filled with grated cucumber, fresh herbs, garlic, and spices.
The tzatziki sauce is good on everything from vegetables to pita. Tzatziki is a regular snack at my house and it is a common condiment with many of our meals.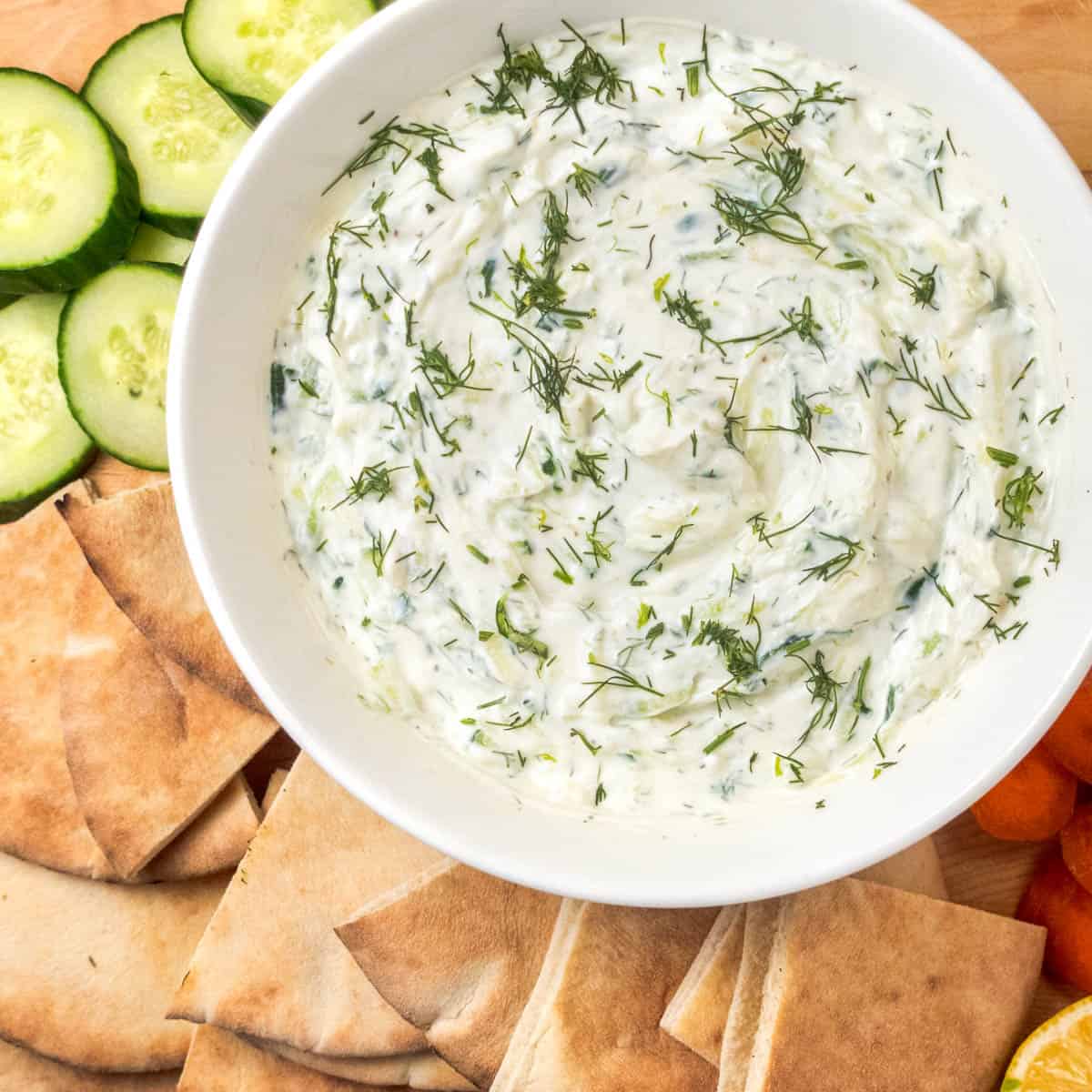 When serving tzatziki sauce I like variety. I like to have variety on my tzatziki platter. Pita bread is of course a big part of this. If you are making a greek meze platter including dolmades and olives is also delicious.
I also like to include a selection of vegetables like carrot sticks and cucumbers. These vegetables are so refreshing and they remind me of summer. Although, I do make tzatziki year round.
Jump to:
Ingredients in Tzatziki
The Greek tzatziki sauce recipe is simple to make and requires very few ingredients. I always use greek yogurt. If you strained yogurt to make it thick you end up with greek yogurt.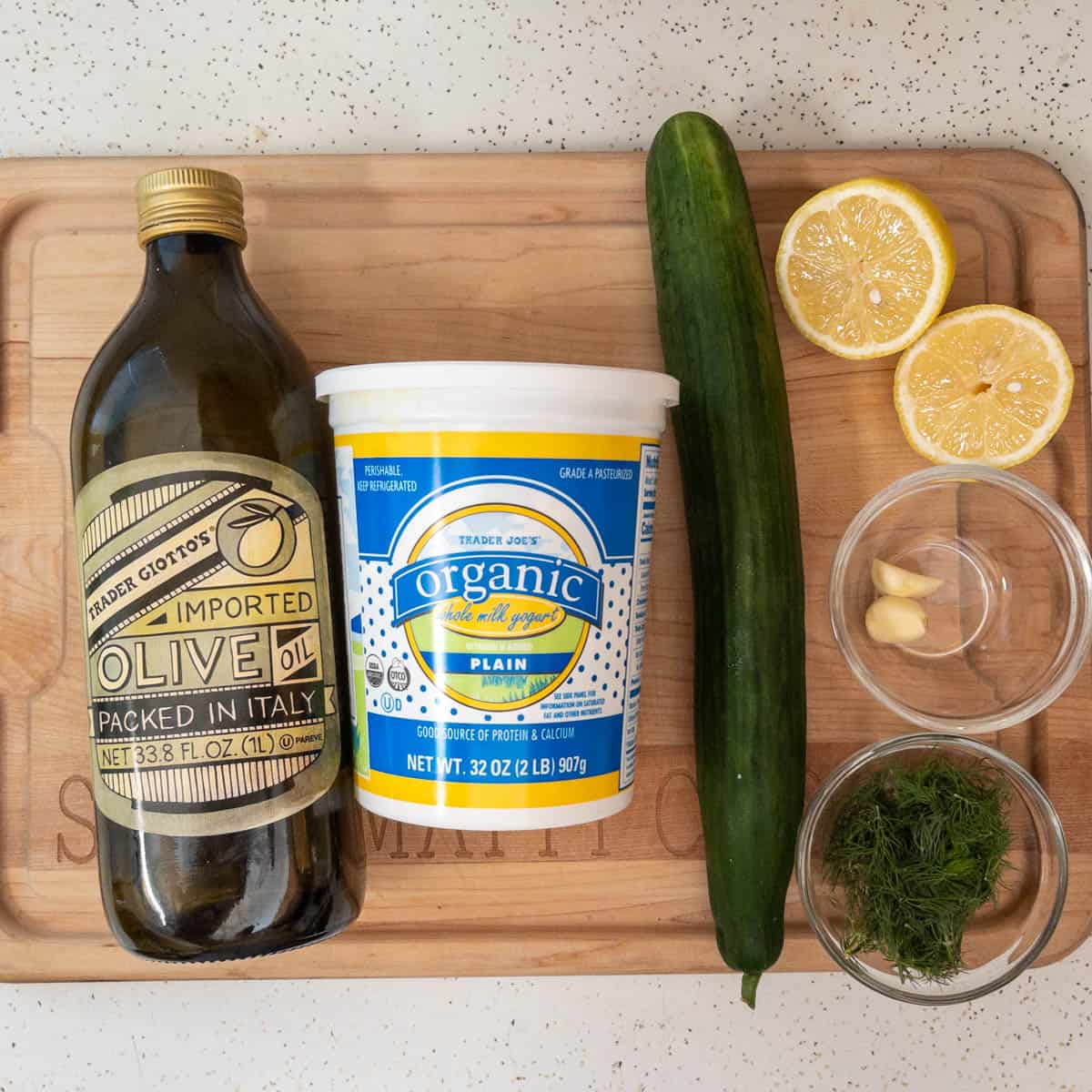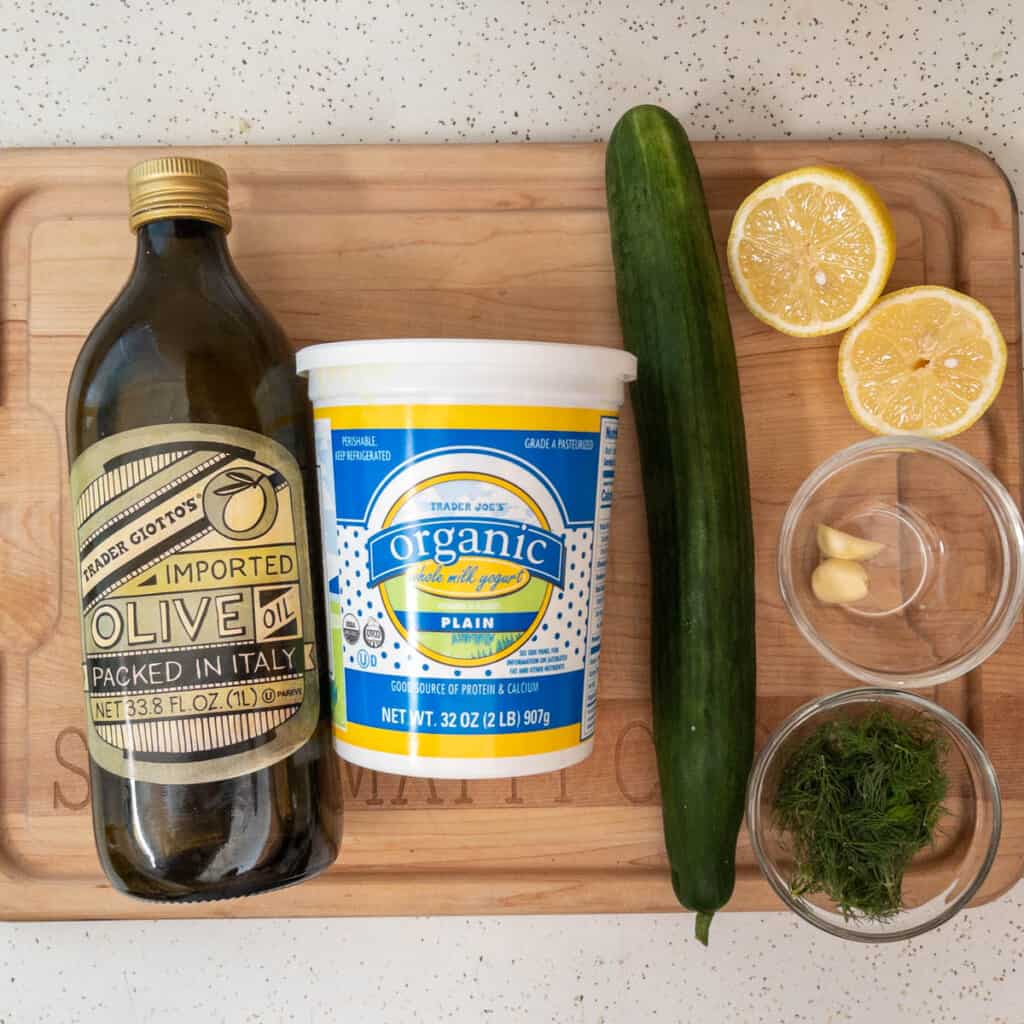 Plain Greek Yogurt (Full Fat Yogurt Recommended)
English Cucumber
Garlic
Fresh Dill finely chopped
Olive Oil
Sour Cream (Optional)
Salt
Black Pepper
Fresh Lemon Juice
See the recipe card for full quantities.
What is Tzatziki Sauce
Greek Tzatziki Sauce is cucumber yogurt sauce. Traditionally made with sheep's milk. or goat milk yogurt.
I use plain full fat Greek yogurt, fresh lemon, herbs, and salt and pepper in my tzatziki recipe. Since goat or sheep milk yogurt is not easy to find I use greek yogurt.
Tzatziki is a delicious sauce that is traditionally served on gyro sandwiches. It is wonderful on grilled vegetables, roast chicken, and lamb, or served as a dip.
How to Pronounce Tzatziki
If you are wondering how to pronounce Tzatziki don't worry I've got that covered. The correct pronunciation of the word Tzatziki is pronounced tsah-see-key. The same sound as the word "pizza." The word derived from Persian "Tzazh" actually means herb mixture.
Is Tzatziki Healthy?
Tzatziki is a healthy and light sauce. I use yogurt with "live cultures" which is great for gut health. A 1/4 cup of tzatziki is about 60 calories. Homemade tzatziki is also free of any unhealthy additives.
How to Make Tzatziki Sauce
Grate or Shred the cucumber. I like to use the shredding ring on my food processor to shred the cucumber. I have used a box grater. I would do this on the largest holes of the grater.
Salt the Cucumber, Drain, and Squeeze the cucumber. This is an important step to remove excess water.
Mix Ingredients. In a large bowl combine the yogurt, shredded cucumber, herbs, spices, lemon juice, and garlic together, and let it sit in the refrigerator for a couple of hours for the flavors to come together.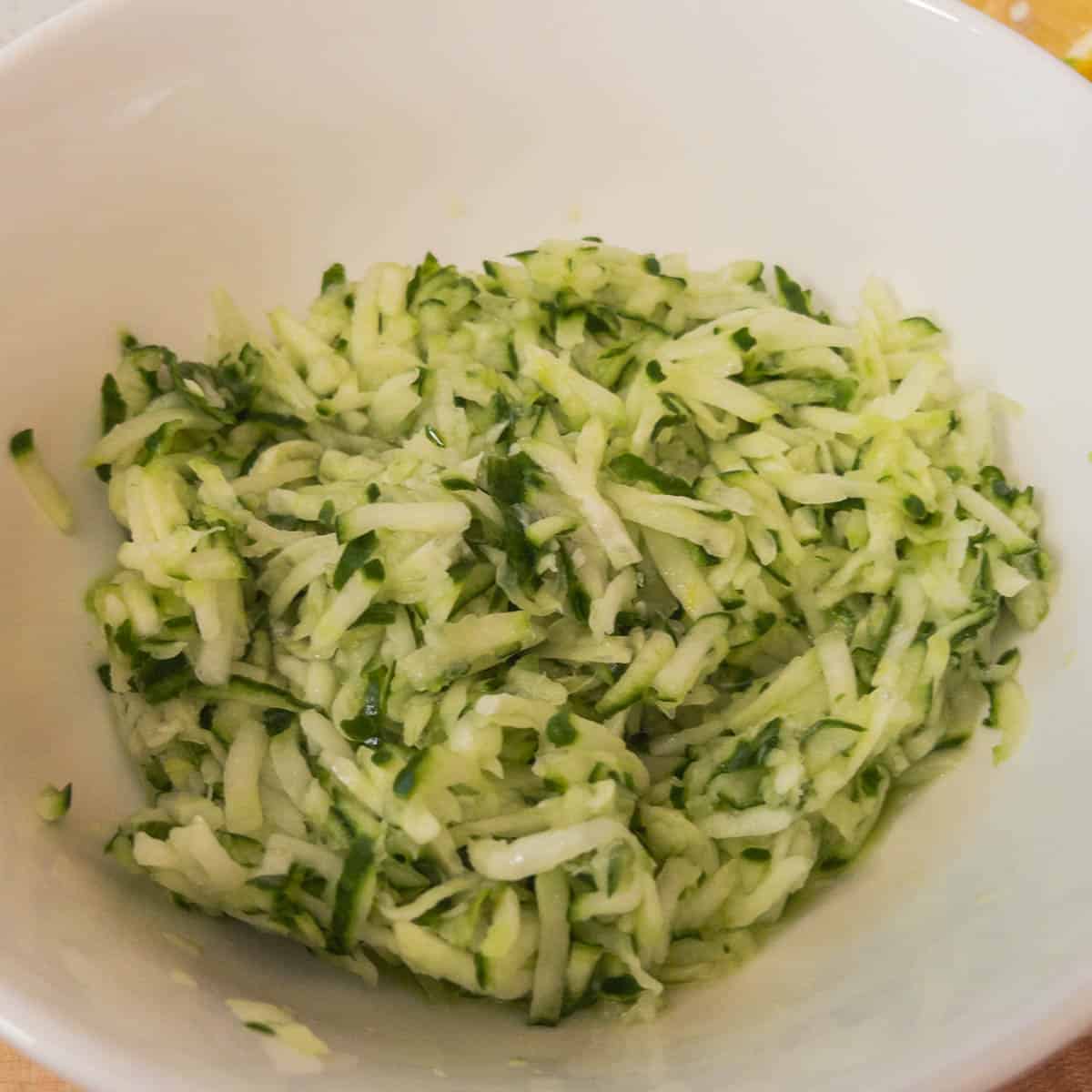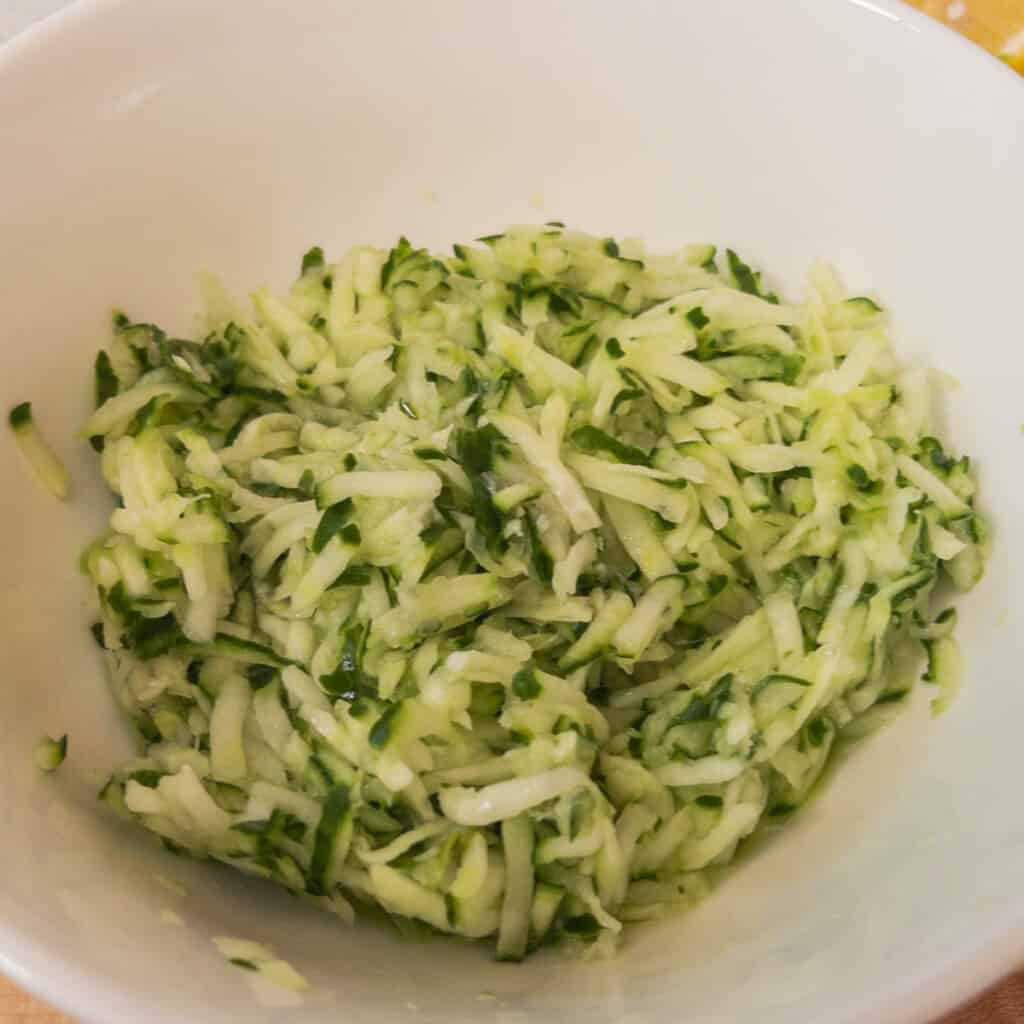 Step 1 – Shred the cucumber using a food processor or box grater. Salt cucumber with 1/2 tsp. of salt and let sit for 15 minutes to draw out water.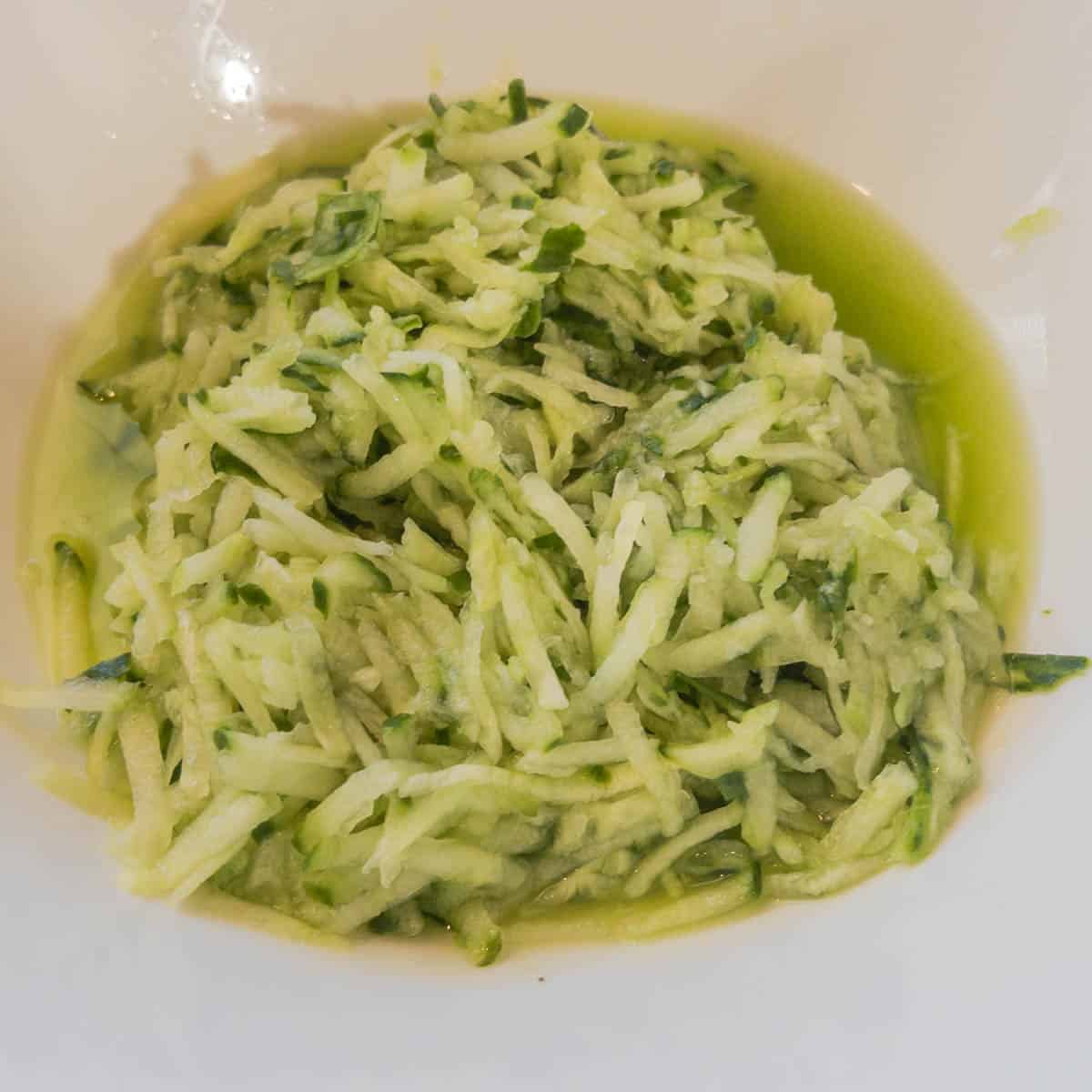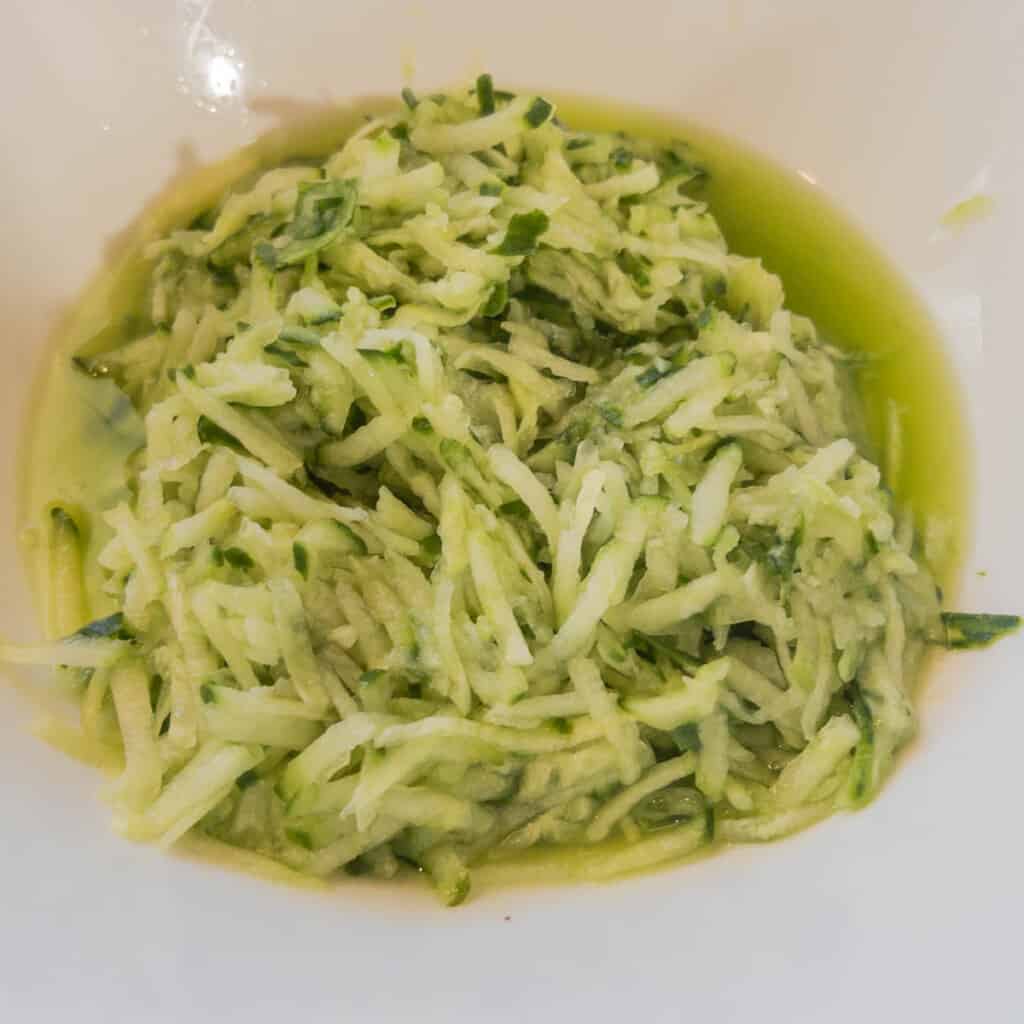 Step 2 – Squeeze water out of the shredded cucumber. I grab a handful and squeeze out the excess water over the sink. Repeat until all the cucumber has been squeezed.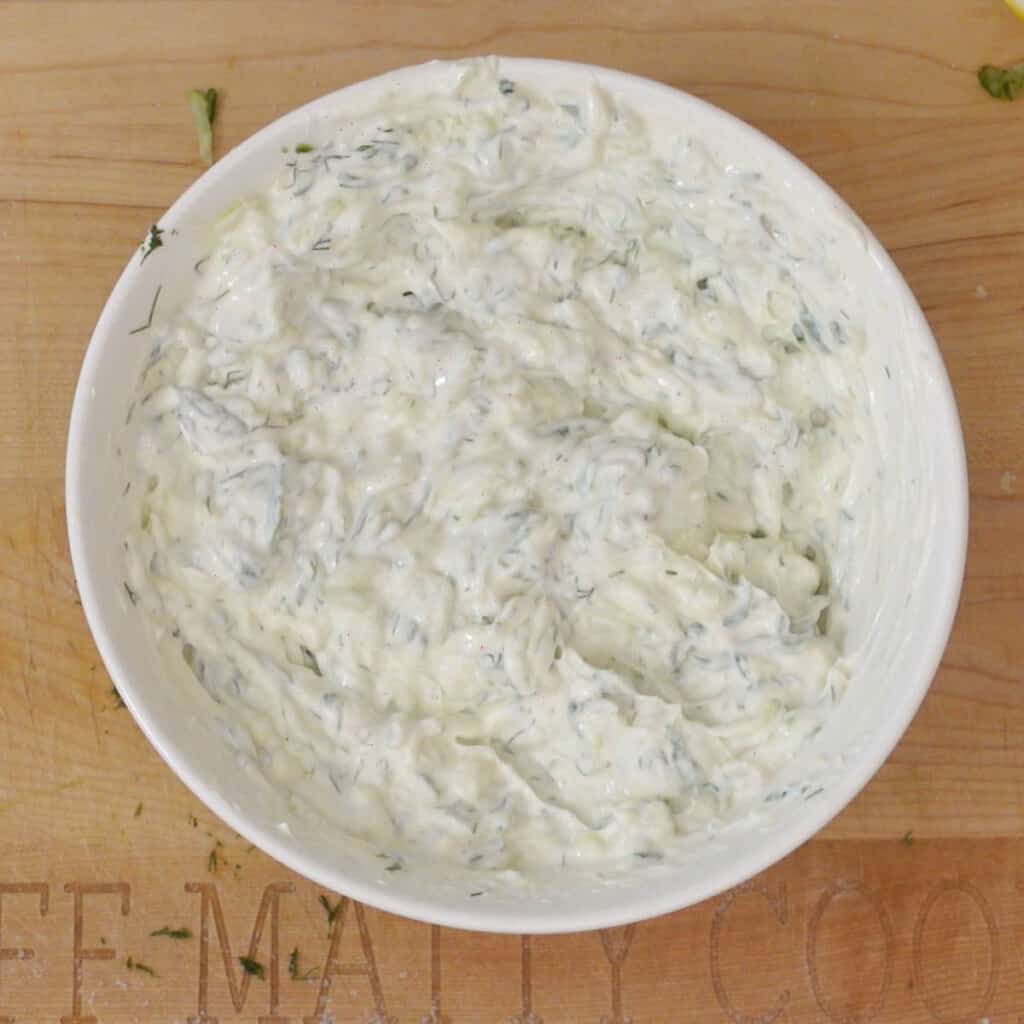 Step 3 – In a large bowl place the yogurt and shredded cucumber and mix until combined well.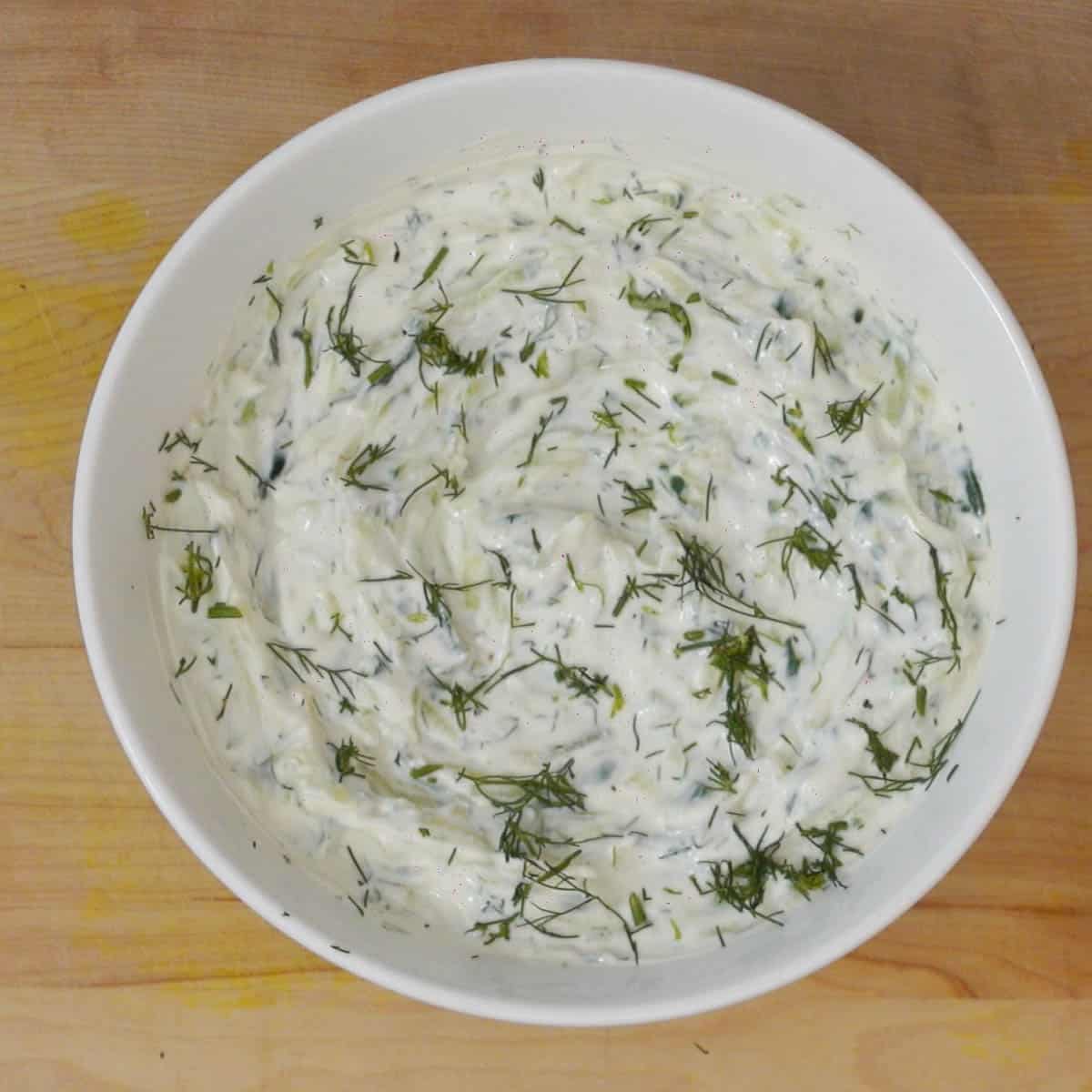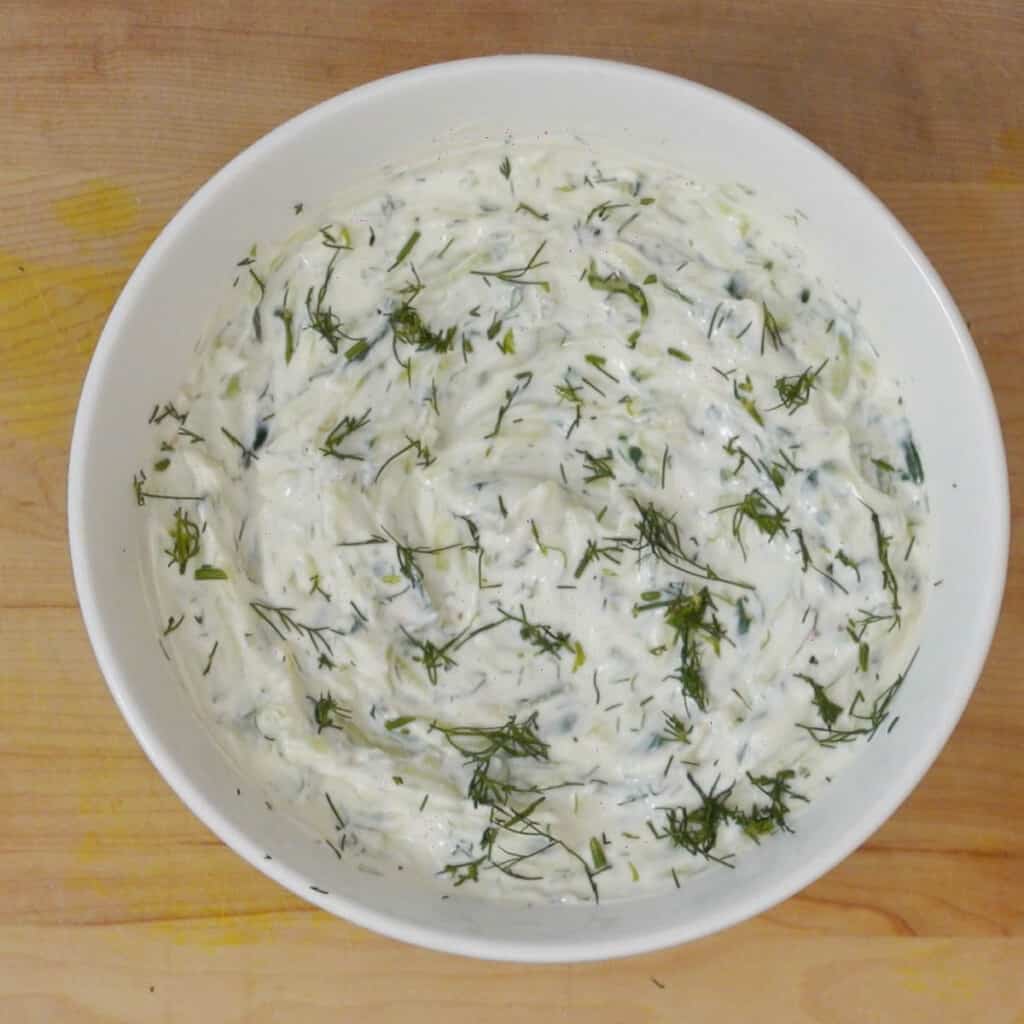 Step 4 – Mix all ingredients. Add the garlic, lemon juice, salt and black pepper. I like to adjust the salt and pepper in this step to my preference. Mix in the fresh dill and top with some good olive oil.
How to Use Tzatziki Sauce
I like tzatziki sauce on just about anything. It is great on pita bread or pita chips, and crisp vegetables like carrots, cucumbers, or bell peppers. I even dip french fries in it.
What to Eat With Tzatziki Sauce
Pita Bread or Chips
Crackers
Carrot Sticks
Sliced Cucumbers
Bell Pepper Slices
Broccoli
Cauliflower
Greek Olives
Feta Cheese
Equipment Used For Tzatziki Sauce Recipe
The equipment I used to make this greek tzatziki sauce recipe is as follows. I usually include the items I use plus other kitchen related items I find helpful. I earn a small affiliate commission off these items at absolutely no cost to you.
Cuisinart Elemental Small Food Processor, 8-Cup
Professional Box Grater, Stainless Steel with 4 Sides
WÜSTHOF Classic 6″ Chef's Knife
Glasslock 18-Piece Assorted Oven Safe Container Set
How to Store Tzatziki Sauce
Homemade Tzatziki can be stored in the fridge for 3 to 4 days in an airtight container. Tzatziki can also be frozen. The quicker tzatziki has been frozen the fresher it will taste when thawed.
Recipes to Enjoy
Instant Pot Greek Style Chicken
Frozen French Fries in the Air Fryer
Mediterranean Cucumber Salad
Pan Fried Halloumi Cheese
Roasted Eggplant Dip (Baba Ganoush)

Join Our FB Groups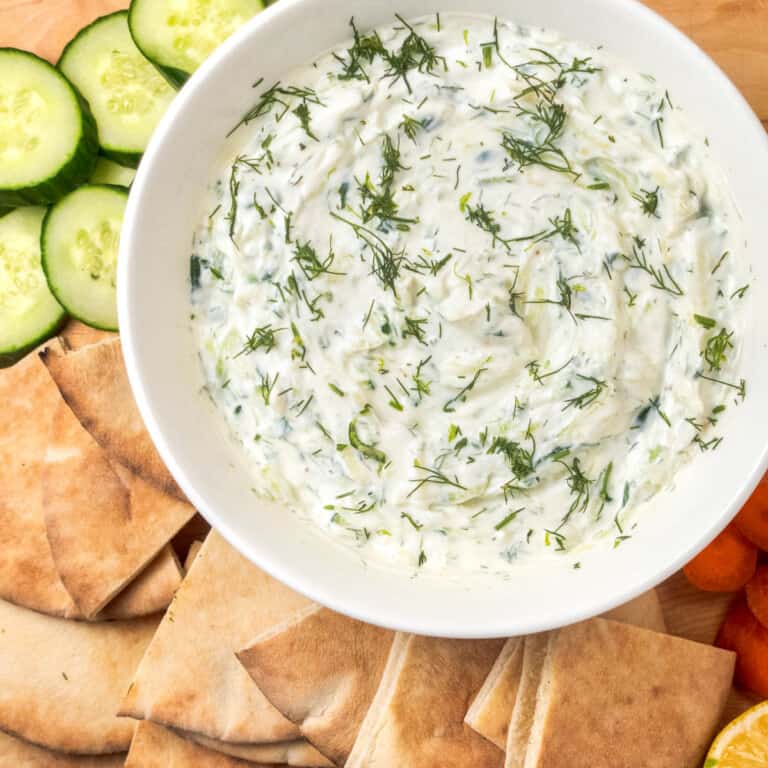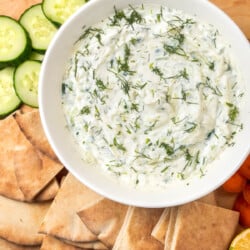 Tzatziki Sauce
This Tzatziki Sauce recipe is good on everything from meat to vegetables. I love it on beef or lamb. Of course this is always fantastic on pita and served with carrots and cucumbers. This is is such a refreshing summer flavor.
Print
Pin
Rate
Ingredients
1 1/2

Cups

Organic Greek Plain Yogurt

1

English Cucumber Shredded

1

tsp.

Salt

Used for getting liquid out of cucumber

1 to 2

Garlic Cloves minced and turned into garlic paste.

10 to 12

turns Black Pepper from a pepper grinder.

2

Tablespoons

Fresh Dill or

3 tsp. Dried Dill

2

Tbsp.

Lemon Juice

About Half of Lemon

1-2

Tablespoons

Olive Oil

Salt and Pepper to taste
Instructions
Shred the Cucumber. I use a food processor for this but you can use a box grater as well. Once cucumbers shredded place in its own bowl with teaspoon of salt and mix it up to distribute salt. We are drawing moisture out of the cucumber. This is key do not skip this step. I find it is better if you use the whole cucumber. I like the English cucumber and I leave the skin on. Let cucumber sit 15-20 minutes to remove moisture. There will be a lot of liquid in the bowl.

Add yogurt to separate bowl. Once the cucumber has sat in the salt for a bit squeeze out liquid of cucumber. I do this over the other bowl reserving the cucumber liquid and adding the squeezed cucumber to the bowl of yogurt a handful at a time. Mix the cucumber into the yogurt.

Mince garlic. Once garlic is minced make it into a paste. Shake a few shakes of salt on the minced garlic and take the side of your knife and scrape the garlic across the cutting board using the salt as an abrasive. Do this until the garlic turns into a paste. Add paste to yogurt cucumber mixture.

Chop fresh dill. I like to use fresh dill but if that is not available dried dill works great too. If using fresh dill use about 2 Tablespoons. If using dried dill use 3 teaspoons. Dried herbs are much stronger flavor.

Add lemon juice. I use about half of a lemon. This is something you want to add to taste. Use half a lemon as a guideline. Mix all ingredients. If it is too thick add a Tablespoon of the reserved cucumber water. Salt and pepper tzatziki to taste and store in airtight container for flavors to blend. Mix in some Olive Oil starting with about a Tablespoon. It makes the flavor smoother. I never add more than 2 Tablespoons.

I always serve Tzatziki with pita bread and a mix of veggies.
(Visited 770 times, 1 visits today)