Chicken taco seasoning made homemade is so much better than buying the store bought taco seasoning packets. My chicken tacos have such a better flavor.
This homemade chicken taco seasoning recipe is quick and easy and can be made with a few spices from your pantry. Once you make this you will never buy taco seasoning.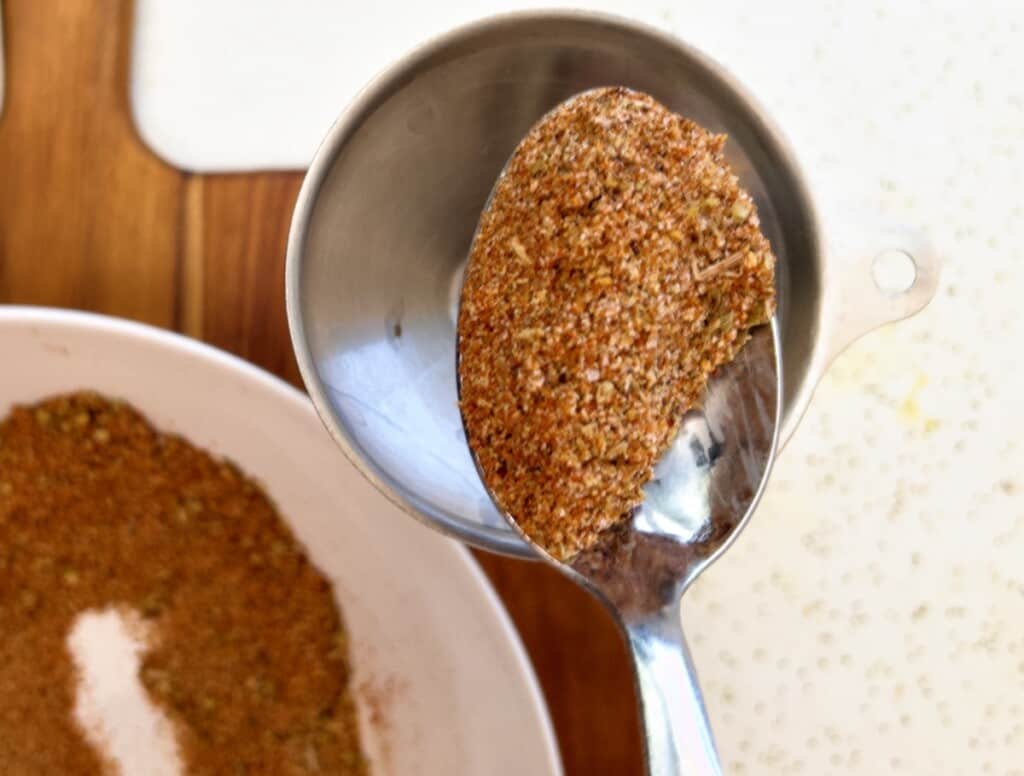 I never thought that taco seasoning would make that much of a difference but I was wrong.I have been working on this taco seasoning mix for a while adding a little more chili powder and cumin and tweaking the amounts in my spice blend.
I made my taco seasoning mix tailored to my tastes and its delicious. It. makes the perfect chicken taco. I am telling you it just takes a few minutes to throw together my recipe. Tweak it to what you like and now you have your own homemade taco seasoning for your family.
This chicken taco seasoning can be used on ground beef, bone-in chicken breast, boneless skinless chicken breast, ground chicken and ground turkey, but my personal favorite is boneless skinless chicken thighs.
I think chicken thighs are the juiciest. I think they are way better than chicken breast. Chicken breast is low in fat and a remember fat is flavor.
Jump to:
Ingredients for Homemade Chicken Taco Seasoning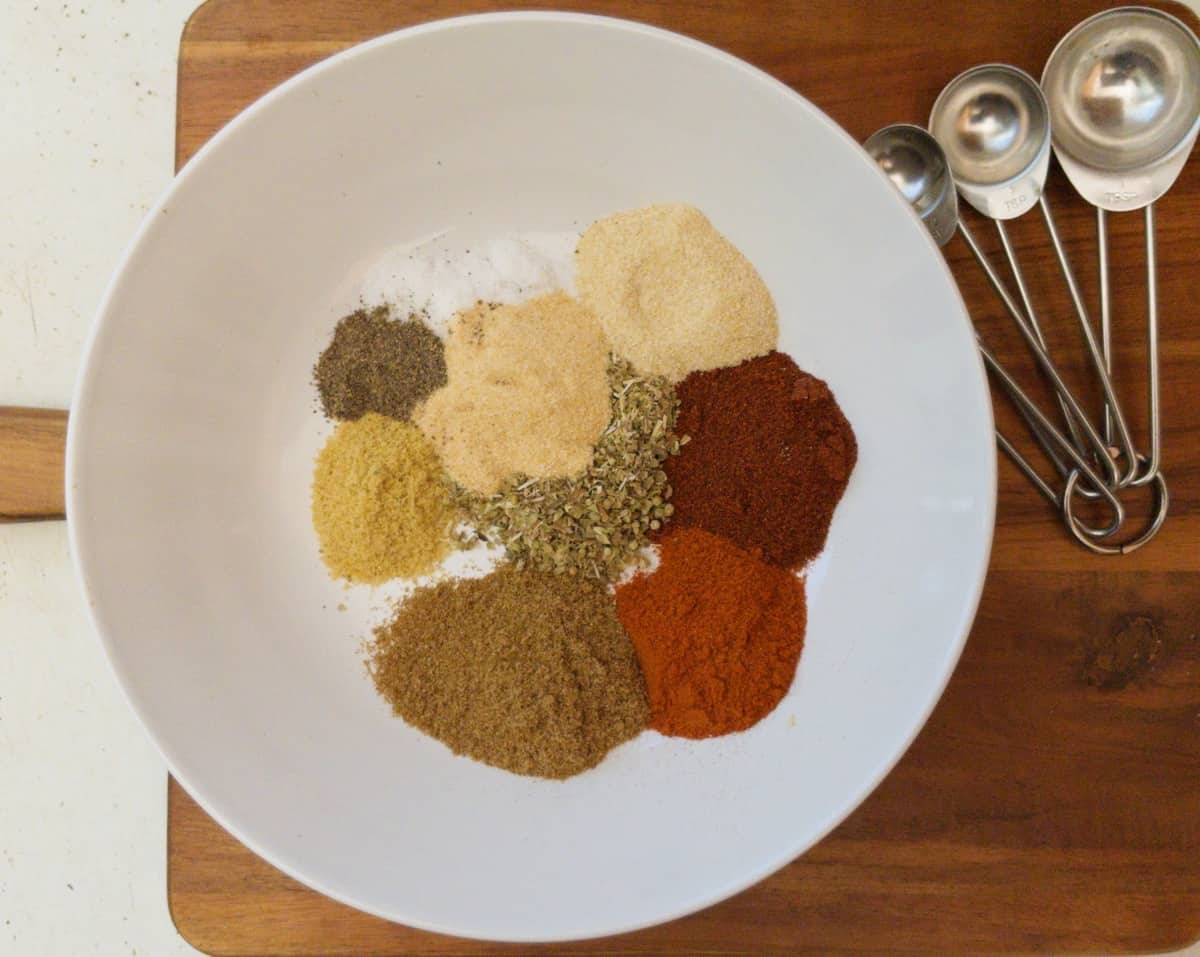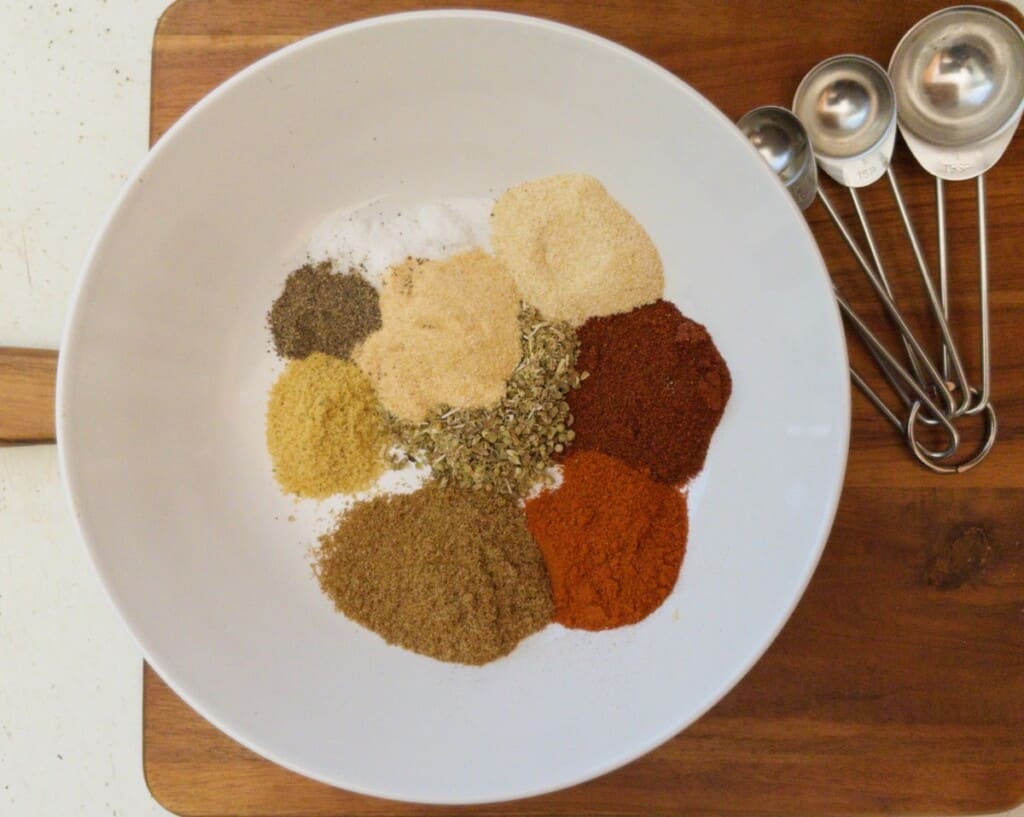 Chili Powder
Smoked Paprika
Ground Cumin
Onion Powder
Garlic Powder
Dried Oregano
Sea Salt
Chicken Boullion Powder
Ground Black Pepper
See recipe card for quantities.
How to Make Chicken Taco Seasoning
Instead of shopping for some premade taco seasoning, make your own! This is better and also cheaper. Just mix a handful of spices together and store in a jar. In just a few minutes you will have a delicious homemade taco seasoning blend.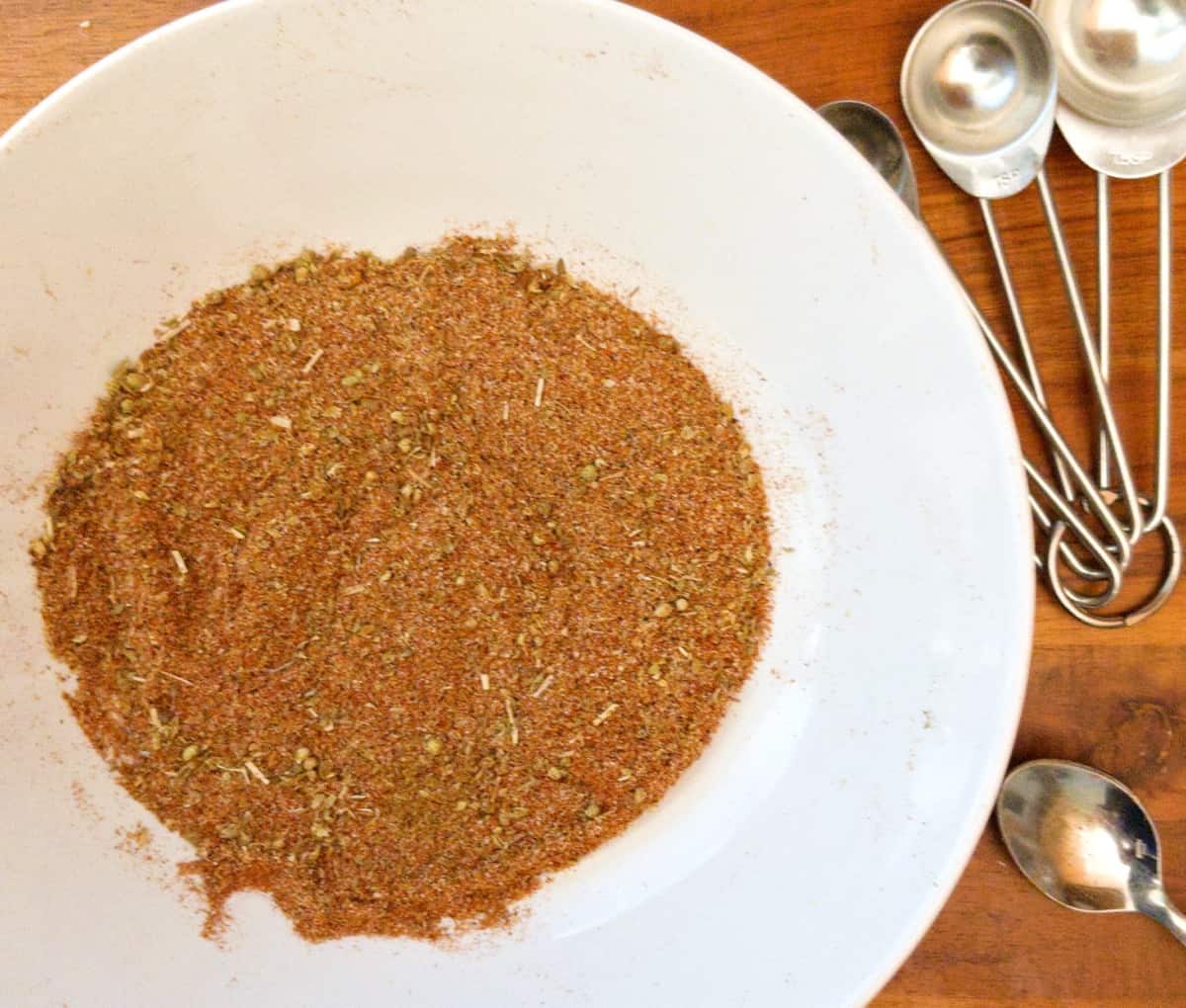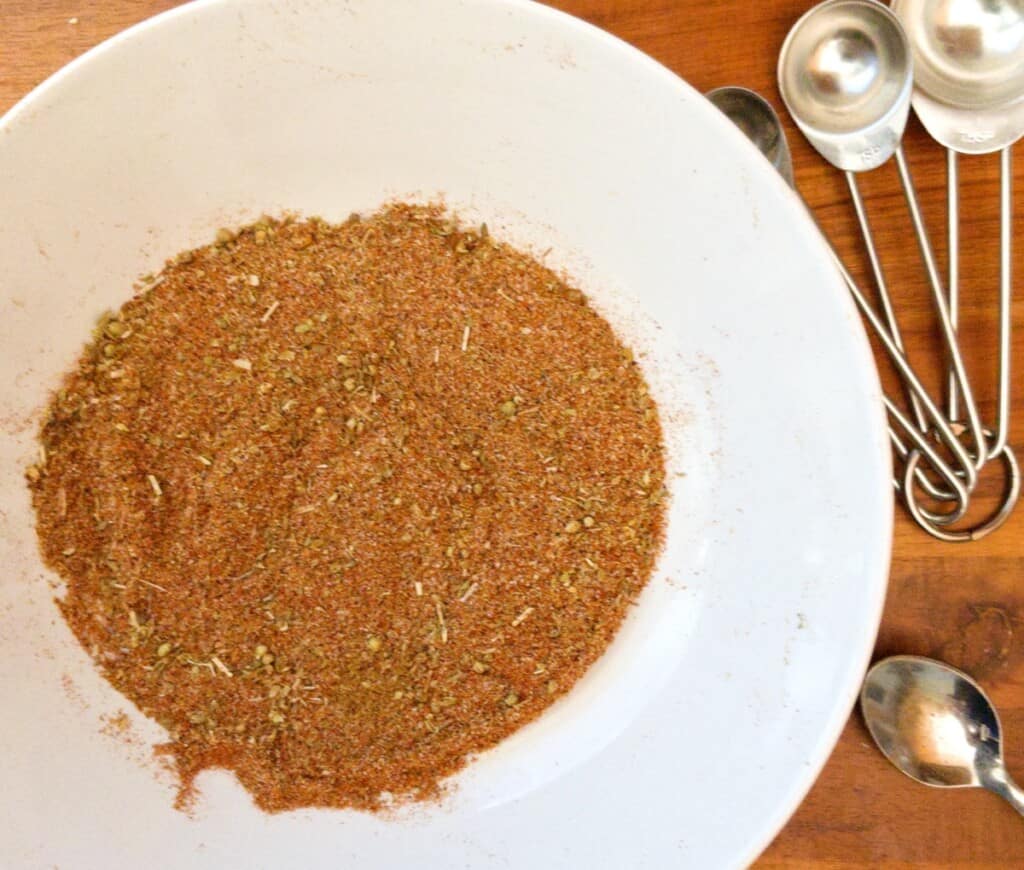 Measure all of your spices for your chicken taco seasoning recipe into a bowl. Taste your taco seasoning. Maybe you want more chili powder or maybe you want it spicy and add red pepper flakes or cayenne pepper.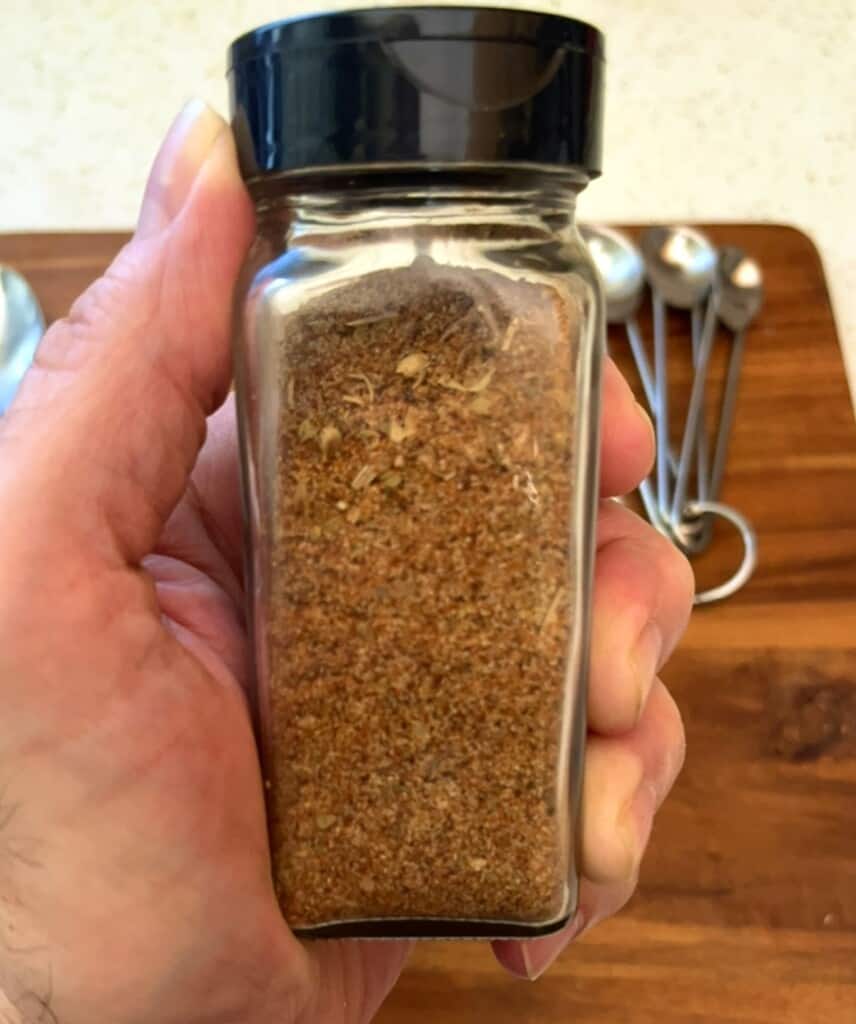 2. Store your seasoning blend in a leftover spice jar. Keep it in a cool dark environment with the rest your spices. Now you have the best chicken taco seasoning blend.
How to Cook with Homemade Chicken Taco Seasoning
Cooking with this chicken taco seasoning is simple. A good guideline of how much taco seasoning to use is about 1 to 2 Tablespoon of taco seasoning per 1 pound of protein.
If you want a more authentic flavor try adding 1/2 cup of tomato sauce. Tomato powder is a common ingredient in store bought seasoning packets.
Other Ways to Use Chicken Taco Seasoning Mix
Once you're familiar with this mix it'll be impossible to go back to the store to buy a packet of taco seasoning. You can use this daily to spice your lunch. This delicious spice mixture works well with virtually anything.
Think beyond tacos. This is great to season chickpeas, shrimp, chicken breast, ground chicken, ground turkey, tilapia and even sauteed or grilled vegetables.
I have discovered that if you combine this spice with equal parts of sour cream and mayonnaise and a little bit of lime juice it makes a fantastic dip. If you want a more healthy version replace it with some yogurt.
Variations of Taco Seasoning
Try adding some different spices – try changing it up once in a while by adding different spices. Maybe you want it spicy so you would add some cayenne pepper or red pepper flakes. If you want it smoky maybe add more smoked paprika or maybe even some smoked salt.
Use it as a Rub – I like to use this chicken taco seasoning as a spice rub for chicken. I season the boneless chicken thighs the night before and place in dish uncovered. The rub draws out moisture and adds a ton of flavor.
What Makes Homemade Taco Seasoning Better Than a Store Bought Packet?
The flavor of this homemade chicken taco seasoning is so much better. This is the best taco seasoning. It is also gluten-free and much lower in sodium.
It is also free of additives and preservatives. I like being able to customize my spice blend by trying a different chili powder or adding some more garlic powder. The reasons are endless.
Is Chicken Taco Seasoning and Beef Taco Seasoning the Same?
For the most part, it is the same. Chicken tacos usually have moderate spice levels compared to beef. The seasoning can be used on beef tacos, as well as chicken tacos. It is also great on roast chicken as well as being used as a sprinkle on things condiment.
Is Chicken Fajita Seasoning the Same as Taco Seasoning?
For the most part, taco seasoning and fajita seasoning are the same. The differences are taco seasoning has more chili powder and oregano and onion powder. That being said, taco seasoning is interchangeable with fajita seasoning dinner recipe.
How Do You Store Homemade Taco Seasoning?
I use a leftover spice jar. Any airtight container will be fine. A mason jar is a perfect airtight container for storage. The important thing is that it is in a cool dark spot away from sunlight. It can be stored in the pantry as well as the refrigerator.
Equipment Used and Kitchen Essentials
I always try to list the items that I use when making a recipe. I do receive a small commission on these items at NO COST TO YOU. I really appreciate the support.
McCormick Culinary Dark Chili Powder
Unpretentious Smoked Paprika
Amazon Brand – Happy Belly Ground Cumin
McCormick Onion Powder
McCormick Garlic Powder
McCormick Oregano Leaves
365 by Whole Foods Market, Salt Sea Crystals Fine
Knorr Broth Mix, Chicken
McCormick Pure Ground Black Pepper
Simple Houseware Spice Jars 4 Ounce Square Bottles w/labels
What Does Chicken Tacos Contain?
Traditionally, Mexican tacos are made up of a corn or flour tortillas, cooked chicken, topped with diced tomato, onions, and cilantro. The possibilities are endless. My Instant Pot Salsa Chicken Recipe is great for chicken tacos.
FAQ
What goes with Chicken Tacos?
Guacamole, Mexican Rice, Refried Beans, Chips and Salsa
Are Chicken Tacos Healthy?
Chicken tacos are high in protein and lower in fat than red meat. Lean chicken is healthy and not associated with chronic disease.
Related
Looking for other recipes like this? Try these: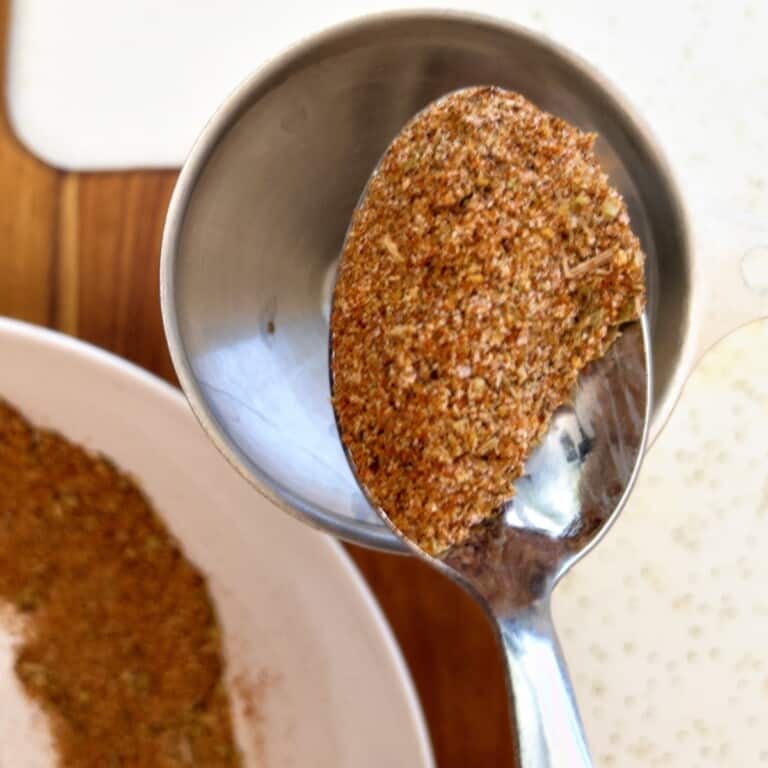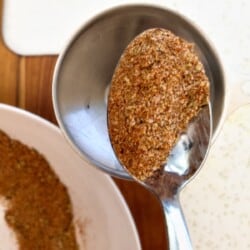 Ingredients
1

tablespoon.

Chili powder.

1

tablespoon.

Smoked paprika.

1

tablespoon

Ground cumin

1

tablespoon

onion powder.

1

tablespoon

garlic powder.

1

tablespoon

dried oregano.

1

teaspoon

sea salt

1

teaspoon

chicken bouillon powder

1/2

teaspoon

black pepper.
Instructions
Mix all ingredients together in a large bowl.

Store spice mix in an airtight container or left over spice jar.
(Visited 124 times, 1 visits today)