These Air Fryer Meatballs are loaded with flavor and so juicy. They are so quick and easy to make. It takes just a few minutes to prepare the meatball mixture and about 8-10 minutes of cooking time. Making meatballs in the Air Fryer is the best way to do it for my family.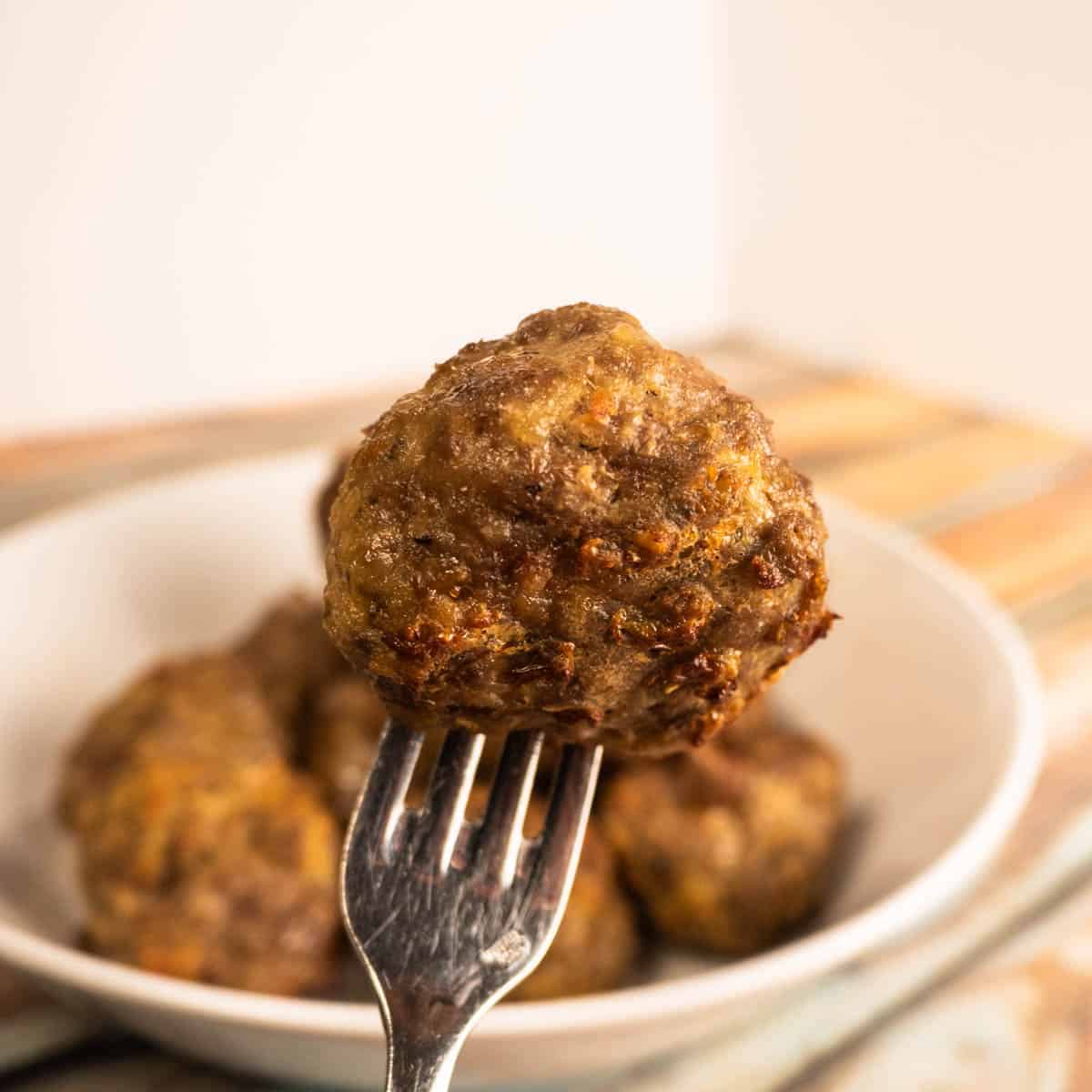 Air Fryer Meatballs
I am pretty sure everyone loves meatballs. These little balls of meat are so versatile. They can be used in spaghetti sauce of course which is most common.
I really like them in sandwiches. Grab a good sub roll or french baguette and prepared marinara sauce and some cheese and you have a family lunch favorite.
This meatball recipe in the Airfryer came about the same way most of my ideas for an air fryer recipe. I was starving and went to the fridge. I saw some ground beef and at first, my brain was like maybe a burger or something, but I wanted something different.
I had some good Marinara Sauce in the jar. I was like let's do some pasta and meatballs. Usually cooking meatballs can be time consuming and this is where I thought to make them in the Air Fryer. That a much healthier option than fried meatballs.
I am being totally honest when I tell you after cooking meatballs in your Air Fryer you will never want to cook them any other way. They come out perfectly crispy on the outside and tender and juicy on the inside. Once I started cooking meatballs this way I have never looked back. So much faster and easier to do air fried meatballs.
You can do all sorts of meatballs as well. For example, you don't have to use just beef to make your meatballs. All types of ground meat can be used.
For example a mix of ground beef and ground pork. You can do turkey meatballs if you are looking for a lower fat option.
If you enjoy lamb then you will love lamb meatballs. Lamb meatballs are absolutely delicious. Including like minced garlic and finely chopped onion is also delicious.
Why You Will Love Air Fried Meatballs?
Easy to Make
Quick and Versatile
Make in a Small Batch
Juicy and Delicious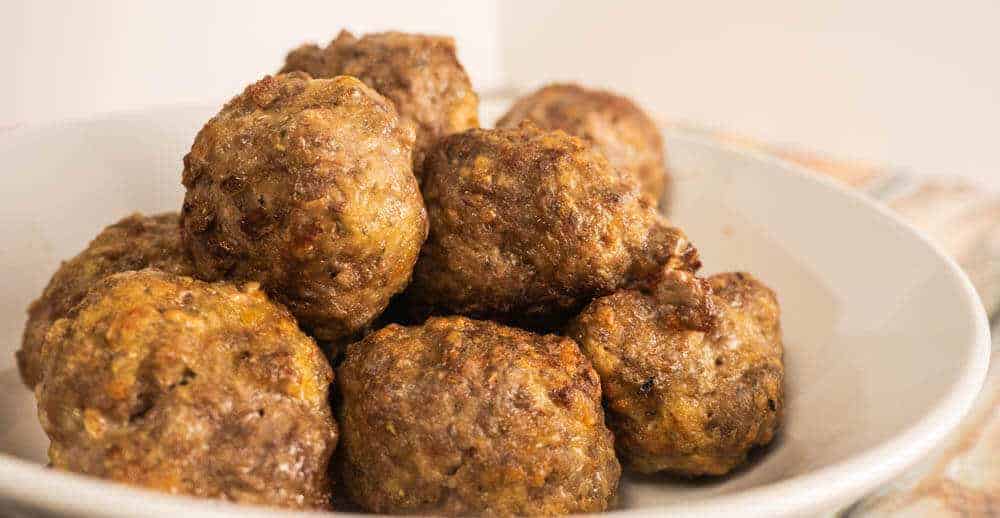 How to Make Meatballs in the Air Fryer.
So just how do you make meatballs in the Air Fryer? Well, the process is quite simple and I am going to show you how. Once you make meatballs using this method I am pretty sure that is going to be your new way of cooking meatballs. It is so much faster and healthier because the fat from the meat ends up in the drip pan.
There are Full Instructions in the recipe card at the bottom as well.
Ingredients Needed in this Meatballs Recipe
Ground Beef
Panko Bread Crumbs
Eggs
Parmesan Cheese
Salt
Pepper
Garlic Powder
Onion Powder
Milk
Olive Oil
Marinara Sauce
Bread (If making sandwiches)
Preparation of Meatballs
Step 1 – In a Large Bowl Combine Ground Beef, Bread Crumbs, Salt, Pepper, Garlic Powder, Onion Powder, Milk, Eggs and Parmesan Cheese.
Step 2 – Mix Ingredients together by hand. Using hands and fingers to combine the mixture thoroughly. Do not over blend.
Step 3 – Roll the Meatballs into balls about the size of a golf ball. This should let you make about 12 meatballs per pound of meat as seen in the picture below. If you are making a lot of meatballs cooking in batches is the way to go.
Step 4 – Set Aside the Meatballs either on the counter or the refrigerator for about 10 minutes before cooking.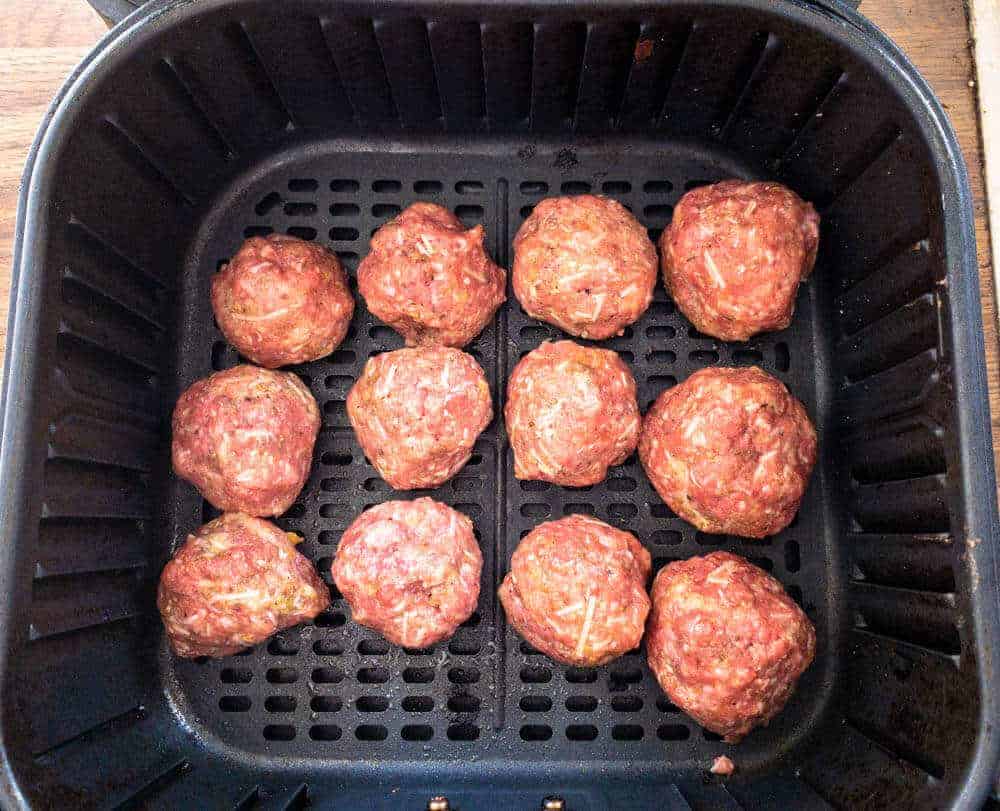 Cooking Meatballs in the Air Fryer
Place the meatballs in the Air Fryer in a single layer making sure not to crowd the meatballs so they get proper circulation and they can cook evenly. Spray the meatballs lightly with olive oil just to give a coating to the meatballs.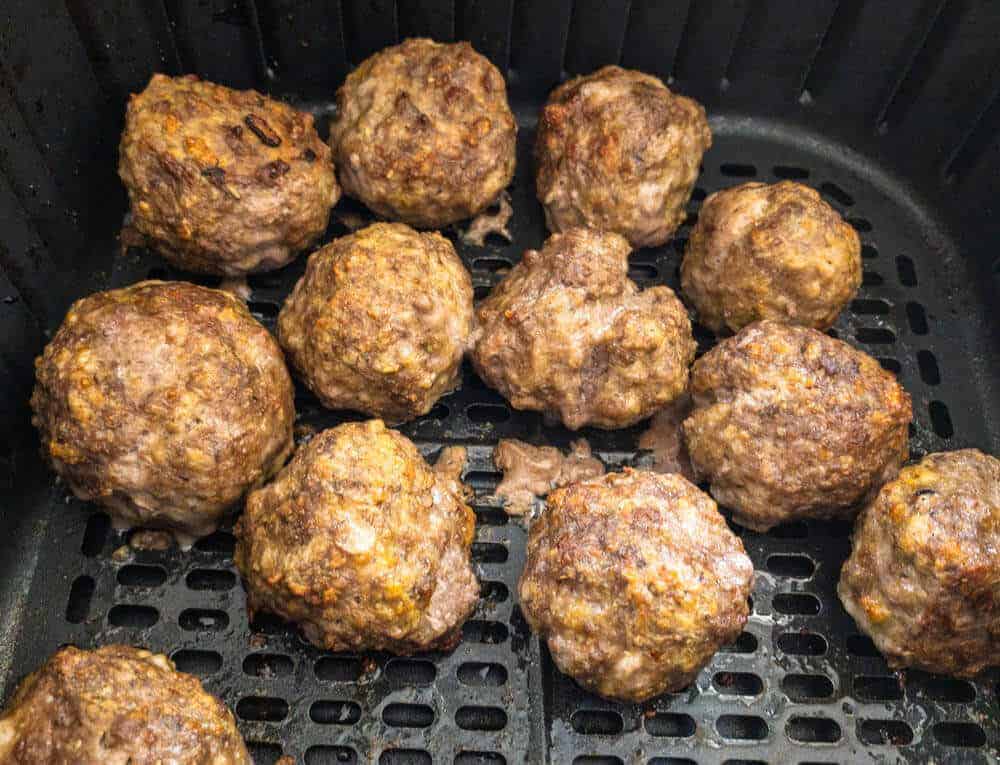 How Long Do I cook Meatballs in Air Fryer?
Set the temperature on the Air Fryer to 400 Degrees. The cooking time for the meatballs is about 8 to 10 minutes. Halfway through the cooking time open the Air Fryer and give the meatballs a shake to move them around a bit. Be careful to not break any of the meatballs.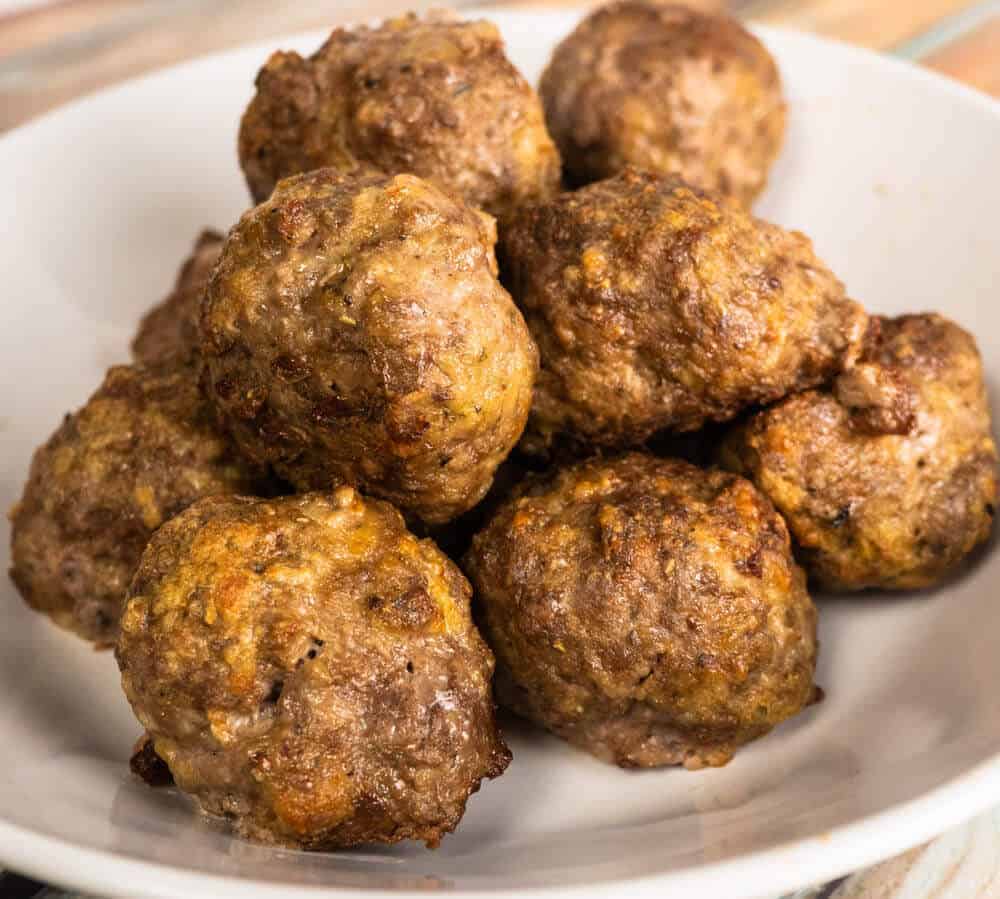 How to Cook Frozen Meatballs in Air Fryer?
Yes! You can make a large batch of meatballs and freeze them. They reheat from being frozen quite well. Reheating frozen meatballs in the Air Fryer.
You can also just drop frozen meatballs into your spaghetti sauce while it is simmering if you are making sauce for pasta or for meatball subs.
How Long to Cook Frozen Meatballs in Air Fryer?
Cooking and reheating frozen meatballs are easy to cook and ready quickly. This is why I always make big batches and store them in the freezer. Reheating them is quick and convenient and takes about 10 minutes at 400 degrees.
Once cooking time is complete remove meatballs from the air fryer basket and give them a couple of minutes to stop cooking and enjoy them. Meatballs in the Air Fryer are so delicious and easy to make.
Meatball Ideas
Marinara Sauce
Hero Sub Sandwiches
Sliders
Homemade Pizza Topping
Quesadilla
Other Great Recipes
Easy Air Fryer Crispy Chicken
Air Fryer Chickpeas
Jerk Chicken Wings (Air Fryer)
Balsamic Parmesan Brussel Sprouts
Kitchen Essentials and Items Used
COSORI Air Fryer,Max XL 5.8 Quart
COSORI 12-in-1 Oven Air Fryer Combo
365 Everyday Value, Bread Crumbs, Panko, 8 oz
365 Everyday Value, Extra Virgin Olive Oil, Mediterranean Blend, 33.8 fl oz
Air Fryer Meatballs
Air Fryer Meatballs are quick and easy to make in your Air Fryer in less than 10 minutes.
Ingredients
1

Pound

Ground Beef

1/2

Cup

Panko Bread Crumbs

1/4

Cup

Milk

2

Eggs

1

Tbsp.

Italian Seasoning

1

tsp.

Salt

1

tsp.

Black Pepper

1

tsp.

Onion Powder

1

tsp.

Garlic Powder

6

Tbsp.

Fresh Parmesan Cheese
Instructions
Mix the ground beef, breadcrumbs, milk, egg, spices, salt, pepper, and Parmesan well.

Make Meatballs from the meat mixture into medium-sized balls. Set aside or place in the fridge for 10 minutes.

Preheat the Air Fryer to 400 degrees

Place Meatballs in Air Fryer making sure they do not touch each other. Spray with olive oil and Cook at 400 degrees for 8-10 Minutes.

Serve with Marinara Sauce or use for Sub Sandwiches or Sliders.

Makes About 12 Golf Ball Sized Meatballs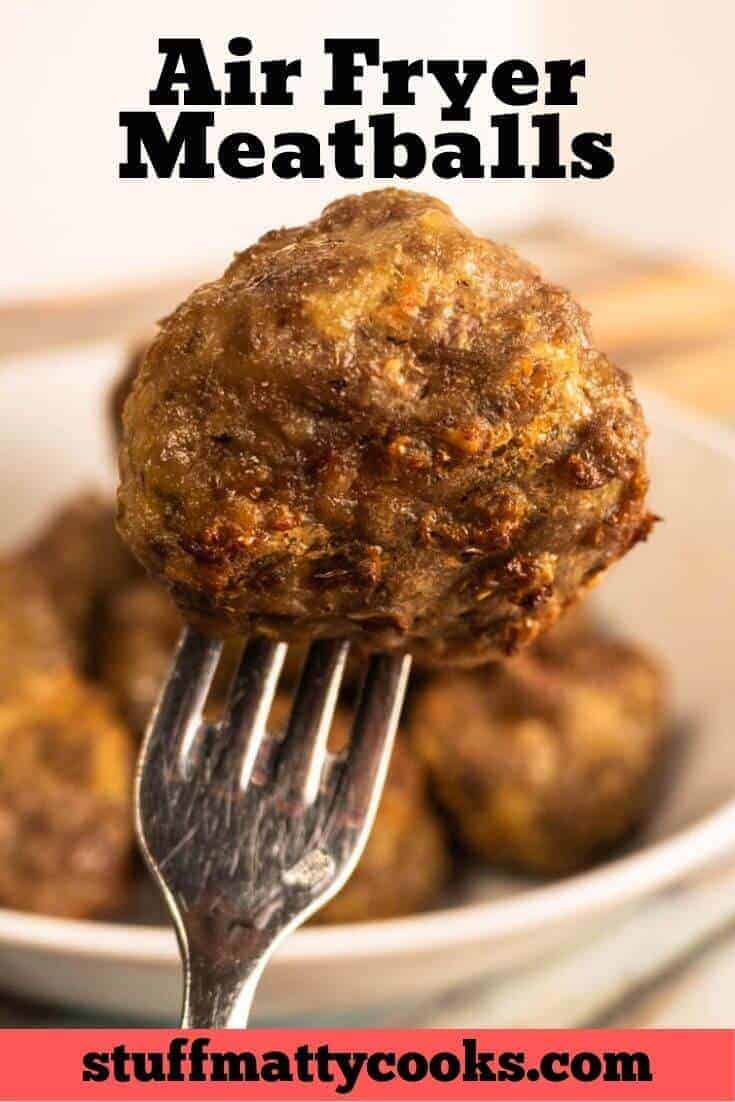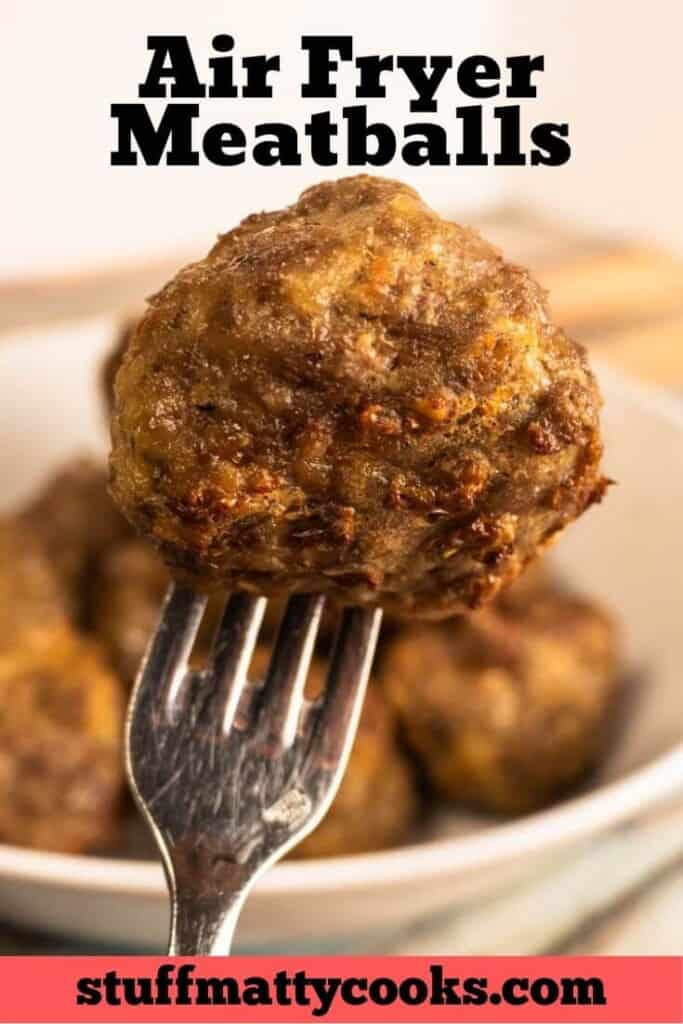 (Visited 36,222 times, 2 visits today)