I have to admit that I love cooking frozen foods in the air fryer. Crispy onion rings are one of my favorite recipes. Air frying onion rings is quick and easy. Not only am I going to show you how to cook frozen onion rings in the air fryer, but I am going to include my onion ring sauce recipe.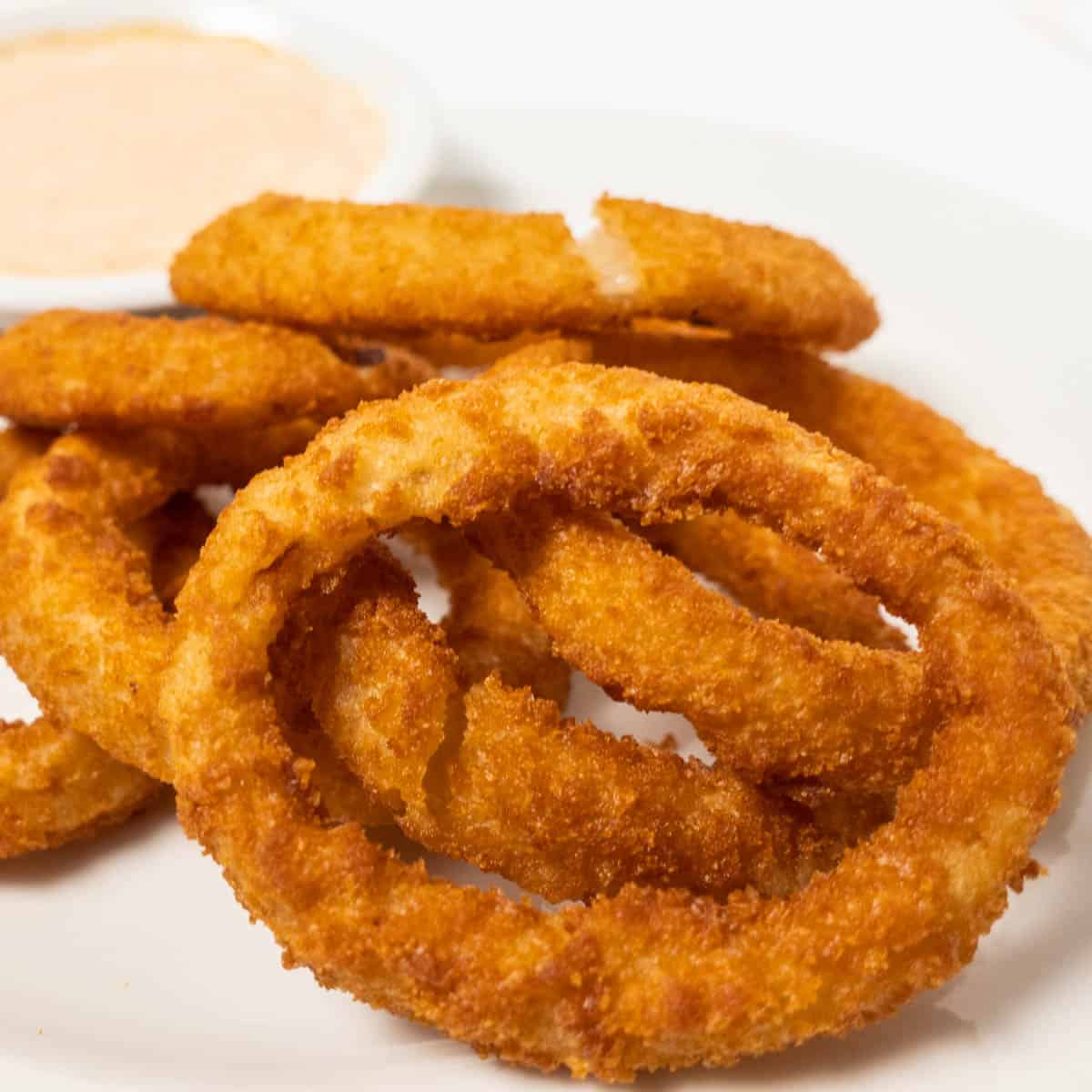 If you are interested in a sampler platter air fryer frozen french fries and air fryer frozen eggrolls are great. The air fryer heats up quickly and cooks even faster. Great for making a quick appetizer or snack for guests.
These onion rings are great to have in your freezer. They make a great side dish for a burger or even a steak. I sometimes cook up just a couple onion rings to use as a topping for a tasty burger.
If you want to impress your guests make a bunch and pile them up making an onion ring tower. Accompany them with my homemade onion ring sauce and your guests will be happy and it is a lot of fun to eat.
Jump to:
Ingredients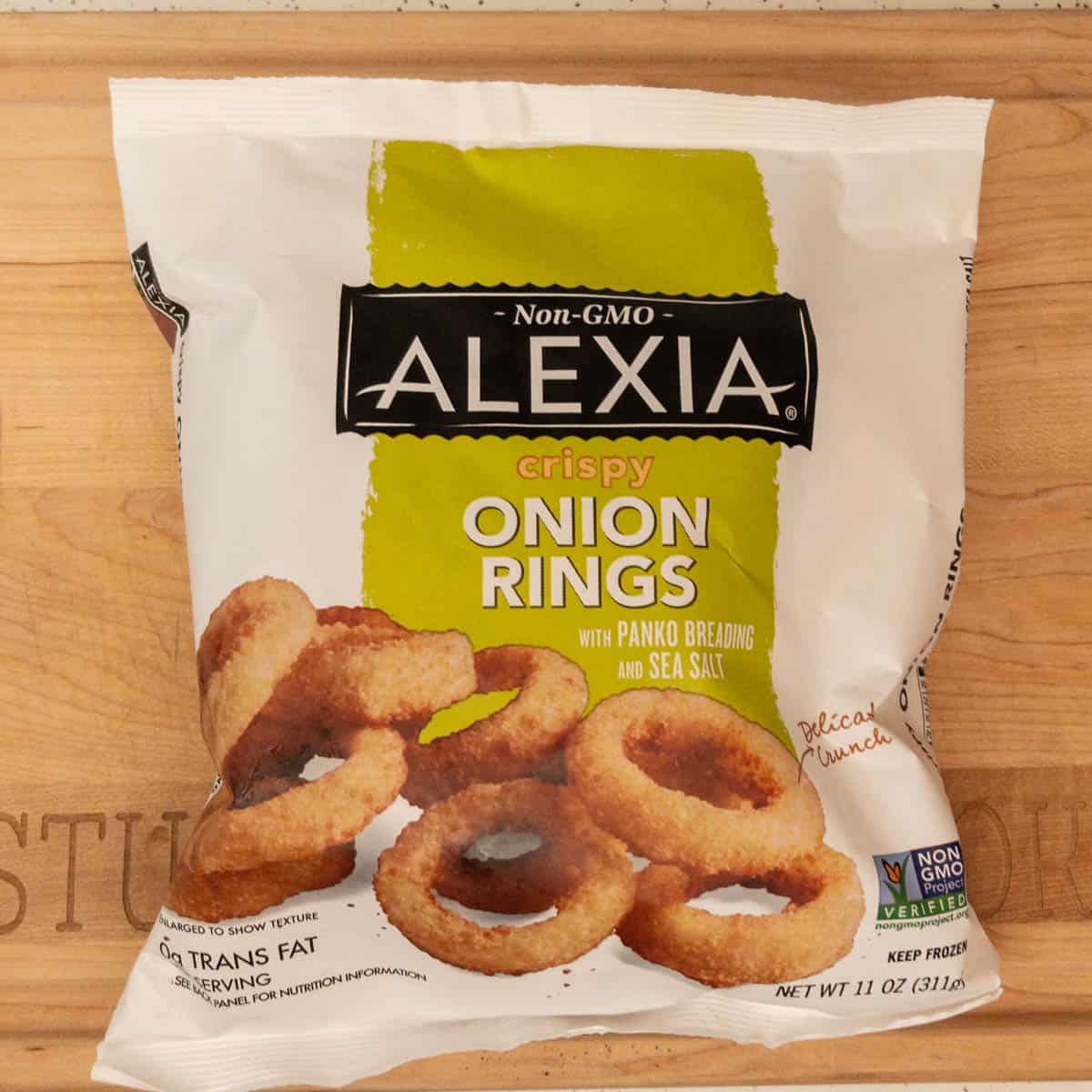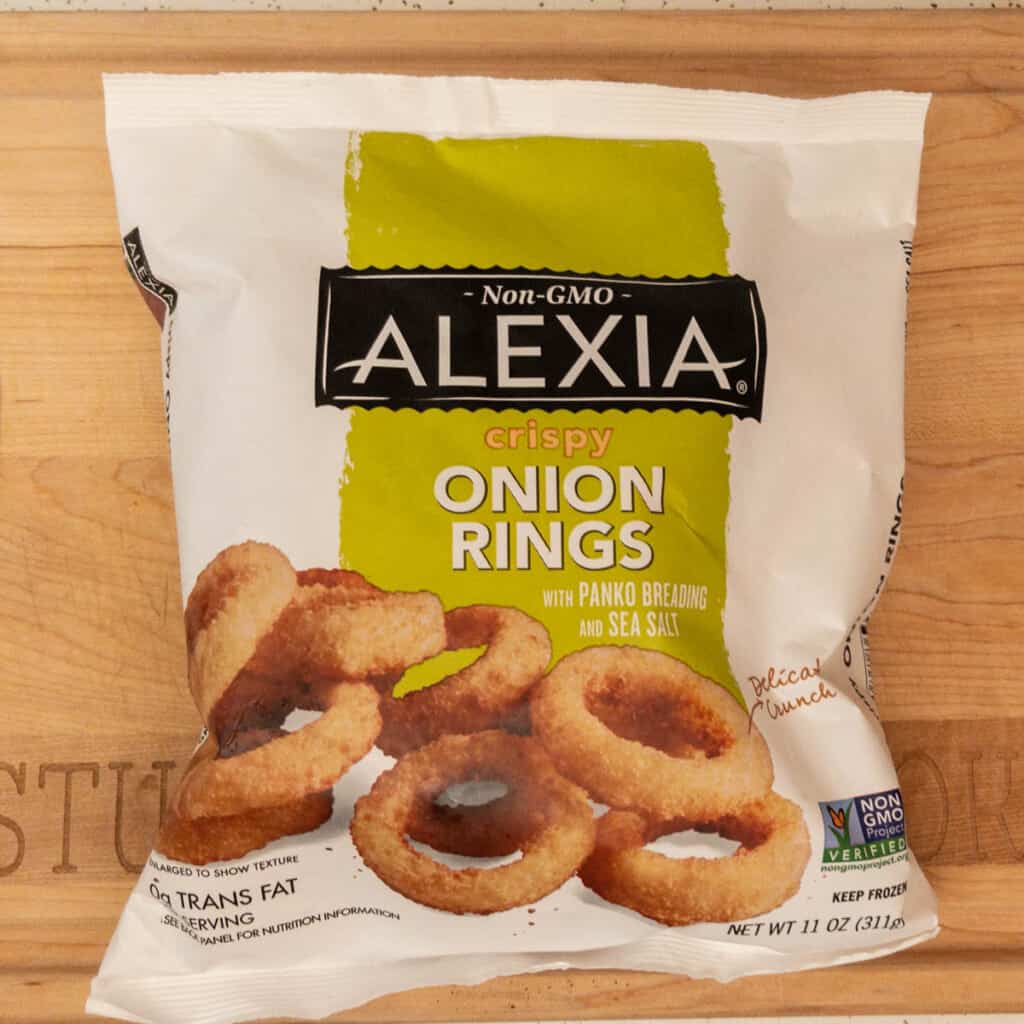 Alexia Frozen Onion Rings
Ranch Dressing (For Sauce)
Creole or Cajun Seasoning (For Sauce)
Ketchup (For Sauce)
See recipe card for quantities.
Instructions
I am going to show you how to cook frozen onion rings in air fryer. It is easy and takes less than 10 minutes. While the onion rings are cooking I will also show you how to make my tasty onion ring sauce that compliments these onion rings perfectly.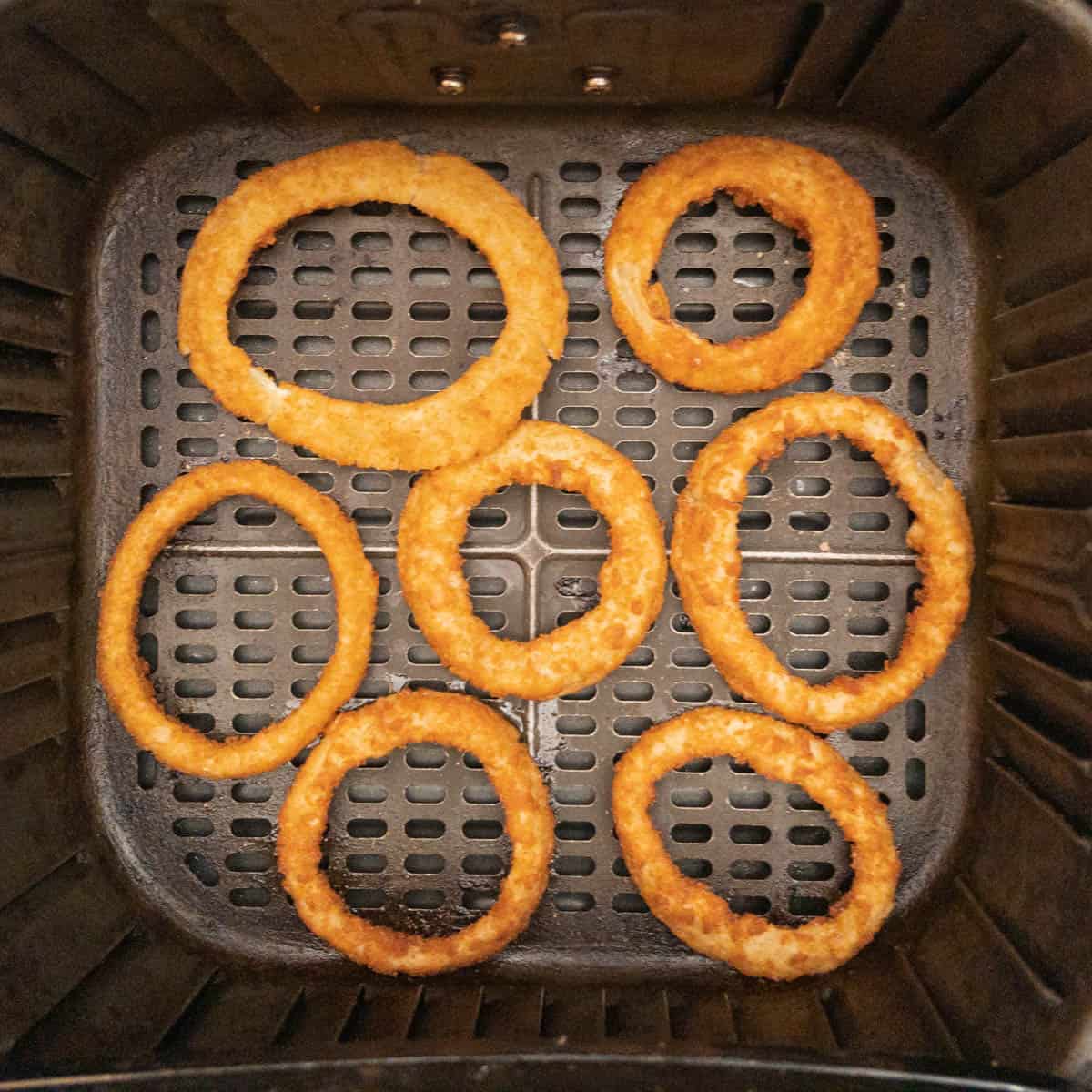 Step 1 – I do not preheat the when I make these onion rings. I also do not flip the onion rings. Do not crowd the air fryer basket. Proper airflow makes crispier onion rings.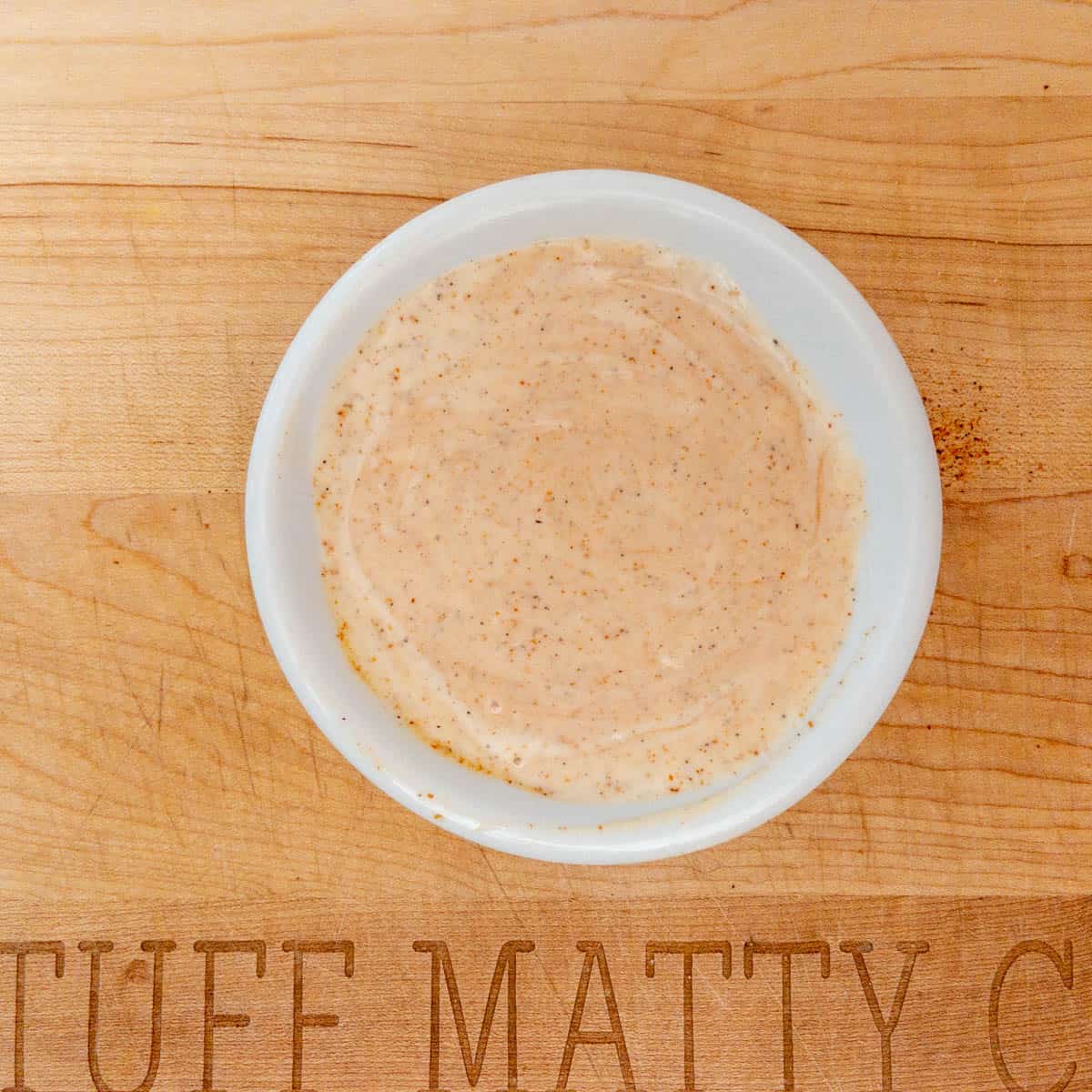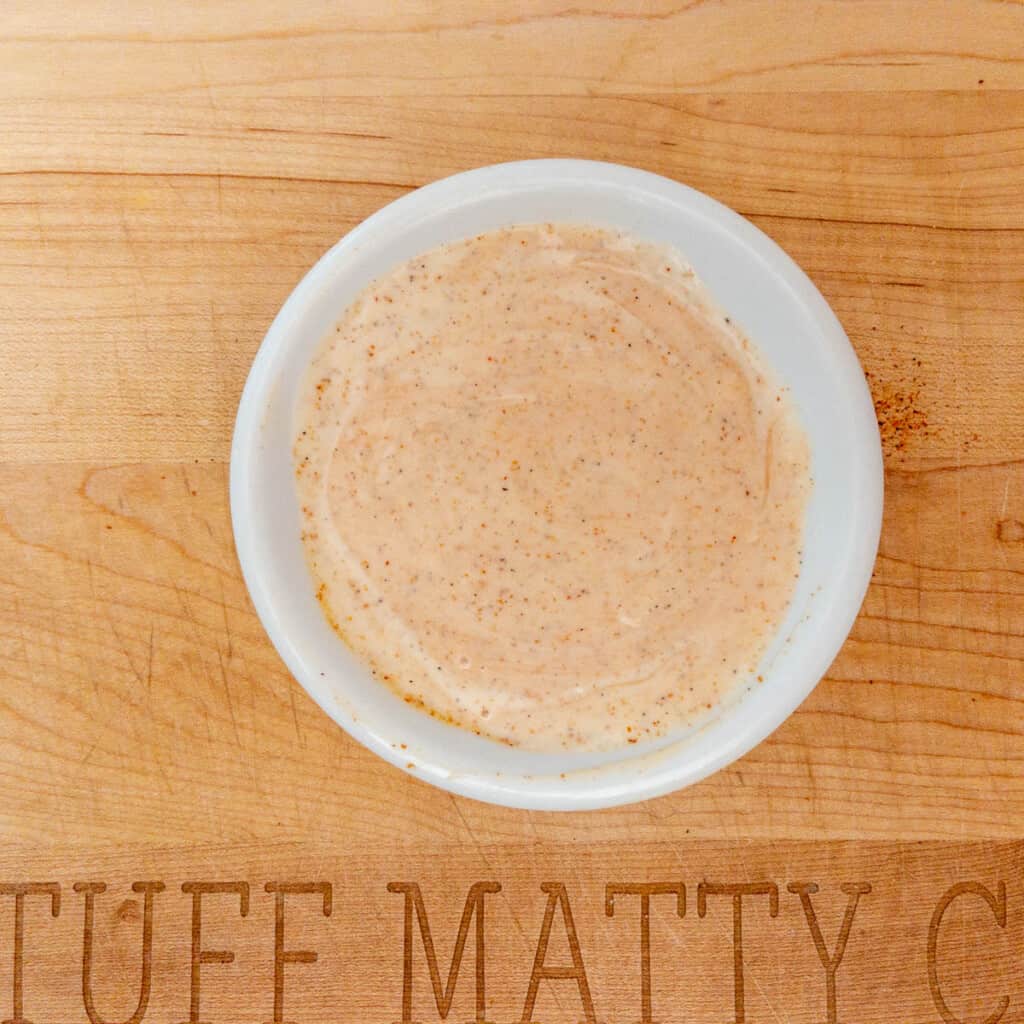 Step 2 – While the onion rings are cooking I mix up some onion ring sauce. I combine some ranch dressing, creole seasoning, and some ketchup. (Measurements in recipe card)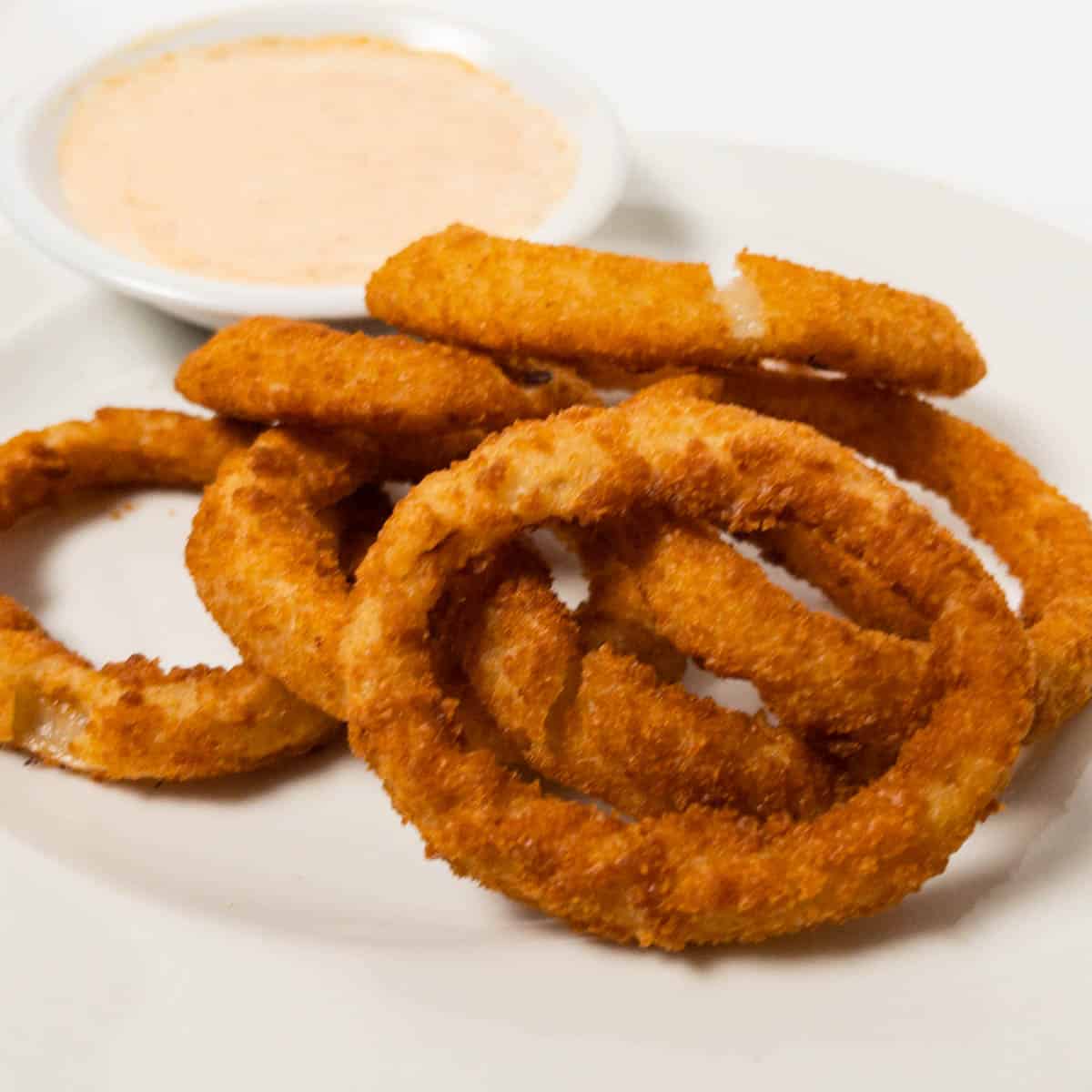 Step 3 – Time to eat! Just look how crispy and beautiful these onion rings come out. I think these are just as good as deep frying. They are great as a side dish or even if you are just cooking up a couple to top a burger.
Hint: Do NOT crowd the Air Fryer basket. Better airflow makes better onion rings. These Air Fryer Liners (affiliate link) help make cleanup a snap.
How Long to Cook Frozen Onion Rings in the Air Fryer?
5 to 6 Minutes.
Make sure that the onion rings are not overlapping and that there is adequate space in between for proper air circulation. Proper spacing will ensure even cooking and crispier onion rings.
What Temperature to Cook Onion Rings in the Air Fryer?
350 Degrees Fahrenheit
I find that I do not need to preheat the air fryer when cooking frozen onion rings. Cooking time can vary between air fryer brands, but 350 degrees is the most common.
How Can I Make Onion Rings Crispier?
Aldo no oil is needed to make frozen onion rings in the air fryer there may be a time where you want them even more crispy. A good way to achieve this is to spray the onion rings with a bit of oil. It can be Olive Oil but I prefer Avocado Oil. A thin layer of oil helps things get crispier.
What are some of the Best Frozen Onion Rings?
Alexia Onion Rings (These are my favorite)
Beer Battered Onion Rings from Trader Joes
Nathans Famous Onion Rings
What is a Good Dipping Sauce for Onion Rings?
There's a lot of good things to dip air fryer onion rings in. I personally like my onion ring sauce that I'm going to share below but some other dipping sauces you can use are below.
Ranch Dressing
Ketchup
Blue Cheese Dressing
Tartar Sauce
Onion Ring Sauce (Homemade recipe in the recipe card below.)
How to Reheat Onion Rings?
350 Degrees Fahrenheit for 2 – 3 Minutes is what works for me. I am always using the Alexia Brand Onion Rings and just a few minutes to reheat is all they ever need. They will even be crispy!
Equipment and Kitchen Essentials
I always list the equipment I use for a recipe. I also include what I think are kitchen essentials. I do earn a small commission off of these products at absolutely no cost to you.
Thanks for your support. Creating recipes and sharing with everyone is what I love doing.
COSORI Air Fryer Oven Combo 5.8QT
Alexia Crispy Onion Rings with Panko Breading and Sea Salt, Non-GMO
Air Fryer Parchment Paper Liners 8.5inch 200 Pcs.
Storage
Leftover Onion Rings can be stored in an airtight container for 3-4 days. Reheat onion rings at 350 degrees Fahrenheit for 2-3 minutes. The onion rings reheat wonderful and will be crispy and delicious.
Other Air Fryer Recipes to Enjoy
Air Fryer Frozen Chicken Nuggets
Air Fryer Bacon Wrapped Asparagus
Frozen Eggrolls in the Air Fryer
Air Fryer Frozen French Fries
Air Fryer Empanadas
Air Fryer Naan Bread Pizza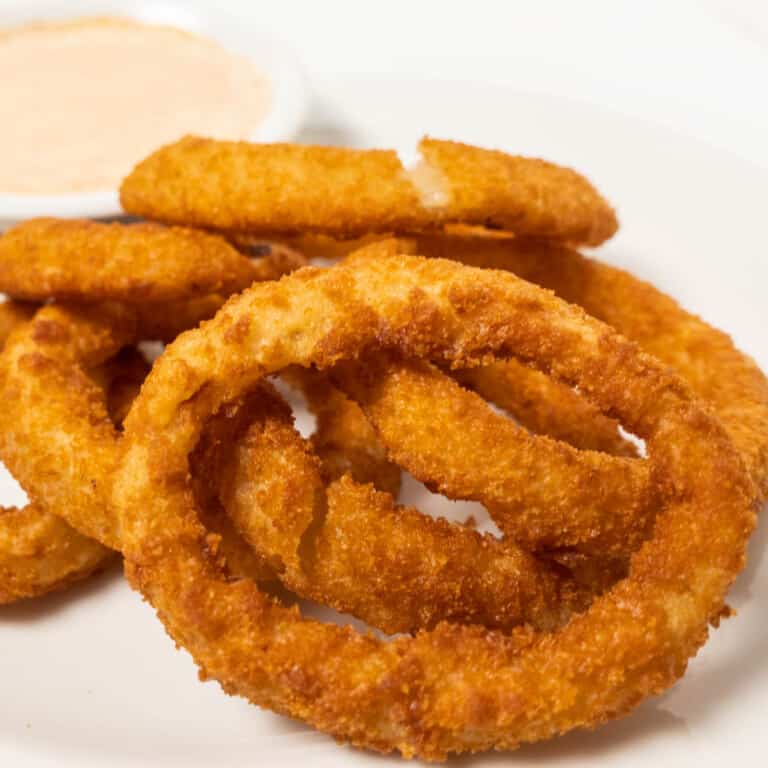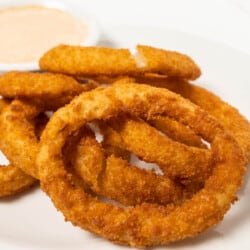 Air Fryer Frozen Onion Rings
Air fryer frozen onion rings come out great. They get crispy like a deep fryer.
Print
Pin
Rate
Ingredients
Air Fryer Onion Rings
1

Bag

Alexia Frozen Onion Rings

1

spray

Olive Oil or Avocado Oil (Not required)
Onion Ring Sauce
1/4

Cup

Ranch Dressing

3/4

tsp.

Creole Seasoning or Cajun Seasonin

1

tsp.

Ketchup

1/2

tsp.

White Vinegar (If you want it tangier)
Instructions
Air Fryer Onion Rings
Place onion Rings in Air Fryer Basket with space in between for proper air flow.

If you want the onion rings extra crispy spray with a little bit of oil. This is not required. I generally do not do it.

Air Fry for 5-6 Minutes at 350 Degrees Fahrenheit.
Easy Onion Ring Sauce
In a dish add Ranch Dressing, Creole or Cajun Seasoning and Ketchup.

Mix ingredients until combined.
Notes
Do not crowd air fryer basket make space in between onion rings for proper airflow for crispy onion rings.
Nutrition
(Visited 3,267 times, 1 visits today)